Finding your dream location to buy property in Spain
Spain is an extremely varied country, with wonderful beaches, mountains and countryside. Most Brits and other nationalities from the North of Europe head straight to areas close to the beaches. When you move to Spain, you have so many options to choose from.
It is easy to see why many expats choose to make their home in Spain close to the sea and sand. It's also important to remember that the properties in these locations will usually be more expensive than those found inland. By driving just twenty minutes inland, you'll find houses and apartments which are much better value and have more space. These could be in a small village or town, or on an urbanisation, built to cater for locals and foreigners alike. It's important to assess all the options and their pluses and minuses before you make a decision on where to place your roots.
Coastal living
Along the coast of Spain you will find numerous villas of different styles and sizes, with beautiful views of the sea – that comes at a high price. The properties along the coast are often second homes that are used during the summer months when their owners escape the big cities in the rest of Spain, and indeed Europe. If you are looking to purchase property in a seaside complex or urbanisation, it's important to remember that these carry community charges; make sure you look into the terms and costs carefully before you commit to your purchase.
These properties are often let out to tourists when their owners are not using them, to help pay the maintenance costs or mortgage. You should be aware that those who do this are now required to apply for a licence to take lettings bookings – and these are not always approved. Get your lawyer to check with the local town hall about any policies on letting to tourists. In Barcelona, for example the Generalitat (city council) is now able to oversee all tourist letting, and is attempting to crackdown on illegal ones following complaints by locals about noisy tourists..
Along the coast of Spain you will find numerous villas of different styles and sizes, with beautiful views of the sea.
What facilities do you need?
When looking for somewhere to live in Spain, especially if you are retired, it's important to think about what facilities you need close to your property. I's all very well to buy a villa on a cliff with a wonderful view, but it is likely that such a property will have numerous steps and will be some distance from the nearest shop – so you will have to go out by car every time you need something. The same applies to holiday apartments in small coastal bays, where most shops close for the winter months. It tends to only be the larger coastal resorts that stay open 12 months of the year.
Living inland
Despite the attractions of the sea and sand, not everyone is seeking a beachcomber's life. Many would-be expats are attracted to the pretty inland towns and villages that are surrounded by vineyards and steeped in history. You will still find urbanisations in the country areas, but it is more likely that you will come across typical village houses, either of natural stone, or as in Andalucia, painted white. Village properties are generally cheaper than the bigger towns (unless it is a village which particularly attracts tourists such as Mijas (Andalucia) or Pals (Catalunya)), but they are more likely to need some (if not total) renovation, and the running and maintenance costs may be quite high. These properties are nevertheless popular, especially when the village offers a bar or two, shops, chemist, etc. as everything is within walking distance, and life is at a slow pace.
Working to live in Spain
If you come to Spain to work, the chances are you will be located in one of the larger towns or cities. Renting may be the best option here, at least until you have learned about the area, found the school you like for your children, and had time to look around for a property to buy. Rentals are quite expensive in the main centres of Madrid and Barcelona, and in certain districts, prices are beginning to rise again after the economic downturn.
Fancy some clean mountain air?
Finally, let's not forget the mountainous regions of Spain. Skiing and winter sports are widely practised here, as is hiking and bird-watching in the summer months. The mountain ranges of the Pyrenees, the Cordillera Cantabrica, Sistema Central, Sierra Morena, and the Cordillera Subbetica all offer attractive properties, many with a rental income. Homes in the better known and smarter resorts are inevitably more expensive, but there are numerous little towns and villages offering good value for money. If you are thinking of buying something in these areas, we suggest you visit the region both in summer and in winter – that way there won't be any nasty surprises when the snow falls and roads are blocked.
The mountain ranges of the Pyrenees, the Cordillera Cantabrica, Sistema Central, Sierra Morena, and the Cordillera Subbetica all offer attractive properties, many with a rental income.
Which is the best region of Spain for you?
Spain has a wonderful choice of locations and property types, so we are confident that you will be able to find the home that's just right for you – and maybe your family. It's just a question of writing down what you need, how close you want to be to a town or shops, whether you want to drive or not and how much the overheads will be. To help your decision, Spain Property Guide has put together an overview of all the different regions across Spain, including their property prices and main attractions of each area. Happy house hunting!
The east of Spain is home to the regions of Murcia and the Valencian Community – some of the most popular areas with the expats who want to avoid the more tourist-y life, although areas of Valencia will still attract many holidaymakers. The cost of living here is relatively cheap, which also proves popular with those looking for a new life in Spain.
The southern coast of Spain is mainly taken up by the region of Andalusia – long one of the most attractive regions for expats and tourists alike, thanks to its thousands upon thousands of hours of sun per year and beautiful beaches. Those interested in this region of Spain may also be interested in the beautiful mountain ranges, the sports possibilities and the famous historical architecture.
Home to the historical regions of Catalonia, La Rioja and many more well-known places in Spain, this part of the country is renowned for its extensive history, authentic Spanish life, the mountains of the Pyrenees – and of course the many beautiful vineyards. This part of the country can bring you closer to nature, but still gives you easy access to the popularity of Barcelona.
Expats who choose to relocate to this part of Spain are attracted to the close links to Portugal and the proximity of the Atlantic – and the beaches and seafood that this ensures. It is generally one of the cheapest places to live in the country, and offers an authentic and rural Spanish life – those Brits who live here do so integrated with the local community, and without the cloaks and whistles you would find on the Costa del Sol or the Costa Blanca.
Slap bang in the centre of the Iberian Peninsula, you will find the regions of Castilla-La Mancha and the Community of Madrid – home, of course, to the country's capital. Two very different lifestyles can be found here: a vibrant, busy life in Madrid, and a quieter, more authentic Spanish lifestyle as you move further into Castilla-La Mancha The historical significance of these two locations is enormous, and architecture and sights across this part of the country reflect this.
Mallorca, Menorca and Ibiza have long been popular tourist hot spots, and many of those who live there are those who spent years returning to their favourite corner of the island annually! As well as the well-known 'party' resorts, people make the Balearics their home because of the excellent climate, wonderful beaches and unique history. Which island is best for you?
A Spanish corner of the Atlantic, the Canary Islands are a paradisiac Spanish archipelago found just off the southwest coast of Morocco. The main islands here for expats are Tenerife, Gran Canaria, Lanzarote and Fuerteventura. Like the Balearics, it's their touristic appeal that brings people here on an annual basis and causes many to look for new lives (or at least second homes here). The subtropical climate helps of course! Which island could be your new home?
Find this information helpful? Share with your friends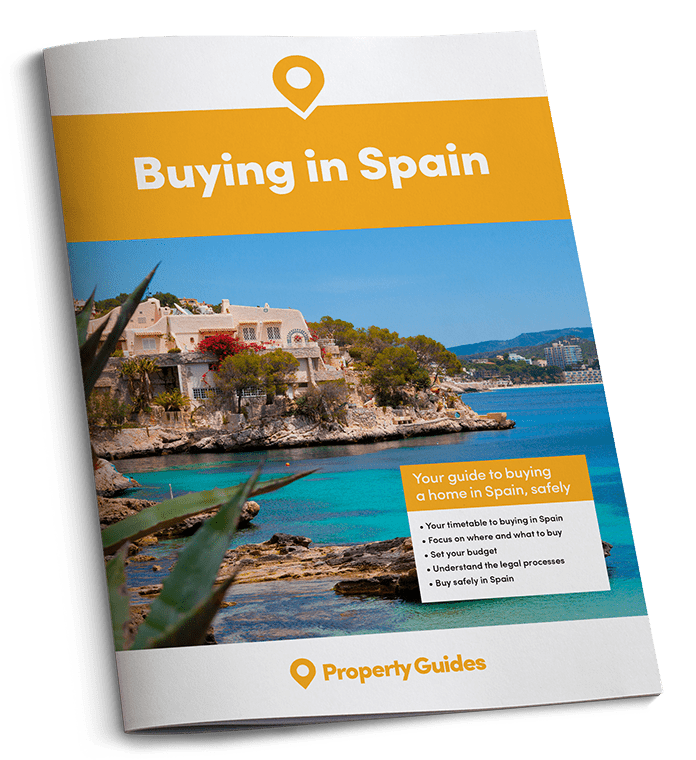 The Spain Buying Guide is a free, independent resource to help anyone who is looking to buy property in or move to Spain through each critical stage of their property buying journey. Set up to help our readers avoid the many complexities and pitfalls of buying property in Spain, the guide takes you through each stage of the property buying process, with practical recommendations from our experts who have been through the process themselves.
✔

  Ask the right questions
✔

  Avoid the legal pitfalls
Download your free guide to buying in Spain