The unique culture and customs of life in Spain
When you've made the move to Spain, or are just spending a lot of time here, it's very important to spend some time getting used to the culture and customs that you may not be used to as you settle in.
Depending on how much time you spend exploring Spain, you will also soon discover that each area has its own traditions, as well as those they share with the rest of the nation. Many of the customs you may not have heard of outside the country are the ones that are the most important! We outline some of the main Spanish cultures and customs below:
Generally people think of queuing as a very British activity, but the Spanish are also experts.
Queuing
Generally people think of queuing as a very British activity, but the Spanish are also experts. This may not be the queuing system you are used to – and in fact they probably won't be standing in an orderly line – but when a new person comes in, they simply ask "'quien es el ultimo?" ("Who is the last person?"). This ensures that everyone knows who is in front of them and there is rarely any queue barging.
Adios
Many of you will know that adios means goodbye in Spanish, but you also shouldn't be surprised when you hear people use it to mean hello! Or more accurately, when someone acknowledges you in the street and uses it to mean "I know who you are and that you're there but I don't have time to chat right now because I'm in a real hurry…!". Adios is much quicker!
Bread
As you may be used to in France, the Spanish often buy fresh bread every day – usually a baguette (known as a barra or a pistola). Bread is a very important part of every meal in Spain.
Family
This is such a big part of Spanish life. All members of a family will try to sit down together to eat at least once a day, and those who live far away will usually return home at the weekend for get-togethers – which can last for hours and even days, and generally involve a lot of food.
Bull fighting
Everyone knows what a big part of Spanish culture this really is – but it is not for the faint hearted; and many people have doubts about the morals of this historical pastime. Whatever your thoughts, this is still a large part of Spanish life. Bull-fighting was brought about by Greek and Roman influences and the 'sport' that we know now has evolved from this.
The siesta is a necessary part of Spanish life.
La Siesta
This is a necessary part of the Spanish day, particularly in the summer, when it is extremely hot outside and it's impossible to spend time out of the home. The Spanish day runs later as a result, so you can go shopping at 11pm or have tapas or dinner at midnight. To get maximum benefit from a siesta, it should be around 20 minutes long.
Grapes on New Year's Eve
A relatively unknown custom outside Spain is to swallow 12 grapes, one on each strike of the clock at midnight on 1st January, to see in the New Year. It is said that this idea was thought up by the grape producers who wanted to sell more of their crop – but, whatever the origin, it is very amusing to watch!
A relatively unknown custom outside of Spain is to swallow 12 grapes, one on each strike of the clock at midnight on 1st January.
El Tió de Nadal
This is a Catalan Christmas tradition; a log that represents a character from Catalan mythology. The log had four thin wooden legs and a smiley face, and sports a red sock style hat. From 8th December, the log is given little things "to eat" and is covered with a red blanket to keep it warm – until Christmas Eve, when the family encourage the log to "shit" (please excuse the language) by beating it with sticks and singing Christmas songs. Children are then required to leave the room and go to pray that El Tió brings lots of presents, while the parents place small items such as chocolates, sweets and little toys under the blanket. These are then distributed – to the delight of the children.
Noche Buena (Christmas Eve)
This is when the Spanish traditionally eat their main Christmas meal, before going to Midnight Mass, after which, they go into the streets and play music on guitars and drums. There is a saying, "Esta noche es Noche Buena, Y no es noche de dormir", which means "Tonight is a good night and not meant for sleeping."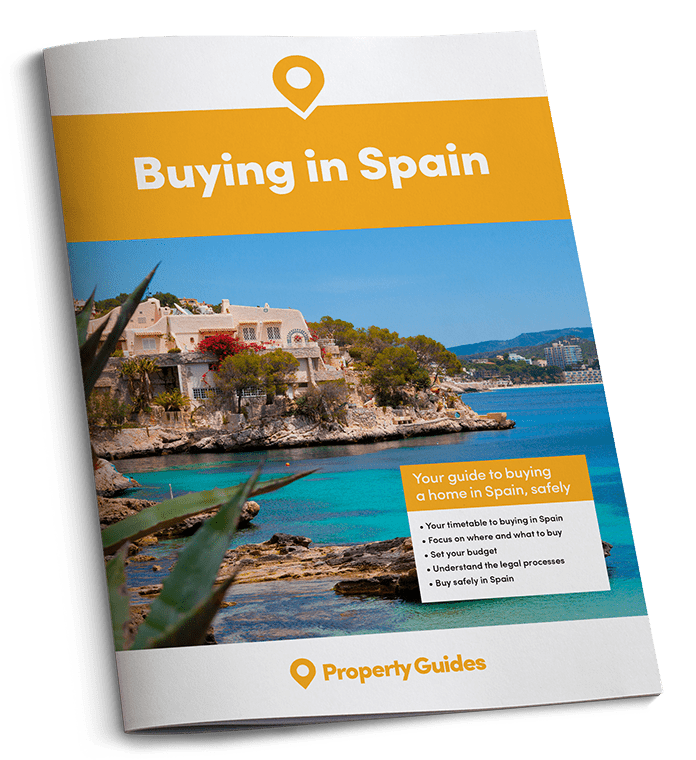 The Spain Buying Guide is a free, independent resource to help anyone who is looking to buy property in or move to Spain through each critical stage of their property buying journey.
Set up to help our readers avoid the many complexities and pitfalls of buying property in Spain, the guide takes you through each stage of the property buying process, with practical recommendations from our experts who have been through the process themselves.
✔

  Ask the right questions
✔

  Avoid the legal pitfalls
Download your free guide to buying in Spain