The hidden costs when buying a home in Spain
There are a number of costs you need to plan in to your property buying budget, including some that you may not have already considered.
One of the first rules of buying property overseas is that the price of the offer you have accepted on the property is not the total amount you will have to pay. You need to factor into the total figure the following costs:
Legal fees
The cost of any surveys on the property
Local and international taxes
Ongoing protection and maintenance costs, such as insurance, or managing agents.
We suggest allowing around 10-16% of the total cost of your purchase to cover the different fees and services needed – then factor in additional costs for insurance, utilities, and your day-to-day living costs.
We recommend seeking the advice of an independent financial advisor (IFA) to discuss your tax and inheritance liabilities when moving to Spain.
Beware hidden costs
You may not realise that there are also other, 'hidden' costs you will need to consider throughout the buying process, such as fluctuating currency exchange rates. These can have a significant effect on the price of your property, any deposit you pay, and ongoing payments to look after your Spanish property.
If you are buying a Spanish home, the price of that property actually changes with the sterling-euro exchange rate, as you will be paying for the property in sterling at a euro price. These exchange rates fluctuate throughout the day, and can vary significantly from one day to the next, depending on a number of economic and financial market factors that affect the currency markets. This means that the price of your Spanish property will change in line with the exchange rate going up or down – this can sometimes be a considerable amount. If the rate of sterling to the euro goes down after you have agreed to pay a certain price on your property, even in a short timeframe, you will end up paying more than you expected on your Spanish home.
For example, if you agree to purchase your dream villa on the Costa del Sol for €250,000 when the sterling-euro rate is at 1.40, you expect the property to cost £178,571; however, if you did not complete on the property until several weeks later, when the rate had fallen to 1.34, that same property would cost £186,567 – losing you nearly £8,000 – certainly not a healthy sum to lose when you are about to start your new life in Spain!
Get expert guidance from the currency specialists, contact Smart Currency Exchange today.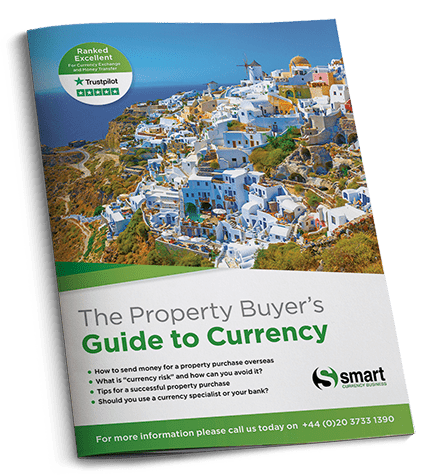 The Property Buyer's Guide to Currency will help you:
✔

  Understand the currency markets
✔

  Protect your property budget
✔

  Use a Currency Specialist
✔

  Learn from other overseas property buyers
Download the Property Buyer's Guide to Currency