Sampling the Spanish culinary specialities
Along with beautiful sunny weather, Spain is hugely famous for its delicious and flavoursome cuisine. So much so, that it features 32 times on the Opinionated About Dining (OAD)'s list of Europe's Top 150 Restaurants – more than any other European Country.
According to the list, the third-best restaurant in the whole of Europe is in Northern Spain in the Vizcaya province. If you fancy visiting and judging it for yourself, the restaurant is called Asador de Etxebarri. It's run by the well-known chef, Bittor Arginzoniz, who has been nicknamed the 'maestro of chargrilling'. Unsurprisingly, it isn't cheap – a typical meal in the restaurant would cost you around €209 per person.
Another Spanish restaurant that has made the top 10 is Restaurante Quique Dacosta in Denía, Alicante. The namesake of the owner and famous chef, Quique Dacosta, the restaurant regularly features in 'the best in the world' records.
Others of note are in Barcelona, The Basque Country, Cordobá, San Sebastian and Madrid.
So, since Spanish cuisine is now very much on the map worldwide, we thought we would take a look at the varied and wonderful cuisine of the Spanish regions. Trying out new dishes in Spain is (almost) always a pleasure and though most areas use much the same ingredients, the way in which they are cooked and presented vary a lot.
Viewing trips are a great time to try out the local cuisine. If you are preparing to come over to Spain to look at properties, make sure you know what to look for by reading our free guide, 

Your Viewing Trip

.
Andalusia
Andalusia is the home of sherry and the fortified wine is used in many local dishes. The region is also where the Moors originally settled (Andaluz means "Land of Rabbits" in Arabic), so the cuisine has a big Moorish influence too with cinnamon, fruits, saffron, cardamom, nutmeg and various other spices.
Food in this part of Spain is really quite exotic and totally different from, say, the cuisine of La Rioja.
Picada is typical of the region. It is a paste pounded in a pestle with fried garlic and bread, possibly boiled egg yolks, toasted pine nuts or almonds, and olive oil.
While you're in the region, try to find a restaurant serving Andalusian prawn and spring onion fritters – they're absolutely delicious! You could even attempt to make them at home using Rick Stein's excellent cookbook, "Rick Stein's Spain."
Another really simple Andalusian dish is stewed olives with sherry vinegar and orange. You'll find this too in Rick Stein's book. It is spicy, sweet, full of flavour and immediately says "Andalusia."
You should also try the glorious chilled Avocado Soup with Cumin, a sort of 'green gazpacho'. It's mild, creamy and in Spanish is called sopa de aguacate.
These are just a few of the lesser-known Andalusian dishes but there are hundreds more to try, either in restaurants or at home.
Valencia
Many non-Spaniards think of Paella as Spain's national dish, but for the Spanish, Paella is largely associated with just Valencia. Being Spain's fourth most populous autonomous community, there is more to Valencia than just Paella.
A similar, but just as tasty, rice dish is monkfish with red peppers and saffron rice. You can find it in smaller coastal restaurants where locals go. You won't be disappointed!
Another dish popular with the locals is All i pebre. It's a hearty stew made up of eel, potatoes, garlic, paprika and almonds.
In many of the restaurants serving grilled food, you could come across a delicious concoction of large mushrooms grilled with garlic and olive oil. They often accompany grilled sausages or other grilled meats. A very simple but truly delicious accompaniment.
Catalonia
Enjoying the benefits of both the Mediterranean Sea and the Pyrenees mountains, Catalonia has a tradition of fish and meat cuisine. Often, the two are combined, known as mar i muntaña in Catalan.
You will also find many rice dishes. Instead of paella, the locals make a similar dish called arroz de casola. Pretty much every restaurant will have this on the menu, especially on Thursdays. The difference is that unlike with paella, the rice is cooked separately and then the ingredients – usually fish but also pork, sausage and other meat – are all mixed together.
But probably the most typical of all Catalan fayre is pan i tomaquet – bread with tomatoes. However, these are not just any tomatoes; they are specially produced and are very juicy. This juice is spread on the bread, often with a cut piece of garlic, before the rest of the tomato is added. Many people also add a little salt and olive oil and eat the bread with Iberico or Serrano ham.
A tasty vegetable dish from Catalonia is one made with broad beans, young garlic and bacon or black sausage. Often, this is cooked with aniseed alcohol, such as Pernod, or in a good wine.
Rabbit is also popular throughout Spain and particularly in Catalonia. It is cooked in several different ways, but Catalan braised rabbit is probably the tastiest. It has the usual ingredients but with the addition of a paste made from dry white wine, almonds or hazelnuts, garlic and olive oil. If you have a slow cooker at home, this is a lovely, warming meal.
If you're thinking of buying a holiday home, why not pool your resources and buy with family? Read our guide,

Buying Abroad with Family

 to find out how to halve the cost and double the fun!
Extremadura
Situated on Spain's Atlantic coast and nestling under the southern tip of Portugal is the agricultural region of Extremadura. The region is famous for its Iberico ham and artisanal cheeses, with the most well-known being Torta de la Serena from Cáceres.
With an abundance of sheep, lamb is widely used in local cuisine. One such dish is caldereta de cordero, a thick stew of lamb, garlic, white wine, peppers and onions. It is mostly served in the winter and will definitely keep you warm.
Galicia
In the far north-west of Spain is the beautifully lush and mountainous region of Galicia. It is very green, rather like Ireland, because it gets a lot of rain but is nonetheless worthy of a visit.
In Galicia, they love pork, octopus and squid. The ingredients are always very fresh, and thanks to the large ports of La Coruña and Vigo, restaurants serve some of the best fish found around coastal Spain.
The delicious tapas dish of pebrots de padrón (small green peppers fried with salt until the skins become slightly burnt) originates in the town of Padrón in Galicia.
Basque Country
In the north of Spain, close to France is the Basque Country. Here they speak a language totally different from any other region, and it is renowned for its excellent cuisine. There are 11 Michelin starred restaurants just in the city of San Sebastián!
Even the simplest ingredient is turned into something special in the Basque Country – try a poached egg on top of a garlic mashed potato with truffle, Rick Stein did and said it was wonderful!
Pintxos, the Basque Country's version of tapas, is usually on a small slice of bread and held together with a cocktail stick. It is probably the region's most famous food, but there is so much more to Basque cuisine.
Seafood is found everywhere with cod being a particular favourite. Another well-known Basque dish is Pollo a la vasca, (Basque chicken). You can find authentic recipes online and it is a great meal if you are having friends round for lunch or dinner.
Burnt Basque cheesecake is a great dessert to serve to friends and is comparatively easy to make. You can find delicious Basque cheesecake recipes, along with many other Spanish dishes, here.
Galicia and the Basque Country both also produce excellent cider, and it is widely served in the tapas bars and restaurants. You can also find these ciders in most supermarkets.
From this limited gastronomic tour around the regions of Spain, you can see that there is a great variety of cuisine on offer. Living here, it is great to travel between regions and sample the local food, wine and cider and to bring back some recipes to play with in your own kitchen.
Spain Property Guides can put you in touch with the very best lawyers, estate agents and international payments specialists in Spain, for total peace of mind.

Get in touch with your Golden Three

here.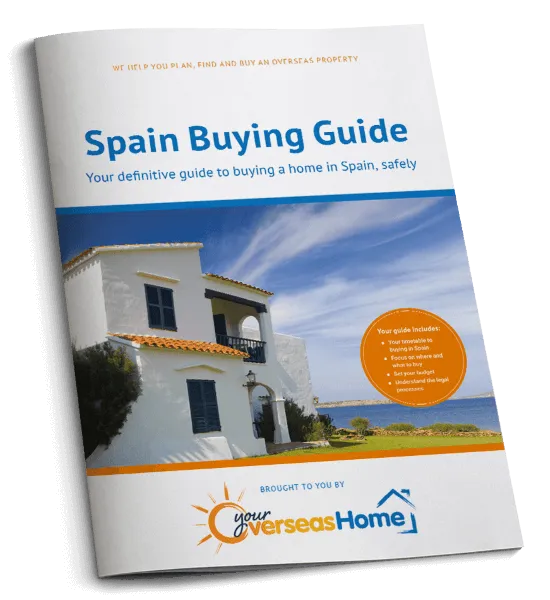 The Spain Buying Guide is a free, independent resource to help anyone who is looking to buy property in or move to Spain through each critical stage of their property buying journey.
Set up to help our readers avoid the many complexities and pitfalls of buying property in Spain, the guide takes you through each stage of the property buying process, with practical recommendations from our experts who have been through the process themselves.
✔

  Ask the right questions
✔

  Avoid the legal pitfalls
Download your free guide to buying in Spain