Sampling the Spanish culinary specialities
Food and drink is of utmost importance to the Spanish culture, and meal times are a vital social activity in the country. Even though Spain is much more fast-paced than it used to be, you will rarely find a Spaniard who races through a meal on the way to something else.
Spanish food and drink is renowned across the globe, and is characterised by its use of paprika, olive oil, seafood, ham of some kind, cheese and lots of variation depending on where you are in the country.
Breakfast in Spain consists of a continental breakfast; usually this will be coffee, hot chocolate or tea with rolls, butter and jam – and this may also include churros (small fried doughnuts) in some places! Coffee is usually strong with hot milk – either café con leche (half coffee, half milk) or cortado (a shot of espresso 'cut' with a dash of milk).
Lunch is the most important meal of the day in Spain, and will usually be three or four courses.
Lunch is the most important meal of the day in Spain – this will usually be three or four courses, beginning with a choice of soup or several dishes of hors d'oeuvre, followed by a fish or egg dish, and then a meat course with vegetables. Pastry, custard or fruit is served as a dessert, followed by coffee. Wine is always part of the meal.
Dinner can also be a number of courses, unless of course you have had a particularly heavy late lunch! A large diner will also consist of four courses, along the same vein as lunch, whilst a lighter dinner will usually be cold cuts, soup or Spanish omelette. Wine will also always be part of the meal, and coffee (and possibly brandy) will be served after.
Common foods
With its 4.964km of coastline, fish and seafood often plays a large part in Spanish cuisine. Most towns have a daily fish market offering strange and wonderful sea creatures to be consumed – preferably that day, as they are best when eaten really fresh. Supermarkets too have fresh fish counters and if you go after 5pm, you should be able to buy that day's catch. One of the most common varieties of fish is the merluza (sweet white hake), but langosta (a variety of lobster) is seen everywhere, although is very expensive. Baby eels are also popular, fried heavily in olive oil and garlic.
Paella is of course one of the most renowned Spanish dishes; this is an aromatic rice dish topped with shellfish, chicken, sausage, peppers and local spices.
Garlic is used in almost everything, and peppers, potatoes, rice and tomatoes are also used in large quantities. Other vegetables, and salads, are rare – and usually are cooked as part of a dish rather than given individually. More olive oil is produced in Spain than anywhere else in the world, and all food is cooked in this. Eggs are also served in countless ways – of course the Spanish omelette is popular, made with potatoes and onions. Meat is served in most dishes, particularly pork, veal and chicken.
Desserts will usually be fresh fruit, or occasionally flan or ice cream. You may also find some restaurants serve fresh orange juice for dessert.
Tapas
Traditional tapas buffets are popular worldwide, and this can consist of a variety of dishes – usually including garlic bread, olives, ham, cheese, meat, shrimp, paella and much more! The idea with tapas is that you pick and choose a number of dishes and you keep ordering until you are full! This is a great way to sample Spanish dishes.
Tapas very much varies between regions, and reflects the different ingredients grown there as well as the different lifestyles. Even the name is different in some areas, and in some places tapas will be known as 'ración' or 'pintxo'. However, standard tapas dishes will usually include the following: albóndigas (meatballs), traditional Spanish Chorizo, croquetas (small fitters of thick béchamel sauce with ham, tuna or cod), gambas a la plancha (shrimp grilled in their shells), jamón ibérico de bellota (air-cured mountain ham from Iberian pigs), jamón serrano (thin slices of air-cured mountain ham), morcilla (cooked slices of spicy blood sausage), patatas bravas (deep fried potato with spicy paprika aioli), pimentos rellenos(skinless red peppers, usually stuffed with tuna or cod), queso manchego (slices of manchego cheese), and tortilla Española (thick omelette with potato).
Drinks
Water is safe to drink on all major cities and tourist resorts, but it is still usually a good idea to drink bottle water. Sparkling water is agua mineral con gas, and still water is agua mineral sin gas. Coffee is very popular in Spain; this is served much stronger than you may be used to in the UK.
Tapas very much varies between the regions, and reflects the different ingredients grown there, as well as the different lifestyles.
Beer is not native to Spain but can now be found everywhere – popular domestic brands, such as San Miguel, all over the world. Wine is a large part of Spanish cuisine, and this includes sherry (jerez). Sherry is drunk before dinner and is extremely popular. Spanish table wines can be excellent, and of course Rioja is drunk worldwide. Other well-known wines include the Valdepeñas, from Castille, the Ampurdàn of Catalonia and the Montilla of Andalusia. Local sparkling wines (Cava) are also popular – Freixenet is drunk across the world. Sangria is of course the most well known Spanish drink – this is a refreshing red wine punch that also includes oranges, lemons, seltzer and sugar, and in some cases, brandy, which is another popular alcoholic drink in Spain.
Meal times
You will find that meal times are slightly later than you may be used to in the UK: Breakfast takes place between 8am and 10am, lunch is between 1pm and 3.30pm, and dinner is between 8.30 and 11pm. Most restaurants are open all day, especially bars and cafes; here you can have tapas, appetizers and 'combination meals' (platos combinados). Many restaurants close on Sundays, but not usually in the large tourist areas or the big cities.
Tipping is not mandatory in Spain, and a tip should only be left in restaurants and bars if the service was particularly good. This will usually be 5-7%.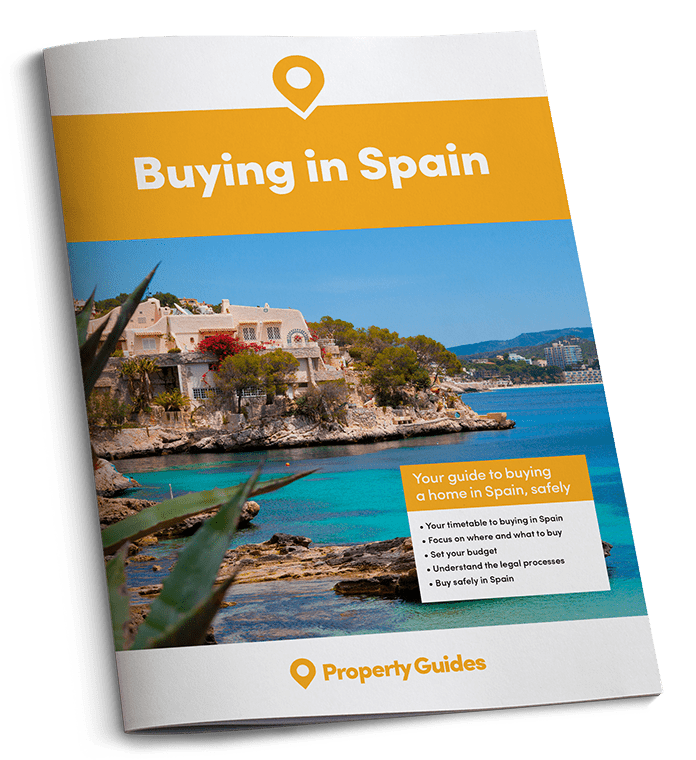 The Spain Buying Guide is a free, independent resource to help anyone who is looking to buy property in or move to Spain through each critical stage of their property buying journey.
Set up to help our readers avoid the many complexities and pitfalls of buying property in Spain, the guide takes you through each stage of the property buying process, with practical recommendations from our experts who have been through the process themselves.
✔

  Ask the right questions
✔

  Avoid the legal pitfalls
Download your free guide to buying in Spain