The three essential steps to buying Spanish property safely
Our trusted partner, Smart Currency Exchange, has created a guide to the three essential steps needed to buy your Spanish property: your estate agent, solicitor and currency specialist.
When planning to buy your property in Spain, we recommend downloading the free guide from Smart Currency Exchange, "Three essential steps to buying property abroad".
The guide covers the three essential professionals you will need on your side for a safe and successful property purchase in Spain:
A trustworthy agent, who knows the local Spanish property market
An independent, bilingual solicitor to oversee your property transaction
A currency exchange specialist, to keep you updated on currency movements
Why do we consider these three resources essential to a successful purchase?
An experienced estate agent is a key part of the buying process, so you can maximise your property viewings and get to know both the local area and the property buying process
A trusted solicitor, independent of any developer or agent, will help represent you throughout the property buying process and make sure you understand the applicable laws – this is especially important if you don't speak the language.
A currency exchange specialist can keep you updated about exchange rate movements and how these affect your money, helping you to budget for your property, avoid losing money throughout the buying process, and save on regular payments once you have bought your home in Spain. They can also help you maximise your budget secure a favourable exchange rate for your property purchase.
Download your free copy of the Smart Currency Exchange 'Three Essential Steps to Buying Property Abroad' guide to find out more and get your plans in place.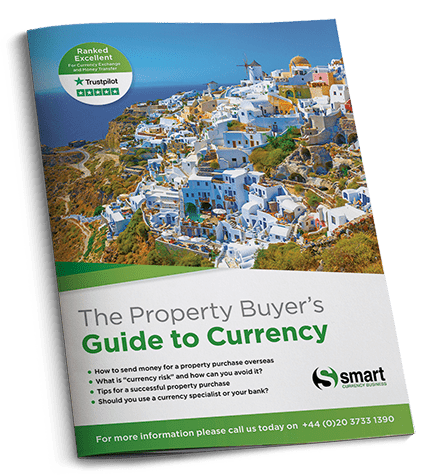 The Property Buyer's Guide to Currency will help you:
✔

  Understand the currency markets
✔

  Protect your property budget
✔

  Use a Currency Specialist
✔

  Learn from other overseas property buyers
Download the Property Buyer's Guide to Currency