Learning Spanish for your move to Spain
Not speaking the language is one the biggest reasons for would-be expats returning to the UK. If you don't understand the language spoken around you, you are more likely to feel isolated and unhappy in your surroundings. Learning a little Spanish, and practicing whenever you can, is a really good way to ingratiate yourself into your neighbourhood and make new friends!
Don't rely on everyone understanding English!
It's a common perception that Brits are terrible at learning another languages, and this is more than likely because wherever you go in the world you are likely to come across someone who can speak at least a few words of English! However, it's not a good idea to assume that everyone will understand you – and what's more, you'll earn a bit more respect from your Spanish neighbours if you attempt to master at least the basics.
You'll earn a bit more respect from your Spanish neighbours if you attempt to master at least the basics of their language.
Expats moving to Spain with children in particular will need a grip on the Spanish language – your children will learn Spanish at school and may even become fluent. If their parents do not learn the language as well, this can lead to further feelings of isolation – which may well result in a move back to the UK.
Different languages in Spain
The official language is Spain is Spanish, known in Spain as 'Castellano'. This is a Romance language that originated in Castille, a region of Spain. This is also the official language of many South American countries and it is estimated that there are around 414 million native Spanish speakers worldwide – making it second only to Mandarin in terms of numbers worldwide. A further 135 million speak Spanish as their second language, and 20 million students learn Spanish as a foreign language. It is one of the official languages of the United Nations and the European Union. It is also the second language of international communication, after English.
There are a number of regional variations of Spanish spoken across Spain; four of these are also official languages:
Basque, spoken in the Basque Country and northern Navarre
Catalan, the regional language of Catalonia, the Balearic Islands and Andorra
Galician, this is co-official in Galicia and is also spoken in western parts of the Principality of Asturias and Castille and León
Occitan (Aranese), this is spoken in the Pyrenean comarca of the Aran Valley, in north-western Catalonia There are language schools across the country, offering a range of different courses.
Regional accents and ways of speaking vary too, so the Spanish spoken in Barcelona will sound very different from that spoken in Andalucia. For most people coming to live in Spain, learning Castilian Spanish is the most useful as it is spoken across the country – as well as in South America and other ex-Spanish colonies. Despite this, those of you who have school age children might prefer to learn the local language first, as many classes will be held using that rather than Castilian Spanish – particularly in Catalonia where lessons are all in Catalan. By learning the language at the same time as your children, you will be able to help them with their homework, communicate well with their teachers and chat to other parents outside the school gates.
Before you go
It's really important to start thinking about learning Spanish before you move to Spain. There are numerous ways you can begin to do this, and it will really pay dividend upon arrival.
The important thing is to not expect too much – mastering even the basics may well take time, so it is unlikely you will become fluent straight away.
The important thing is to not expect too much – mastering even the basics may well take time, so it is unlikely you will become fluent straight away.
You will find many Spanish classes available for adults at all levels, and if you have no idea of the language at all a basic starter course will prove invaluable for when you first arrive in Spain. Just being able to ask for things in a shop or café will make you feel good in those first few weeks of finding your feet in your new country.
It's also a good idea to try and listen to Spanish TV and radio stations – you may able to pick up some Spanish movies on cable. Listening to every nuance of sound and intonation will enable to you to pick up speech much easier than just reading and writing!
After you arrive in Spain
Once you move to Spain, there will be prime opportunities to go out and about and take some time speaking to the locals, practicing your efforts. It's important to understand that you are likely to make mistakes, but try not to be embarrassed about this – giving it a go is much better than not trying at all! You could also take some time listen to the Spanish people speaking as you wander around your new village – see what you can pick up.
Once settled, look for Spanish classes in your local town Private tuition and intensive classes are available, with some courses designed specifically for those who are planning to spend several years living in Spain. These classes will not only give you a fixed time to study each week, but will also mean you are surrounded by people in the same position. Once you choose one to go to, make sure you go each week and promise yourself to faithfully complete any homework. You will be surprised at how quickly you improve your language skills and this will give you confidence generally.
Attending an adult education class will give you a fixed time to study each week, and will also ensure you are surrounded with those in the same position as you.
You can also spend some time visiting tourist attractions across Spain; getting a feel for Spanish culture will certainly help you out, along with spending some time listening to the locals speaking, reading the paraphernalia and improving your cultural knowledge.
Don't give up!
The most important thing to remember when you are learning Spanish is practice, practice, practice! The more time you spend speaking the language, even at home to yourself out loud, the more likely you are to begin to master the foreign tongue. This can take time and commitment, so it's important to set aside a specified amount of time every day to practice. Even just 20 minutes daily will make a difference!
What this really boils down to making an effort to communicate with the people around us in their language. We are in their country, so it's up to us to try to speak as they speak, and we should not expect them to speak our language – though many do, of course, especially in the popular tourist areas. Try it – you will be delighted at the many doors speaking Spanish (or local languages) can open for you.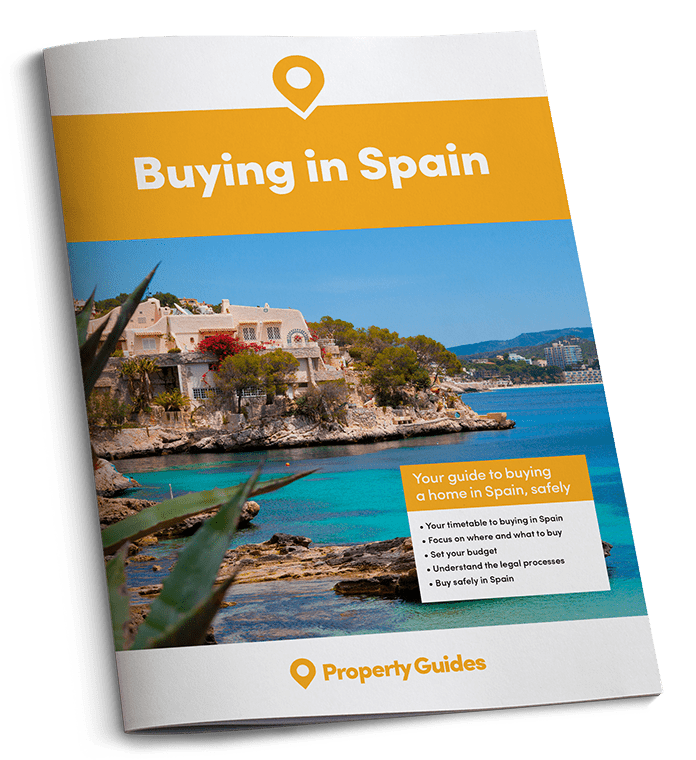 The Spain Buying Guide is a free, independent resource to help anyone who is looking to buy property in or move to Spain through each critical stage of their property buying journey.
Set up to help our readers avoid the many complexities and pitfalls of buying property in Spain, the guide takes you through each stage of the property buying process, with practical recommendations from our experts who have been through the process themselves.
✔

  Ask the right questions
✔

  Avoid the legal pitfalls
Download your free guide to buying in Spain