Your Guide to Successfully Buying Property in Turkey
The country's fantastic climate, its wonderful food, the space and its generally laid back atmosphere, are just some of the reasons why would-be expats from the UK are attracted to purchasing property in Turkey – and, of course, the fact that you can usually purchase a beautiful detached home with land for the less than the cost of a one bedroom flat in some parts of the UK.
Despite this, it's really important to make sure that you consider the pitfalls that you can encounter when buying an overseas property. There are so many steps you need to take when planning, visiting, financing, buying and completing a property purchase in Turkey and it's so important to make sure that you tread each step with caution. If just one of the essential steps is not managed or researched carefully, problems can arise – leading up to a loss of money and indeed time!
The Turkey Buying Guide covers everything you need to know about purchasing property in Turkey – helping you through every step, from the initial research, to making an offer and transferring your currency to actually purchase the property. We can also help with anything extra you need to know, such as learning the language, how to set up a bank account, what sort of communications you can expect, and so on – helping you to settle into your new life in your dream home in Turkey.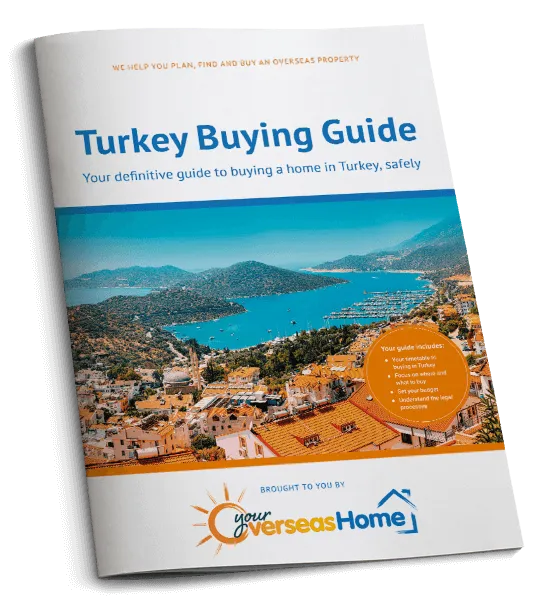 We partner with some of the most trusted names in the industry


Download your free copy of the Turkey Buying Guide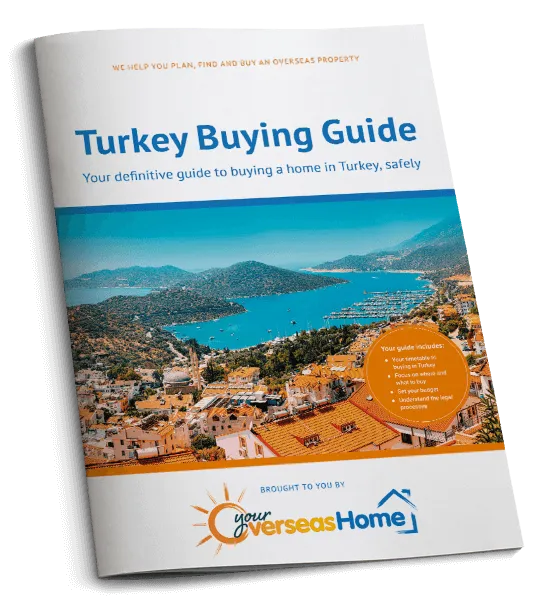 The Turkey Buying Guide takes you through each stage of the property buying process, with practical recommendations from our experts who have been through the process themselves. The guide will help you to:
✔

  Ask the right questions
✔

  Avoid the legal pitfalls
Download your free guide to buying in Turkey
We can help with every step of the buying process
How can the Turkey Property Guides help you buy safely and successfully?
The Turkey Buying Guides, and the additional downloadable guides from this site, are here to help you safely navigate each stage of the property purchase process in Turkey. The first step is the Turkey Buying Guides, designed to help you begin your plans, as well as giving critical information on legal and financial considerations.
The information on the Turkey Property Guides can help you identify and avoid the numerous pitfalls of buying in Turkey, to assist you in achieving your goal of owning a dream home in Turkey – either as a holiday home or your new permanent residence.
Turkey Property Guides has a network of industry specialists to provide independent and factual information on every stage of the process. Additionally, we have a team of writers living abroad, who have already gone through the whole process themselves.
With over 15 years of experience in helping thousands of buyers realising their dream of buying property abroad, our expertise is recognised and trusted by some of the biggest brands in the industry. Rightmove and Green-Acres regularly use our content to inform and guide their own users about buying property abroad.