Financial considerations before you move to Turkey
To set you off on the right foot we outline all of the essential financial matters to consider prior to purchasing in Turkey.
Before you can begin your exciting buying journey there are a number of important financial steps to take right away. The Turkey Property Guide is here to help you establish whether you can afford the property of your dreams, and to outline each step you must take to ensure your financial affairs in order. Here are the key financial considerations to take into account prior to purchase:
Financing your purchase
Before you can start trawling through property websites looking for a property that makes your heart sing, sit down and establish whether a purchase is financially viable. How do you plan on financing your Turkish property? Will you be making the purchase from savings, from the sale of your UK property, or will you need to secure a mortgage?
Should you be opting to go down the mortgage route, it's important to speak to a mortgage advisor at the very start of your journey. Until you know for sure you have a mortgage secured, and the amount of money you'll be requiring for a deposit, there's little point commencing your search.
Once you've established how you'll be financing your Turkish property, we recommend you open a free, no-obligation account with Smart Currency Exchange, our trusted currency partner. Right away you'll be assigned a personal currency trader who will listen to your plans and help you determine the most cost-efficient way of transferring your finances to Turkey to make the purchase.
Tax planning
If you're planning on moving to Turkey on a permanent basis, or will be spending more than half of your year there, you'll need to alert the Inland Revenue to your plans. They will be able to ensure you're being taxed correctly, and will let you know how your move affects your worldwide estate, most importantly, your entitlement to your pension, and all other assets. Tax liabilities differ from person to person so it's vital you seek the guidance of a tax expert prior to your move who can help you to:
• Establish when and how to notify HMRC of your imminent departure
• Determine your tax liabilities
• Advise on the best path for getting the most from your pension
• Advise of how the Statutory Residence Test is likely to affect you
• Advise on UK tax returns and all tax matters
• Offer the peace of mind of knowing your affairs are in order
UK Inheritance Tax
Property is a huge asset, and this means that you'll need to consider how inheritance laws are likely to affect you. We recommend seeking the services of an English-speaking, independent lawyer in Turkey to help you draw you a will that will ensure the interests of you and your family are protected.
Pension planning
If you're currently receiving pension payments, you'll need to work out the best way of receiving them in the future. If you only plan on using your Turkish property for holidays and will remain in the UK full time, it makes sense to continue receiving your pension payments into your UK account. If you're planning a permanent relocation, there are a couple of pension schemes that grant you greater control over your savings and reduce your tax bill. We recommend consulting an independent financial advisor who can advise you on whether a Qualifying Recognised Overseas Pension Scheme (QROPS) or a Self-Invested Personal Pension (SIPP) best meets your needs.
Insurance
It's easy to get swept away imagining your new life in Turkey, but it's also important to insure this new life from the day that you arrive. In addition to property insurance, which is likely to be a condition of your mortgage, you'll also require contents, car and healthcare insurance. The Turkish healthcare system operates on a combination of compulsory health insurance and private medical practice. Although it is possible to obtain free or low-cost healthcare, standards vary wildly from region to region. To ensure peace of mind, and to receive the best care possible, we recommend taking out health insurance to cover any medical treatment you might require.
Opening a Turkish bank account
Even if you plan on remaining resident in the UK, it's best to open a Turkish bank account in order to better facilitate the payments associated with property ownership. Turkey's banking system is sophisticated and offers all of the services we enjoy in UK banks. To open an account you'll need to supply the following documentation:
• Your Turkish tax number, which you can obtain from your local tax office
• Passport
• Proof of address, i.e. a utility bill
• Proof of signature form
Many banks also offer the chance to sign-up for a bank account from the UK, and offer online telephone services in English. Accounts are usually set-up and working on the same day. As each bank will offer slightly different services, we recommend choosing a bank that best meets your needs – just as you would in the UK!
Download your free copy of the Turkey Property Guide today for a full run-down of all the financial considerations involved in a move to Turkey.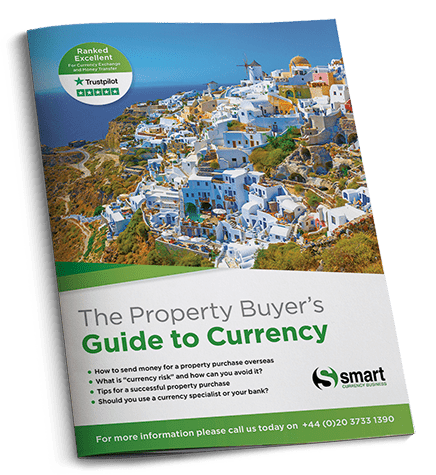 The Property Buyer's Guide to Currency will help you:
✔

  Understand the currency markets
✔

  Protect your property budget
✔

  Use a Currency Specialist
✔

  Learn from other overseas property buyers
Download the Property Buyer's Guide to Currency