Maintaining your finances after you move
Financial matters to take into account after you've successfully purchased in Turkey.
The financial considerations involved in an international move don't just stop when you're handed the keys. You've made the move – congratulations – but now you have to take the right steps to protect your life in Turkey. Here, the Turkey Property Guide outlines your key financial considerations post-purchase.
Claiming your pension
If you currently receive a UK pension, the chances are that you'll be relying on it to fund your life in Turkey. For this reason, it's important to manage these payments in order to maximise your savings and – most importantly – reduce the chance that a changing exchange rate will decimate your income. We recommend setting up a Regular Payment Plan with Smart Currency Exchange. The process is simple – your personal trader will help you to set up a standing order that will automatically send funds to your Turkish bank account on the dates that you specify, at an exchange rate you've agreed upon, making this plan an invaluable budgeting tool.
We also recommend speaking to an independent financial advisor about how to get the most from your savings whilst in Turkey, and to ensure that you avoid paying tax on your income, or pension, more than once. Contact the Resource Centre today on 020 7898 0549 to be put in touch.
Tax considerations
Establishing your new tax liabilities can be a tricky business, especially as each person's status will differ depending on their individual circumstances. As there are numerous tax implications of owning property abroad, it's important to establish what your new tax liabilities are. They will depend upon where you are resident, what you use your Turkish property for, whether you've retained assets in the UK, and whether you're still receiving a UK income. The best way to ensure your tax affairs are in order is to speak to an expert.
Turkish cost of living
It's all very well owning a property in Turkey, but you still need to consider the costs associated with living or spending time there. When budgeting you need to factor in the cost of utility bills, transport, groceries and socialising. Although Turkey is cheaper than the UK, it's still useful to establish how much things cost so you can budget effectively. If you'll be relying on payments from the UK to cover these day-to-day costs, you need to manage them sensibly. We advise speaking to Smart Currency Exchange about how to secure the best rates and save money on each of your regular payments.
Download your free copy of the Turkey Property Guide for a further information on the cost of living in Turkey.
Letting your property
If you intend to let out your property to generate a little income when you're away, it's important to read up on the legalities of doing so. You will also need to make sure your insurance covers holiday rentals, or long-term tenants. If you'll be out of the country while people are staying in your property, it makes sense to employ the services of a management company to handle the day-to-day running of the property. These companies remove a lot of the hassle involved in setting up a holiday rental. For example, they'll manage bookings, find you guests, clean and maintain the property, and act as a point of contact should anything go wrong.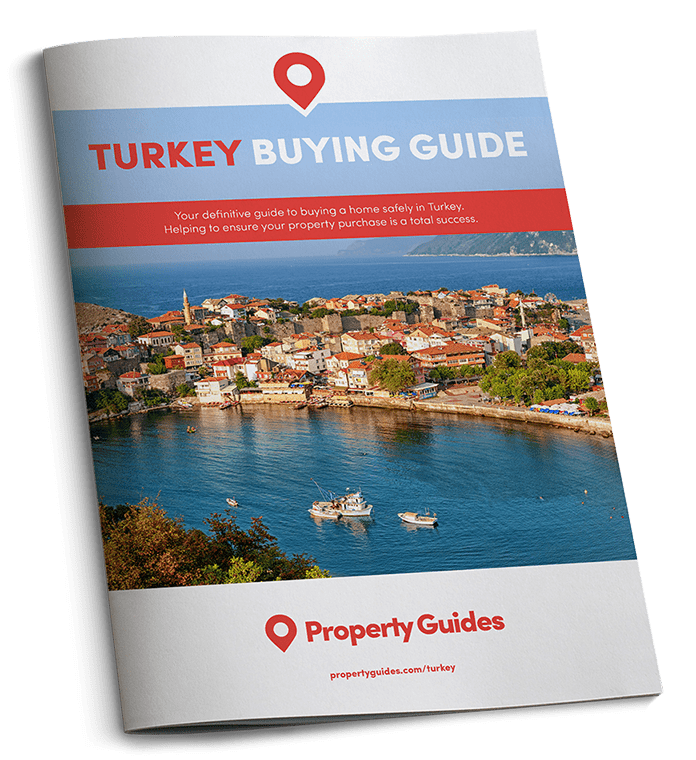 The Turkey Buying Guide takes you through each stage of the property buying process, with practical recommendations from our experts who have been through the process themselves. The guide will help you to:
✔

  Ask the right questions
✔

  Avoid the legal pitfalls
Download your free guide to buying in Turkey