Why and where to buy in North-East Spain & the Costa Brava
Discover Spain's North East and Costa Brava, a region enjoying mild weather and with everything from beaches to skiing to the most sophisticated city lifestyle, all within a couple of hours' drive. It's only a short hop from the UK too, via plane or train. We look at the major property hotspots, both on the famous Costa Brava, the Costa Daurada and in the quieter hinterland, and the best bits of Catalan and Aragonese culture. Plus, how much would a home here cost and where should we buy?
What are the major regions of north-east Spain?
This area of Spain is covered by two regions, Catalonia and Aragón. The better known region today is Catalonia, not least because it has rarely been out of the news in the past few years as it campaigns – peacefully – for independence.
More interestingly for property buyers, Catalonia has 214 kms of glorious coastline, lovely inland villages and part of the Pyrenees mountain range. Aragón, on the other hand, is landlocked. It has a beautiful capital city and is crossed by the second longest river in Spain, the Ebro. It also includes parts within the Pyrenees.
Both offer an excellent quality of life, but in subtly different ways. Catalonia is viewed by some as more sophisticated, forever associated with the city of Barcelona and the likes of the architect Gaudí, artists Dalí and Miró and the chef Ferran Adrià. It's certainly expensive compared to most regions of Spain, though its fans would say "you get what you pay for."
Aragón is reckoned by the Lonely Planet to be "probably Spain's most underrated region". It offers a more earthy and ebullient lifestyle amid mountains, forests and medieval cities. It had its artists too though, including Francisco de Goya. Both property and your lifestyle will be cheaper here than in Catalonia, but there's less work too.
Have a budget for Aragón but wish to buy in Catalonia? Check out your borrowing options in How to Pay for a Property in Spain!
Buying property and living in Catalonia
Climate
The climate of Catalonia is ideal for people who enjoy the cycle of the seasons. The coastal part of the region enjoys hot summers, very mild winters and pleasant spring and autumn temperatures. Inland, the summers tend to be hotter and the winters colder and in the mountains, expect snowy winters and warm summers.
Language
Anyone planning on moving to Catalonia should be aware of the dual languages of the region. Both Castilian Spanish and Catalan are official languages, but it is more common to see everything from menus to local government documents in Catalan. The Independent movement is responsible for this, but don't be alarmed as if you are not Spanish, generally people on the coast and inland are more than happy to speak to you in Castilian. Classes in school are in Catalan with Castilian Spanish taught as a required subject.
Top regions of Catalonia for house buyers
The Costa Brava
Without a doubt, the Costa Brava is one of Spain's most beautiful coastlines, certainly from Sant Feliu de Guixols up to the French border. This area is known as the Empordà and is divided into two, Alt Empordà and Baix Empordà (Upper and Lower Empordà). The coast here has not suffered much from overbuilding and high-rise apartments. Though some are evident, they do not detract much from the natural beauty of the area and recently the Catalan government, La Generalitat, has put a moratorium on building closer than 500 metres from the sea.
The Alt and Baix Empordà basically define different geographic areas but they also differ somewhat in landscape and seascape. The area has a wonderful craggy coastline with hidden bays and creeks, some larger beaches and a path that runs almost the entire length of this part of the coast called the Camí de Ronda, from which you can see glorious views and sunsets.
The Gulf of Roses is one of the more popular areas for anyone wanting to enjoy a beachside lifestyle, with popular towns among its coastline including Roses itself, Empuriabrava – particularly popular among tourists, so it can be quieter in winter – and Sant Marti d'Empuries. At the south of the gulf is L'Escala, a traditional Catalan fishing town.
Calella de Palafrugell is particularly picturesque, with whitewashed homes backing up against its sandy beaches. It's a great place for diving fans, and also has easy access to five golf courses. Lloret de Mar, easily accessed from Barcelona, has a charming old town, some fantastic new-build properties and plenty of sandy beaches.
Costa Daurada
The coast towards the south of Catalonia is actually the Costa Daurada (in Castillian Spanish, Costa Dorada, although just to confuse you further it is also known as the Costa de Barcelona). Whatever, it's beautiful! The name means the Golden Coast and the golden sand certainly shimmers in the sunshine.
Seaside highlights include Sitges, Cunit and Salou, plus attractive fishing villages like Sant Carles de la Rapita. Inland highlights include Tortosa. You can see the ancient history of this area – not so far across the Mediterranean, after all, from Rome – in cities like Tarragona.
Inland Catalonia
Catalonia hasn't just got a pretty coastline. Inland is another world of delightful stone villages steeped in history. Practically all ancient peoples settled here including the Greeks, Romans, Moors and even the Vikings. It's still just as popular with northern Europeans, especially those who love the outdoors.
Writer Matthew Parris and his family own a renovated house near the Collsacabra Mountains, and this is an area with outstanding countryside and attractive villages that lends itself to rural tourism.
La Cerdanya
This is the stunningly beautiful region of Catalonia which lies in the Pyrenees mountain range. It is an all-seasons, all-weather area. There is skiing in the winter and hiking, rafting, paragliding and much else in the summer. Lying by the French border, it shares much in common with its Gallic neighbour and is really quite unspoilt by excessive tourism or building. La Molina is a ski resort popular with families, many of whom come for the day from Girona or Barcelona. Après-ski is certainly not as sophisticated as some of the French ski resorts but you will find the locals friendly and welcoming.
Perfect for anyone who doesn't want to live on the coast, but might like a swim in the Mediterranean every now and then.
Puigcerdà is the main town of the region and is very attractive. It's built in local stone with pleasant squares and good bars and restaurants. It has lovely lake and a golf club too. This region is perfect for anyone not wanting to live on the coast, but who might like a swim in the Mediterranean every now and then.
Puigcerdà is only six minutes from France by train and three hours by train from Barcelona. There is a delightful way to see this region by taking "The Yellow Train" which runs from the French side of the border, at Latour de Carol and snakes is way down the valleys and steep gorges to Villefranche de Conflent.
The Spanish side of the border is just as beautiful and is an excellent area for anyone wanting to open a bed and breakfast as there is good rural tourism, particularly in or close to the National Park of Cadi i Moixeró. If you choose to live in this area, a car is essential even though there is a train service from Barcelona and from France.
According to data from Tinsa, one of the major names in official house valuations, the current average prices per region of Catalonia are:
Barcelona              
€3,300/m2
Girona                    
€1,700/m2

 

Tarragona              
€1,200/m2

 

SPAIN (national)   
€1,460/m2

 
Getting there
Communications are very good. You can leave London on the Eurostar at breakfast and be in Barcelona for dinner. Or jump in your (electric) car and enjopy the drive through France. Worth bearing in mind if eco-taxes are imposed on flying.
From Figueres, Girona and Barcelona, there is the AVE high speed train to Madrid, which from Barcelona Sants station takes just three hours and you travel in comfort. If you take the same train in the other direction you arrive in Paris. A new AVE route has just opened from Barcelona to Granada.
Catalonia has three airports; the largest is Barcelona El Prat but there are two smaller regional airports, Girona Costa Brava to the north of Barcelona and Reus to the south. All three have budget airline flights daily but Girona and Reus have a limited service during the winter months of November to April.
The AP-7 motorway runs along the coast from the French border to Tortosa in the south of Catalonia and beyond. Ferries run from Barcelona to the Balearic Islands and to Italy, Morocco and Tangier.
Buying property and living in Aragón
Catalonia's neighbour to the west is the autonomous region of Aragón. Many people will know the name from history, with one of Henry VIII's wives being Catherine of Aragón.
These days it is not very populated – which is half of its charm – with the glorious mountains and valleys and the stunning capital city of  Zaragoza, castles, Moorish architecture and Romanesque churches making up the other half. Aragón is seriously underrated and should be explored.It is the largest region of north east Spain and there are three official languages Castilian Spanish, Aranese, which is basically Catalan, and Occitan, which is derived from Pyrenean Gascon on the French side of the border. The region is also divided into three provinces: Huesca, Zaragoza and Teruel.
Climate
Aragón has a moderate continental climate, which means that the mountains can be very cold in winter and comparatively cool in summer while the plateaux enjoy mild winters and hot summers. The cuisine is reflective of the landscape and livestock, and is based on lamb, beef and dairy products. However, Teruel in the south is famous for its serrano ham and excellent olive oil is produced in Empeltre and Arbequina.
Top regions of Aragón for house buyers
Huesca
A town founded before the Romans came to Spain, Huesca was then conquered by the Moors in the 8th century. Today it is a city of 219,600 people and has some interesting landmarks, one being . Ultramarinos La Confianza, the oldest still-operating grocery shop in Spain, with its beautiful ceiling and which sells high-quality produce. There is a pleasant park in the city centre, Parque Miguel Servet, and a planetarium which is great for children.
The main cuisine is the Aragón roast lamb and cod, often cooked in oil and garlic or with cauliflower. Sausages of various types are made here and also marzipan, not forgetting some excellent wines.
Zaragoza/Saragossa
The capital city is just 90 minutes by AVE high speed train from Barcelona and Madrid and overlooks the Ebro river. It is a very pleasant city with wide boulevards and pedestrianised areas and the main square, Plaza de Pilar, boasts two cathedrals – the Basilica of Our Lady Pilar and Cathedral of Saint Salvador de Zaragoza built onto a Moorish Mosque. It is well known for its lively nightlife and an area called "el tubo" where tapas bars vie with each other to offer the most interesting tapa. There is also a medieval castle which houses exhibitions and a modern theatre on the other side of the river.
English is not widely spoken here so it would be sensible to get to grips with Castilian Spanish. The people however, are extremely friendly and willing to help so don't worry about making mistakes. The cost of living is much lower than other cities such as Madrid and Barcelona despite Zaragoza being Spain's 5th largest city.
Teruel
A charming town in the south of Aragón, Teruel has many buildings which have a Moorish influence and because of this is locally known as "town of Mudéjar."  The Mudéjar Architecture of Aragón is a UNESCO World Heritage Site. The central square, Plaza del Torico, is lined with modernist facades and the town has a very relaxed, easy-going ambience.
The cuisine of this area is based on the cured Serrano ham, roast lamb, garlic soups and longanizas, which are a type of sausage and locally grown peaches.
Getting there
Zaragoza Airport has limited flights from outside Spain but there is one with Ryanair from London Stansted. There are several flights to other Spanish destinations such as the Balearic Islands and the Canary Islands and to Paris, Brussels and Venice.
The AVE high speed train takes just 90 minutes from both Barcelona and Madrid and from there you can access almost everywhere in the world.
The average price in Aragón is currently 1,311€/m2, whereas the Spainish national average price is 1,458€/m2 – so it's certainly good value for your money.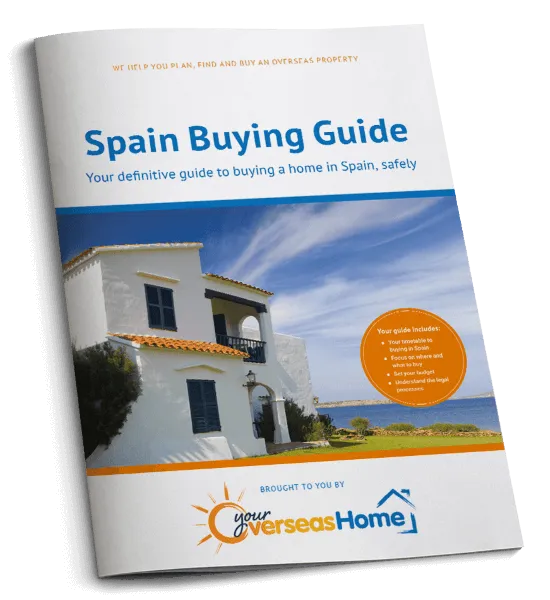 The Spain Buying Guide is a free, independent resource to help anyone who is looking to buy property in or move to Spain through each critical stage of their property buying journey.
Set up to help our readers avoid the many complexities and pitfalls of buying property in Spain, the guide takes you through each stage of the property buying process, with practical recommendations from our experts who have been through the process themselves.
✔

  Ask the right questions
✔

  Avoid the legal pitfalls
Download your free guide to buying in Spain