If you fancy a break from flying to Spain, whether for health or ecological reasons, or just for a change of pace, the good news is that Spain is easy to reach by ferry, train, bike or (electric) car. 
A one way flight from London to Málaga has a carbon footprint of 0.14 tonnes of CO2e. Multiply that by the numerous daily flights in and out of the two cities and just that route alone will create 1.85 tonnes of C02e. So, is a holiday home in Spain still a realistic proposition for eco-conscious home-owners?
Absolutely! As our Editor-at-Large Richard Way, a homeowner on the Costa Brava says: "I rarely miss an opportunity to take the children to Spain during a school holiday, and we're equally happy driving down, via the ferry or tunnel, as we are flying. There are plenty of charging points along the way if you need them. When you have three young children with all their paraphernalia, avoiding flying is no sacrifice!
"There is another bonus to taking the car – we can stock up on all our favourite local goodies, which we can't do when we fly home. These include bottles of Catalonia's fabulous chocolate drink Cacaolat, litres of our favourite olive oil from Ventallo, a village just outside our resort, ceramics from the pottery town la Bisbal, and of course lots of bargain local wine!"
So, what are your best routes to Spain if you don't fancy taking the plane?
Using a ferry
Currently there are three ferry routes from Britain to Spain with seven sailings per week. Brittany Ferries operate routes from Plymouth to Santander, Portsmouth to Bilbao and Portsmouth to Santander. As a rough guide, the cost of a return trip from Plymouth to Santander July to August is £834 for two people in a Ford B-Max. This is marginally more expensive than a summer flight from Bournemouth to Girona for the same dates with two suitcases, reserved seat, etc at £658 on Ryanair. But then you will have to hire a car. Crossings are under 24 hours during which time you can relax, enjoy a meal in a restaurant and indulge yourself in some shopping.
There are several ferry routes to France if you want to drive down, and both P&O and Brittany ferries travel to various ports. It takes just 1 hour 30 minutes from Dover to Calais and from Portsmouth to Caen just under six hours. Costs vary throughout the year but as a guide an outward journey on 18th June with the return on 3rd July with a Ford B-Max and two people costs £290. Another option is Le Shuttle (Eurotunnel) with a journey time of just 35 minutes from Folkestone to Calais and 55 crossings daily.

For those who are heading for the Balearic Islands, there are regular ferries which go from Barcelona, Dénia and Valencia to the islands and also travel between them. The return cost of a ferry from Barcelona to Ibiza is around €300, leaving on 18th June, return on 3rd July, for two people and a Ford B-Max car.
Driving to Spain
If you take a ferry directly to Spain, you will arrive at either Santander or Bilbao, both in the north of the country. A drive from Santander to Alicante takes just under nine hours, but why not stop at interesting places on the way? Michelin says the cost of tolls is €3.25 and petrol consumption is €70.
If you are ready to buy in Spain within the next few months, call our friendly Spain Resource Team on 020 7898 0549 or email

[email protected]

.
If you prefer to take a short ferry crossing, you will have to travel through France. For many this is no hardship, spending a night in a quaint little town where the hotel has a noteworthy restaurant makes the journey more like a mini holiday. The Calais to Alicante route takes around 18 hours by car, so an overnight stop is advisable.
There is also the possibility of putting the car on a train in Paris. Motorail services have not been exactly thriving in recent years, but some still exist and who knows what changes in behaviour new green taxes could effect. Perhaps they will come back!
Driving an electric car in Spain
Electric cars are the way to the future and Spain is making great strides in the technology. By the end of 2019 the main Spanish motorways, traffic corridors and public areas in the major cities of Spain's geography will be equipped with fast charging stations at least every 100km. This means drivers can make it from the country centre to their favourite seaside destination without the worry of running out of power.
In France the power points are owned by different companies so you will need to a little forward planning. By using an App, like www.chargemap.com you can find charging points on your route.
Let the train take the strain
Sometimes we forget how enjoyable it is to travel by train. No hanging around airports for ages, time to see the countryside, time to relax. These days it is easier than ever to go to Spain by train thanks to Eurostar and the French train, the TGV (known as the AVE in Spain).
The cost of a train from London St. Pancras International Station to Barcelona for the same dates as before without a car, is under £100 each one way. The only inconvenience is having to change stations in Paris as the Eurostar arrives at the Gare du Nord and the TGV to Barcelona leaves from Gare de Lyon. It's probably a good idea to take a taxi if you have a lot of luggage. If you are travelling light, the RER (express metro) Line "D" Platfom 44 is the best option and takes just 6 minutes.
Make sure you understand how to access healthcare in Spain with our guide, Healthcare Abroad.
As with budget airlines, the earlier you book, the cheaper the price, however some trains will only be bookable two months' before the planned journey. There might be a discount if you are over 65, so check before you pay.
The French TGV (fast train) and the Spanish equivalent, the AVE, are modern and clean and almost silent. There is always a café/bar on board and usually they will show a film rather like on long haul flights. The seats are comfortable in economy class and very comfortable in 1st class. You can book a seat in a quiet carriage where there are no children and you are not allowed to speak on a phone. Fares do vary depending on date and time of day, so look out for promotional deals which will save you some money.
One of the joys of taking a train is not having to cram everything into a small suitcase to fit in an overhead locker and although there is security on international trains it's a doddle compared to airport security. Trains arrive close to city centres too, so no need to make your way there by public transport. If you look at www.thetrainline.com you will see the numerous trains running from Britain to various cities in Spain and you can book it all in one place online.
Again, why not break your journey in either France or Spain? The TGV stops at major cities and towns and there will always be a nice little hotel not far from the station. Discover places you have never been to on your way to your Spanish destination. The fastest time from London to Barcelona is 10 hours with some interesting stops on the way. Leave in the morning and be in Barcelona for dinner or leave the train at Figueres and visit the famous Dalì museum the next day after enjoying some cava and tapas in the town.
Destinations
San Sebastian
A train to San Sebastian will bring you to this delightful Spanish town in the Basque region of Spain. It lies on the Bay of Biscay just 20kms from the French border and is one of Spain's gastronomic gems. The train goes to Paris and then to Hendaye in France from where you get the local train to San Sebastian. If you leave at 10am you will arrive at 11pm and, being Spain, this is when people go out to eat! Book a good restaurant to enjoy at the end of your journey.
Property here is expensive compared to other regions of Spain and you would expect to pay in the region of €400,000 for a three-bedroom apartment close to the old town centre.
Barcelona
Living or working in Barcelona? The Catalan capital has plenty to keep you interested. You'll enjoy the Gaudì buildings and park, the medieval Cathedral, the Olympic village and Montjuic which is home to several museums and art galleries as well as offering a splendid view across the city. Recently the town council has constructed more pathways for cyclists and this is certainly one of the best ways to discover its charms whilst keeping fit and not adding to your carbon footprint.
Leaving London at 9.23am you will be in Barcelona at 20.34, just in time for some tapas. Although the city has some of Spain's most expensive property, with a bit of insider knowledge you can find somewhere affordable relatively easily. The two-bedroom, historic apartment in the famous 'Casa de los Caracoles' building above is selling for €330,000.
Huesca
A home in the 300-kilometre-long Pyrenees mountain range is something to dream about. On the border between Spain and France, this area is as beautiful in summer as it is in winter. Skiing is the main sport of course, but trekking, hiking, canoeing and rafting are all popular. There are numerous biking trails to enjoy and all of these activities are ecologically sound. Close to the mountains lies the city of Huesca in the region of Aragon.
Taking your car from Dover, ferry across to Calais and from there it is 13.5 hours to reach Huesca. Apartments here are very reasonably priced. A 70 square metre, three-bedroom apartment costs just €180,000.
Costa Brava
The Costa Brava remains one of the least spoilt coastal areas of Spain, at least north of Lloret de Mar.
A popular place for retirement is Tossa de Mar which is 90 minutes from Barcelona Sants station. There some wonderful guided ecological walks available for just €6 per person. There are some lovely beaches and a pretty old town dominated by a castle.
Costa Blanca
Costa Blanca is possibly the most sought-after area of Spain by British people partly due to its warm climate. The town of Calpe is surrounded by natural parks and areas teaming with bird and wildlife.
It also offers a lively nightlife and there is a large British community. The 13 kilometers of sandy beaches are clean and it is a main fishing port, so ideal for those who love seafood. Using Eurotunnel and a car, your journey will take around 18.5 hours, so plenty of time to stop off and enjoy a pretty French town or perhaps one just across the border in Spain such as Roses which is nestled below the French/Spanish border. €209,000 will buy you a furnished townhouse in great condition, with access to the communal swimming pool.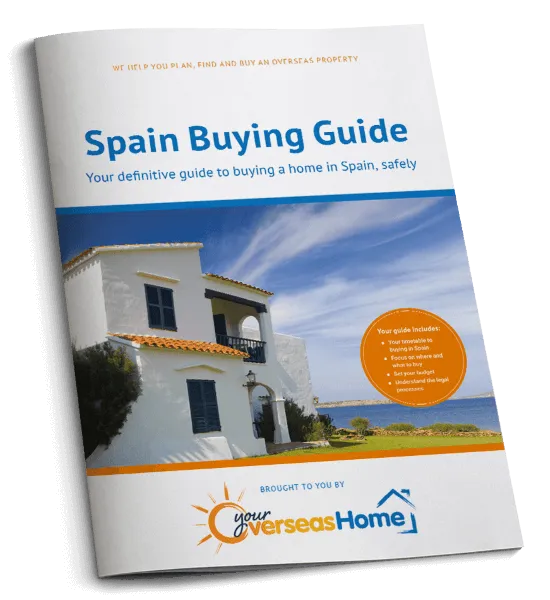 The Spain Buying Guide is a free, independent resource to help anyone who is looking to buy property in or move to Spain through each critical stage of their property buying journey.
Set up to help our readers avoid the many complexities and pitfalls of buying property in Spain, the guide takes you through each stage of the property buying process, with practical recommendations from our experts who have been through the process themselves.
✔

  Ask the right questions
✔

  Avoid the legal pitfalls
Download your free guide to buying in Spain