Buying property on the Costa Blanca
Costa Blanca
The Costa Blanca in Alicante continues to fuel the expat growth in East Spain. Lets take a look at some of te most popular towns in the region.
Benidorm
Starting life as a small fishing village, Benidorm is now the most-visited tourist destination on the Costa Blanca. Known for its high-rise developments, thriving nightlife and entertainment, and the availability of cheap package holidays. Although it often divides opinion, Benidorm remains a popular choice with young people, families, and pensioners.
Torrevieja
This popular beach resort is conveniently located between Murcia and Alicante. It's home to parks, beaches, gardens and squares, perfect for enjoying the sunshine that characterises this corner of the world. Torrevieja's harbour is vibrant, and great for enjoying some of the freshest seafood on the Costa Blanca. The nearby salt lakes are said to be particularly beneficial to those with arthritis.
Javea
Located on the northern Costa Blanca, at the foot of the Montgo Mountain, this seaside resort is known for its clean beaches, secluded coves, and its sunny promenade of shops, bars, and restaurants. All new developments in Javea are subject to height restrictions.
Calpe
Another former fishing village, Calpe is now home to numerous high-rise developments owned by expats or second-home owners. Calpe's sandy beaches are long and wide, and the old town is perfect for afternoon strolls.
Calpe's sandy beaches are long and wide, which means you can always find a spot.
Altea
Located between Calpe and Benidorm, Altea is a charming town that has retained much of its charm despite the tourists. Old Town Altea is built on a steep hillside, and is home to the Costa Blanca's arty community. So expect to find shops and market stalls selling locally manufactured handicrafts. The town has a great selection of bars, pubs, and restaurants around the old town, the harbour, and the marina.
Teulada
This quaint inland town is another spot that has restricted high-rise buildings. You'll find its terraced slopes are dominated by olives and lemon groves, rather than property developments. Although located inland, the nearest beach is only 4km away in Moraira. The town is known for its furniture shops, wine shops, and garden centres.
Moraira
Although popular with the expats, Moraira has retained much of the charm of the traditional fishing village it once was. The skyline has not been affected by the usual high-rise developments that you expect in the Costa Blanca.
Denia
Considered the most northern town on the Costa Blanca, Denia is said to boast 320 days of sunshine every year. If that's not enough to convince you, perhaps its 20km of blue flag beaches ideal for wind surfing, scuba diving and snorkelling, just might. This is a large town with a distinctly Spanish vibe that bustles all year round. Enjoy great restaurants, excellent healthcare, two golf courses, and a large marina from which you can hop across the water to the Balearic Islands.
Santa Pola
This former fishing village is now one of the most popular seaside resorts on the southern Costa Blanca. The port remains a working harbour, so expect restaurants to serve up incredibly fresh and delicious seafood. Explore its 16th century castle and watchtowers, lounge on the 11km of sandy beaches, or play a few holes on one of the nearby golf courses.
Guadamar
Located to the north of Torrevieja on the mouth of the River Segura, Guadamar's sand dune lined beaches will make you feel as though you've arrived in a tropical paradise. The town is characterised by sandy beaches, manicured parks, and its many restaurants.
Playa Flamenca
Playa Flamenca first gained popularity back in the 1970s when a group of Flemish investors piled money into turning the deserted coastline into a bonafide holiday destination. Today the town is popular with for watersports enthusiasts, horse riders, and hikers. Although predominantly a quiet residential area, Playa Flamenca is just a short stroll from beaches, shops, bars and restaurants. If that's not sufficient, Torrevieja is a 10-minute drive away.
Today Playa Flamenca is popular with for watersports enthusiasts, horse riders, and hikers.
Villamartin
Villamartin remains a popular choice with those looking to buy on the Costa Blanca due to its proximity to a number of world-class golf courses. Particularly popular with expats from Northern Europe, you'll find that many of the properties in town are used primarily as holiday homes, or as holiday rentals.
Orihuela
Orihuela is a sunny spot where property prices remain significantly lower than other towns in the region. For this reason, it is called home by a growing community of expats, which means great employment opportunities, mostly in the retail and hospitality sectors.
Pina de Campoverde
Just 8km away from the coast, this hillside village is particularly popular with British and German expats looking for larger, detached houses. The village has all you need, including shops, and sporting facilities.
Guardamar del Segura
Guardamar del Segura pulls in expats and tourists because of its clean, sandy beaches. The sought-after area is home properties of all kinds ranging from holiday apartments to more traditional Spanish homes.
Benissa
This small town in the northern corner of Alicante boasts a restored Old Town, known as "Little Europe" in a nod to the multicultural heritage of those who call it home. Despite being so popular with expats, the town remains very Spanish, and its overseas residents have integrated well into the community.
Cabo Roig
This beach resort on the Orihuela Costa of the Southern Costa Blanca is located close to La Zenia, Torrevieja and both Murcia and Alicante airports, making it popular with holidaymakers and second-home owners throughout the year. The town is known for its blue flag beaches, superb shopping, fine dining, and arguably the most attractive marina on the Costa Blanca. Along the coast, the majority of property for sale consists of apartments, but away from the shore you'll find more traditional style homes.
The town is known for its blue flag beaches, superb shopping, fine dining, and arguably the most attractive marina on the Costa Blanca.
Algorfa
Located on the southern Costa Blanca, this relatively small inland town is a mecca for golfers and second-home owners. The agricultural town itself is relatively small with only around 2,000 people living here year round.
Orba
For rural living, just 20 minutes away from the seaside resorts of Denia and Javea, set your sights on the historic market town of Orba. Steadfastly traditional, this town still hosts its annual running of the bulls each summer. Orba is a popular choice with expats who prefer a more peaceful way of life to that offered elsewhere on the Costa Blanca, plus cost of living is low, there are a wide selection bars and restaurants, and it is the gateway to the spectacular Orba Valley.
Campoamor
Campoamor is conveniently located 15 minutes from Murcia airport, and 35 minutes from Alicante, on the border of the Costa Blanca and the Costa Calida. Here you'll find most types of property, amenities to suit all needs, fantastic golf courses, and clean beaches.
Gata de Gorgos
This small market town is located at the northern end of the Costa Blanca, not too far from the busy resorts of Denia and Javea. Known for its wicker furniture, Gatas de Gorgos also has a fantastic fresh produce market and selection of shops, plus its location makes it a great base for exploring the rest of the coastline.
Valencian Community
The Spain Property Guide's most popular region for Spanish Buyers, The Costa Blanca in Alicante continues to fuel the expat growth in East Spain.  The Valencian Community is the fourth most populated region in Spain, and home to the city of Valencia – the third largest Spanish city – and the provinces of Castellón, Valencia and Alicante.
The cost of living in Valencian Community is relatively cheap, making the outskirts and villages popular with expats.
The cost of living here is relatively cheap compared to some of the larger Spanish cities (such as Madrid and Barcelona). With many of the expats are located on the outskirts and villages. The city of Valencia, especially, is home to a high standard of healthcare (including seven top-class hospitals) and quality education centres. The main spoken language here is Castellano (Castilian) Spanish, and it is generally a good idea to learn some in advance. You will find that many Valencians speak English, but few will have enough skills to hold a proper conversation – and they will appreciate the effort you are marking to integrate into society.
Popular attractions in Valencia
The Ciudad de Artes y Sciencias (City of Arts and Sciences)
This is a futuristic, entertainment-based, multi-use building that attracts thousands of visitors every year. This is found at the end of what was the riverbed of the river Turia, which was drained in 1957; the riverbed was turned into a sunken park. There are numerous buildings within the complex, each with a different attraction – including, an IMAX cinema in L'Hemisfèric, an interactive museum of sciences (El Museu de les Ciències Principe Felipe), and an open-air oceanographic park – L'Oceanogràfic.
The Malvorrosa beach
An excellent, popular, urban beach with 1km of fine sandy beaches.
Torres de Serranos (Serranos Towers)
This is one of 12 gates that originally formed the ancient city wall around Valencia in the 14th century. These survived the demolition of the city wall and were used as a prison; the towers are now open to the public and used for official ceremonies in the city of Valencia.
Mercado Central
A public market in the centre of Valencia, this is generally considered one of the oldest European markets still running. It is popular for its food stalls, but you can also buy souvenirs here.
All three provinces in the Valencian Community offer a relaxed lifestyle, with numerous opportunities for keeping fit in the natural beauty of the region. If you are interested in hiking, biking, climbing, or even skiing you will easily find something for you. In terms of climate, here expats will experience long, warm summers and cool winters, with less than 44 days of rain per year.
Average property prices
| | |
| --- | --- |
| Property type | Median price |
| All types | € 177,000 |
| 1 bedroom | € 120,000 |
| 2 bedrooms | € 145,000 |
| 3 bedrooms | € 155,000 |
| 4 bedrooms | € 200,000 |
| 5 bedrooms | €299,72 |
Getting there
Two international airports serve the Valencian Community: Alicante airport (mainly tourist-operated) and Valencia airport (mainly business traffic). Alicante airport is the sixth busiest airport in Spain, and is served by Aer Lingus, BA Cityflyer, British Airwayrs, easyJet, Flybe, Jet2. Monarch and Ryanair from numerous cities in the UK. Flights from the rest of Spain and wider Europe also reach Alicante.
High-speed rail connects the Valencian Community to the rest of Spain and further afield by Madrid.
Murcia
This is one of the most popular regions of Spain with expats, and is particularly attractive to those who want to avoid the more tourist-y parts of the Costa del Sol and the like, and instead experience a traditional Spanish way of life. Aside from a major coastal development on La Manga, Murcia remains a traditional Spanish region – which also means that properties and the cost of living here is less than it is on the neighbouring Costa Blanca and Costa del Sol, and the beaches are less crowded! The traditions here are characterised by the region's history of commerce and agriculture, drawing from its Iberian, Phoenician, Greek and Moorish original settlers.
This traditional way of life does mean however that it's very important to have some Spanish language skills before moving to the area – or at least an intention to get started on learning this as soon as humanly possible! You will find that Castillan Spanish is the most widely spoken dialect in the area. Traditions here include many fiestas, such as the Bando de La Huerta and the Entierro de la Sardina – both of these take place around the Easter holidays as part of the 'Spring Festival' and are popular across the regions.
Murcia is one of the most popular regions of Spain with expats.
Currently around 14% of the total population of Murcia are non-Spaniards. Murcia is popular with both retirees and younger expats alike – and the air quality and proximity to the largest salt-water lagoon in Europe, Mar Menor (the Minor Sea), make Murcia one of the healthiest places in the world to live, especially for those with asthma or arthritis and those interested in water sports!! The lifestyle here is slow-paced and stress-free, crime levels are low and there are great transport connections.
Popular locations in Murcia
Murcia city
This is the seventh largest city in Spain, and a home to many expats. Major attractions here include the Baroque cathedral, a Roman amphitheatre (which is still in use) and the 19th century 'Real Casino' – home to a ballroom decorated in the style of Louis XV.
Alhama de Murcia
This is a municipality of around 20,000 with a small community of expats. You can purchase a traditional Spanish home in need of renovation fairly cheaply.
Roldan
There is a growing community of expats based in this very popular tourist resort. It is particularly popular with those who enjoy golfing and sun-worshipping.
Calasparra
This is traditionally a hotspot for British expats, and is now home to a growing number of residents of other nationalities. The area is reasonably priced, although the demand here means these are not as cheap as they used to be. The strong expat community here means you can often find items you would not find in other areas of Spain
La Tercia
One of the least traditionally Spanish parts of Murcia; there is a strong emphasis on catering for foreign trade here, and it is very much a golfing and holiday resort. Many expats who live here work in the hospitality industry.
La Manga del Mar Menor (Sandbar of the Minor Sea)
Sandy peninsula La Manga is home to many great beaches, thanks to its proximity between the Mediterranean Sea and the Mar Menor
Rojales
Rojales is an agricultural village located in the Alicante Province, making it perfect for those seeking traditional Spanish life. The village sits on the banks of the River Segura, and is home to a number of traditional cave homes that give a nod to the fascinating history of the area. Located just inland from the coastal resort of Guadamar del Segura in the Southern Costa Blanca, Rojales is a pretty spot, boasting a range of attractive property options, set in colourful gardens.
Quesada
Not too far away from Rojales is Ciudad Quesada. Here you'll find a variety of shops, bars, restaurants, a golf course, and a waterpark. The attractions and blue flag beaches of Torrevieja, Guadamar del Segura, and Santa Pola, are all within five minutes' drive.
Albox
If life in a mountainside village appeals to you, head to Albox, in the heart of the Almanzora Valley. Perched at 420m above sea level, this countryside location is just one of the charming villages found in the Cierra de las Estancias, and the Sierra de los Filabres mountain ranges. Expect breathtaking countryside living amongst scenic hills and valleys, citrus orchards and olive groves. The white-washed market town is home to 11,000 people, and a small community of expats.
Mojocar
High up on a hillside, overlooking the Mediterranean sea, is the old Moorish white-washed village of Mojocar. Wonderfully located between the Sierra Cabrera mountains, and the warm waters of the Med, this enchanting town is a maze of cobbled streets, narrow alleyways, and secret courtyards.
Puerto de Mazzaron
This popular seaside resort located to the west of Cartagena in the south-east of Spain boasts kilometres of pristine beaches. The calm waters are perfect for watersports fanatics, and the quiet roads surrounding the town entice cyclists throughout the year. There is great hiking to be found in the surrounding countryside, and mouth-watering cuisine to be enjoyed in the town's plentiful restaurants, and tapas bars.
The climate of Murcia is generally warm and sunny all year round, with warm (although not intense) summers, and mild, dry winters.
Average property prices
| | |
| --- | --- |
| Property type | Median price |
| All types | € 129,500 |
| 1 bedroom | € 63,675 |
| 2 bedrooms | € 98,500 |
| 3 bedrooms | € 165,000 |
| 4 bedrooms | € 210,000 |
| 5 bedrooms | € 274,950 |
Getting there
Transport links to Murcia are excellent, from both wider Spain and the rest of Europe. There is a well-maintained road and rail network – with a mainline rail link to Alicante, from where one can then travel across Europe by train.
The two main airports for the region are San Javier Airport and the large Alicante Airport, both within an hour's drive from much of the region.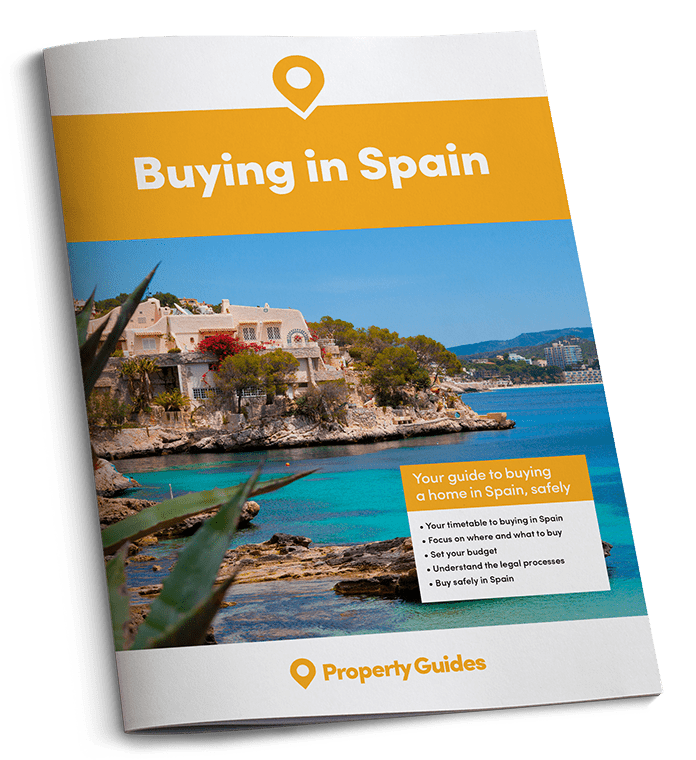 The Spain Buying Guide is a free, independent resource to help anyone who is looking to buy property in or move to Spain through each critical stage of their property buying journey.
Set up to help our readers avoid the many complexities and pitfalls of buying property in Spain, the guide takes you through each stage of the property buying process, with practical recommendations from our experts who have been through the process themselves.
✔

  Ask the right questions
✔

  Avoid the legal pitfalls
Download your free guide to buying in Spain