Buying property in the Balearic Islands
The Balearic islands of Mallorca, Menorca and Ibiza are wonderful holiday destinations, but each has a welcoming year-round expat population too. See where to buy and what you'll pay, in the secret side to the Balearics!
You'll find the Balearic Islands off the coast of Catalonia. They are formed of three major islands: Mallorca, Menorca and Ibiza, plus some smaller islands.
Each has a particular appeal for tourists, whether the clubs of San Antonio in Ibiza, the expensive shops and restaurants of Mallorca (aka Majorca) or the gentle, sandy beaches of Menorca.
But look beyond those cliches and you'll find a little bit of each in every island. They have something for everyone and a good range of prices too. What all have in common is a manageable size – even in the largest, Mallorca, you're never more than an hour from the airport.
All also offer a real welcome to international property buyers, at a good range of prices.
Find out how to raise finance and pay for a home in the Balearics in the free Spain Finance Guide.
Mallorca
If you've never been there it may surprise you to know that Mallorca is one of the classiest, most beautiful and cultured corners of Spain. It has worked hard to rid itself of the hedonistic image that resorts like Magaluf earned it and has attracted a year-round population of international residents, especially German and Scandinavian, alongside the British. There are quite a few Americans too.
The island is roughly 100km wide and long, and has two mountain ranges, Serra de Tramuntana and Serres de Llevant. The coastline to the north is rugged – with numerous hidden sandy coves while the south offers tourist resorts and crystal blue seas.
Palma, the capital city of Mallorca, was recently voted the best place to live by the Sunday Times.
Palma, the capital city of Mallorca, is vibrant, cultural and international. It has a wonderful old town, dominated by a splendid honey-coloured cathedral by the sea. It was recently voted "the best place to live" by the Sunday Times, and has lovely old Moorish townhouses down its cobbled alleyways, all within walking distance of a Michelin-starred restaurant or a cool tapas bar.
Where to buy in Mallorca
Mallorca seems to have a different corner for each kind of buyer. In the west, the surroundings of Palma offer a wide range of homes, including glitzy resorts, expensive suburbs and more Bohemian areas. Outside town there are some great places to settle, such as Andratx and Port d'Andratx.
Along the rugged northern coast are Sóller and the Port de Sóller, Deia and Valldemosa. All are achingly beautiful, and highly expensive! You can live here among supermodels, racing drivers, movie stars and business moguls.
If you're thinking of a holiday home, why not pool your resources and buy with family? Read our guide,

Buying Abroad with Family

 to find out how to halve the cost and double the fun!
In the centre, the land is flat with a fertile plain, vineyards and farms. Throughout the island are farmhouses and fincas, many of which have been restored over the past 20 years or so. Here you will find peaceful olive, almond and carob groves away from the hubbub of the coastal areas. The smaller towns here, such as Manacor, offer a much cheaper Mallorcan property option.
The east of the island is more holiday-oriented, thanks to their gorgeous beaches. In the north-east is Alcúdia, a town of 20,000 people set around a stunning bay. Families flock each summer to the beaches of the south-east, notably Cala d'Or ("beach of gold") or Porto Cristo.
Read more about Mallorca, and in particular retirement in Mallorca.
Learn the language
The languages spoken in Mallorca are a Catalan dialect (Mallorquin) and Spanish. The islanders are extremely keen to preserve their culture and traditions. Many do, however, speak fluent English and German in tourist areas.
Getting there
The great advantage of Mallorca is that you can fly there direct all year, whereas you'll need to change planes for the smaller islands in winter. Palma International Airport, often called Aeroport de Son Sant Joan, lies just 8km east of the city. It provides connections to numerous countries all year round. More passengers visit Palma Airport than the airport of any other city in Spain.
Palma is the major seaport of the island and there are several ferries connecting Mallorca to mainland Spain.
So, ready to buy? Prepare to come over to Spain to look at properties by reading our free guide, 

Your Viewing Trip

.
Average prices
Property on Mallorca doesn't necessarily come cheap, due to high demand – but this does mean it can be a strong investment.
| | | |
| --- | --- | --- |
| Area | Two-bedroom apartment | Three-bedroom house |
| Palma de Mallorca | €233,000 | €451,000 |
| Llucmajor | €180,000 | €445,000 |
| Andratx | €223,000 | €524,000 |
| Manacor | €123,000 | €266,000 |
| Calvià | €255,000 | €617,000 |
| Sóller | €240,000 | €402,000 |
Figures based on median sale prices from Idealista in April 2021. Two-bedroom apartment calculated as 60m2 and three-bedroom house as 120m2.
Menorca
The gentler Balearic island, Menorca has a warm and friendly charm of its own and a few surprises up its sleeve too!
Expats tend to come here for the quiet, compared to Mallorca and Ibiza anyway. But the island does go a bit mad with its numerous festes and fiestas that take place throughout the summer. These include the Festes de Sant Joan which takes place in Ciutadella (the ancient capital of Menorca), 23-25 June, and is famous for its horse displays.
The climate here is a warm Mediterranean weather, with average highs close to 30˚C in the summer. It can get chilly in winter, but frost is rare.
Where to buy in Menorca?
Menorca is just 50 kilometres long and 15 kilometres wide, with a mountainous and rugged northern coast, dotted by attractive fishing villages. The interior is forests and hills, listed as a UN Biosphere. But most of us come for the long stretches of sandy beach along the southern coast.
The two largest towns are in the east and west. Mahón (Maó in the local version of Catalan), is the island's capital and home to around 30,000 people. The airport is on this side of the island too. The old capital Ciutadella is in the west of Menorca. They're both attractive old towns, with harbours full of boats and cobbled streets humming with cafes and shops.
Take a look at homes for sale in the Balearics on our property listings. Click here to have a browse
For year-round expats the towns are usually the first choice, or Es Castell, next to Mahón, or perhaps the inland village, Es Mercadel. But for holiday-home buyers the top choice is usually the southern resorts like Son Bou, Cala'n Porter and Binibeca.
The British ruled the island for many years, albeit 250 years ago, and you can see the influence in Georgian architecture. And we're still here! You'll find a cricket club, Rotary Club, English language newspapers and websites.
Getting there
Menorca International Airport is located just under 5 kilometres from Mahón. BA, EasyJet and Ryanair fly here the island from the UK in summer, but in winter you will normally need to change in Mallorca. Passengers from mainland Spain and beyond can reach the island by ferry too.
Average prices
Menorca is largely a little cheaper than Mallorca, with less price variation between areas.
| | | |
| --- | --- | --- |
| Area | Two-bedroom apartment | Three-bedroom house |
| Ciutadella | €150,000 | €350,000 |
| Mahon | €161,000 | €238,000 |
| Es Mercadal | €167,000 | €395,000 |
| Sant Lluis | €175,000 | €416,000 |
| Es Castell | €168,000 | €460,000 |
| Cala en Blanes | €160,000 | €364,000 |
| Alaior | €156,000 | €390,000 |
Figures based on median sale prices from Idealista in April 2021. Two-bedroom apartment calculated as 60m2 and three-bedroom house as 120m2.
Ibiza
Ibiza is much more than its reputation. It's incredibly popular with international buyers, thanks to its diversity and relaxed way of life. This ensures the existence of a large expat community here, with many people speaking English. There's a large UK National Curriculum-teaching school, Morna International Collage, based near Santa Gertrudis de Fruitera.
Ibiza Town (Eivissa), in the south of the island, is particularly popular. The historic centre of this city is classified by UNESCO and is one of the most picturesque cities in the Mediterranean. It is surrounded by walls dating from the late 1500s. It's a hexagonal structure with three doors to get in – including the Las Tablas Gate and the Portal Nou.
The weather of Ibiza is one of the most attractive features. There are an average of 300+ days sunshine a year, with 12 hours of sunshine a day during the summer. Winter days are cooler, but the weather rarely drops below 10°C/50°F. 20°C/68°F plus days are not rare.
Where to buy in Ibiza
The smallest of the Balearic islands, with a population fewer than 150,000, is also a rural idyll of pined-covered hillsides and whitewashed villages looking out onto sheltered coves and sun-drenched beaches.
Prices vary! There are developments where even one-bedroom properties start at £1million, but then again you can buy one from £100,000.
Where you buy will depend on what you want to use the property for. The main urban area is Ibiza Town, population 50,000, with a medieval Old Town on the hill, and a modern section. This is one of the main clubbing areas, the other being San Antonio, 15 kilometres away across the island.
One way to save or potentially make money on a Spanish home is to buy an off plan property. Read your FREE Spain Off Plan Guide
These are not the locations for quiet family holidays, but property here can be rented out all summer for high prices. Retirees may not be the most obvious customers for property here, but an apartment offers potential to rent out all summer then live in Ibiza all winter on the proceeds!
Outside of the towns, development has been restricted to protect the beauty of the island, but there is a resort at Santa Eulalia on the east coast, and some coastal villages which are worth exploring. The island is so small that you can buy in the peacefulness of the hills but get a taxi down to clubland when you fancy a party.
Getting there
Ibiza airport is just under two hours flying time from the UK. Direct flights serve it from various airports around the country (as well as the rest of Spain and Europe) throughout the summer season and beyond. The airport is around 7km southwest of Ibiza Town, and from there you can easily reach the rest of the island.
In winter you normally have to change planes in Barcelona, Madrid or Mallorca, or get a ferry from Mallorca or the mainland.
Average property prices
Ibiza is the priciest of the Balearic Islands, but, again, for anyone looking for an investment, this could be a strong choice. And the lifestyle is certainly worth it!
| | | |
| --- | --- | --- |
| Area | Two-bedroom apartment | Three-bedroom house |
| Santa Eulalia | €277,000 | €726,000 |
| Sant Josep | €292,000 | €754,000 |
| Sant Antoni | €252,000 | €659,000 |
| Sant Joan | €196,000 | €521,000 |
| Eivissa | €319,000 | €945,000 |
Figures based on median sale prices from Idealista in April 2021. Two-bedroom apartment calculated as 60m2 and three-bedroom house as 120m2.
Prices are just half the story. To accurately budget for your move abroad, read

The Currency Guide to Emigration,

 free to download.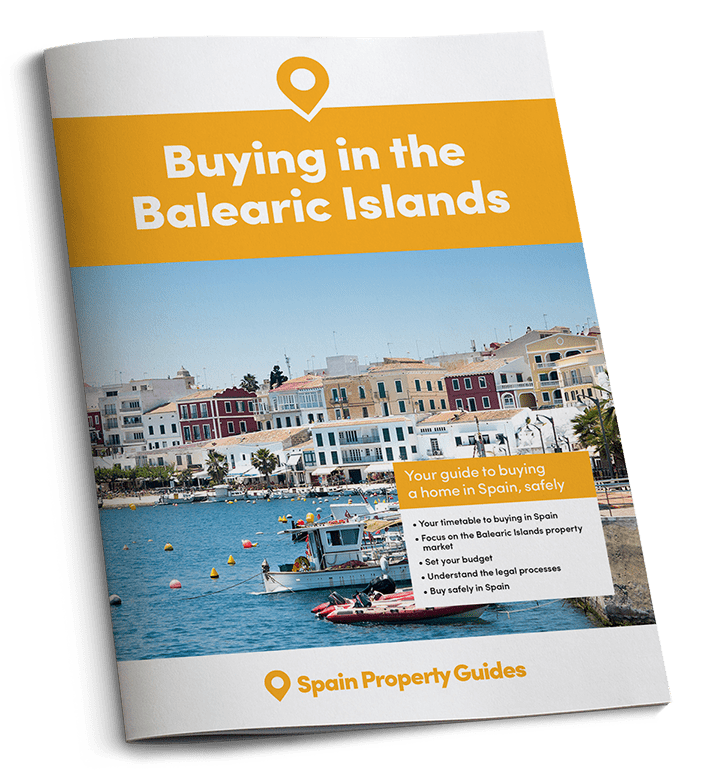 The Spain Buying Guide is a free, independent resource to help anyone who is looking to buy property in or move to Spain through each critical stage of their property buying journey.
Set up to help our readers avoid the many complexities and pitfalls of buying property in Spain, the guide takes you through each stage of the property buying process, with practical recommendations from our experts who have been through the process themselves.
✔

  Ask the right questions
✔

  Avoid the legal pitfalls
Download your free guide to buying in the Balearics