A home in the Canary Islands
Warm all year – but not too hot – easy to reach and utterly beautiful, no wonder so many of us want to buy a home in the Canary Islands. The seven islands of the Canaries offer something for every kind of buyer, in a wide range of budgets and whether for a holiday home, retirement or even for work. So which island will you choose?
You will find the Canary Islands archipelago off the southwest coast of Morocco, a four to five-hour flight from the UK.
They form the southernmost part of Europe and are one of Spain's 17 autonomous communities. The Romans named them "the fortunate islands" – and you'll come to see why – but we know them as Tenerife, Gran Canaria, Lanzarote, Fuerteventura, Las Palma, La Gomera and El Hierro.
Each island is surrounded by the cool, clean Atlantic
The Canary Islands' warm climate and natural beauty make them a popular tourist destination, but especially in the winter. They are the perfect escape from the northern European winter, and are popular both with retirees and for holiday homes.
Part of the joy of these volcanic islands is that each looks so different. Whether you fall for Lanzarote's sweeping, cool-grey vistas, La Gomera's green valleys or Tenerife's banana plantations, each is surrounded by the cool, clean Atlantic.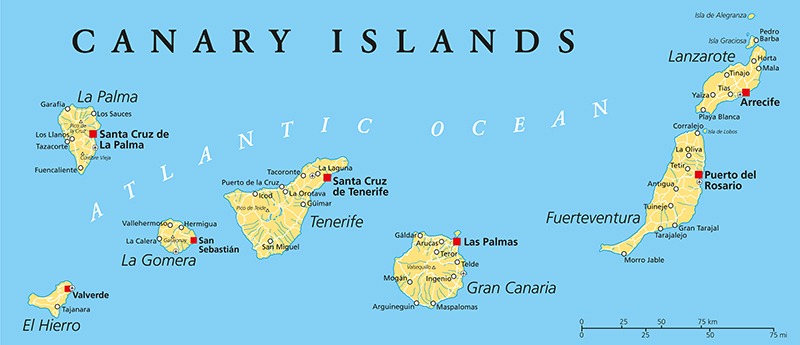 They are the perfect escape from the northern European winter, and are popular both with retirees and for holiday homes
Tenerife
There are two sides to Tenerife. There are the tourist and expat favourites, with nightlife, clubs and cafés for expats, golf and marinas. Then there is a more natural and rural side, with precipitous gorges, banana plantations and walking routes through the volcanic landscape.
Tenerife is known as "the Island of Eternal Spring", thanks to its warm year-round climate. But with such a varied landscape, including a 3,700metre mountain, gorges and forests there are micro-climates across the island too. You can be swimming in the sea and trudging through snow on Mount Teide on the same afternoon.
As a general rule the east is breezier and the west is more sheltered. The north is wetter, cooler and greener (although that's all relative, it's much warmer than the UK).
All of that has an impact on the property and community you'll find there.
North and East Tenerife
In the far east of the island is the capital and business centre, Santa Cruz de Tenerife, with a population of around 200,000. It hosts one of the world's largest and wildest carnivals. It's also a cultural centre, with the Auditorio de Tenerife, the Santa Cruz towers and the Iglesia de la Concepción.
Top spots on the northern coast include La Oratava and its port, Puerto de la Cruz. It has all the beaches, lidos, tourist attractions (the Loro Parque is great!), bars and restaurants you could want, but also an old town and lovely parks and gardens. It certainly feels very Spanish, but there are plenty of places to buy new property too.
If you like a home with a view, check out the area around El Sauzal. There are several attractive villages and towns here, such as Icod de los Vinos, Tacoronte, Los Realejos and Santa Ursula.
South and west Tenerife
The Tenerife that many of are more familiar with is in the south-west corner: Costa Adeje, Costa del Silencio and Los Cristianos. As well as popular golfing areas like Las Américas and Playa de San Juan. You may have to get used to the black beaches, for example Playa de Arena, that are nevertheless always awarded Blue Flags for cleanliness and accessibility.
The resorts here are as much geared up for year-round expatriate lifestyles and retirement as for holiday visitors. The resorts are beautifully looked after.
Double or trip your purchasing power by buying together with your family, and get a beautiful home for everyone to enjoy. Read our guide, Buying Abroad with Family to find out how!
Property here is still affordable, but not like it used to be. You'll need from €100,000 for an apartment these days, €150,000 for a village or townhouse and upwards of €300,000 for a villa with pool and a view.
Visit the highest point in Spain
There are many attractions popular with expats, tourists and locals in Tenerife. As a fairly small island most places are relatively easy to get to. One of the most popular tourism spots is Mount Teide, at 3,715m the highest point in Spain and the centre of Teide National Park.
Getting to Tenerife
There are two international airports on Tenerife, the only Canary Island with more than one; Tenerife North Airport and Tenerife South Airport, which is the largest by far. This is served by numerous cities across the UK by many airlines including British Airways, easyJet, Jet2, Norwegian and Ryanair; there are also multiple flights connecting the island to the rest of the Canaries, Spain mainland and further into Europe.
You can also access Tenerife by boat. The two main sealines that serve the island are Transmediterranea and Naviera Armas, usually coming into either Los Cristianos or Santa Cruz from the other Canary Islands or mainland Spain.
Lanzarote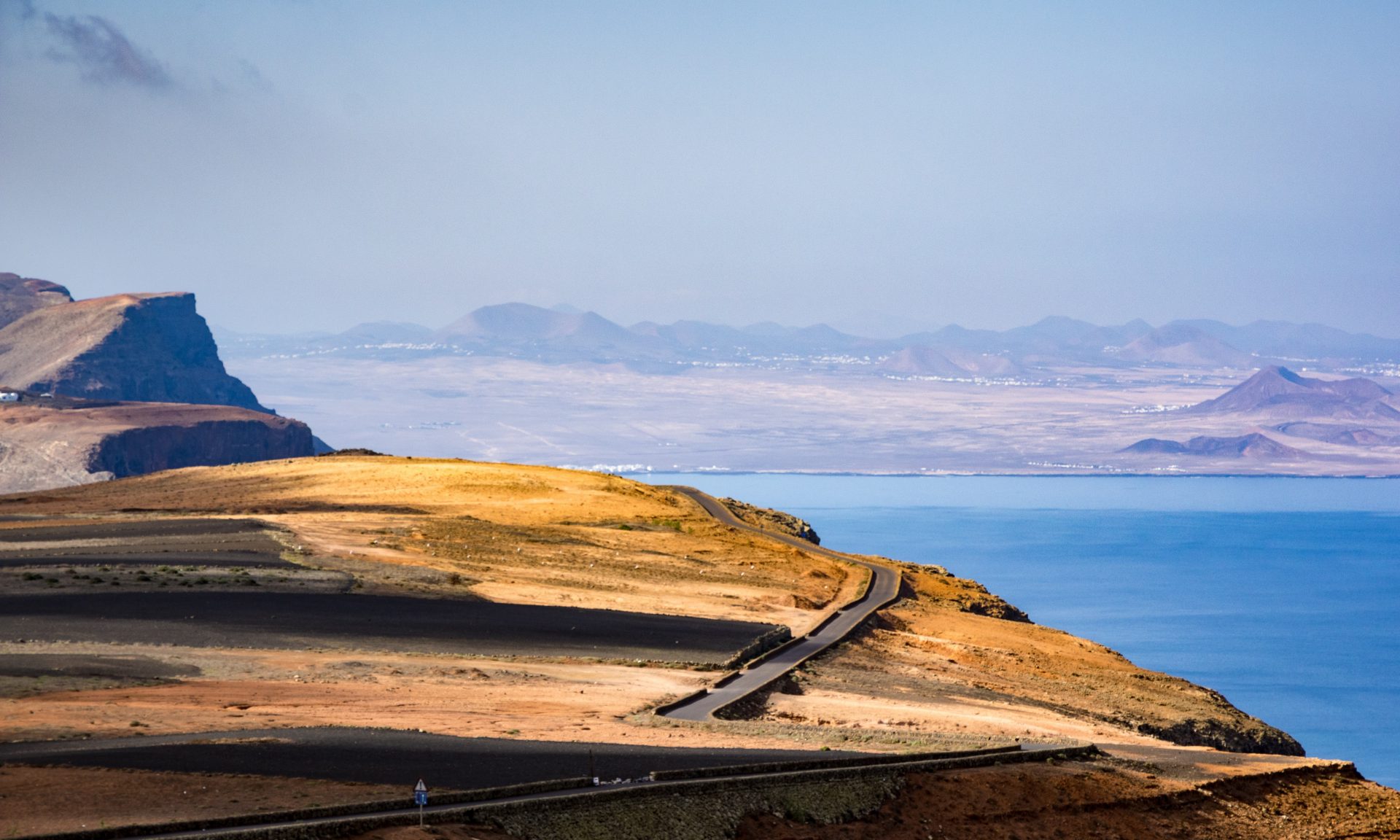 It can take a little while to get used to the look of Lanzarote, but once you do, you'll love it! Like the rest of the Canary Islands, Lanzarote has volcanic origin. But nowhere is that more obvious than here, with weird solidified lava streams and extravagant rock formations that date from some serious eruptions 200 years ago.
Manrique was also instrumental in saving Lanzarote from overdevelopment and inappropriate development. You'll notice how different it is, with buildings limited to low-rise, white cottages with the same green shutters. It's really rather beautiful!
Today Lanzarote is all protected under UNESCO Biosphere Reserve status, and it's fascinating how the local people have adapted to the landscape. For example, despite being so arid and lacking in vegetation it has a thriving wine industry. The vines are protected in little rock clusters. The architect Cesar Manrique created an astounding house from the hollow bubbles that some of the lava fields left behind.
Manrique was also instrumental in saving Lanzarote from overdevelopment and inappropriate development. You'll notice how different it is, with buildings limited to low-rise, white cottages with the same green shutters. It's really rather beautiful!
But the people of Lanzarote are also energetic and know how to have fun. The surfing is excellent, as the Atlantic rollers crash in. The country walking is tough but dramatic, and they have an annual run from vineyard to vineyard, where you're supposed to have a glass in each! The cycling is sensational, all long sweeping roads with wonderful views. Yet the local people seem to take things easy too, even the cars seem to drive slower than the rest of Spain.
The best places to live
The capital and sole airport on Lanzarote is Arrecife. However, it's only a small island, barely 25 by 75 kilometres and with great roads, so nowhere takes long to get to.
The main resorts are along the south-east coast, around Arrecife. These include well known areas such as Puerto del Carmen, Costa Teguise and Playa Blanca. These are also the most widely popular with British, German and Scandinavian residents. The authorities have, however, made a real effort to keep Lanzarote special, so you won't find too much over development.
A budget of €250,000 will buy you a lovely villa in Playa Blanca. For a studio apartment in somewhere like Costa Teguise you'll only need around €80,000.
The north end of the island is dramatic and beautiful, with friendly towns such as Teguise leading onto dramatic villages like Haria and Yé, in the shadow of ancient volcano craters. The northern coast is best for surfing, with a more hippy-ish vibe in coastal villages like Caleta de Famara.
Getting there
The island is served by Lanzarote airport, located in San Bartolomé, which handles many European flights and internal flights to mainland Spain and the other Canary Islands. From the UK, the airport is served by British Airways, easyJet, Monarch and Ryanair.
Lanzarote is also easily accessible by boat – there is a weekly ferry from Cadiz on the mainland on a Saturday which arrives in Arrecife on the following Wednesday. Ferries also connect Lanzarote to the other Canary Islands.
Gran Canaria
The second most populous of the Canary Islands, Gran Canaria is noted for its variety of microclimates. The mountain areas are mild and you may well see frost or snow, although generally lows below 10˚C are uncommon. The summer months are usually rainless.
There's a variety of landscapes found across the island, including long beaches, white sand dunes, green gorges and beautiful villages. UNESCO's Biosphere Programme covers part of the island under the East Atlantic Biosphere Reserve Network, and there are 32 Natural Protected Spaces.
If you are ready to buy in Spain within the next few months, call our friendly Spain Resource Team on 020 7898 0549 or email

[email protected]

.
Constantly changing and enriching society
The capital of Gran Canaria is Las Palmas. There are several museum and culture centres across the island, including the Museo Elder de la Ciencia y la Technologia (Science and Technology Museum) and the Casa de Colón (Christopher Columbus House).
Friendly communities
As the capital of the island, and Spain's eighth-largest city, many international residents choose to live in Las Palmas. Whether you plan to live in Gran Canaria permanently or visit in the holidays, there are so many things on the island to explore. Like visiting Maspalomas – easily considered the most beautiful beach there and one of the longest! The lost village of Cueva Pintada is popular; this is the remains of an ancient village that was discovered in the mid-1980s.
Getting there
There is one commercial airport on the island, Gran Canaria Airport, and this is one of the busiest in Spain. From the UK this is served by British Airways, easyJet, Iberia Express, Jet2.com, Monarch, Ryanair, Thomas Cook and Thomson Airways.
Generally the island is connected to the rest of the islands here and further afield by boat, and there are several important ports located here: the Port of Las Palmas, Arguineguin and Arinaga.
Whether you plan to live in Gran Canaria permanently or visit in the holidays, there are so many things on the island to explore.
Fuerteventura
The second largest Canary Island, Fuerteventura was formed by volcanic eruption around 20 million years ago. The longest beaches in the archipelago can be found here, making it popular with sun, beach and watersports enthusiasts.
The culture of Fuerteventura has not been overwhelmed by tourism. The church is still strong, with all Catholic holidays, fiestas and carnivals celebrated.
Where to live
Puerto del Rosario is the capital of Fuerteventura. You will find some expat communities here, but generally the most popular areas will always be the tourist reports, such as Caleta de Fuste on the east coast of the island and Corralejo, which is quite near the northern tip. If you are interested in a more 'local' experience once you have arrived here, you would probably be more likely to look at the more rural inner island location.
Fuerteventura is a lively and vibrant island, with lots to do. Popular attractions here include several museums and parks, the fine sand dunes at Corralejo and El Jable, and the long sandy beaches and remote bays in the south.
The longest beaches in the Canary Islands can be found in Fuerteventura, making it incredibly popular with watersports enthusiasts.
Getting there
The only international airport, El Matorral Airport, is based close to the capital city of Puerto del Rosario. Numerous airlines serve this airport from various cities across the UK, including British Airways, easyJet, Jet2.com, Monarch and Thomas Cook; as well as airlines connecting you to the other Canary Islands, mainland Spain and further afield. Ferries also connect Fuerteventura to the other Canary Islands, and you can also reach mainland Spain (and vice versa) this way – via Tenerife, Lanzarote or Gran Canaria.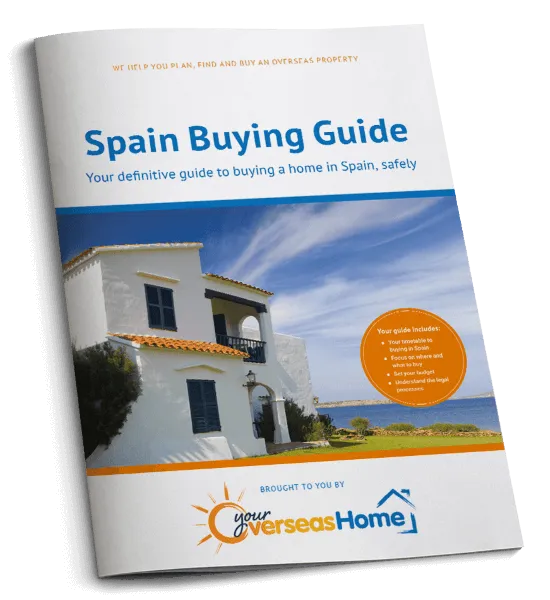 The Spain Buying Guide is a free, independent resource to help anyone who is looking to buy property in or move to Spain through each critical stage of their property buying journey.
Set up to help our readers avoid the many complexities and pitfalls of buying property in Spain, the guide takes you through each stage of the property buying process, with practical recommendations from our experts who have been through the process themselves.
✔

  Ask the right questions
✔

  Avoid the legal pitfalls
Download your free guide to buying in Spain