The Balearic Islands of Mallorca, Menorca, Formentera and Ibiza, are an archipelago of islands in the western Mediterranean Sea. According to the National Statistics Institute, property sales in the Balearics are increasing by 32.3% year-on-year. So, why do the islands hold such widespread appeal?
Why choose the Balearic Islands?
There is a lot to love about the Balearic Islands. Arguably, the biggest factor enticing those looking for holiday homes or to relocate permanently is the promise of 300 days of sunshine just two hours from the UK. While each island provides something different, in general the Balearic Islands offer the finer things in life. Expect hot summers and mild winters, interesting history, striking scenery and excellent options for long sunny lunches and boozy dinners.
Mallorca
First, let's take a look at Mallorca – the largest of the Balearic Islands. Mallorca is home to around 900,000 people, 20% of these hail from outside of Spain. This island has the best infrastructure in the Balearics. Its extensive road system makes it easy to hop around between its 41 marinas, 21 golf courses, 200 beaches and impressive 2,500 restaurants. Mallorca is a stunning spot, decorated with pine forests, sandy bays and the Tramuntana Mountain range. The island is a favourite hangout of the rich and famous, everyone from Spanish royalty, through to local lad, Rafael Nadal. Michael Douglas and Catherine Zeta Jones regularly come to recharge at their Valldemossa estate, and Claudia Schiffer and her film director husband, Matthew Vaughan own property in Camp de Mar.
Mallorca is a stunning spot, decorated with pine forests, sandy bays and the Tramuntana Mountain range.
Palma de Mallorca is the island's main hub. The city has a wonderful old town and the best international schools. Property in Palma ranges from two-bedroom apartments or townhouses from €200,000, up to elaborate coastal, ten-bedroom palaces for several million. Son Vida is a nearby exclusive community, home to large architect-designed villas in countryside surroundings. Restoration projects and studios easily come in under €100,000.
Find out what to look out for when seeing properties with our free guide, Your Viewing Trip.
Deià is coastal village on Mallorca's west coast, that's been popular with artists since the 1950s. Now it boasts the likes of Richard Branson, Sting and Harrison Ford as regulars. Deià has World Heritage status and, being located in Tramuntana Mountain range, the surroundings are breath-taking. While it's a laid-back spot, it's also popular with hikers and professional cyclists. Don't get too much of a shock if you spot Bradley Wiggins buying a café con leche next to you at breakfast! It's possible to find three-bedroom townhouses with views of the countryside for €500,000. If you want to push the boat out, hillside estates range from €2 million, all the way up to €20 million.
Ibiza
Ibiza may be known for its parties, but there is a lot more to the this member of the Balearic Islands than the super clubs of San Antonio and Ibiza Town. Ibiza is a striking island, ringed by rocky coves and crystal-clear waters. Jade Jagger, Gerard Pique and Shakira and Leonardo DiCaprio are just some of the famous names to own property on the island. If you plan to relocate your family permanently, base yourselves close to the international schools in Santa Eulalia in the east, or Santa Gertrudis in the centre.
Santa Eulalia, Ibiza's third largest centre, is 20km from the airport, home to a broad, sandy beach and is Ibiza's cultural and gastronomic centre. There is a year-round international community, the best shopping on the island, and many laid-back nightlife options. One-bedroom apartments start at €140,000, with high-quality resort properties retailing around €400,000.
Santa Gertrudis is a bohemian village home to buzzing squares, hip cafés and bars and lots of modern villas. You can snap up a three-bedroom house on the outskirts of town for around €730,000, but fincas and villas with four or more rooms will cost €1,300,000 upwards.
Menorca
The 50km wide island of Menorca is just 25 miles from Mallorca and is the first place in all of Spain to see the sunshine each day. Compared to its neighbour, Menorca remains relatively unspoilt, particularly along its northern coastline where rolling green hills meet golden, secluded bays. Menorca is home to more than 4,000 Brits, most of whom base themselves around the island's one major town, Mahon.
If you are ready to buy in Spain within the next few months, call our friendly Spain Resource Team on 020 7898 0549 or email Spain@propertyguides.com.
Cala Llonga is the island's most exclusive neighbourhood, with villas starting from €550,000. You can buy a two-bedroom apartment in immaculate the northeast for €200,000. Ciudadela, which used to be the capital, is another upmarket choice. That said, it's possible to find beautiful homes for €300,000 – sometimes even with a swimming pool.
Formentera
Formentera is the smallest of the Balearic Islands (83 km2). You access it via a ferry from Ibiza harbour, which is 6km away. The island is so idyllic, you might feel like you're in the Maldives rather than the Mediterranean. The island hasn't yet been affected by mass tourism so it truly feels like the 'last paradise'…as the locals call it.
Mass tourism hasn't affected Formentera, so it truly feels like paradise.
Once home to farmers, it's now one of the most exclusive places to own property in the world and a favourite of the likes of Cara Delevigne and Noel Gallagher. If you're looking for a holiday home that affords you the chance to completely disconnect, this is the spot. However, there's very little real estate available on the island so things can get competitive. Most of the apartments are located around Es Pujols in the north-east. You can find three-bedroom detached villas from €1,000,000 or more.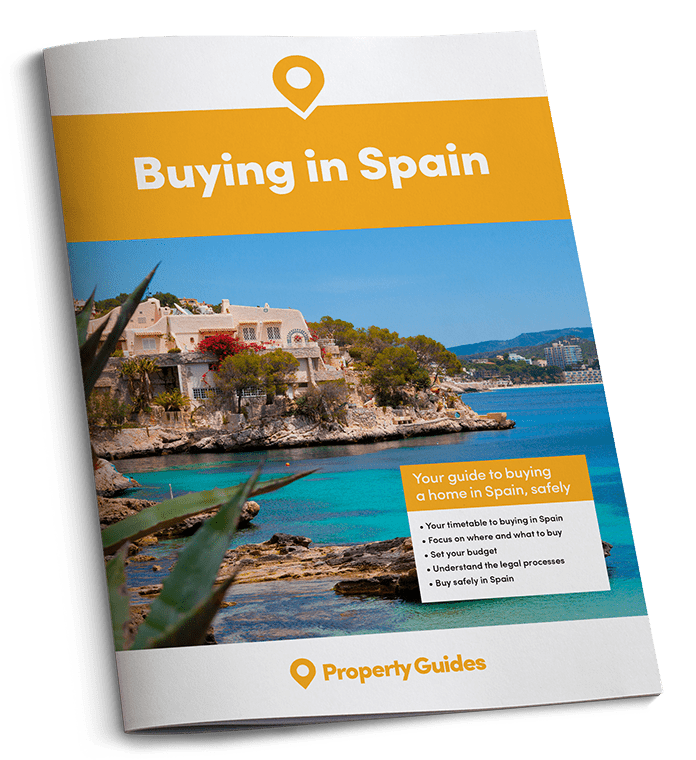 The Spain Buying Guide is a free, independent resource to help anyone who is looking to buy property in or move to Spain through each critical stage of their property buying journey.
Set up to help our readers avoid the many complexities and pitfalls of buying property in Spain, the guide takes you through each stage of the property buying process, with practical recommendations from our experts who have been through the process themselves.
✔

  Ask the right questions
✔

  Avoid the legal pitfalls
Download your free guide to buying in Spain