Spain continues to lead the way in European golf luxury. There are resorts for every budget, along every costa and inland too. With most open all year, you can be playing in your own golf club in the winter sun, just a two-hour flight from the UK. Read our suggestions for three areas with the best Spanish golf homes, with some property suggestions too.
There has been plenty to celebrate at La Manga Club this year. Homeowners (and the wonderful employees who made it happen) could be forgiven for enjoying a glass or two of bubbly as Spain's most iconic and grandest golf and leisure resort has been gathering awards and accolades. These include being shortlisted for Europe's Leading Lifestyle Resort at the 2018 World Travel Awards. As a golf resort, it's been winning at the 2018 World Golf Awards too. On top of that, La Manga has been honoured with the Editor's Choice Award for Best International Resorts 2018 by the world's biggest golf publication, Golf Digest.
It features three championship golf courses, 28 tennis courts, 8 FIFA-approved football pitches, a 2,000-square-metre Spa and Fitness Centre and the Prince Felipe 5-Star Hotel.
There's little doubt that La Manga Club, situated in a scenic natural bowl beside the Mar Menor – Europe's largest saltwater lagoon – sets the standards for a world-class resort. Its 1,400-acre site includes three championship golf courses, 28 tennis courts and eight FIFA-approved football pitches. There's a 2,000-square-metre Spa and Fitness Centre, the Prince Felipe 5-Star Hotel and a range of bars and restaurants. Villas make up the majority of properties, but there are also some apartments and townhouses. For investors, the returns have been impressive too.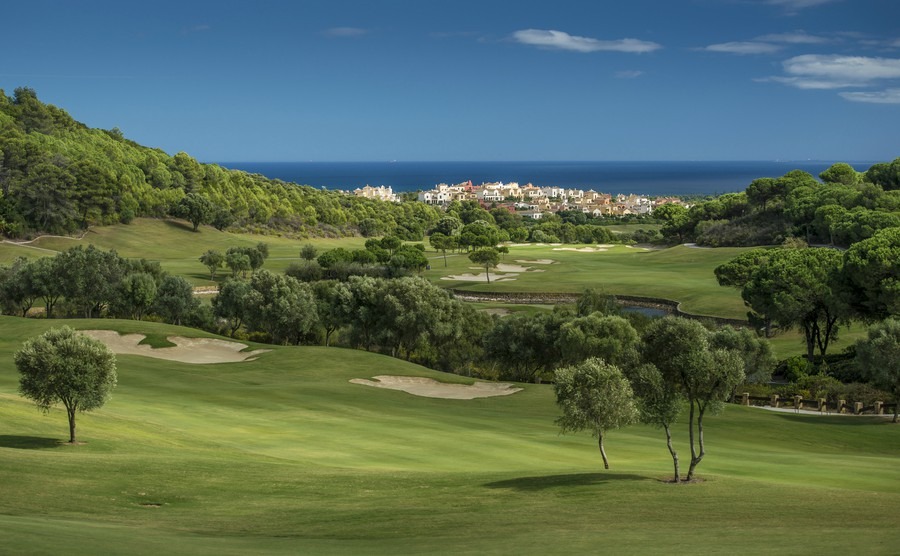 Not just golf
There are plenty of smaller and more affordable golf resorts dotted along the costas and inland too. Wherever it is, owning a home on a golf resort in Spain is attractive for a number of reasons. Firstly, there's the easy access to quality – often championship level – golf clubs with free or discounted membership. Secondly, most of the larger resorts have a range of leisure facilities away from the fairways. As a minimum, these typically include swimming pools, a spa and gym, kids' play areas and a clubhouse with bar and restaurant. There may also be tennis courts, nature trails, horse-riding and other outdoorsy activities. If near the sea, a resort could also have its own beach club, sometimes with a free bus service there.
Golf properties can be pricey, so knowing how to negotiate for your property could be critical to buying within your budget. Read our guide: How to Negotiate Abroad.
Rental appeal
Another benefit of golf resort homes is the strong rental appeal. Those that are close to the beach and have quality facilities are especially attractive to holidaymakers. Golfers will travel to play all year-round, in particular to Mediterranean countries. After all, anything is better than a British golf club in January! Thus occupancy rates are usually higher than for other types of holiday homes that rely primarily on summer trade. It can be hassle-free as well, because most resorts have an on-site property management company. They will handle your bookings and change-overs, and often help with marketing too.
In addition, golf resorts are usually gated communities with 24-hour security and a reception. This makes them ideal lock-up-and-leave properties for second homeowners who like to know their place is secure when they're not there. Communal areas at golf resorts typically are lively social hubs, bringing together homeowners from a mix of countries.
Spanish golf homes
Here's an overview of some of Spain's best golf resort areas and a property pick for each.
Costa del Sol
World famous as a golf destination, the Costa del Sol has resorts and courses to suit just about every taste and budget. These include the prestigious golf and leisure community of Sotogrande near Gibraltar. Back near Marbella are the equally exclusive communities of La Zagaleta and Sierra Blanca. Multi-million-euro villas are commonplace in each of these.
More affordable golf homes can be found around Benahavís and Nueva Andalucía in the Marbella area. Nueva Andalucía is also known as 'Golf Valley' on account of the three quality courses all within five minutes of each other there. These are Las Brisas, Aloha and Naranjos. In eastern Marbella, Elviria and Los Monteros also have popular golf communities.
Could a two-bedroom golf apartment in Benahavís could be what you're looking for?
If you are ready to buy a home in Spain, Property Guides will be at Your Overseas Home. It's a new style of property show, where those serious about buying can get answers to detailed questions and introductions to trusted lawyers, agents and currency providers. Click here to apply for FREE tickets to shows in London and Scotland.

Murcia
La Manga Club put the Mar Menor and Murcia region on every jet-setter's map when it launched in the early 1970s. Decades later the region was chosen as the site for a wave of new golf resorts, spearheaded by by Polaris World. Now you could stroll from your own apartment balcony to your Nicklaus Design golf course. After your round, a quick dip, then to the 19th hole and a short walk home. Tempting isn't it?
Stroll from your own apartment balcony to your Nicklaus Design golf course. After your round, a quick dip, then to the 19th hole and a short walk home. Tempting isn't it?
The 2008 property crash disrupted development and sales but today there are deals to be had there. The resorts of Mar Menor, La Torre and Hacienda Riquelme are the three most popular Polaris World resorts. Alternatives in the area include Hacienda del Alamo and Roda Golf. Meanwhile, another established golf urbanisation located 10 minutes inland from Mazarrón is Camposol golf. Spanish golf homes are available here for under €100,000.
Fancy a four-bedroom villa on the Mar Menor golf resort in Murcia? This one costs €345,000 and has a private pool.
Costa Blanca
The Orihuela Costa part of the southern Costa Blanca is home to four golf couses all within 10-15 minutes of each other. They are Campoamor, Las Ramblas, Villamartín and Las Colinas. The first three are integrated into the residential areas of Orihuela.
Las Colinas, though, is a gated boutique resort covering 330 hectares of countryside in Campoamor, near Torrevieja.
Villa plots are dotted around the 18-hole championship golf course with low-density blocks of apartments and townhouses also available. There is also an academy, clubhouse with two restaurants, mini market and falconry school. Yes, a falconry school. If that's not quite your style, the resort has its own Beach Club 10 minutes away at La Glea beach in Campoamor. Alternatively, north of Torrevieja is the La Finca Golf resort, in scenic surroundings near the town of Algorfa.