Who's to say you can't have sunshine all-year-round? With the post-Brexit '90-day rule', why not spend your time in Spain over the winter months, from January to March? Not only would you escape a cold UK winter, but you could also rent out your property in the summer for a healthy profit. Sounds tempting doesn't it?
Who hasn't been somewhere on holiday and thought that it would be lovely to live there in the winter months? To avoid the grey and damp in the UK? To see blue skies and sunshine, to swim in a warm sea and to play golf or tennis is a dream for many. But you don't have to go as far as the Seychelles or the Carribean to enjoy such a winter lifestyle. Why not just pop down to Spain and enjoy all these things through the worst of a British winter?
Why not spend your time in Spain over the winter months, from January to March?
Indeed there are places where you can truly get the best of both worlds. Read my recent article about places where you can ski in Spain's beautiful mountains and swim in the Mediterranean on the same day.
Property prices are just half the story; suddenly changing exchange rates can play havoc with a pension paid to you in Spain. Read

The Currency Guide to Emigration,

 free to download.
Don't discount how valuable for your health it can be to spend every winter in Spain, either. Sunshine is always the best antiseptic and while avoiding the winter flu, your more healthy outdoorsy lifestyle should have you looking great too! 
Your perfect lifestyle needn't be expensive either. If you buy a holiday home in Spain you can enjoy it yourself through Britain's (or the USA's, Canada's or Ireland's) chillier months. Then from Easter to October's half term you can rent it out. See how much you can expect to earn from a Spanish home here.
Worried about the new Brexit regulations? There is no need. With the '90-day rule' you can stay in Spain for three months without a visa. 
There are two immediate side benefits to this sort of arrangement. Firstly, by living in your UK home for at least six months you are probably eligible for equity release. Read our brand new guide to innovative ways of paying for your Spanish home.
Secondly, worried about the new Brexit regulations? There is no need if you're staying for only a few months. With the '90-day rule' you can stay in Spain for three months without a visa. 
So, you know you can do it, but what's so great about winter in Spain?
Worried you can't afford to buy in Spain? Read our new guide, How to Pay for a Spanish Property. With tips on equity release, pension "freedoms" and mortgages, maybe you can afford to buy after all!
Why spend every winter in Spain?
In the south of Spain you can go swim reasonably comfortably in the sea even in the depths of winter. That's especially true of the Canary Islands, where both sea and land temperatures in winter are very reminiscent of a summer's day in the UK – with temperatures generally over 20ºC. Andalusia is the most popular area for winter living with Marbella being the warmest mainland place on average.
As a very rough rule, anywhere south of Valencia will be warm in winter. Certainly, plenty of northern European "snowbirds" fly south to winter in Valencia and Alicante. The Balearics tend to be a little cooler, but you can still expect a balmy average temperature of 16º or 17º, especially in Ibiza, the warmest of the islands. And there are many days when it is much warmer than that.
There might be a short cold spell too but for the most part you can enjoy an outdoor life throughout the winter months. Golf courses are busy, people play tennis, handball and badminton and many venture into the sea for a swim. If you're out in the sun you'll need suntan lotion. There are a lot of other things going on too. Jazz, concerts, films in English, Carnaval, coffee mornings, clubs, walks, cycling groups and fairs… you certainly won't be bored.
A home that pays for itself
Places which are warm in winter will tend to be warm in the spring and summer months. This is the lure for thousands of people from northern Europe and Scandinavia. If you return to the UK before Easter you could let out your property almost continuously until you return. Having said that, the villa or apartment must be in excellent condition with all the comforts you would expect yourself for a holiday rental. Indeed, some local authorities have a list of things they insist are installed, for example WiFi and heating and air conditioning. Read more about the rules on rentals here.
Nowadays, most town halls grant a licence to let out a property. The cost of this and the requirements vary from region to region but you really do need to apply for one. If you are going to advertise on the internet you must put the licence number on the advert. Failure to do this can result in heavy fines.
If you use a managing agent they can often help with filling in forms and will explain documents to you. If you are planning to manage the property yourself and you don't speak Spanish, ask a friend or neighbour to help you here as you should understand everything you sign. The town hall may send someone to inspect the property before granting a licence. They will check the bathrooms and kitchen, the gas installation, whether the property is fully equipped and habitable.
If you're preparing to come over to Spain to look at properties, make sure you know what to look for by reading our free guide, Your Viewing Trip.
Managing agents will take as much as 20% of the rental income. This might seem a lot, until you consider that they may be responsible for finding holidaymakers to rent the property, advertising, cleaning and maintaining it and the grounds, changing bedlinen, being on call if something goes wrong, knowing the tradespeople to call on, keeping the owner informed of income and problems and providing accounts for all monies received and spent. That's a lot of work you won't need to be doing!
Many people prefer to manage their home themselves but it isn't at all easy from a distance. Using a managing agent may be money well spent, but do ask around for recommendations.
What income can you expect?
This will depend on the type of property and location, but you can get a good idea at this website. The high season brings in the greatest income but keeping your home "ticking over" with rentals can net good returns. Your outgoings can be seriously reduced and the rental income can often cover things like a community charge, IBI (property tax) maintenance and sometimes even a mortgage.
Don't lose the profits from your rental income in Spain to currency companies. Our currency partner Smart Currency Exchange can save a fortune on regular payments and expenditure in Spain. Read about them here.
Ideally you will have a pool, either a private one or a shared one. People coming on holiday expect a pool or an apartment very close to the beach. An apartment in Estepona which sleeps six and has a pool and jacuzzi can be rented for between €1,700 and €1,900 a week for the last week of April/May and €4,000 a week in mid July. For the same week, a villa in Nerja for eight people will cost €825-950 a week and in mid July €1,800.
From these figures you can see how worthwhile it can be to rent out your Spanish property when you choose not be there. The income will of course be taxable (in Spain) but it will still leave you with a substantial sum of money.
Why not join the thousands of British people who have already trodden this path? They spend the winter in Spain, enjoying a healthier lifestyle, then welcome holidaymakers into their homes the rest of the year. This way you can have the best of both worlds – a warm and sunny winter in Spain and pleasant weather in Britain in the spring and summer, perhaps returning to Spain for a spell in early autumn? Meanwhile, your property is earning its keep to allow you to have a carefree time when you do live in it.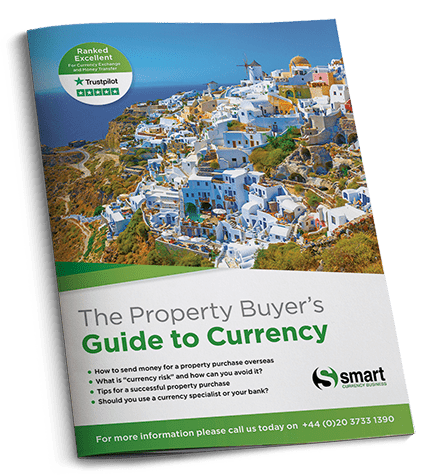 The Property Buyer's Guide to Currency will help you:
✔

  Understand the currency markets
✔

  Protect your property budget
✔

  Use a Currency Specialist
✔

  Learn from other overseas property buyers
Download the Property Buyer's Guide to Currency