It is only comparatively recently that the various Spanish Autonomous Regions have introduced tight rules for rentals, especially holiday rentals. It was necessary to ensure the high standard now expected by tourists. Many places which were advertised had no basic amenities such as air conditioning or ceiling fans. Some had no natural light in bedrooms and fell below the expected safety criteria. Today, we explore the major rules for rentals in Spain.
The problem now is that each region has its own rules and regulations. As such, what you should do depends on location. One thing about rentals in Spain, though, is universal. That is that you are required to declare all income derived from rentals to the tax authorities! You will need a licence number to advertise the property. This will automatically alert the taxman to the rental – you can no longer escape his interest.
There are different rules applied to long-term rentals in Spain, those including a long term contract for a permanent residence and short term tourist rentals or seasonal lets. Many people mistakenly believe that you can apply an "11 month contract" to a long term rental. They do this to avoid the minimum 3 year rule. However, this doesn't work. A tenant who has signed a so-called 11 month contract can take the landlord to court and demand tenancy for 3 years. The tenant will nearly always win.
Instead, you need to sign a seasonal contract. However, do not consider doing this without consulting a lawyer. There are many pitfalls which can be avoided with good legal advice.
Long-term rentals in Spain
If you have a property which is not your main home, this can be a good way to receive income from it. You are letting out the property to someone as their permanent abode, normally for a period of three years with contract renewal after one year and thereafter. You can opt to renew the contract after three years. However, if you do not wish to, you must inform the tenant two months in advance of termination and the tenant must give one month's notice.
You can ask for one month's rent as a deposit but be aware that the tenant has significant entitlements. The deposit should be paid into a third party account overseen by the authorities to ensure that it is returned to the tenant at the end of the contract, less any damages. In some cases the landlord can obtain some tax relief if a EU resident. You can also rent out individual rooms under the Spanish Tenancy Act (LAU).
The landlord is responsible for maintenance and refurbishment of the property. The tenant is expected to pay for minor maintenance such as a leaky tap or dishwasher as any white goods included in the rental are assumed to be in working order when the contract is signed. If the property is let unfurnished, the tenant is deemed responsible for the white goods they bring with them.
Tenants' rights
With long term rentals in Spain, tenants have key rights under the law. If you intend to sell a property, you must offer it first to the tenant. They have 30 days in which to confirm that he or she is willing to to go ahead with the purchase and fulfil any conditions described. This is called Tanteo and the tenant has first option before any other buyers.
If you intend to sell a property, you must offer it first to the tenant. They have 30 days in which to confirm that he or she is willing to to go ahead with the purchase and fulfil any conditions described.
If the landlord doesn't inform the tenant he wishes to sell the property, the tenant can then seek legal redress as soon as the new owner informs him of the sale. If the tenant can find the required funds within 30 days, he can buy the property outright (Retracto). Often the landlord and tenant agree to remove these two clauses rental contracts, which, of course, is to the landlord's advantage.
Seasonal rentals
This is the route most expats choose as their property is tied up for short periods. The renters have very few rights other than to enjoy a holiday in the apartment or villa and financial returns are high compared to long term rentals. However, nowadays there are several things that a property owner must do before he or she can legally rent out to holidaymakers.
Partly because of lobbying hotel owners and the rise of Airbnb, local authorities have placed certain obstacles for private rentals in Spain. For example, in Madrid new licences are only available for properties which have their own street entrance. This effectively rules out most apartments in the city.

Discover our free Spain property listings, with thousands of beautiful homes waiting for a buyer!
Generally though, if you follow the rules, there shouldn't be any problem letting out your property to tourists. Each region has its own list of requirements  Here are some of them:
Andalusia
You can only advertise a registered property.
Registering without the First Occupation Licence (Cédula de Antigüedad/Habitalibidad) carries a 2000€ fine.
Owners of more than three rental properties must apply for a Apartamento Turistico registration where the rules are more stringent.
To apply for a licence you need to complete an application form and present it to your town hall, tourist department or online. You will also need to show an identification document and First Occupation Licence.
Property must include a heating and cooling system and free wifi.
The Balearics: Mallorca, Menorca and Ibiza
Some 'saturated' areas aren't offering tourist licences.
You must apply for a licence and renew ever five years.
Maximum stay is 30 days.
Maximum number of guests is 12, so no more than six bedrooms.
Liability insurance is essential.
Canary Islands
Rentals in a community: the owner must ask permission from the community members to let out the property.
No single room occupancy allowed.
You must send guest details to the police.
You must supply a 24-hour contact number.
Catalonia
You must include the licence number (HUT) in all advertising.
Property must have a First Occupation Licence (Cèdula d'Habitage).
You must send guest details (passport, d.o.b, home address etc) to the Mossos d'Esquadra within 24 hours of guest's arrival. This is doable online following registration with the Mossos.
Most councils charge a fee for administration which varies widely.
You must collect tourist tax.
Murcia
Advertisements must state type of accommodation offered.
Property owners need to keep a register of guests with detailed information.
The property has to have electricity, hot and cold water, refuse containers, TV and you must clean before guests' arrival.
Basque Country
Only 15% of each city's rentals can be for tourists.
Liability insurance is essential.
Maximum of 12 guests per property (6 bedrooms).
Single room occupancy is permissible.
Rules apply such as the m2 per guest.
Valencian Community
Property owners must begin rentals within 2 months of registering.
The local government's suspended registration in Ciutat Vella and is discussing amendments.
Community of Madrid
Recently the government of Madrid has limited holiday rentals in the capital to a minimum 5 days. This basically removes weekend stays and midweek stays which tend to be for 4 days.
Licence applications need a floor plan stamped by a surveyor or an architect.
No single room occupancy.
Property must offer free wifi.
Note: The rules in Madrid are continually changing. Please check for up to date information.
Property rentals in Spain
Despite all the rules and regulations, don't go off letting out your property. The financial rewards outweigh the temporary hassle of registering, applying for a licence and ensuring you meet standards. You may have an inspector come to check that everything that needs to be in place is in fact there. Most things local councils want to see are things you would want if you were renting for a holiday.
Ready to look at properties? Read tips from an estate agent on what to look for in our free guide, Your Viewing Trip.
Remember also to make sure that you have insurance. Anything from physical damage to your property, whether by guests or weather, can be extremely pricey. Also, public liability insurance is a must in case a third party – ie you guests – suffers injury while they're on your property. We recommend getting in touch with Intasure, about whose services our readers send us numerous five-star reviews.
As for paying tax, it goes without saying that this an absolute must. Declare your rental income or else you will have a very heavy fine. Don't think that the Spanish tax authority won't find you – they use all sorts of methods to clamp down on tax evasion these days: helicopters, advertisements on holiday rental portals, inspectors in the streets.
If you're thinking of purchasing a property specifically to let out, download your free Buying Guide below for a comprehensive explanation of the process. And check out our article on yields from rentals in Spain for further information. Finally, if you have any questions, just speak to your Spain specialists on +44(0)20 7898 0549 or [email protected]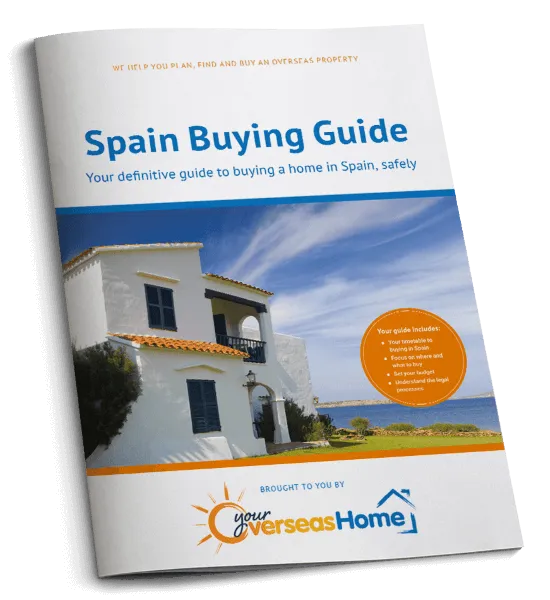 The Spain Buying Guide is a free, independent resource to help anyone who is looking to buy property in or move to Spain through each critical stage of their property buying journey.
Set up to help our readers avoid the many complexities and pitfalls of buying property in Spain, the guide takes you through each stage of the property buying process, with practical recommendations from our experts who have been through the process themselves.
✔

  Ask the right questions
✔

  Avoid the legal pitfalls
Download your free guide to buying in Spain