After a lifetime of work, child-rearing and home-making, decades of saving and "doing the right thing", nothing, least of all Brexit, is going to spoil your chance of retirement in the sun! See how and where to make it happen in Spain…
It is no accident that retirement in Spain is so popular with the British. There are numerous reasons for this, not least of all the climate. It brings on average 2,200 hours of glorious sunshine per year – twice that of the UK. Then, there are 5,000km of coastline, not to mention the relaxed lifestyle. Imagine waking up to blue skies and warm sunshine and walking onto your terrace to take a dip in the pool before breakfast, or indeed ambling down to the beach for a swim.
Don't get caught out by legal issues when buying in Spain – get a no-obligation quote from our trusted solicitors today.
Golf and other sports are enjoyed all year round. Perhaps you are into water sports: again, Spain offers everything you could want from diving to kayaking, water skiing to surfing. After such lively activity, why not go out for a menú del día for lunch? They cost between €10 and €15 for a three-course lunch with wine.
Perhaps you have been lazing by the pool sipping a cava? Or attending an art class or walking with friends in the hills or by the sea or renovating your property. This is not fantasy; this is the reality of retirement in Spain. Social life revolves around food and good company, outdoor activities and sport in general. Tapas bars are convivial places, best enjoyed with a group of friends.
What else attracts us to Spain?
The warm climate is definitely good for health, especially for people suffering from arthritis and respiratory conditions. It also makes everyone feel good generally. Of course there are some rainy or cloudy days but the clouds never feel as oppressive as they do in northern Europe and the UK where sometimes it seems the clouds are just above your head!
Prices are just half the story. To accurately budget for your move abroad, read

The Currency Guide to Emigration,

 free to download.
Another reason for retirement in Spain is the cost of living. Outside of the main cities of Madrid and Barcelona, life is less expensive here than in the UK. Check out the Spain Property Guides Cost of Living Index for 2020 here.
The important things such as your weekly supermarket shop will work out less than you are used to. Petrol and diesel are also noticeably less expensive than in Britain. The utilities cost between €65 to €180 a month for an 80m2 apartment. That includes, electricity, gas and water! Eating out regularly is affordable for everyone, whether it is in a local restaurant for the lunchtime menú del día, a tapas bar or indeed a more upmarket restaurant. 
Theatre, cinema and concert tickets are generally within most people's budgets. There are also so many things that are free! The sunshine, local festivals and other events, walks along the rocky coastline or the promenade… You'll also find free activities for all the family organised by many councils and museums on certain days don't charge.
Making friends
Spain offers so much for active retired people, from "walking football" clubs to sailing, dining clubs to art classes, language learning to dog walking groups… 
Indeed, most towns in Spain have a society for retired people. They organise lunches, trips around the country and other social events. You will need to have some knowledge of Spanish to enjoy them, but it's a great way to meet local people and to get involved with local life. There are also numerous associations and societies for expats. For example, the U3A is present in much of Spain and offers plenty of different activities for English-speaking people.
For those who still would like to be employed in a part-time capacity, there are several opportunities. This could be key-holding for other expats, property management for expats, helping out at a charity or offering skills in return for Spanish lessons, for example.
Property for retirement in Spain
Take a look at any Spanish property and you'll see how perfect they are for the retired. Easy to clean, often open plan, with plenty of outdoor space and room to entertain on your terrace.
Consider how you want to enjoy your new freedom before you commit. Maybe you've always dreamed of owning a plot of land with an orange tree and a few chickens. Well now you can!
Will grandchildren be coming to stay? Then of course consider how safe they will be, and how to amuse them for several weeks over the summer!
Maybe this is the chance to try an entirely new way of living and even design your own home. Read how to build your own Spanish home here.
Another thing to consider is in what type of urbanisation you would buy your new home. Some are more suited for people who come during the summer season, so you might find yourself almost alone there for much of the year. Better to look for a mixed nationality urbanisation where there will be people all year round.
If looking for an apartment, check that it is not in a place that opens just for the season. Many of Spain's smaller coastal towns are packed in the summer months and then hibernate completely come October, only to reawaken in the spring. Try to find a slightly larger town which retains some life 12 months of the year.
Where to retire
The Costa del Sol is particularly attractive for retirement, with its wonderful year-round climate and large expat community. There all types of shops, bars and restaurants which cater to British tastes. You'll find plenty of clubs offering different activities. The wide promenades are lovely for strolling and generally the coast isn't hilly, making it easy to access.
Have a look Fuengirola, a town which retains some authenticity but which is very popular with British expats. In fact, 25% of the population are non-Spaniards. The old port is still used by fishermen and it has 8km of beaches to enjoy. Plus, you're 25 minutes from Málaga International airport with many flights back to the UK.
For something a little different but which has similar advantages to Fuengirola is Palamós on the Costa Brava. Palamós is a major fishing port which also welcomes cruise ships. The old town is pretty, with narrow streets full of shops and tapas bars and restaurants and it is alive for the whole year.  Its beaches are sandy and inviting. It is only 40 minutes' from Girona airport and 90 minutes' drive from Barcelona airport which has international flights to many of the world's destinations.
The Costa Blanca is always a favourite, but different sections of this long coast will appeal to different people. The north, around places like Javea, Denia and Moraira, is greener and maybe a little more expensive. The south, around Orihuela and Torrevieja is warmer all year and has so much to keep you (and your guests, trust us, there will be guests…!) amused all year.
Even more affordable options are down in the Costa Calida and Murcia. Some areas can get a little quiet in the winter, so do consider that before committing, although you can always move if you don't like an area. Another joy of retirement!
Useful information
Pensions
When we were EU members, a British state pension would be updated with annual increments after you moved to Spain. The government has said that this will continue when Britain leaves the EU if there is a deal. Your pension can be paid directly to a Spanish bank or to an account in the UK. Please note that if it is paid directly to Spain, it will be subject to whatever the exchange rate is between the pound sterling and euros that day.
For those with private pensions you might find that some providers pay only to UK banks. Whether transferring directly into your Spanish account or from a UK account, we recommend using Smart Currency Exchange, which specialises in property sales and the expat lifestyle. Smart can help you lock in a single exchange rate for an entire year so you'll know exactly how much you're getting without relying on the constantly changing markets on the day of transfer.
Healthcare
Again, British retirees who went to Spain before 31 December 2020 are entitled to free healthcare in Spain (so long as they follow the right procedures). The Spanish government has reinstated universal free healthcare for all people resident in Spain. The situation is still unclear for British people who retire to Spain from 2021, so do watch this space.
Don't let health stand in the way of your move – find out about medical care overseas by downloading your copy of our guide, Healthcare Abroad.
We can assume that some sort of health insurance will be required, but it should be affordable. Private healthcare in Spain is less expensive than in the UK. You might find it is worth changing to a Spanish company, particularly if you are some way off retirement age. Prescriptions in Spain are not free but what you pay depends on your income and amounts range from 10% to 50% of the cost of the medicine.
Sufficient funds
It is worth thinking about the fact that we are living longer than previous generations. We'll therefore need enough money for a long retirement and maybe even a plan for when you're less mobile. Take professional advice to make sure you will have enough funds to cover it.
An Independent Financial Advisor can be an enormous help with giving impartial advice on organising your budget. We can put you in touch with a trusted partner who has plenty of experience helping UK buyers moving to Spain; just click here.
Enjoying life in Spain
The best way to get all that you can from retirement in Spain is to get involved in clubs and activities in your area. There are many groups and associations available for British people. However, why not also get involved with your local community? A starting point would be to take some Spanish lessons where you will meet other British expats who, like you, are finding their feet. Speaking the language is a massive advantage in every way, so you will feel less like a foreigner and more like a British Spaniard!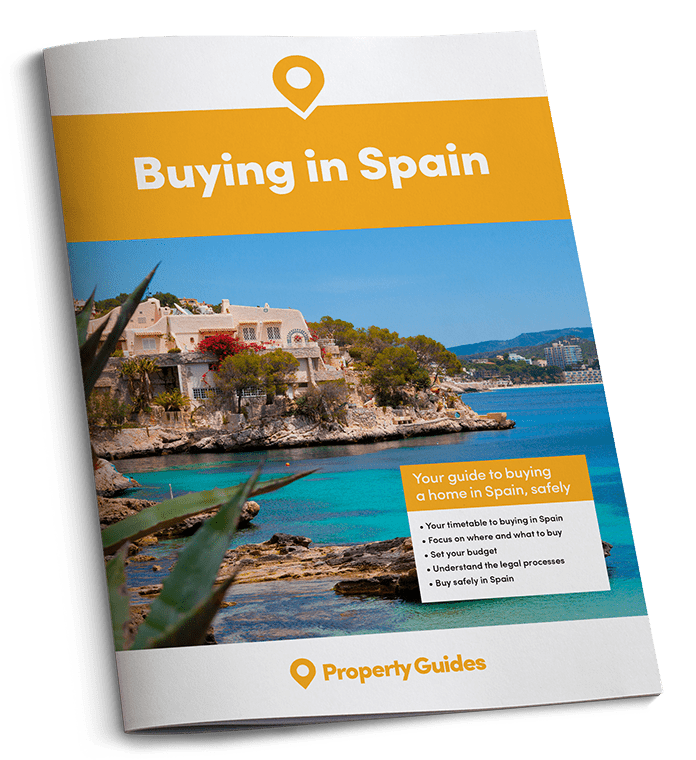 The Spain Buying Guide is a free, independent resource to help anyone who is looking to buy property in or move to Spain through each critical stage of their property buying journey.
Set up to help our readers avoid the many complexities and pitfalls of buying property in Spain, the guide takes you through each stage of the property buying process, with practical recommendations from our experts who have been through the process themselves.
✔

  Ask the right questions
✔

  Avoid the legal pitfalls
Download your free guide to buying in Spain