The north of the Costa Blanca – the 'white coast' due to its sandy beaches – stretches from the city of Alicante up to Denia. It's known for gorgeous beaches, fantastic food and drink and year-round sunshine. The World Health Organisation even considers it one of the healthiest places to live in the world.
Many think the good-value homes are gone, but bargains are still out there. Today, we're looking at why buying property in the north of the Costa Blanca is an excellent idea.
Fancy a slice of the 'que será, será' lifestyle – "what will be, will be"? Life on the Costa Blanca means slowing down, enjoying yourself and occasionally taking a cheeky little siesta mid-afternoon. Now doesn't that sound lovely? Locals here are friendly, welcoming and know how to enjoy a long lunch and a good fiesta.
Preparing to view properties this summer? Know what to look for and what to ask the agent! Read 

Your Property Viewing Trip

.
Did you know that 450 million people around the world speak Spanish? Moving to the Costa Blanca could be a wonderful chance to learn a beautiful, and relatively simple, language.
Good for your health…
One massive attraction for buying property in the north of the Costa Blanca is that it's officially-classified as 'good for your health'. The World Health Organisation (WHO) has stated that the Costa Blanca has 'as near-perfect environment as it is possible to obtain'.
Year-round sunshine, salty air, and low humidity are an excellent combination. This is especially the case for anyone suffering from breathing disorders like asthma, skin disorders like eczema and psoriasis, and other health problems including rheumatism, arthritis and heart-related problems.
You'll also be able to access some of the world's best healthcare. No surprise since Spain spends almost 10% of its GDP on healthcare – and is sixth in the EU for doctors per population, with four doctors for 1,000 people.
The World Health Organisation (WHO) has stated that the Costa Blanca has 'as near-perfect environment as it is possible to obtain'.
Furthermore, even the most ardent lover of a fry-up will want to delve into the Mediterranean diet. It's so easy to find fresh fruit and vegetables, freshly caught fish, whole grains, nuts and oils, all washed down with locally-grown wine, of course. Spain has the highest life expectancy at birth in Europe – and is second only to Japan worldwide. The dream combo of weather and diet certainly makes this target seem more achievable!
The Costa Blanca North is also perfect for golf lovers, with 10 golf courses located between Jávea and Alicante. Most are located close enough to the coast to benefit from lovely ocean views and a very welcome sea breeze.
Still a great place to invest…
While Spain certainly felt the full effects of the financial crash and Covid-19, the country still presents a unique opportunity for investors to snap up low cost properties. It is consistently listed as one of the best places to invest in property in the world.
Spain has a lot of beaches, but this is a finite resource. So while the Costa Blanca alone is 212km long, they're not building any more of it and the millions of tourists who flock in for some well earned beach time each year have a limited choice of resorts, whuch are always popular.
If you're thinking of a holiday home, why not pool your resources and buy with family? Read our guide,

Buying Abroad with Family

 to find out how to halve the cost and double the fun!
If you're looking to invest in property in the Costa Blanca, you will have access to high tourist footfall and significant rental income off the back of the region's booming tourism industry. In 2017, 82 million tourists visited Spain – many of these were heading to the Costa Blanca…and every single one of them needed accommodation!
Who buys here?
According to statistics released by the UK's Office for National Statistics (ONS) in 2017, there are almost 785,000 Brits living in the EU. Two thirds of these live in Spain, and are predominantly based on the Costa del Sol and the Costa Blanca. Other nationalities keen to call the popular region home include Scandinavians, French, Belgians and Germans.
Celebs seem to have got the memo about the north of Costa Blanca, too. Michael Douglas and Catherine Zeta-Jones own property in Jávea, as do Nigella Lawson and ex-England manager, Terry Venables. Chris Eubank and Sam Allardyce own holiday homes in Moraira.
The cost of property
For something decent, you'll need a budget of at least £170,000 to buy property in the north of the Costa Blanca. For smaller bungalows, townhouses or villas, expect to find properties for £190,000 upwards. Lovely homes with three to five bedrooms and their own pool start from £260,000.
Where to buy property in the Costa Blanca?
Moraira
This lovely town is ideally located around 80km north of Alicante and 110km from Valencia. It remains one of the most unspoilt resorts on the Costa Blanca. The town's 8km of coastline enjoys a mountain backdrop and some truly world-class restaurants.
There are many Northern Europeans in town. You'll find it's particularly popular with retirees or those that want a slice of the quiet life, while keeping the lights of the city not too far away. The area is also known for its vineyards – the Muscatel in particular is not to be missed!
Average property price: €2,310/m2
Calpe
If you're seeking a peaceful spot on the ocean, surrounded by mountains and vineyards, Calpe could be for you. There are 11km of coves and beaches to visit and a marina with lots of bars and cafes. There's also a fantastic street market for all your shopping and souvenir needs.
In the current lockdown, many buyers are choosing to place an offer without viewing, subject to viewing when flights restart. Our surveyor partner can also check the property over for you. Click here for an introduction.
The town is particularly well known for its astounding gastronomy – Traveller has even named it the 'capital of Mediterranean gastronomy'. The seafood in particular is worth some investigation, including arròs del senyoret.
Average property price: €2,050/m2
Altea
Altea is one of the northern Costa Blanca's most charming locales. There is an old and a new corner of town, as well as sandy and pebbly beaches overlooked by a wide promenade and lively marina. Follow the cobbled streets of the Old Town up to the stunning church and plaza on the top of the hill. From here, you can enjoy views of the sea and mountains.
When changing pounds to euro for something as expensive as a property, you need a specialist. We recommend Smart Currency Exchange who have offices on the Costa Blanca and Costa del Sol. Read

Smart's Property Buyer's Guide to Currency

here.
Altea is home to many great restaurants and shops selling the work of local craftspeople. You'll find lots of apartments on the market, and for larger villas, set your sights on the outskirts of town.
Average property price: €2,140/m2
Denia
This beautiful town of around 40,000 people boasts 20km of rocky and sandy coastline and a bustling port and marina. It's wonderfully located on the shores of the Mediterranean. It's backed by the mountains of Montgó National Park and the Balearic Islands out to sea. From the marina, you can hop on a ferry to Ibiza or Palma. You can also catch a tram to Alicante, Altea, Benidorm or Calpe. Denia is home to some charming properties – mostly one-storey homes with white façades, red-tiled roofs and shady porches. There is a ruined castle proudly guarding the town, a lovely old quarter to explore and lots of shops and museums to enjoy when you need to get out of the sun.
Average property price: €1,900/m2
How to get there?
You can fly to Alicante from airports all around the UK in around 2.5-3 hours. If you book early enough, you can snap up one-way flights for as little as £36. You can also fly into Valencia and hire a car to reach spots like Denia easily.
What's the weather like?
The Costa Blanca revels in a delightful Mediterranean climate. This means hot and sunny summers and mild and relatively rainy winters. August is by far the hottest month, with an average temperature of 29°C and 11 hours of sunshine every day. Even when temperatures are at their hottest, most locations enjoy a nice bit of respite from a sea breeze.
Furthermore, even in winter, you'll enjoy five to six hours of sunshine a day. Come winter time, temperatures dip to their lowest point of around 11-12°C in January. The wettest month is November, when you can prepare for around 42mm of rain. (For a bit of context, in the same month, London gets 59mm, Edinburgh 62mm, Belfast 96mm and Cardiff 123mm).
Even in winter, you'll enjoy five to six hours of sunshine a day.
Those who enjoy a dip in the sea will be happiest from July to September, where the average sea temperature is 25°C . May and June are fine if you're brave and don't mind the water being a little bracing!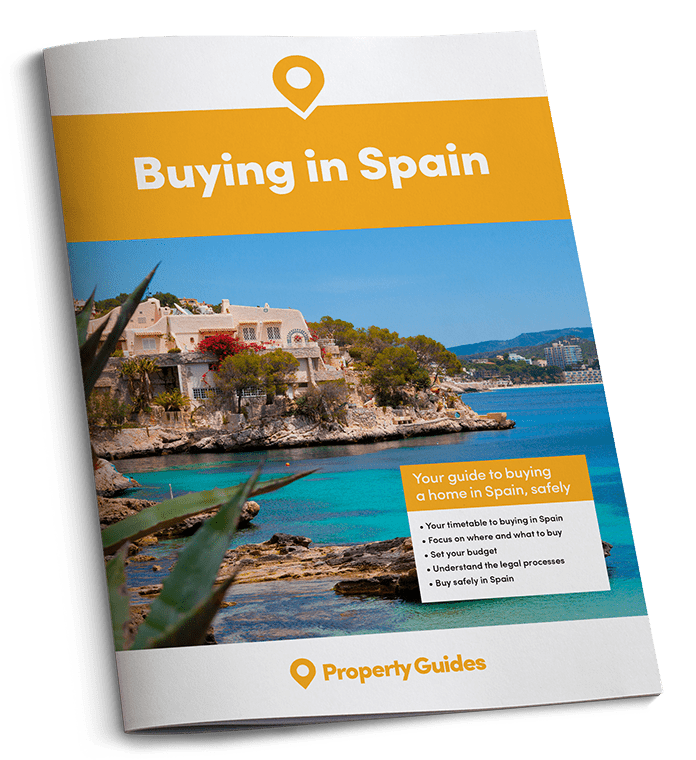 The Spain Buying Guide is a free, independent resource to help anyone who is looking to buy property in or move to Spain through each critical stage of their property buying journey.
Set up to help our readers avoid the many complexities and pitfalls of buying property in Spain, the guide takes you through each stage of the property buying process, with practical recommendations from our experts who have been through the process themselves.
✔

  Ask the right questions
✔

  Avoid the legal pitfalls
Download your free guide to buying in Spain