Spain has 5,000 miles of coastline and each stretch has its own particular flavour and lifestyle. So which is the one for you? The cool trendiness of the Costa Brava resorts or the windswept beauty of the Costa de la Luz? The bohemian style of Almeria or the affordable warmth of the Costa Tropical?
Here we lay before you a buffet of Spain's Mediterranean and southern costas, with property prices and tips on traveling there.
Costa Brava
"Oh this year I'm off to sunny Spain,
Y viva España,
I'm taking the Costa Brava plane,
Y viva España…"
It's hard to believe that this coast was once a byword for cheap and cheerful package holidays, but in the past 20 years or so the Costa Brava has gone massively upmarket, boosted by the popularity of nearby Barcelona (although Spain's second city is actually on the Costa Dorada) and beautiful ancient cities like Girona for 'euro-commuting' and weekend breaks.
The Costa Dorada leading the way in the domestic property market recovery, after posting a rise of 31% in sales up to Spring 2017.
Many people believe it is Spain's most beautiful coastline, the "wild coast", where the Pyrenees comes down to the Mediterranean in a series of pretty bays with sandy beaches and pine-clad headlands.
It is now as well known for restaurants like E Bulli, for the art of Salvador Dalí and Miró and the architecture of Gaudi, but the beaches will always be its biggest attraction. Resorts like Blanes, Tossa de Mar, Lloret de Mar, Roses, L'Estartit, the list seems endless, are packed in summer but quieter in winter since the weather here isn't as warm as the south of Spain (you might even need a coat on some days). That said, there is a supportive year-round network of expats here (from many countries) and plenty to do all year on the Costa Brava.
Pries in less fashionable towns and resorts start at around €80,000 for an apartment (double that around Pals or Palafrugell) and from €300,000 for a modest villa with pool.
One other advantage of the Costa Brava is that you can drive there, it being around 1,200km from France's channel ports, take the train in a day from London, or fly in under two hours.
Costa Dorada
Located to the south of the more famous Costa Brava, this 225 kilometre stretch of pristine golden beaches is catching up in the popularity stakes thanks to its tranquil atmosphere and more traditionally Spanish appeal, including some historic locations. Home sales along its coast are testament to this, with the Costa Dorada leading the way in the domestic property market recovery, after posting a rise of 31% in sales up to Spring 2017. In the red-bricked port city Tarragona – home to Reus, the region's main airport – you'll find an enticing combination of Roman history, sandy beaches and fabulous food. On its outskirts is Salou, a resort town popular particularly with both families and water sports enthusiasts. Dorada's northern section encompasses lively Sitges; a gay friendly beach resort just 40 kilometres south of Barcelona, where property prices are lower than its urban neighbour – a two-bedroom apartment could be secured for as little as €140,000.
Wine lovers enjoy daytrips to the many vineyards that border the costa, and budding Rory McIlroy's are being tempted here, rather than the fairways further south, thanks to its status as an up-and-coming golf destination. You can buy your very own three-bedroom villa with a pool here and still have change out of a €350,000 budget.
The best way to find out which Costa for you is to have a viewing trip and explore the local area. Find out how to make the most of your visit by downloading our free guide to planning a viewing trip.
Costa del Azahar
The "orange blossom coast" is both fragrant by name and fragrant by nature, courtesy of the vast fruit orchards that perfume the air and its must-see nature reserves. This more modest of costas is less bright and brazen than the big hitters, but has been filling up since Ryanair began shipping visitors from London Stansted and Bristol to its once-white-elephant airport of Castellon. A particular highlight is Valencia, the third largest city in Spain; home to authentic paella, delicious agua de Valencia (it isn't water!) and an inviting sandy beach. The Costa del Azahar's man-made beauty is perfectly demonstrated by Morella, Vilafames and Peñíscola: all three are on the official list of Spain's most beautiful towns. The fortified city of Peñíscola has even been used as the set for Game of Thrones, standing in as Meereen.
Because the expat community isn't as established here, overseas buyers who move to the area are generally keen to learn the lingo and integrate into local life. Good standard apartments start from €80,000, semi-detached houses from about €160,000 and detached villas from €200,000. By remaining relatively undiscovered the Costa del Azahar has managed to keep property prices at affordable levels and the beaches unspoilt.
Costa Blanca
The Costa Blanca is a coast of two halves. There's the greener, pricier side that's north of Alicante airport, including old fishing towns like Denia and Javea. Then there's the southern side below Alicante, with less expensive property and more modern developments, such as at Orihuela Costa and Torrevieja. What both have in common is hundreds of flights, all year, warm weather, all year, and plenty of golf, sailing and other recreations, all year!
The Costa Blanca has a bit of everything but all of it is clean, modern and has had billions of pesetas and then euros invested to stay top of the holiday pops over the past 60 years, not just with the British but with all northern Europeans (though we are still the biggest buyers).
It suits both the retiree looking for quiet leisure, a healthy climate and a ready expat social life, and the summer crowds looking to party – there is room for neither to bother each other. Even better, it's so easy to reach and the local transport infrastructure so easy to navigate that you really can pop down here for the weekend.
It's also not too expensive, with apartments a little inland from well under €50,000 and on the coast from €75,000. It has just the right balance of authentic Spanish culture but with a solid network of British expats with their clubs and societies and golf clubs and newspapers.
 The Costa Blanca has a bit of everything but all of it is clean, modern and has had billions of pesetas and then euros invested to stay top of the holiday pops over the past 60 years
Costa Almería
If you're heading to Spain to escape the cold and rain the Costa Almería offers two enticing stats: its historic capital, Almería, is the driest city in continental Europe and the only one never to have a recorded temperature below 0ºC. Unlike other higher profile costas, Costa Almería is underpopulated and underdeveloped, allowing you to explore its 217 kilometres of unspoilt sun-drenched coastline in peace – including its famous nudist beaches. The main resorts of Mojácar – a traditional hilly white village – and Roquetas de Mar – a laidback beach retreat – can be easily reached by car from Almeria Airport. Head inland and you'll find Europe's only desert, where attractive towns like Albox and Velez-Rubio have welcomed a thriving expat community keen on the relaxed lifestyle. The average property price in this easterly corner of Andalucía is around €96,000, but for just €59,000 you could pick up a two-bedroom apartment in Mojácar or Roquetas de Mar.
Costa Cálida
If you thought the Costa Almería was hot, wait until you head to the Costa Cálida – "warm coast" – where a micro-climate ensures the mercury rarely drops below 30ºC in peak season. A reputation for offering affordable property in purpose-built golf resorts such as La Torre, Camposol and the famous La Manga Club has attracted buyers with a penchant for the fairways and an eye for a bargain. Still pack your golf brolly though; you'll probably need it to protect you from all that sun. Away from these contemporary developments you'll discover the old Roman city of Cartagena – where a two-bedroom apartment costs around €55,000 – and long stretches of undeveloped coastline; a rarity in the modern Med. Its location on the Murcian coast means visitors are whisked into the region on year-round budget flights to San Javier Airport. With property prices up by 0.9% across Murcia it appears now is a great time to secure a property with long-term investment on the Costa Cálida.
You'll be able to view the best properties at the best prices by accessing our Spanish Property Portal.
Costa Tropical
There aren't too many places in Spain – or Europe for that matter – where you can ski snow-capped mountains in the morning, before cooling off in the Med in the afternoon. Backed by the stunning Sierra Nevada mountain range, the Costa Tropical may only consist of 30 kilometres of coastline but what a 30 kilometres it is: secluded beaches, hidden coves and crystal clear waters. The region's biggest draw, however, is the city of Granada – the home of flamenco, tapas (arguably) and internationally revered for its iconic Alhambra palace. Steeped in history, Granada is where Moorish culture meets modern Spain. It's also a popular base for overseas property buyers happy living an hour or so from the coast.
For those of you that need your fix of sun, sea and sand head to Almuñécar; this relaxed coastal resort town is becoming increasingly popular with overseas property buyers. Anywhere in Spain that attracts a healthy crowd of native summer holiday makers must have something about it. The average price of a three-bedroom property on this section of Spain's south coast is a very affordable €100,000. Also look out for Salobreña, combining 6,000 years of history with the very modern life of a beach resort.
Costa del Sol
Over 160 kilometres of seaside fun, don't think that the Costa del Sol is only for the beautiful and blingy – even if the likes of Hugh Grant, Simon Cowell and Julio Iglesias do own here. While it has plenty of gorgeous villas for the world's wealthy in Puerto Banús, Marbella and The Golden Mile, and even if the old joke "costa lotta" was born here, there is plenty for more everyday budgets too. The most impressive thing about the Costa del Sol is how it hasn't let its success go to its head – it still has a strong taste of authentic Andalusia, as shown by the resurgence of Malaga as a classy cultural destination (we can probably thank its favourite son, Pablo Picasso, for that).
Resorts like Torremolinos, Mijas, Fuengirola and Benalmadena are warm all year – and busy, the perfect choice for anyone looking to escape the British winter – and just two to three hours away via the dozens of flights between the UK and Malaga airport each day. The simple pleasures of a bucket and spade on a beach are still available!
For the grown up, this is a costa that likes to have fun, with great golf courses and marinas, the most exciting bars and nightlife, superlative restaurants and shops with all the latest Essex and Moscow fashions.
Property comes at just about every price, with studio apartments from under €100,000 to €20million villas overlooking Marbella.
The Costa del Sol is how it hasn't let its success go to its head – it still has a strong taste of authentic Andalusia, as shown by the resurgence of Malaga as a classy cultural destination.
Costa de la Luz
If you like your Spain wild, windy, hot, passionate, exotic and very Spanish, the Costa de la Luz ("coast of light") should light your fire. It has that Andalusian mix of North African and Spanish food, wine, culture and craziness; Spain aficionados should check out what English writer Laurie Lee has to say about the residents of Cadiz. If you're sporty, the unspoilt Atlantic beaches are perfect for windsurfing, while the dunes have no shortage of links golf courses to keep you swinging all winter. The region also boasts the Donana National Park, where the lynx (Europe's only big cat) roams freely. The nearby city of Seville is a real Spanish sensation, while the town of Jerez, just 20km from the sea, is the centre of Spain's sherry trade. Four airports fly to the area, or nearby – Gibraltar, Seville, Jerez and Faro (Portugal).
Like the Portuguese Algarve just across the border, the winters are warm while the Atlantic breezes take the edge off the summer heat. The eastern section of the coast closest to Gibraltar is known for its windsurfing and associated informal resort lifestyle, while the western side closer to Portugal has some splendid purpose-built resorts with affordable golf courses. Property is less expensive than the Costa del Sol, with apartments starting at around €100,000 and villas from €225,000.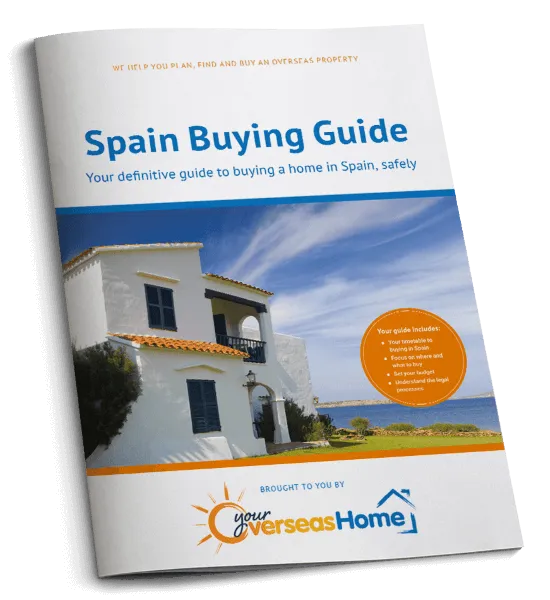 The Spain Buying Guide is a free, independent resource to help anyone who is looking to buy property in or move to Spain through each critical stage of their property buying journey.
Set up to help our readers avoid the many complexities and pitfalls of buying property in Spain, the guide takes you through each stage of the property buying process, with practical recommendations from our experts who have been through the process themselves.
✔

  Ask the right questions
✔

  Avoid the legal pitfalls
Download your free guide to buying in Spain