In summer we spend most of our time outside, but what do residents do here in the winter, when the temperatures fall and the days are shorter?
At this time of year some of my friends leave their second homes and head back to Britain to spend the festive season with their families. In the south of Spain it is often the case that the family from Britain come to spend this season in Spain with their loved ones, but up here in Catalonia expat number have dwindled and most of the buzzing seaside resorts have closed down. There are a few tourists wandering through but things remain pretty quiet until Easter.
Despite this, I have to say that I enjoy the winter here on the Costa Brava and there is plenty to keep me occupied while the sun shines much of the time.
Beaches
I love walking by the sea in winter: you can actually see the whole sandy beach rather than umbrellas, towels and people! You might find one or two locals walking too but they don't disturb the peace and tranquillity. There are three seaside villages within 10 minutes of where I live, but my favourite is the smallest, Llafranc where I can walk out to the little harbour and sit on the rocks to read or just to listen to the silence. At the weekends I might find one of the bars open and enjoy a glass of cava looking out to sea.
There is nothing better than freshly caught fish and seafood enjoyed in a restaurant owned by fishermen
Calella de Palafrugell next door to Llafranc is good on days when the Tramuntana wind blows as part of it is well sheltered and the sun can feel really quite warm. One or two of the hotels will be open if I feel in need of refreshments.
Tamariù is the locals' preferred haunt and some of the restaurants open at weekends. There is nothing better than freshly caught fish and seafood enjoyed in a restaurant owned by fishermen and La Rondona is the perfect place for this. It is usually closed for the first three months of the year, so I look forward to having my first lunch there when the tables are put outside and it is a little warmer.
Inland villages
Within 20 minutes of my home are lots of lovely little medieval stone villages to wander around. In the winter you aren't going to be jostled by crowds and you can truly enjoy the charm of these places, with bougainvillea in bloom and where some excellent restaurants stay open. You will find seasonal dishes on offer and Catalonia has a wide variety of locally produced food so there is something for everyone. My colleague, Richard Way, mentioned in a recent post that Mas Pou in Palau Sator as one his favourite places and it is undoubtedly one of mine. The other day I had a delicious starter of wild mushroom terrine and locally-farmed duck breast as a main course. Wonderful!
The cinema
More and more films are being offered in the original version, so on winter nights I have a choice of the latest movies in English. In my little town of Palafrugell, there is a cinema club, the Garbí, and each week they will show either a Spanish or foreign film. This weekend it will be "The Girl on the Train" in English and a ticket costs just €5.
More films are being offered in the original version, so on winter nights I have a choice of the latest movies in English
The bigger cinema complexes usually have at least one foreign film a week and rarely will you have to pay more than €8. They usually have restaurants next door and Platja d'Aro, the main shopping centre on the Costa Brava has 10-pin bowling next to the cinema for a different type of winter entertainment. Opposite is a Chinese buffet restaurant which is very reasonably priced and a good place for families to go.
Music and theatre
My passion is music, especially live music. In winter I can still enjoy jazz at a local club, a gig in a local bar, classical music in a local theatre and the pleasure of listening to students of the many music schools giving performances, often for free. Spain is a country of music and it will never be far away even the depths of winter when the audience may be small but the joy of playing and listening is obvious.
In Girona, the capital of my province, the wonderful Auditori has an excellent winter programme of classical and popular music.
For those who speak Spanish (or Catalan) there are many theatre productions to see, plays for children and adults. Some will be professional, others amateur, but there is always something on somewhere.
Fraternal and Casino
One of the most pleasant things to do in winter is to meet friends in one of Spain's social clubs, often called the Casino but here in Palafrugell, the Fraternal. These are busy, often noisy places where the older men sit and play cards while others will play chess or just have a drink. They are welcoming and on a chilly night a wonderful place to socialise and have some tapas or even a meal. The Fraternal serves good food all year round.
After a day at the sales, some good wine and tapas go down well
Many tapas bars are also open and they get really busy at weekends even in January. After a day at the sales, some good wine and tapas go down well. To find out what is going on where, you will need to sign up to numerous mailing lists and check local websites, as there is no one single portal that tells you it all, yet.
Staying home
I also enjoy staying home on a winter's evening, warm and cosy in front of the TV. Who doesn't? I can enjoy UK TV on my smart TV thanks to the wonders of the internet and also have the option of watching documentaries and box sets as well as films through my Spanish TV subscription – all in VO ("Version Original") and there is a catch-up service too. I have just finished watching the latest Poldark series and enjoying the wonderful scenery of Cornwall as well as the excellent storyline and acting.
Staying home also means I can invite friends around for lunch or dinner and we are happy to share some cava or wine, a simple meal (but using the best local ingredients) and each other's company, whatever the weather outside. In summer we tend to get together in a seaside or country location in the cool of the evening to enjoy a meal or tapas, always outside. I think it's quite pleasant to spend time with friends within the cosiness of home.
Sports
Just because it is winter, it doesn't mean sport comes to a halt. Skiing and mountain sports apart, we can still play padel, a very popular sport here, not dissimilar to tennis or squash, played on a an indoor court, or petanca, known in France as boules which can be played all year round on a sandy, gravel area near a beach or in a town, providing it isn't actually raining or snowing. I love petanca and feel really cheated on seriously inclement days when we can't play, but they are happily few and far between. The golfers here are also out whenever possible as are the cyclists who manage wonderfully long and exciting days travelling around the beautiful Costa Brava.
It is quiet here in winter compared to summer. I have spent time in the south of Spain and I find areas like Benalmádena and Torremolinos are still really busy in the winter months. I confess I am happiest when we who stay in Catalonia have most of it to ourselves and can enjoy the unspoilt beauty of the seascapes and landscapes without a tourist invasion.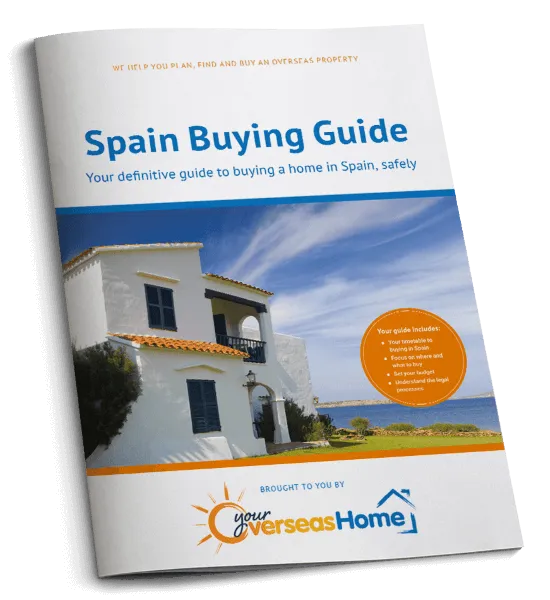 The Spain Buying Guide is a free, independent resource to help anyone who is looking to buy property in or move to Spain through each critical stage of their property buying journey.
Set up to help our readers avoid the many complexities and pitfalls of buying property in Spain, the guide takes you through each stage of the property buying process, with practical recommendations from our experts who have been through the process themselves.
✔

  Ask the right questions
✔

  Avoid the legal pitfalls
Download your free guide to buying in Spain