When you woke up this morning did you see grey skies and rain? Have you had your heating on for weeks? Perhaps you are dreaming of a home in the sun? Well, nowhere in Europe is better for winter warmth and sunshine than Spain, not to mention the lighter evenings. In London, by the 21st December, the sun sets at 15:55pm but in Málaga in southern Spain it is light till 18.05!
Apart from the mood enhancing benefits of winter sun, it is also good for your health, especially for people suffering from arthritis, asthma and rheumatism. Sun also gives your body vitamin D which is known to defend your body against illness and also decelerates the ageing process.
Research at the universities of Southampton and Edinburgh revealed that being exposed to UV rays assists the release of nitric oxide. This protein can slow down the progress of type 2 diabetes and obesity. An American study shows that exposure to sunlight often improves sleep patterns. It is also shown to decrease blood pressure. Of course, you need to defend your skin by using suitable sunscreen products.
Ready to start looking for properties in one of our to spots for winter sun? Don't miss your free guide, How to Buy a Holiday Home in Spain.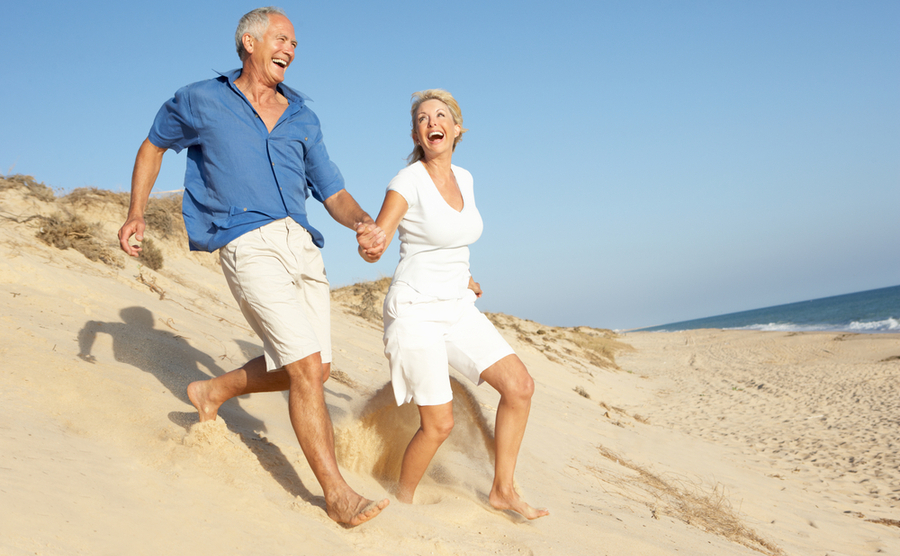 For all these reasons and more, Spain is the number one destination for retired people, happy to swap cold, miserable winters for warm, sunny ones. Some buy a property to use as a second home and others make the leap complete by moving permanently.
You might think about renting for a while over the winter to see if you have found the right place for you or perhaps buying a property, intending to let it out for the summer and enjoying it yourselves in the winter. You can earn good money that way but remember you will need to declare your income to the tax authority.
However, it is important to know the geography of Spain as not all of this wonderful country offers the winter people from colder countries seek.
Spain is the most mountainous country in Europe, so you need to avoid these unless you are a fan of winter sports and snow. The interior of Spain is very hot in summer but pretty cold in winter.
Really, you need to look along the Mediterranean coast, from Valencia to the south. Majorca, Menorca and Ibiza are a little too far north to really enjoy winter sun but they are still warmer than the UK during the colder months.
Málaga's average temperature in January is a pleasant 17º, whilst back in London it is just 8º.
Valencia, for example, enjoys an average of 169 hours of sunshine in January, while Seville has on average, 10 hours more. Málaga's average temperature in January is a pleasant 17º, whilst back in London it is just 8º.
Let's look at some places to head for when seeking winter sun:
Canary Islands
The Canary Islands are around 4 hours' flying time from Britain and are the warmest places with the most sunshine during the winter. Expect temperatures of 23º in January, which is ideal for being outside and engaging with all types of sport. Golf is played all year round in the sun, if you enjoy hiking, there are plenty of interesting trails to follow, for tennis enthusiasts there are numerous courts to play on or perhaps you just fancy a gentle stroll along the beachfront. The fact is that you can spend much more time in the open air and sunshine than you can in the UK.
Gran Canaria is probably the warmest in winter. You will need a cardigan in the evenings but you can reap the full benefit of glorious warm weather in the daytime. There is no doubt that Playa del Inglés is the liveliest resort all year round.  It is the island's largest town and has a vibrant nightlife and wide sandy beaches. All types of water sports are available and the town has an excellent infrastructure and amenities. It is very popular with British people and there are all sorts of restaurants offering international cuisine such as Italian, Indian, Chinese, British and Spanish.
A quieter and very picturesque place is Puerto de Mogán in the west of the island. It still has the charm of an old fishing village with the added attraction of a marina and pretty port. The delightful beach of fine sand and clear water makes it ideal for any age and for those who enjoy snorkeling. It's an upmarket town known as "Little Venice" due to its many canals and bridges and has a great selection of fish restaurants and smart shops at the port.
Don't get caught out by legal issues when buying in Spain – get a no-obligation quote from our trusted solicitors today.
Tenerife is also extremely popular for winter sun. Los Cristianos lies in the south west and is quieter than its neighbour Playa de las Americas and is generally frequented by more mature visitors, boasting a promenade which straggles the long sandy beaches all the way to Playa de las Americas. You can go whale and dolphin watching and follow every kind of sport, both in and out of the water. Sunday is market day and there are some very good shops. The harbour square is teeming with upmarket restaurants and bars, a great place to watch boats coming and going out while savouring a delicious meal. If you want more nightlife, it is a short taxi ride to Playa de las Americas.
Lanzarote is becoming rather smarter than its reputation but not at all flashy. The emergence of new eco friendly accommodation is turning the island into a winter paradise. All the sports are represented and the island was saved from the ravages of over development by one César Manrique, whose architectural style is to be seen everywhere.
The emergence of new eco-friendly accommodation in Lanzarote is turning the island into a smart winter paradise.
On the east side you will find the capital town of Arrecife, which has a charming old district and bell tower and an International Museum of Contemporary Art housed in a fortress. As with many of the seaside towns, it started life as a fishing village but nowadays is a major shopping centre, attracting people from all over the world to its upmarket boutiques and larger stores. Perhaps the best thing is that Arrecife doesn't survive solely on tourism and is a true Spanish working town with 50,000 residents. That said, there are many excellent restaurants and tapas bars in which to while away time in the evenings, with Italian cuisine being the most popular after Spanish.
Southern coasts of Spain
Costa de Almería
Almería's coast is quite unspoilt, almost all 200 kms of it! With its hot desert climate it is ideal for winter warmth and is incidentally, the only region of Europe enjoying a climate like this. To the east of the eponymous capital city is the wonderful  protected natural maritime park Cabo de Gata-Nijar with a coastline that is both natural and rugged which creates pretty, secluded bays, ideal for scuba diving and swimming.
Almerimar is 40 minutes' from Almería and is a modern town with every convenience you might want. It also boasts its own 18-hole golf course offering a golf shop, hire of buggies and hire of clubs. Even though it is on the coast, it is only 90 minutes' drive to the Sierra Nevada ski resorts. By the way, Almerimar has 3000 hours of sunshine a year, and temperatures rarely fall below 14º.
Costa Cálida
The Costa Cálida is in the region of Murcia. It has kilometres of sandy beaches, many with wide promenades which are ideal for walking without the problem of hills. Sand dunes and pine forests lie behind some of the beaches and many of the towns have vistas of La Manga and the Mar Menor. The sea is really warm most of the year and the area as a whole is flat, which suits people with rheumatic and arthritic problems. The cuisine is often based on rice but as the region is very fertile, vegetables and fruit are also present. Fish is abundant and readily available.
San Pedro del Pinatar is a popular place for tourists and foreign residents. Opposite the Mar Menor, there is a wonderful beach with calm waters for bathing. It also has a marina and caters for foreign tastes as it attracts people from all over the world, especially during the winter months. It is a haven for birdwatchers, as all kinds of migratory birds come to nest. It's a spa too, using mud to treat problems with both the skin and bones.
Ready to start looking for properties in one of our to spots for winter sun? Don't miss your free guide, How to Buy a Holiday Home in Spain.
Costa del Sol
The Costa del Sol, Andalusia, is one of Spain's most sought after regions, running from Almería to Tarifa. There is something for everyone, whatever their age or fitness as it has long, sandy beaches, a wonderful climate the whole year and plenty of historic places to visit. There is no lack of sports and leisure facilities and has an incredible 60 golf courses which give it the name of "Costa del Golf." Most towns have well laid out public gardens, Marbella's being alongside the beachfront. For relaxing, you will find plenty of spas in the area and don't be surprised if you are invited to spend Christmas Day on the beach.
Have a look at Fuengirola, Mijas Costa and Benalmádena, all of which are popular with British people and which offer British pubs, bars and shops and where practically everyone speaks English. These are as buzzing in the winter as in the summer months and there is no lack of things to do.
Costa Blanca
The Costa Blanca is really two areas in one, as the south is much drier and arid the north has lush greenery. They differ too in that the south has some large and very popular tourist resorts and the north smaller, more intimate towns. Everything is close to Alicante airport, so it really depends on whether you prefer the amenities of large towns such as Benidorm or the quieter places such as Calpe, Jávea and Dénia. The latter is the provincial capital and always busy with markets, fiestas and other activities. However, it is nothing like Benidorm which is just one constant party, 12 months of the year, catering for young and old alike.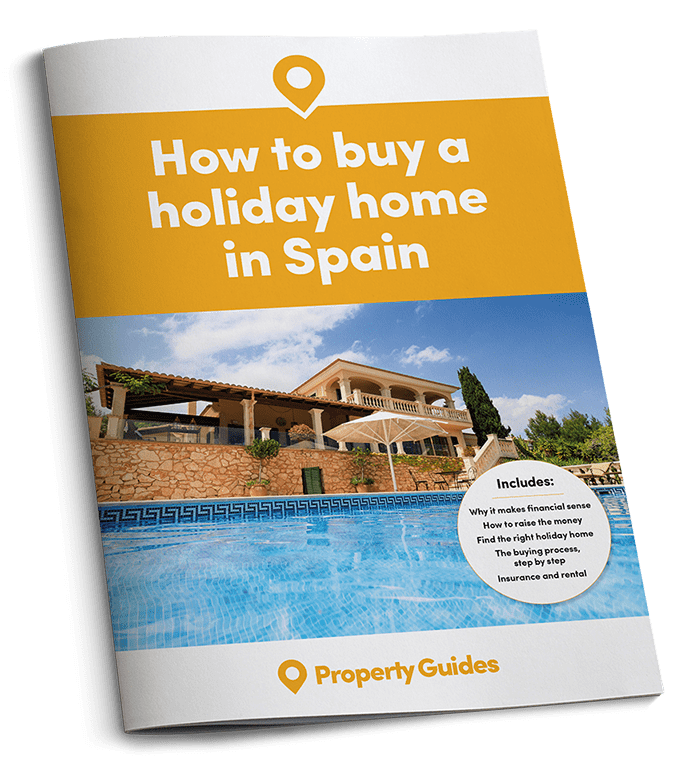 ✔

  Why it makes financial sense
✔

  How to raise the money
✔

  Find the right holiday home
✔

  The buying process, insurance and rental
Download your free Holiday Home Guide