Could you see yourself enjoying year-round sun, swimming in the sea right into November? How about dining out on delicious Spanish cuisine for just a few euros, or spending the weekend playing golf on one of several top-class resorts? Life on the south Costa Blanca might seem like a year-round holiday, but it's reality for the 70,000 British property buyers who have made their home here. And anyone looking to follow them will be pleased to know that homes here are still affordable – although parts of the region are in the top three fastest-growing markets in Spain.
The region's made a name for itself as a centre for new-builds, with impressive, modern developments proving especially popular among buyers from northern Europe. Our partner, Medland Spain, recently invited Spain Property Guides, as well as the event manager of Your Overseas Home, to visit a range of developments for all budgets with their main UK consultant, Roy Howitt. Here are the new-build hotspots on the south Costa Blanca, and what you could buy.
How does buying a new-build work?
You can divide new builds into two types: 'key-ready' and 'off-plan'. We've written extensively about the difference between the two, but, in summary, key-ready properties are already built, but have never been lived in, while off-plan properties have yet to be completed.
In both, you'll get yourself a home built to the highest standards. Keep in mind that Spain has really toughened up its act in the last ten years, from building codes to energy standards. And, if you're looking for a more modern style, whether you want something easy to maintain or you love a sleek, contemporary décor, it'll be much easier to find in new-builds than in resales.
Of course, the main advantage of key-ready is what it says in the name: you can move straight in! For off-plan, you've got the exciting chance to customise the home as much as you want. Many developers we spoke to will carry out the majority of customisations – even the addition of a bathroom or the switching around of a room and a roof terrace – at no extra cost, as long as it doesn't change the size of the plot.
Of course, the main advantage of key-ready is what it says in the name: you can move straight in! For off-plan, you've got the exciting chance to customise the home as much as you want.
Both offer excellent rental returns, but off-plan also gives you the chance to buy early on (often in phase one, the very early stage of building) for much lower prices. The average off-plan can increase value by as much as 16% by the end of the first phase.
Where are the best new-build developments in the south Costa Blanca?
We spent three days looking at some fantastic properties, beginning in the modern town of Quesada. All of them offered that fantastic Costa Blanca lifestyle, with access to beautiful beaches, quality golf courses and lots of great restaurants, bars and cafés. Plus, needless to say, the sun really does shine almost every day. We visited in mid-December and had sunshine every day, with temperatures between 18ºC and 20ºC. The locals might have been in long sleeves, but it was more than warm enough for us.
Ciudad Quesada
Quesada sits just next to the famous salt lakes of Alicante, within the municipality of Rojales. It was founded by Justo Quesada in the 70s and, today, is extremely popular among the expat community. As a purpose-built town, it has wide, carefully maintained streets, an easily accessible boulevard with a number of supermarkets (Lidl, Aldi, Carrefour…), cafés, bars and restaurants.
Quesada's not by the beach, but it's just a short drive to Guardamar and La Mata's blue flag offerings. Plus, you're just off the N332, so getting around by car is easy. The town's also well set up for accessibility compared to many Spanish towns, with pavement ramps for wheelchair users. Even during the day, there really is very little traffic.
The first development we visited here was in Doña Pepa, in the south of Quesada. These spacious townhouses all enjoy their own private gardens, as well as access to a communal pool. Head up to the top floor and you have your own solarium to enjoy the beautiful Valencian weather. All of this costs from just over €270,000.
Mar Menor
The first thing that strikes you as you see the Mar Menor, or 'Little Sea' is how calm it is. This small inland sea, separated from the Mediterranean by the split of La Manga del Mar Menor, is extremely popular among families and for watersports for precisely that reason. As an added plus, it heats up more quickly than the Mediterranean, so you can even have a slightly longer swimming season!
If you're thinking of buying a new-build property in the Costa Blanca, Spain Property Guides can put you in touch with our trusted property agents in the region who can organise your viewing trip, including accommodation, for £99.
La Manga is quite heavily developed, with a number of high-rises. If you're looking for more land for your money, it's better to head ever so slightly inland. Just ten minutes' drive away is La Serena Golf – itself not far from five-star La Manga Golf. Part of Los Alcázares, this area is ideal for those looking for that combination of beach and golf. If you're buying a holiday home, this could give you a fantastic investment renting for as much as €1,000-€2,000 a week for 30+ weeks a year. The proximity of a number of golf courses means rental opportunities extend beyond the summer season into the winter golfing season. You can find out more about golf homes in our dedicated article.
There are a number of impressive developments in the area, including this small collection of three-bedroom homes just 200 metres from the sea. As soon as you enter the property, you can see how much outdoor space you get for your money. The sizeable outdoor pool and number of balconies and solarium give you ample opportunity to make the most of the sun. Floor-to-ceiling windows and doors on the ground and first floor flood the building with light, while high walls provide plenty of privacy.
And if you're looking for another option close to the beach, here's one for you. Panorama is just five minutes' walk down the Avenida José Sazatomil to the beach. Although the homes are semi-detached, we noticed how private the gardens are. This was a recurring theme with new-builds, in fact – developers know that no-one likes to be overlooked, so are paying more and more attention to giving everyone their own private space.
These homes start at around €259,000. For that, you've got a spacious, light-filled interior, with a combined living-kitchen-diner. There's one bedroom on the ground floor and two on the first, along with two bathrooms. On the solarium, there's even a rooftop kitchen – ideal for those summer evening parties!
Pilar de la Horadada
Pilar de la Horadada is one of the southernmost cities of Valencia, with ten beaches within an easy drive. If you're feeling more energetic, wander down the 3km path 'Del Pilar Al Mar' to the beaches. In the town itself, you can enjoy Spanish and international cuisine at over fifty restaurants. Try your hand at haggling in Spanish at the three local markets: Mil Palmeras on a Tuesday, in Pilar de la Horadada itself on Fridays and at the urbanisation of Pinar de Campoverde on Sundays.
These properties have an ideal location, right on the main avenue down to the beach. Plus, Lo Romero Golf isn't far away. The light and spacious interior has a combined living/dining/kitchen space, looking directly over the pool and garden. The solarium on the roof is particularly spacious and, since the surrounding area is so flat, offers far-reaching views.
At this new-build development, we were lucky enough to also meet Ino, the architect. He explained to us many of the extra aspects in the design and build that would make a big difference, from covering the plaster in a plastic paint to avoid browning from dust in the rare rainfall, through to little finishing touches.
Villamartin
If you're looking for somewhere with more of a bustle to buy a new-build, Villamartin could be it. It's just a few minutes' drive from La Zénia Boulevard, the Orihuela Costa's largest shopping centre. There are over 150 shops, ranging from Guess Armani to familiar high-street names like H&M and Primark. There's also of course the Villamartin Golf Club and the second commercial centre in La Fuente. In other words, you're spoilt for choice for facilities! Plus, it's just eight minutes to La Zénia beach by car. Cala Bosque is a popular beach, with easy access for anyone with mobility difficulties.
These apartments in Villamartin Gardens are ideal for anyone looking for the low-maintenance convenience of apartment living while still enjoying plenty of storage and space. The ground floors all have extremely spacious terraces, while the upper floors have very large balconies of at least 20m2, as you can see in the pictures. It's worth nothing how much of the plot is given over to greenery, making the surroundings particularly pleasant.
With prices starting at just €184,000, this really is a great-value development. All apartments, both two and three bedroom plans, have two bathrooms, a separate laundry room and fully fitted Balay kitchen, plus garage space and storage room. In the communal areas, you can enjoy three swimming pools and a jacuzzi, as well as the extensive landscaped gardens.
Rojales
One of our last stops was Rojales, just above Quesada. It's got a good mix of Spaniards and expats, and is a great place to experience the Spanish way of life. Imagine being able to walk down to the Thursday market, shopping for fresh, locally grown fruit and vegetables. Above Rojales are the famous cave houses, carved out of the hillside and now largely used by artists. Another market, this one for crafts, takes place every month. You can even have a go yourself at some of the artisanal traditions with the free workshops!
Of course, like anywhere in Spain, whether a large city or small town, there are fiestas. Rojales is known for its celebration of Moros y Cristianos (Moors and Christians), with colourful parades and activities from seven different groups, dressed as Tuaregs, Berbers, smugglers, pirates and more.
As in much of the region, golf is a big pastime. La Marquesa Golf Club is close by, between Rojales and Ciudad Quesada – which, again, can prove excellent for extending the rental season of an investment new-build property.
This development really did wow us. The first thing you notice is, of course, the view, with a panoramic vista right across to the sea. Best of all? Much of the land is protected, so it shan't disappear. As you can see in the photo above, the living space extends out onto the terrace, with the table folding out from the kitchen into the outdoor space. Whether you're a keen dinner party host, or you just want to sit out quietly in the sun, you'll be hard-pressed to find a better space than this.
The first thing you notice about this development is, of course, the view, with a panoramic vista right across to the sea.
Head downstairs and there are more surprises: a large wine cellar, a home gym, even a sauna. Sunken outside space ensures there is still natural light in the lower-floor bedroom. Look out to the end of the terrace in the photo above, and you can just see an infinity pool! All this for just €495,000.
New-builds in the south Costa Blanca
We were genuinely impressed with the new-build offer in the south Costa Blanca – it is noticeably cheaper than the north, but the quality and rentability is the same. Our Spain Property Specialists can put you in touch with Medland, for an offer of viewing trips to see these off-plan and key-ready properties and many more for just £99, including accommodation. Simply fill in our form with your details or give us a ring to the Resource Centre on +44(0)20 7898 0549 and we'll be in touch.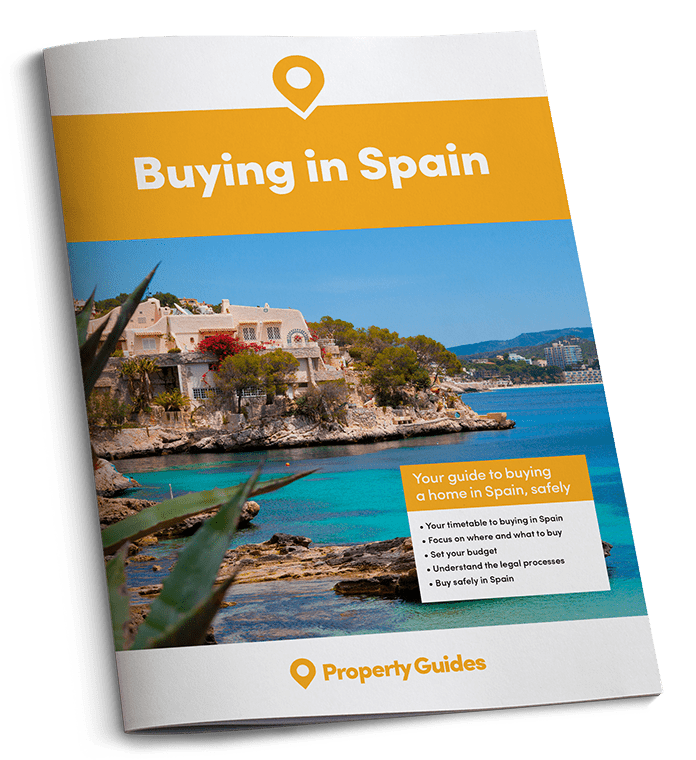 The Spain Buying Guide is a free, independent resource to help anyone who is looking to buy property in or move to Spain through each critical stage of their property buying journey.
Set up to help our readers avoid the many complexities and pitfalls of buying property in Spain, the guide takes you through each stage of the property buying process, with practical recommendations from our experts who have been through the process themselves.
✔

  Ask the right questions
✔

  Avoid the legal pitfalls
Download your free guide to buying in Spain