Sun, sea, sand and short flights from home – Spain's islands have been firm family favourites for decades among tourists and property buyers alike. Our recent survey showed that almost 1/4 of our readers want to buy in the Balearics or Canaries, so this week, I'm looking at the very best, family-friendly islands to purchase a home.  
Port de Pollença, Mallorca
1. Majorca
The largest of the 4 islands, Majorca has been popular as a place for families since the 1960s. It is a beautiful island with wonderful beaches and the Tramuntana mountain range. The inland valleys are spectacular, whilst some of the seaside resorts are extremely lively and others cater for people looking for quieter holidays. The capital, Palma de Mallorca, is a delightful, historic city with a stunning cathedral, lovely beaches and excellent shopping. Palma de Mallorca airport is just 8km from Palma city and it is Spain's 3rd largest airport after Madrid and Barcelona. There are ferries from Barcelona and Denía in mainland Spain.
Port de Pollença
Situated in the north west of the island, Port de Pollença is a comfortable place for tourists and holidaymakers. As with so many of these seaside towns, it was originally a fishing port but now the marina hosts yachts and leisure boats though they do still fish from there.
The town has 2 beaches, each having a very different feel. Port de Pollença Beach is long and lined with holiday apartments, bars, restaurants and shops on the other side of the promenade. To the north side of the port is a smaller, narrower beach in a beautiful spot where Passeig Voramar, known as The Pine Walk Promenade, has traditional Majorcan homes and wonderful pine trees. During the winter months, the town is still busy but with cyclists and hikers as it is very close to the Tramuntana mountains. There are 2 golf courses nearby, Pollença Golf Club and Club de Golf Alcanada.
There is a large British community in and around the town, which is a 50 minute' drive from Palma de Mallorca airport. There is a bus from there to Port de Pollença.
If you're seriously thinking of buying, Your Overseas Home is the perfect property show for you. It's designed exclusively for people buying soon to get real, expert advice and guidance from experts in living and moving to Spain. Apply now for your free tickets to our next show in Harrogate
A two-bedroom apartment close to the beach and within walking distance of the town would be in the region of €360,000 and for a three-bedroom villa you would be looking at €450,000 upwards.
2. Menorca
Quieter and less touristic that its neighbour, Menorca is ideal for family holidays. The beautiful clear waters are on their own inviting enough but there are plenty of other things to keep you and the family interested.
Fornells
Situated in the north of the family-friendly island, Fornells is a 30-minute drive from Menorca Airport. It has a beautiful harbour and is a major fishing port. Needless to say the seafood available on the island and in the town is fresh and delicious. The sheltered bay is perfect for all types of water sports such as sailing, diving, kayaking and windsurfing and is host to 4 pretty coves which you can go to only by boat.
Inland you will find many other activities, horse riding, hiking, cycling and golf course at Golf Son Parc, a short distance from Fornells. The climate is kind for most of the year with hot and dry summers and mild winters.
The village itself is pretty with typical whitewashed houses with lots of restaurants and bars but the atmosphere here is above all relaxed. No one rushes to do anything but if you need to keep the children interested you could take them to Aquacenter water park, 40 minutes' drive to the west of the Menorca or to Lloc de Menorca zoo, 25 minutes to the south. Children can get close to some of the animals and this zoo houses lots of exotic creatures, many coming from rescue centres.
A two-bedroom apartment overlooking the sea will start at €200,000 and a four-bedroom villa at €500,000.
3. Ibiza
Ibiza is not just a party island! Yes, there are places which are unsuitable for families but there are also numerous activities for children and adults.
Santa Eulària is one of the more tranquil places on the island with a lovely beach of fine white sand and clear water
Santa Eulària
Just 21 kms from Ibiza Airport, Santa Eulària is one of the more tranquil places on the island with a lovely beach of fine white sand and clear water. Perfect for building sandcastles! Of course, there are water sports available too. There is a pretty promenade lined with palm trees with a variety of restaurants. It is said that some of the best food on the island is to be found here and there will be menu choices for all ages.
For activities, you could take a day trip over to the smaller island of Formentera and walk on the cliff tops to see the wonderful views. There are lots of restaurants serving different national foods such as Indian, Japanese and Italian. On Wednesdays and Sundays there is an artisanal market at La  Mola, open from 4.00 pm to 10.00 pm and where you can browse the numerous stalls.
Get in touch with a trusted solicitor today to avoid any pitfalls of buying internationally.
Back on Ibiza, there is a golf course close to Santa Eulària and a beautiful marina. The town also offers great shopping opportunities and is an artists' paradise. In fact, famous artists live here and there are plenty of galleries displaying works of art to inspire you. Nightlife is much quieter than in other resorts but some bars do offer live music in the evenings.
Property is quite pricey. A thee-bedroom apartment close to the beach will set you back €385,000, whilst you will be looking at around €600,000 or more for a three-bedroom villa.
4. Formentera
The smallest of the Balearic Islands, Formentera has no airport so you need to get a ferry from Ibiza and enjoy a 30-minute trip to the port of La Savina.
Es Pujols
This is the main tourist town on the island which has everything a family might want. The long and natural beach of white sand and turquoise sea has made Es Pujols the popular place it has become over the years. Enjoy freshly cooked food in one of the restaurants with terraces overlooking the sea and in the evenings go to one of the many bars and for the teenagers, there is a small disco. There is a fun flea market open in the evenings during the summer.
Summer fashion is high on the agenda in Es Pujols, with shops selling everything from sandals to handmade jewelry. The whole atmosphere is relaxed and so a great place to enjoy holidays. The island offers horse riding, cycling and plenty of watersports.
A two-bedroom apartment costs around €240,000 and a large four-bedroom villa, €1,100,000.
Canary Islands
One of the main attractions of the Canary Islands is the wonderful climate all year round. The Canaries are especially sought after during the winter months when much of Europe is experiencing cold and gloomy days, the islands are warm and sunny. They are also not too far to travel to with children compared to other winter sun spots as it takes around 4 hours to get there from London.
Each of the islands have their own character and landscape with Spain's highest mountain, Mount Teide, on the island of Tenerife permanently covered in snow at its peak. The Canaries are a chain of volcanic islands with some amazing landscapes.
Puerto de Mogán, Gran Canaria
5. Tenerife
Costa Adeje
The island of Tenerife is the largest of the Canary Islands and has an average temperature in January of 22º. Located on the south of this family-friendly island, Costa Adeje is a popular place for holidays with plenty of things to do for everyone. It takes just 11 minutes to drive there from Tenerife South Airport, which is ideal after a 4 hour flight.
The village of Adeje is a typical Spanish town with some attractive colonial-style buildings. There is a 16th-century fort and is two miles from the coast. It is famous for chicken dishes. Down by the sea, the clean beaches feature the typical black sand of Tenerife. There are all sorts of water sports to enjoy and safe waters for children. There are two excellent water parks to keep little ones happy, with a wildlife park, named Jungle Park,  just 12 minutes' drive away. For grown ups, there are
several upmarket shopping centres, good restaurants and 3 golf courses nearby.
A two-bedroom apartment here will cost from €360,000 and a four-bedroom villa from €585,000.
6. Gran Canaria
Puerto de Mogán
Undeniably pretty, Puerto de Mogán in the south west of Gran Canaria, is called "Little Venice" because of its canals crossed by bridges. There isn't much new development here which has kept the town attractive and the shops sell artisanal goods rather than the usual tourist stuff. It is just a 37-minute ride away from Gran Canaria Airport.
The beach isn't particularly large but it is very sheltered from the wind and the sea is calm which makes it ideal for children. Part of the beach is sandy, while there are stones at one end and here it is less crowded despite the clearer water.
Charming white houses covered with bougainvillea face the port which hosts yachts and fishing boats. The local restaurants serve fresh fish and Canarian specialities and most have children's menus too. For the smaller people there is a yellow submarine which takes you down into the sea to watch all kinds of marine life.
Get your home hunt started with the hundreds of beautiful properties on our listings. Click here to have a browse.
All family members will enjoy Italian ice cream made on the premises and which are made without adding sugar. Also, there are dolphin cruises and a weekly market on Fridays, open from 9.00 am to 2.00 pm.
Two-bedroom apartments start at €349,000 and three-bedroom houses at €479,000.
7. Lanzarote
Lanzarote is undergoing a quiet revolution as it is shifting towards an eco-friendly, upmarket island with little over-development, and is definitely one of Spain's most family-friendly islands.
Costa Teguise
Lying just 15 minutes from Lanzarote Airport, Costa Teguise is ideal for families with plenty of attractions including a golf course, an aquarium and a water park. Playa Bastian is the perfect beach for children as it is sheltered and easy to reach. The old fishing village, Pueblo Marinero was designed by Lanzarote's famous artist, César Manrique, and where you can enjoy the many restaurants and bars as well as doing some shopping. The weekly market is located there on Fridays from 7.00pm.
There is a pleasant promenade which passes the town's five beaches and the Las Maretas Palace which was built by the late King Hussein of Jordan and these days is visited by Spanish royals and the Spanish ex-Prime Minister, José Luis Rodríguez Zapatero.
Nightlife is certainly not as full on as in Puerto del Carmen, the centre of nightlife in Lanzarote but there is jazz played regularly and some of the bars offer music for dancing the night away.
As far as property is concerned, two-bedroom apartments are priced from €210,000 and three-bedroom villas from €245,000.
8. Fuerteventura
Corralejo
Despite being a popular resort, Corralejo has managed to keep its authenticity as a fishing village and is a 40 minute drive from Fuerteventura Airport. The old port continues to be home to the town's fishermen while a modern marina welcomes yachts and pleasure boats. The main street is for shopping and leads down to the harbour.
There are natural beaches backed by sand dunes but also wide beaches facing the pretty island of Lobos. A small beach close to the port is the one for families with small children with its shallow, clear water. All types of activity are available, such as tennis, watersports, glass bottomed boat trips and mountain biking as well as golf nearby. Apart from the many fish restaurants, there are others with foreign cuisine including British, Italian and Chinese.
€220,000 will buy a two-bedroom duplex and €230,000 a three-bedroom villa.
The pound has been volatile recently, but don't let that put you off your plans. If you secure a fixed exchange rate, you don't need to worry about the markets moving while you pay. Find out how in the Property Buyer's Guide to Currency.
9. La Palma
Tazacorte/Puerto de Tazacorte
The family-friendly island of La Palma is less well known than its larger neighbours and in many ways is better for it, though last year tourist numbers increased considerably. Puerto de Tazacorte has some lovely beaches of fine black sand, rock pools and waterfalls. It is probably better for older children as there is some sea swell. The island is known for stargazing and there are controls on electric lighting to allow people to see the night sky clearly.
Tazacorte is a comparatively unspoilt town on La Palma, known as La Isla Bonita (the beautiful island) which retains its authentic Spanish atmosphere and culture and is about an hour's drive from La Palma Airport. There is a bus service to and from Puerto de Tazacorte or you could follow a footpath through banana groves which takes 20 minutes. There are some restaurants by the beach and more in the town. At the beach there are a few shops, a chemist and an ATM.
Visit the glass-blowing workshop, walk in the hinterland, go whale watching and go to the Sunday morning car boot sale. Or you might like to go to the Banana Museum or to the El Time viewpoint which offers fabulous views.
Find out how to finance your property with our new, free How to Pay for It Guide
A two-bedroom apartment will cost from €80,000 and a semi-detached house from €350,000.
10. La Gomera
Undoubtedly the jewel of the Canary Islands, La Gomera is a green island with mountains, forests and a lovely coastline. The local airport's runway is not long enough for international flights and so the island is approached by ferry. You need to fly to Tenerife South airport and take the ferry to San Sebástian.
Playa Santiago
Situated on the sunny side of La Gomera, and once again beginning life as a fishing village, Playa Santiago is a tranquil place to while away the time. The stoney beach has a Blue Flag but is not for small children as there is an undercurrent at most times of the year.
Above the village is a leisure village at the hotel Jardín Tecnica which has a golf course, pool, sports facilities and restaurants. In Playa Santiago centre is a shady and relaxing square, Plaza del Carmen and the village has most things you would need – chemist, supermarket, post office and petrol station.
There are various short boat trips you could take and also dolphin and whale cruises. Also there is kayaking, snorkelling, diving and cycling to keep the family amused. A must would be the Parque Nacional de Garajoney which has easy to negotiate footpaths, a picnic area and a children's playground.
A  two-bedroom apartment with garage will cost in the region of €282,000 and a three-bedroom house in the village will be priced from €180,000 upwards.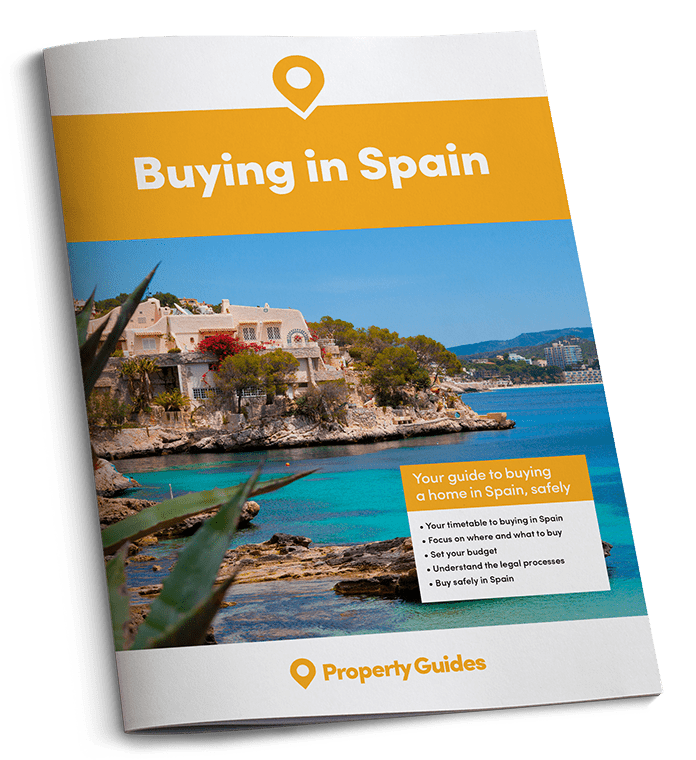 The Spain Buying Guide is a free, independent resource to help anyone who is looking to buy property in or move to Spain through each critical stage of their property buying journey.
Set up to help our readers avoid the many complexities and pitfalls of buying property in Spain, the guide takes you through each stage of the property buying process, with practical recommendations from our experts who have been through the process themselves.
✔

  Ask the right questions
✔

  Avoid the legal pitfalls
Download your free guide to buying in Spain