Spain is one of the world's top golfing destinations, attracting players from all around the world, year after year. In factor, according to the International Golf Travel Market report, one in four golf holidays worldwide is taken in the country. Not only that, but the market saw a 10.12% increase in golf tourists in 2017.
It's no wonder, then, that so many expats – and investors – choose the country for its golfing lifestyle. But, when it comes to narrowing down their property search, many are faced with deciding whether they want to buy on- or off-course (in other words, buying on a golf resort or outside the premises). The choice can be difficult, so we spoke to property experts Roy Howitt, of Medland Spain, and Giselle Bromley, of Bromley Estates Marbella, to find out more. We also discussed the financial aspects of owning a golf property, from the costs to renting it out.
What does the market look like for golf properties?
As previously mentioned, Spain is the world's top golfing destination – and the sector is growing, year-on-year. This is reflected in real estate, with statistics from the RFEG (Royal Spanish Golf Federation) showing that the average 'golfing property' increases in value by 25% more than an equivalent 'non-golf property'.
There are over 250 golf courses throughout Spain, with many clustered in the sunny regions of the Costa del Sol, Costa Blanca and the Balearic Islands. As Roy Howitt says, 'Within just a 30 mile radius of Torrevieja, there's are over 12 courses, including top-level ones like Las Colinas, Real Golf La Manga Club, Campoamor and La Finca, all with excellent surrounding facilities.'
Gisele explains the appeal of these areas. 'The Spanish coasts are very cosmopolitan, attracting buyers with all budgets and needs. The Costa del Sol, for instance, has a microclimate that guarantees mild winters, and Spain has fantastic infrastructure geared towards the foreign resident.'
What are the advantages of buying on-course?
Buying on course is ideal for many golf fanatics – so it's no surprise that over 8,400 on-course units are sold every year. In the most popular regions, there are numerous resorts built with properties on-course. In the Costa del Sol, for instance, almost 40% of golf courses have on-course properties. But what is it, specifically, that attracts buyers to them?
World-class courses right outside your door
It hardly needs highlighting that the first is being able to open your door and almost immediately be out on the course! However, it really is worth emphasising the sheer quality of many courses in Spain. According to Roy, 'When people come out and view these properties, they really ae blown away.'
First-class courses like Las Colinas, south of Alicante, offer fantastic courses designed by top names in the industry – in Las Colinas' case, even the short game facilities were drawn up by Miguel Angel Jiménez. Equally, you'll often be spoilt for choice with difference courses. Cartagena's La Manga, awarded the title of Real Golf La Manga Club by the Royal Household, is one such course. You have a choice of three main courses and a further 18-hole pitch and putt course designed by Severiano Ballesteros.
Plus, if you have a property with a view over the course, you know that's going to remain. As Giselle says, 'Of course, the biggest advantage is that you will never have anything built in front of you, so your view is guaranteed forever!'
Wide choice of tailored facilities
Some courses can be quite isolated – which is often part of the beauty, offering a real sense of being away from the hustle and bustle. However, a common concern is about daily life – are you going to need to drive miles for essentials or other entertainment?
The answer is emphatically not. Particularly in resorts away from towns, you'll find everything you need for your daily life – minimarkets, dining options, bars and more. It is important to note that you may pay a premium compared to in a normal town.
Many also go above and beyond the essentials. Giselle says about La Finca, in Sotogrande, 'There are large terrace areas, a running track and lots of outdoor activities offered, such as horse-riding and sailing – to mention just a couple!'
A ready-made social life
One of the big parts about moving overseas is taking the time to meet people and make friends. In this kind of environment, it would be difficult not to meet people! As Roy notes, 'There are plenty of opportunities to meet people through clubs and societies and to make friends. Even if people don't own property in the resort, they tend to return year after year.'
The great thing here is also that you don't need to worry about maintenance. Unlike in a stand-alone property, where you'd need to look after your own pool and lawn, all these facilities will be immaculately maintained by the resort itself.
Furthermore, Roy emphasises that being on-site 'means the roads will be swept and you'll have security at the entrance and patrolling the site'.
International community
Golf resorts in Spain are immensely popular among expats, so you really do have a fantastic community around you. Roy tells us that in many popular areas, such as Las Colinas, 'probably 90% of buyers are expats, many of whom come from Sweden, Norway and Belgium.'
If you're looking to rent out your property, this can also be excellent news, as having a diversified potential market of renters that's not based on just one country gives you greater stability.
What are the advantages of buying off-course?
Many expats do choose to buy off-course – so what are the attractions of being outside of the golf resort itself?
Experience the local lifestyle
For those passionate about Spanish culture, living in a Spanish town is a better way to experience it day-to-day. You can go shopping in your local mercado (and maybe practise your Spanish!). You'll be more likely to have local neighbours, which again is a great entrée into Spanish society.
For families with children, this is also generally an easier option to help them integrate into local life. Golf resorts tend to be more popular among retired couples or those with grown children, rather than those who need the network of local schools and so on.
Take on a property project
If you're looking for a project, such as doing up a period home, you'll be better off looking in a local, historic town. Whether it's one of Andalusia's pueblos blancos or a fishing village in the Costa Brava, you'll be able to find traditional, Spanish-style homes for relatively low prices.
The finish might not be as immaculate on on-course, but you'll have the choice of truly gorgeous period properties, depending on where you look. As Gisele emphasises, 'A big advantage is that you are not limiting the area of where you buy, which gives you a wider selection of properties.'
Lower running costs
Running your own detached home with a pool with generally give you slightly lower running costs, as you won't have community fees (more on that later). This means annually you might be paying as little as €600 or less, compared to €1-2,000 or more on resorts.
Not only that, but property prices in general will be lower, so this is a great option if you're on more of a budget.
Getting around without private transport
If you're using your property as a holiday home and aren't so keen on renting a car, buying off-course can make access a lot easier. Roy says, 'An important aspect to consider is whether you can get around. Areas like La Finca or Vista Bella are fantastic, but have no public transport. Likewise for large courses, like Las Colinas – you're three kilometres from the properties to the main gate. In Ramblas, instead, you've got independent bars and restaurants within just a kilometre. Buying either on-course in a more central location, or buying off-course, means you don't have to take taxis everywhere.'
Are there differences in purchase and ongoing costs?
It is crucial to make sure you're aware of the financial aspects of buying here in Spain – Gisele puts these are the number one most important aspect to be aware of when purchasing overseas.
Generally, purchasing on-course is more expensive, both in terms of initial outlay and running costs. According to the RFGE, the average on-course home costs €356,000. That said, if you head further south or to the eastern costas, you can find much lower prices. Andalucía and the Costas Blanca and Cálida have an average price of €250,000.
On the other hand, purchasing off-course can be much cheaper. Typical costs for a Costa Blanca apartment, for instance, are around €130,000 for a townhouse.
As mentioned above, you'll find the ongoing costs are generally cheaper off-course – so it depends on whether you'd rather have lower costs or the greater number of shared facilities on-course. Roy highlights, 'You pay two or three times, typically, the community costs as you would pay off-course.' You may pay €1-2,000 a year in a resort, with as little as €600 for your own off-course property. However, it does give you the peace of mind of not having to carry out maintenance yourself.
It is also worth noting that some golf resorts do not offer discounted fees to property owners, although some do. It's worth checking this in advance – it can be a worthwhile saving. However, do also factor in the cost of other, nearby courses – you're unlikely to never want to venture further afield and try other ones in the area. Often, an independent green fees company can offer you a better deal to be able to play across several resorts.
Renting out your property
Many people with a golfing property use it as either a straight-up rental property, or as a holiday home themselves and then choose to rent it out while they're not using it.
This can be a very lucrative investment – often even more so than usual rentals.
How is the market for rentals?
The average daily spend per person nationwide has increased steadily since 2010, now reaching over €100 a day. In coastal regions, this reaches €200. As a landlord, this is a strong market to tap into – only 40% of golf tourists stay hotels, with 60% finding their accommodation elsewhere. Not only that, but stays tend to be of a good length. In the Region of Murcia, for instance, the average stay of foreign tourists in a golf property is 16 nights, and 11 nights for domestic visitors.
However, it is worth making sure that you choose a property in an appealing location. A strong strategy can be to choose one that's within easy reach of several popular golf courses. Roy recommends what he calls the 'Magic Triangle'.
'If you're looking for decent golf courses, reasonably priced properties and almost-guaranteed rental income, you're going to look around Villamartin and Campoamor, where you've got five courses on your doorstep.'
How do you draw up a budget and choose an area?
Above all, make sure you do your sums in advance. Roy says, 'Always look at the expenditure. If you're going to rent properties, let's say the average income is €600 a week and your monthly fees are €400…you need to make sure you've got enough income coming in and not to just rely on that rental income.'
'The key is getting the right area – and that means golf and beach. Because if you get it right, you will get a dramatic increase in rental season. You'll go from the normal 16-18 weeks to 30+ weeks. You'll have both the summer holiday season and the golf season, which is October-April. I know companies who do a lot of rentals for a three-month period over Christmas to people from Scandinavia.'
So, how do you find the right area, then?
As above, the key is firstly to make it appeal to as many people as possible. You'll want both golf and beach. Secondly, you want to be in or just off an established resort. For example, as Roy says, 'You can have a very promising resort like La Serena in Murcia, which in terms of growth is in one of the hotspots, but would you be able to rent easily there immediately? No! Because it's a new area. For rentals, you want to look at areas like Villamartin and Campoamor.'
How can you find clients?
Your starting point is being in the right area. With that in place, you can use platforms like Airbnb to promote it yourself. You also shouldn't underestimate the importance of local networks – talking to friends, family and work colleagues. 'There will always be someone who's a golfer, whether it's a friend of a friend or whatever. I've properties I don't need to advertise,' says Roy. 'That's because I've worked at that network and now I've got people coming back – it's returning clients and referrals.'
'Just make sure not to fall into the "friends and family" trap of heavily discounted prices, if you're using it as an investment.'
What kinds of property can you purchase?
Your main choice between properties is whether to buy a resale, a new-build or to buy off-plan. Again, each of these have their own advantages – off-plan, for instance, can be cheaper. As Spain property expert from Your Overseas Home, Laura Richards, says, 'The earlier you buy, the cheaper it is. You're helping the developer to get his property off the ground – quite literally – and you're rewarded for that with lower prices.' This can then lead to high increases: Roy says that at Medland, they have seen real examples of properties growing in value by 8-22% between phases.
On the other hand, key-ready can cost more, but means you can move in immediately – ideal if you're looking for a quick purchase before the March Brexit deadline, for instance.
To find out more about the differences between new builds and off-plans, do check out our recent article comparing the two.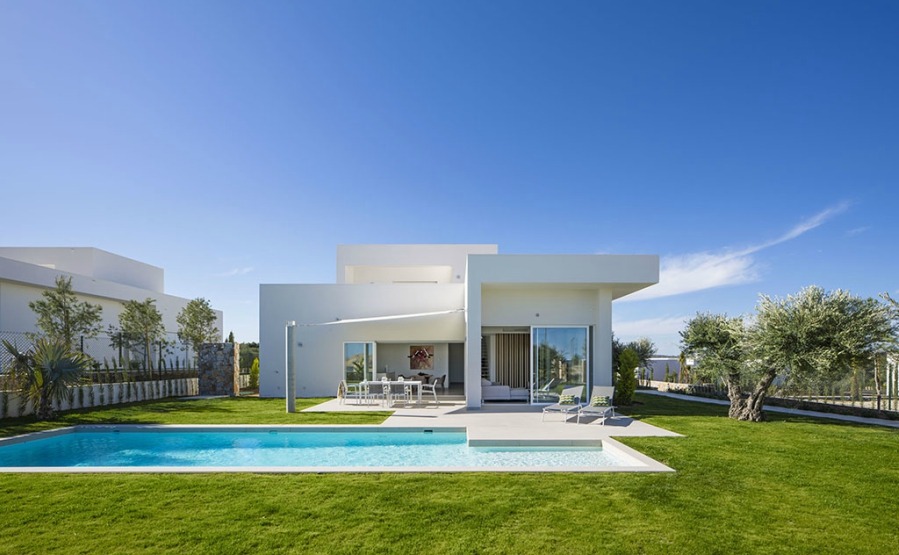 This exclusive project of luxury villas on the famous Las Colinas Golf has peaceful, quiet, low-density homes on sale for €690,000. Click on the image to view more details.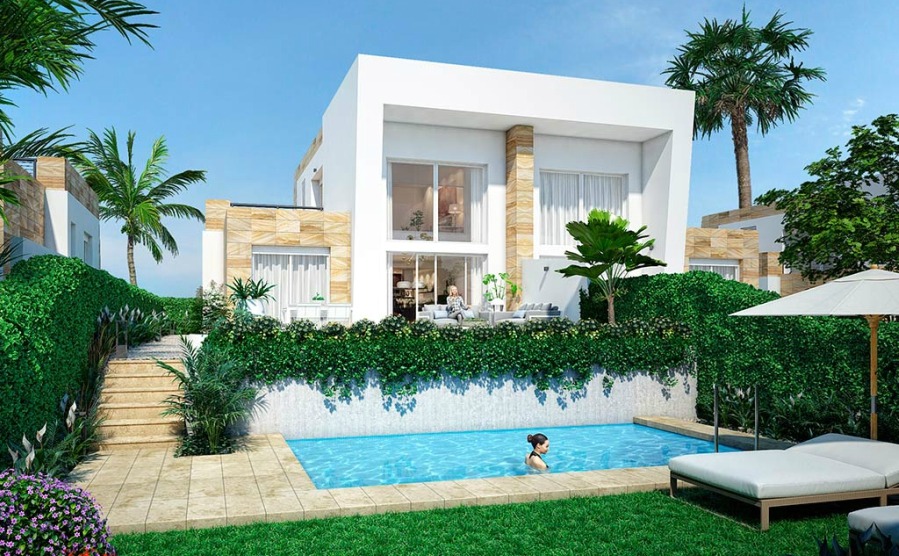 This three-bedroom, semi-detached villa in La Finca Golf is a fantastic investment or permanent residence. It's on-course, but only ten minutes from the beaches of Guardamar and Torrevieja. Better still, it's on the market for €275,000. Click on the image to view more details.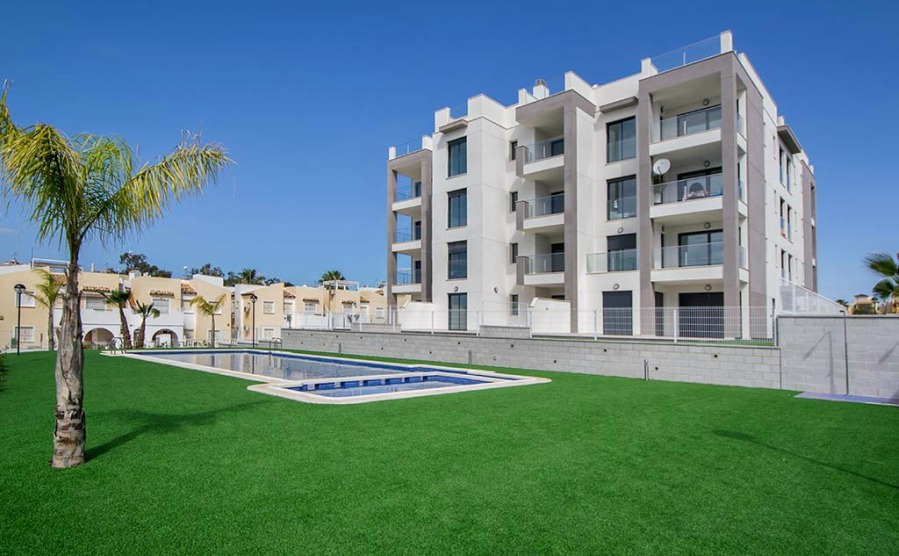 This stunning two-bedroom apartment with a solarium in Villamartín ticks all the boxes. It's just off the Campo de Golf Villamartín course, has access to a communal swimming pool and extensive gardens.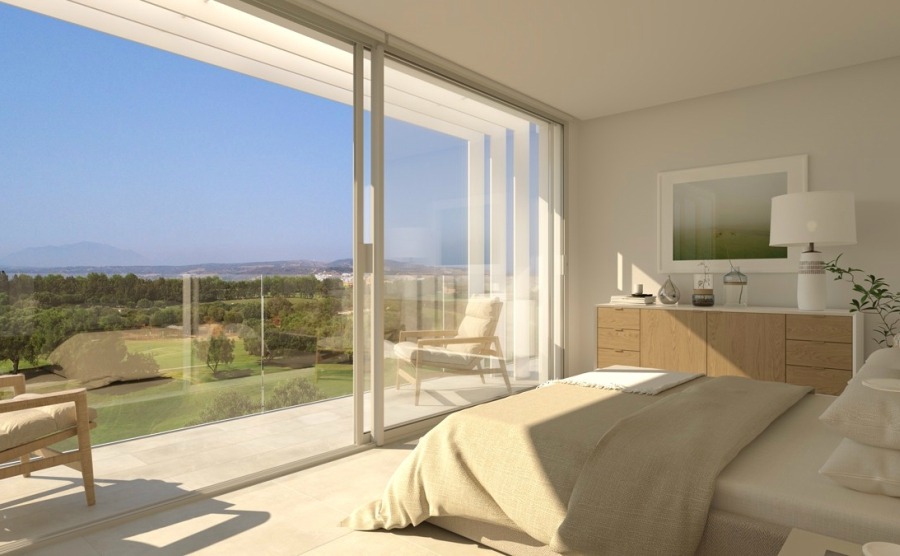 These beautiful villas are located just off-course in La Reserva de Sotogrande. Detached villas start from just €410,000. Click on the image to view more details.
To see further properties, simply put your requirements into our property form and we will be in touch to help you with your search.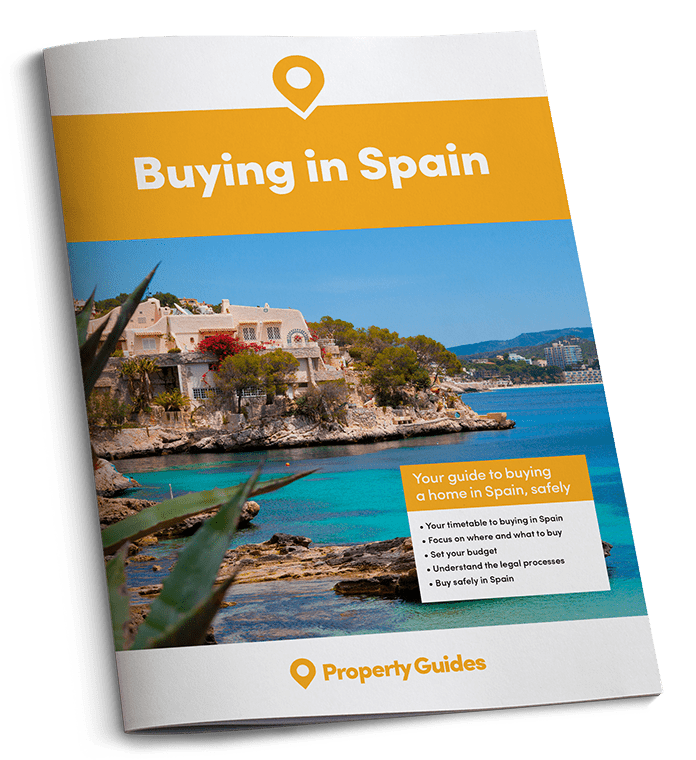 The Spain Buying Guide is a free, independent resource to help anyone who is looking to buy property in or move to Spain through each critical stage of their property buying journey.
Set up to help our readers avoid the many complexities and pitfalls of buying property in Spain, the guide takes you through each stage of the property buying process, with practical recommendations from our experts who have been through the process themselves.
✔

  Ask the right questions
✔

  Avoid the legal pitfalls
Download your free guide to buying in Spain