If you're the kind of person who likes everything to be brand-spanking-new, the good news is that there is plenty of new building going up in Spain to choose from. But should you choose a property that is "key ready", but built, or choose a property where not a brick has yet been laid, known as "off plan"? We sift your options.
The Spanish economy has been growing twice as fast as the British economy in the past few years and the Spanish construction industry has been a big part of that. So if you are looking for a brand new home, you'll be spoiled for choice.
But exactly how new should you go with your Spanish home? You have two options, buying off plan or choosing a new build, generally known as "key ready". Both have the advantages that you get a home that's fresh and new. Both offer the chance to be a founding part of a new community. And both should be built with the very latest quality standards when it comes to building materials, sound proofing and energy conservation.
But there are differences.
Off plan:
If you're dreaming of a home in Spain, but you can't find the one you want, or it doesn't fit your budget, buying off plan could be the answer. Essentially, this means buying a property that's either not yet built or still in the process of being built. It's an option that's rising in popularity, with almost 10,000 more off-plan homes sold in 2017 than in 2016. That's following almost a decade of falling sales. So, what are the advantages of buying off plan in Spain?
Benefits of buying off plan in Spain
For some buyers, the idea of parting with tens of thousands of pounds for something that's not yet built might seem risky. However, there are plenty of advantages, both in terms of the property itself and financially.
We spoke to Roy Howitt, Sales Consultant at Medland, an estate agency specialising in Spanish off-plan and new-build property. So what are biggest pluses for overseas buyers?
Greater choice
There are plenty of sites under development in Spain, so you can really find the area that ticks all your boxes. As Roy Howitt says, "We've over 600 new developments on our patch and that number is growing with new projects."
If you're looking for a modern-style property, you can find they're few and far between on the resale market. As Mr Howitt says, "Try to find a modern-style resale property on any forum and it'll be difficult: they're rare and people hang onto them."
You will also feel that you're part of the design process. Buyers normally choose kitchen finishes, white goods, colour schemes and so on. It all helps to create the property of your dreams!
Lower prices
Getting much more for your money is the big advantage for many buyers. Generally, off-plan properties are cheaper than completed ones. As Laura Richards from Your Overseas Home says: "The earlier you buy, the cheaper it is. You're helping the developer to get his property off the ground – quite literally – and you're rewarded for that with lower prices." This means, adds Roy Howitt, that many buyers see their investment rapidly increasing in value: "We have real examples of, typically, an increase of between 8-22% between phases."
Of course most of us would rather have something now, rather than in nine months to a year ahead. But given a fixed budget, perhaps you would be willing to wait if it means getting a pool, an extra bedroom, for an amazing sea view? For investors, the rapid value increase as the property goes up means that a healthy return within a couple of years is possible.
But if you decide to flip the property as soon as it is built, who will be buying it? Well, this is where buyers who love a key ready property come in.
Payment protection
For those who worry about paying out for a property that doesn't yet exist, it is possible to safeguard your budget. There are a number of crucial areas to consider. You will need a bank guarantee or aval bancario every time you make a payment. This secures any payment you make when buying off-plan in Spain. It covers the reservation or purchase deposit or any stage payments. Any costs of setting this up should be borne by the developer.
You can also get a bank guarantee on any off-plan investment. This is an independent guarantee on money paid, which ensures two things. Firstly, that your money is safe if anything happens to the developer, and secondly that the developer has to deliver the property on the date in the contract.
Currency risk
Secondly there is the risk that currency movements mid-way through the build process makes your dream home more expensive, perhaps prohibitively so. Constantly changing, unpredictable exchange rates are indeed a risk when sending money abroad. No-one can truly predict where the pound's going to go. If the exchange rate changes even 1% between your deposit and your stage payments, you could find yourself spending thousands more than you'd expected.
We spoke to David Comber, Head of Private Client Trading at our partner Smart Currency Exchange, about how people buying off-plan in Spain can control that risk.
"The risk is high. If you had decided to buy a €200,000 property in April, that would convert to £172,600. Just five months later, it'd cost £179,000. That's an extra £6,500 you'd need to find.
"However, the good news is that our personal traders can help you control that risk. The principal way of doing this is with a forward contract. This is where we can lock in the current exchange rate for you for a period of up to a year. This means you know exactly what you're going to be paying – so you can properly budget for your purchase. It's especially helpful for buyers making regular, periodic transactions."
Purchase process off plan
Buying off-plan in Spain is a relatively smooth process, but there are a number of steps that must be followed.
Viewing trips
First things first is exploring the area where you want to live. A viewing trip can be particularly useful for seeing several areas in a short period of time. This is your opportunity to see the area and the sites themselves.
Of course, a natural worry for many buying off-plan in Spain is not being able to see the exact villa, house or apartment they're buying. Roy Howitt says that, in Medland's case, "for 90% of our developments, there are showhouses, or we can take them to another development that the builder has already built." This is a very worthwhile step to take, as it'll allow you to see the quality of their work.
Reservation contracts
Once you decide on a property, you'll need to sign a reservation contract (contrato de reserva). This will take the property off-market for a set period of time, such as 30 days. You'll pay a deposit of between €3,000 and €6,000, which will be deducted from the sales price.
Roy Howitt emphasises the importance of this stage. "Your lawyer will then check all of the legalities for the properties, including the building licence and bank guarantees."
If you're ready to go ahead, this is the time to lock in your currency via a forward contract from Smart Currency Exchange.
Private purchase contract
The next step is to sign your private purchase contract (contrato privado de reserva). This is when you're 100% certain of wanting this property, and you're committing yourself to paying the full sales price across a period of time. Your lawyer will have received the contract and reviewed it before you sign and pay any further money. You'll then put down a deposit.
Stage payments
Following on from the deposit, you'll start paying stage payments. Generally, these will total 40-50% of the total sales price. Howitt says you'll normally pay 20-30% after 30 days and then 20% in 90 days. The rest of the balance is paid on completion.
Buying a key ready property
If you would rather just buy a brand new property and have it now, you're looking at new-build property. As you may be aware if this has been a long-term dream, Spain has a lot of empty property. There are reputed to be half a million empty properties that have never been lived in, left over from 2008's burst property bubble. However, most of these are in, as the Financial Times puts it, in "surreal empty cities", usually in the interior or attached to industrial cities. Any good-quality homes from this period in the popular coastal areas have long-since been sold.
The big advantage of buying a key-ready property is that you don't have to wait. Even in Spain's well established and, these days, well protected construction industry, there can be delays. For those still undecided between a resale and a new build property in Spain, there are plenty of advantages over resale properties.
Fantastic communal facilities
The communal facilities in new build developments will often be of a much higher quality than in older developments. You'll find many with great pools, a spa and gym – so you'll really have everything on our doorstep. This is particularly appealing if you want a second home where you can come and go and have all the facilities you need to hand.
Energy efficiency
Firstly, most will be built to at least EPC B, known as CEE B in Spain. This is the energy performance certificate, and means the building will be more energy-efficient than normal. A is the most efficient, D the average and G the least.
Consequently, you'll find utilities are noticeably cheaper. According to Ecobservatorio, the median annual costs of heating, hot water and air conditioning for a 'B' property are €280, compared to €1,540 for a 'G' property. Also, of course, you will be helping to combat climate change.
Excellent soundproofing
Apartment living is extremely popular in Spain, and many buyers appreciate the convenience of a properly maintained building. The flipside, however, is that you are in close proximity to your neighbours.
The newest properties in Spain have much higher quality sound insulation than in some older properties. Since 2009, all residential buildings, among other categories, must follow the Basic Noise Protection Document (Documento Básico de Protección contra el Ruido). They must also follow the 2006 Technical Building Code (Código Técnico de la Edificación).
Building guarantees
Because you'll pick everything new, you'll be able to move straight in without wondering if the air conditioning won't work, or discovering bodged plumbing later on that costs a fortune to put right. Any maintenance a tradesperson will need to do will be simple and straightforward – keeping time and costs down.
Above all, you'll get an excellent build quality on new properties in Spain, thanks to a tightening of legislation and high standards among developers. Since only the best builders and developers survived the financial crisis, you can rest assured that lessons were learnt and your money is much safer than 10 years ago.
Better rental returns
In a competitive market for property rentals, new builds generally earn much higher rental returns. This is not just due to the high-quality nature of the properties – and larger market opportunities – but also because maintenance and cleaning costs should be lower.
Moreover, as Roy Howitt of Medland points out, "property owners have particular success with the Scandinavian rental market, as they often choose to rent for three or four months at a time. This means a much more stable income than, for example, short-term holiday lets for a week or two weeks."
Convinced? Then check out some of these gorgeous Spanish properties!
Golf homes within friendly community
These detached two-bedroom properties are frontline to Lo Romero Golf, and just 6km from the fabulous beaches of Torre de la Horadada. They have a modern and innovative design, with large windows and private solariums. All from just €181,900! Click on the image to enquire about this and other properties.
Costa Blanca with pool and garden
Just 600 metres from the Mediterranean, these stylish villas are easy to reach from Alicante Airport and well connected to Torrevieja and Orihuela Costa. From €281,000, they have three bedrooms and bathrooms, terrace and pool. Click on the image to enquire about this and other properties.
And if you're considering buying within six months, don't miss your free tickets to the next Your Overseas Home shows. They're coming up in Harrogate, Birmingham and Epsom and are especially designed to give serious buyers comprehensive, expert advice from solicitors, estate agents and our property experts.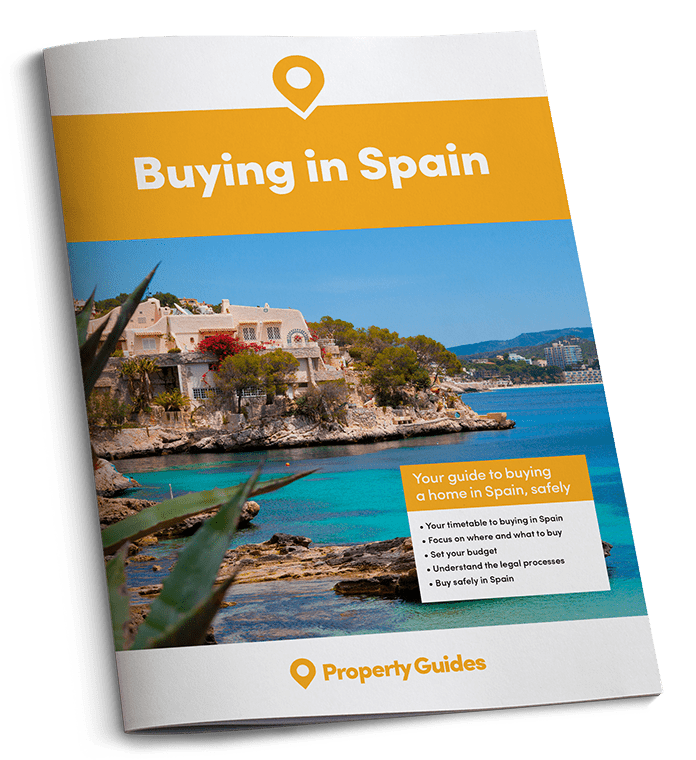 The Spain Buying Guide is a free, independent resource to help anyone who is looking to buy property in or move to Spain through each critical stage of their property buying journey. Set up to help our readers avoid the many complexities and pitfalls of buying property in Spain, the guide takes you through each stage of the property buying process, with practical recommendations from our experts who have been through the process themselves.
✔

  Ask the right questions
✔

  Avoid the legal pitfalls
Download your free guide to buying in Spain