As we approach the end of 2018, two subjects remain firmly in the news as they did back in January: Brexit and Catalonia. However, there is good news. No matter what happens with Brexit, Spain and the UK have agreed to pass a law protecting expats' voting rights in Spain and the UK. Plus, there's lots of exciting developments on the horizon, including a €27 million investment not far from our office in Mijas. Good news too for drivers: motorway toll cuts!
Agreement to be signed on expats' voting rights in Spain and the UK
Expats' voting rights in Spain will receive protection under a new plan in talks by Spain's Foreign Ministry and the FCO in the UK. The agreement will ensure reciprocal voting rights for UK and Spanish expats in each others' countries. It will also protect the positions of the 37 British citizens serving as municipal councillors here in Spain.
In the meantime, the Spanish government is encouraging Britons living in the country to register as soon as possible, so that they have accurate statistics on residency.
Exciting new property developments underway
Not far from one of our Spain offices, in Mijas, there's been a huge injection of €23 million by Quabit to build 700 homes. There'll be over 147 villas and 91 townhouses. The developer is said to be intending to market them to overseas buyers. Somewhere to start looking in the future for a home?
Further up in Murcia, the new airport in Corvera, Región de Murcia International Airport, is set to open in January. It'll make getting to the region easier and more pleasant than with the over-capacity old airport (or the need to drive down from Alicante). There are plenty of fantastic developments around here that are cheaper than the north Costa Blanca – we visited some last week – so this could be an excellent time to purchase here.
Motorway toll cuts
The government has announced that the price of using nine of Spain's motorways is to be reduced by 30% from January 15th 2019. These are the Alicante ring-road, the AP-7 between Cartagena (Murcia) and Vera (Almería), the AP-36 between Ocaña  and La Roda, the AP-41 between Madrid and Toledo, the M-12 Madrid airport link road, and the Madrid outer suburban radial highways, the R-2, R-3, R-4 and R-5.
The government has announced that the price of using nine of Spain's motorways is to be reduced by 30% from January 15th 2019.
In 2020 the AP7 between Silla and St Juan will be free.
The government hopes that increased use of the roads will make up for the reduction to allow for maintenance. Also announced is an inspection of Spain's motorway bridges following the disastrous collapse of the bridge in Genoa, Italy, earlier in 2018.
New services in state healthcare
The Spanish Health Minister, María Luisa Carcedo, has announced that breast implants will be funded completely by the Health Service for patients who have undergone mastectomies due to cancer.
Also, people suffering from diabetes will be able to obtain "flash" glucose-o-meters free of charge. This will come as great comfort to cancer and diabetic patients who have had to pay for these items, although breast reconstruction has been available for cancer sufferers
Other new things to be state funded are replacement parts for external hearing apparatus such as coclear implants, facial restoration following scarring or disfigurement and eye "readers" for those with serious neuromotor illnesses. Smear tests will be automatic as are mammograms. Financial help for hearing aids will now include a wider age range.
New health labelling for foods
The Spanish Ministry of Health is to introduce a colour-coded system for foods sold in supermarkets. The idea is to encourage people to choose a "healthy"option. There will be 5 colours and letters A – E to indicate which foods are "good for health" and those which are not.
It will be simple to understand. E which is red is the least healthy food and A which is green is the most healthy, based on the value of nutrition and how much sugar, salt, protein, fibre  and saturated fat is in the product. The label will be clearly visible on the front of the packaging.
We're excited to announce we'll be at all five Your Overseas Home shows in 2019, the show designed especially for serious buyers. Click here to apply for FREE tickets.
The system, called Nutriscore, was introduced into France in 2016 and will arrive in Belgium and Portugal as well as Spain in 2019. It may take some months for shoppers to see all products carrying the colours and letters but Spanish supermarket Eroski began introducing it back in September.
There are a few foodstuffs that are exempt, in particular olive oil which, although very high in fat, good olive oil is known to reduce cholesterol and increase the rate of metabolism. The calorie content in this case becomes less important as the oil is known to be a healthy part of the Mediterranean diet.
In fact, food products that contain just one ingredient will be exempt from Nutriscore.
¡Feliz Navidad! from the Costa Brava
Finally, I would like to wish you all a "Feliz Navidad" or Happy Christmas from the Costa Brava, where I will be spending 25th December with Spanish friends. Lunch will start with prawns and other seafood, followed by a rolled and stuffed chicken, patatas bravas and salads. To finish, we will enjoy typical Spanish Christmas treats – turrón (a nougat fudge), tangerines, pineapple and polvorones (crumbly shortbread) and of course cava and plenty of good Spanish wine!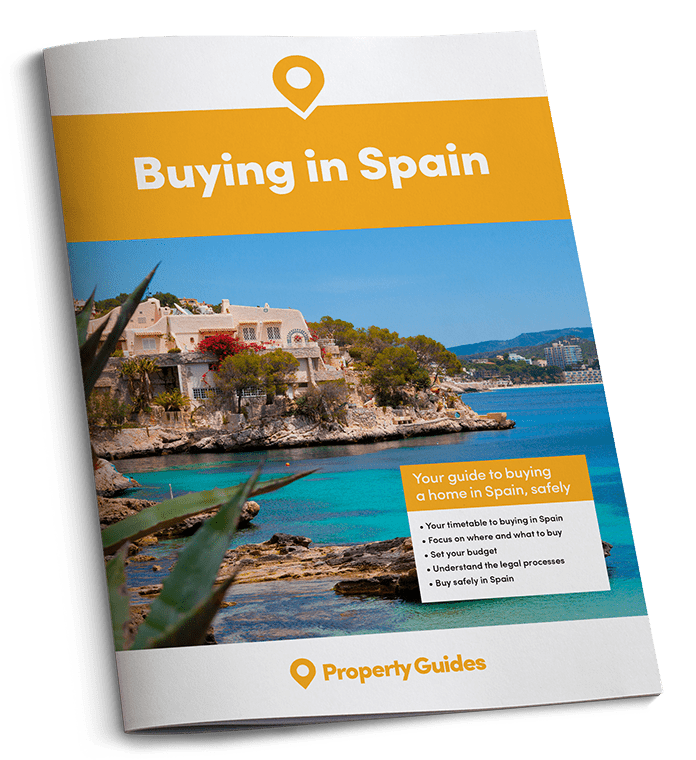 The Spain Buying Guide is a free, independent resource to help anyone who is looking to buy property in or move to Spain through each critical stage of their property buying journey.
Set up to help our readers avoid the many complexities and pitfalls of buying property in Spain, the guide takes you through each stage of the property buying process, with practical recommendations from our experts who have been through the process themselves.
✔

  Ask the right questions
✔

  Avoid the legal pitfalls
Download your free guide to buying in Spain