There's a lot going on in Spain this week – Murcia's new airport will have its grand opening, while construction giant Quabit is to invest €23.7 million into 700 homes in Mijas. The Costa Blanca's also set for a tourism record, with more visitors than ever before – a strong sign for anyone looking to invest in holiday lets here.
Corvera Airport opens
Murcia's new Corvera Airport will have its grand opening by King Felipe. It's a huge improvement on the San Javier Airport, which will be returned to the military. With more capacity for more flights and passengers, and easier access from many popular areas, it's great news for overseas property buyers. For anyone looking to invest, homes in this area could be a savvy move if you're looking to run holiday lets. Plenty of low-cost carriers will be operating from Corvera, including Easyjet, Norwegian Air, Ryanair, Jet2, TUI and Smartwings, serving many major UK cities.
New construction investments
We're seeing a lot of great, high-quality new builds in our region – as we saw for ourselves in the south Costa Blanca late last year – and the good news is that this is set to continue. Construction giant Quabit is set to invest over €23.7 million into 700 homes not far from our Mijas office, across 148 plots. In fact, the property market in general is doing well, with the Land Registry showing a 17% rise in home sales in October 2018 since the same time in 2017.
Plus, with a record number of tourists in some regions – Valencia has seen almost 9 million in the last twelve months – there is a huge market for anyone renting out their property.
The property market in general is doing well, with the Land Registry showing a 17% rise in home sales in October 2018 since the same time in 2017.
It's that time of year again for cadastral (land-value) reassessments, which affects the IBI tax on a property. Of the areas reassessed, around half will see an increase and half a decrease.
Gas, electricity and rail prices remain frozen
The government announced a freeze on 41% of electricity bills, but the other 59% will increase. Bottled gas stays at 15.33€ for now.
The cost of train tickets will remain frozen apart from medium distance and Avant trains which will go up by 3-5% and 7%. There will though be large discounts for users of the Avant trains with multi journey tickets on the Madrid-Cuenca and Madrid-Salamanca routes, of between 50.2% and 68.8%. The price increases are only for the state railway company RENFE, not for the Rodalies de Catalunya, which include the Barcelona Cercanías and the Catalunya regional lines, which are owned and managed by the regional government, which sets their prices.
New help for families
The government has announced a raft of measures for low-income families. The minimum wage in Spain was increased on 1st January to €900 a month for a 40 hour work week. Most jobs offer double pay in the summer and at Christmas which means that the minimum wage could be €1,000 a month. This is a huge increase and will benefit many poorer homes. Child benefit will reach €1,200 a year per child and there will also be an extra 70,000 student places for less well-off families.
If you are ready to buy in Spain within the next few months, call our friendly Spain Resource Team on 020 7898 0549 or email

[email protected]

.
Famous faces on the Costa del Sol
David Hasselhoff has been spotted ringing in the New Year here on the Costa del Sol with friends at the exclusive Marbella hotspot NOBU – also owned by another famous name, fellow Hollywood actor Robert De Niro. Plus, Bob Dylan is set to perform at Mare Nostrum in Fuengirola, just 25km from Malaga, on 4th May.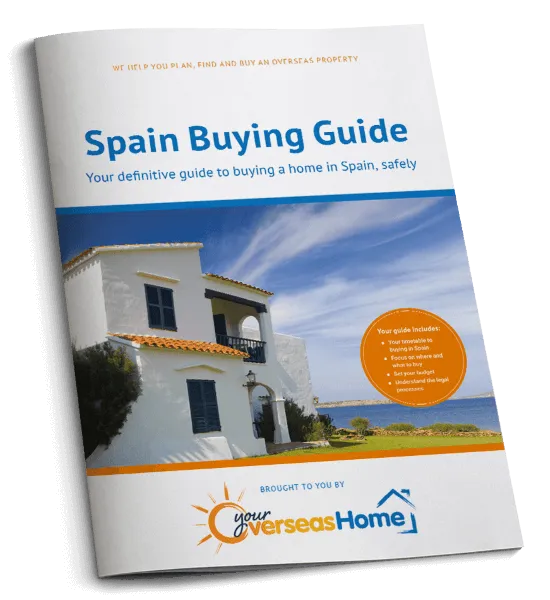 The Spain Buying Guide is a free, independent resource to help anyone who is looking to buy property in or move to Spain through each critical stage of their property buying journey.
Set up to help our readers avoid the many complexities and pitfalls of buying property in Spain, the guide takes you through each stage of the property buying process, with practical recommendations from our experts who have been through the process themselves.
✔

  Ask the right questions
✔

  Avoid the legal pitfalls
Download your free guide to buying in Spain