Endless sunshine, dramatic scenery and a property market where your money goes further, all in a region that has retained its authentic Spanish charm: Almería certainly sounds like retirement paradise to us.
Almería sits in the sunny southeast of Spain, and is relatively undeveloped compared to the neighbouring Costa del Sol. Much of its charm lies in the unspoilt 'Spanish' feel of its towns and villages, especially as you head further inland. There is a growing population of overseas buyers, from the UK, Belgium, the Netherlands, Germany and Scandinavia, but property prices are still much lower than you could expect in busier areas.
What will your life be like in Almería?
Almería is perfect for anyone looking for an active, outdoors retirement. From walkig to horse-riding, sailing and dolphin-watching, the region's weather and huge swathes of empty countryside make it perfect for lovers of nature. Likewise, the region draws a surprising number of creative types, as Karen O'Hagan, from locally based estate agents Casa y Campo, tells us. 'We have here what I like to call the eclectic mix. We have about twenty authors in this area, and we have a lot of artists, attracted here by the incredible light – we get 320 days of sun a year, so Almería tends to be one of the hottest and driest coasts,' she says.
Spain Property Guides can put you in touch with the very best lawyers, estate agents and international payments specialists in Spain, for total peace of mind.

Get in touch with your Golden Three

here.
Above all, however, is the fact that living here means truly experiencing and embracing a very Spanish way of life. As Karen says, 'There are several fiestas every week, and we have the Moorish history with at least twenty castles in the region, plus, of course, absolutely fantastic food. This year, we celebrated Almería as the 'Capital of Gastronomy' in Spain, so we have an awful lot of events all to do with delicious local food and produce. People here are so welcoming, especially if you make an effort with the language. I would highly recommend just arming yourself with a basket of the basic communicative words in Spanish, and reach out to people and just converse, and your life here will be so much richer. Don't worry about making mistakes; it's all part of the enjoyment.'
Living here means truly experiencing and embracing a very Spanish way of life
Communities of overseas buyers here are smaller than in other regions, but  they do exist, especially in towns like Mojácar and Arboleas. Here, you'll find groups for any interest under the sun, plus lots of live music and quiz nights.
What's the climate like?
3,000 hours of sunshine or 320 days of sun a year make Almería one of the hottest and driest places in Europe, and the city of Almería itself is the only one in the continent classified as having a 'desert' climate. Temperatures stay in at least the twenties from April through to as late as November, with most days hitting 33ºC in the summer. In winter, the daily mean is around 13º, although highs in the late teens are not uncommon in December and January.
How is the property market?
Almería is one of the most affordable parts of southern Spain, and you'll find your money goes much further. However, on the flipside, prices tend to increase only very slightly, so this is more a location to look for your perfect home than perhaps an investment property where you'd want high returns in a few years. According to Tinsa data, prices since 2012 have grown by about 1.9%, and they haven't yet reached 2007 levels.
When you come to Almería to look at properties, make sure you know what you're looking out for. Find out more in our free guide, 

Your Viewing Trip

.
As Karen says, 'People who are quite canny and like good value for money will love Almería. We get a huge variety of people who come here, but for those on a smaller budget, it has a massive appeal because they get so much more for their money. There's a huge range, especially if you go inland. You can get a village property for €50,000 in a very pretty village that can be an ideal lock-up-and-leave, or go up to two million for a luxury home on the beach. Inland, for a two-/three-bedroom villa, ready to move into, with a small garden and a pool, you'd be looking at prices from €140,000.'
Where are the best places to retire to in Almería?
Mojácar
Mojácar offers the best of both worlds. The old hill town feels very authentically Spanish, and townhouses here often have fantastic views over the hills and out to sea. Mojácar Playa, on the other hand, puts you right on the beach with some fantastic new-build developments. And when we say on the beach, we mean 17km of golden sands, where  you can swim in October (or even early November, if you're feeling hardy). The Parque Comercial has all the basic shops you could need, and you'll find plenty of bars and restaurants along the Paseo del Mediterráneo.
Garrucha and Vera
Just up the coast from Mojácar, Garrucha and Vera are both fantastic beach towns with miles of sands. It's a little less busy than Mojácar gets in the summer, but there's still plenty going on. Garrucha has more of a mix of British and locals, with a small fishing port, and properties tend to be Spanish-style apartments – ideal as lock-up-and-leave holiday homes. Vera, like Mojácar, is divided into the old pueblo and the seafront village. The latter is less of a town and more a collection of urbanisations, which is ideal for having everything on your doorstep and for anyone looking to rent their property while you're not there. There are also some fantastic detached and semi-detached villas at the Puerto Rey end of the village.
Arboleas
Arboleas itself is mainly Spanish, with most flats and townhouses, but you've also got a wide choice of urbanisations
Heading further inland, Arboleas, sitting in the Almanzora Valley, is very popular among British buyers as it has a quiet, rural way of life, but still has easy access to the sea via the A-7. The town itself is mainly Spanish, with most flats and townhouses, but you've also got a wide choice of urbanisations. For large villas, look to Los Higuerales – you'll get plenty of space and fantastic mountain views. There isn't much in the way of on-site services and amenities, however. Los Corroscos and El Chopo are both very green, with Mediterranean-style villas, and a tapas bar in the former. If you're looking for somewhere a bit more walkable, where you can easily pop down to the local bar or restaurant, Almanzara is a good choice.
Lubrín
You'll find fantastic value in Lubrín, with traditional, Spanish-style village homes and cortijos in the surrounding countryside for €50,000 up. There are quite a few British families living in the area, but it is overall very Spanish, and the village itself is a typical pueblo blanco, with narrow streets and closely clustered houses, shaded against the heat. There are a number of great tapas bars, as well as restaurants like La Montana and La Finca Listonero.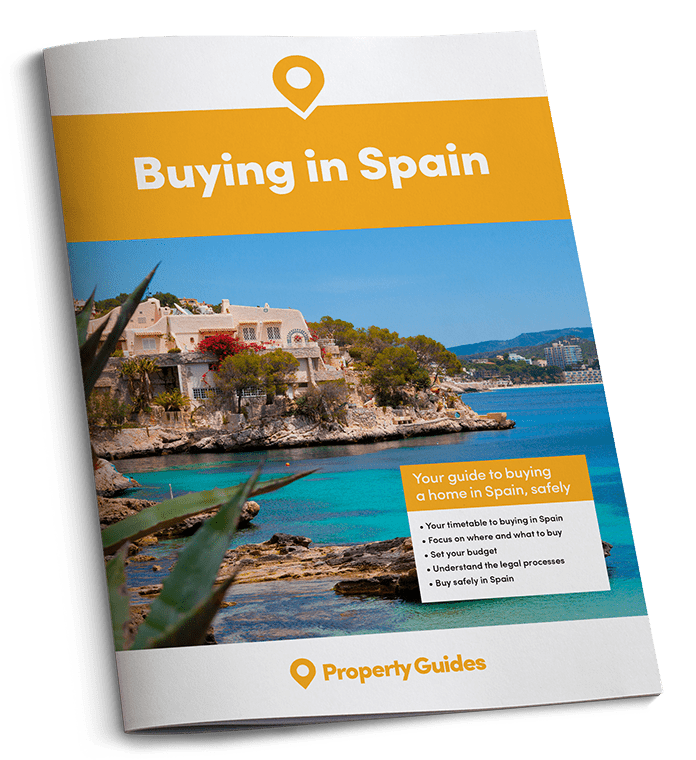 The Spain Buying Guide is a free, independent resource to help anyone who is looking to buy property in or move to Spain through each critical stage of their property buying journey.
Set up to help our readers avoid the many complexities and pitfalls of buying property in Spain, the guide takes you through each stage of the property buying process, with practical recommendations from our experts who have been through the process themselves.
✔

  Ask the right questions
✔

  Avoid the legal pitfalls
Download your free guide to buying in Spain