Celebrity sightings are quite normal in the glitzy areas of Barcelona, the Costa del Sol and Mallorca, but in a refreshing change, a new Channel 5 reality show sees five British TV personalities experiencing life on the Costa Blanca.
Costa del Celebrity shows celebrity chef Ainsley Harriott, former BBC newsreader Nick Owen, 'Allo 'Allo! actress Vicki Michelle, Christine Hamilton (the wife of a Welsh UKIP member), and broadcaster Anne Diamond living together in a luxury villa in the northern Costa Blanca.
It's easy to see why the Costa Blanca remains one of the UK's most popular second home and retirement destinations anywhere in the world.
Throughout the series, broadcast throughout January, the chirpy group sample the bright lights of Benidorm, Madrid and Valencia, visit colourful markets, go to the beach, take out a pedalo, have a Flamenco lesson and learn how to cook paella. From their long list of activities and outings, it's easy to see why the Costa Blanca remains one of the UK's most popular second home and retirement destinations anywhere in the world.
Dreaming of Dénia
The stars' rented villa was in Dénia, the most northerly and arguably largest resort in the Costa Blanca, and according to a rentals website would cost around £4,800 for six adults to rent for a week in high season. Worth bearing in mind if you're looking for investment here. With its charming old town built around a castle and 15 kilometres of sandy beaches, Dénia is a true year-round destination. It has a world-class marina as well as a port offering a ferry service to the Balearic Islands, while being just an hour from Alicante Airport to the south and Valencia to the north makes reaching it from the UK and wider Europe a cinch.
If you are ready to buy a home in Spain, Property Guides will be at Your Overseas Home. It's a new style of property show, where those serious about buying can get answers to detailed questions and introductions to trusted lawyers, agents and currency providers. Click here to apply for FREE tickets to shows in London, Manchester and Glasgow this spring.
A little further south from Dénia takes you to the trendy beach resort of Jávea, then picturesque Moraira, set amongst hills around a small bay, followed by Calpe with its impressive seafront and dramatic Ifach Rock and then the charming white hillside town of Altea. After that, the tower blocks of Benidrom appear on the horizon. A short drive inland from these resorts takes you to the Orba and Jalón Valleys, where unspoilt villages and towns offer great value properties, a more traditional way of life and scenic views in nearly every direction.
Following their stay, could it be that one or more of the celebrities love the northern Costa Blanca enough to want their own home there? They wouldn't be the only stars in the area, with Matt Damon having family from there, Richard Gere and Mel Gibson having set up a Buddhist retreat and such disparate celebs as Bryan Ferry and Terry "El Tel" Venables all local homeowners.
To give our celebs an idea of what might take their fancy, we've picked potential properties for Ainsley and Christine…
Ainsley's foodie heaven
Dénia boasts some of the region's best fresh food markets, including a fish market in the port, as well as the celebrated 3-Michelin star Quique Dacosta restaurant, rated among the best in Europe. We imagine Ainsley would embrace having easy access to all this foodie action, so how about this two-bedroom villa in the quiet Marquesa neighbourhood, not far from Dénia's centre. It has its own pool too, where Ainsley's two children could splash about while he knocked up something tasty on the BBQ.
Christine's Calpe stunner
Christine did a lot of sailing when she was a youngster growing up in Hampshire, so it's fair to say she enjoys being near the coast. And since she has referred to a friend who has a villa in Calpe, with its top-notch marina, we figured it could be the ideal spot for her and husband Neil to have a pad. If Christine gets the urge take to sail again or simply spend a day lounging on deck with a glass of Sauv Blanc, she wouldn't have far to go. This grand villa, located in a cul-de-sac in a quiet part of Calpe, has views of the sea and Ifach Rock, while its large terraced area would be ideal spot for the Hamiltons to entertain their celebrity chums, with a little privacy from snooping paps…
Costa del Celebrity is on Channel, at 8pm on Friday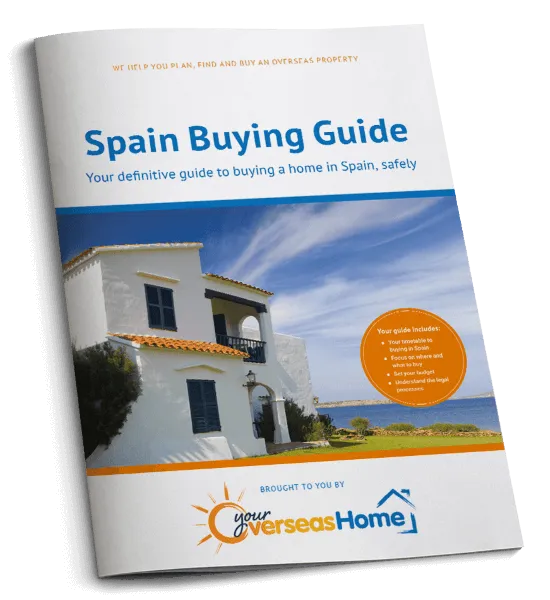 The Spain Buying Guide is a free, independent resource to help anyone who is looking to buy property in or move to Spain through each critical stage of their property buying journey.
Set up to help our readers avoid the many complexities and pitfalls of buying property in Spain, the guide takes you through each stage of the property buying process, with practical recommendations from our experts who have been through the process themselves.
✔

  Ask the right questions
✔

  Avoid the legal pitfalls
Download your free guide to buying in Spain