Off-plan properties built for you from scratch are on the rise along Spain's Costas. Buying this way might cost a little more, but there are plenty of pros to opting for a new home.
Spain's surging new-build market will be targeting both the country's domestic residential and foreign second home markets.
New figures released in October indicate a growing demand for brand new properties in Spain. In the first seven months of 2017, applications for building licences in the country increased 24% compared to the same period in 2016, according to Spain's Development Ministry. Applications for apartment blocks, which accounted for 75% of the total, were up 26% on 2016. If this rate of growth continues, analysts predict that 2017 will be the busiest year for building applications in Spain since 2010.
Spain's surging new-build market will be targeting both the country's domestic residential and foreign second home markets. Here are some reminders of why you should consider a new off-plan property in Spain.
– Buying into a new development could give you the opportunity to benefit from capital appreciation, as units are often sold at a discount. Once a project becomes established, demand typically increases, especially as desirable new development sites become harder to find.
– The developer of your property may be able to offer you an attractive finance deal or payment scheme, which you won't get when purchasing an existing resale property.
– New property in Spain, like in most countries, comes with a guarantee from the developer, who will also be obliged to take care of any faults when you take possession, so-called snagging. Also, new property is built using more energy efficient materials than you find in older resale homes.
– Buying off-plan gives you a certain amount of control over the interior of your property, allowing you to choose the style and colour of certain fixtures and fittings. Developers will typically present furniture pack options too.
– VAT (IVA) levied on new properties in Spain is 10%, which is the same rate as transfer tax levied on resale purchases in some regions. This means there is little difference in the buying costs between new and resale purchases there, given transfer tax is not levied on new properties.
– Off-plan properties are typically paid for in stages. This means you need to plan your payments and currency transfers to Spain carefully, taking account exchange rate movement while your property is being built. Currency specialist Smart Currency Exchange will be able to guide you on this and help you to get the best £/€ exchange rates availble.
If you're ready to buy a home in Spain, Property Guides will be at Your Overseas Home, where those serious about buying can get answers to detailed questions from trusted lawyers, agents and currency providers. Click here to apply for FREE tickets to shows this autumn and throughout 2018.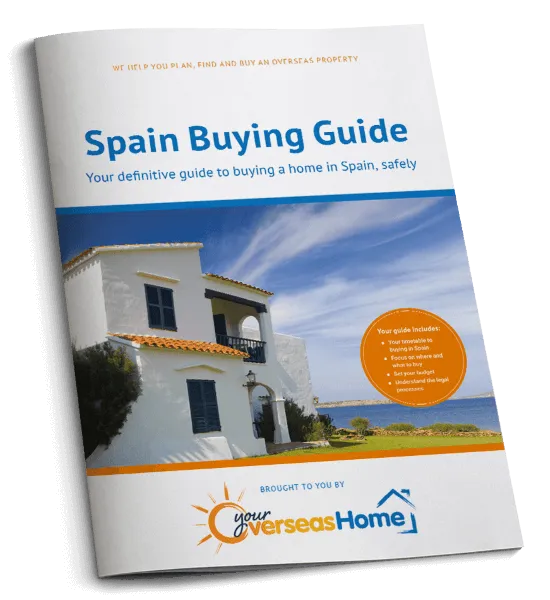 The Spain Buying Guide is a free, independent resource to help anyone who is looking to buy property in or move to Spain through each critical stage of their property buying journey.
Set up to help our readers avoid the many complexities and pitfalls of buying property in Spain, the guide takes you through each stage of the property buying process, with practical recommendations from our experts who have been through the process themselves.
✔

  Ask the right questions
✔

  Avoid the legal pitfalls
Download your free guide to buying in Spain