It seems likely that we're entering a buyer's market in Spain over the next few months – a time for snapping up a bargain home. Read our guide to getting the best price when negotiating with a vendor.
With Europe heading into a recession, people unable or unwilling to travel to holiday homes and with Brexit fast approaching, there will undoubtedly be some bargain homes to be found this summer and autumn. Estate agents, however, are duty bound to try and get the best price for clients. So how should a buyer approach the subject of making a lower offer? There are certainly ways of going about it that will increase your chances and potentially save thousands.
Get a Spanish home for a fair price this summer, read 

How to Negotiate Abroad

.
1. Understand the value of the property
The first step is to understand how much the property you're offering on is worth. In your home market, you might have a good sense of what's considered priced high and low, but it's a little more difficult when you're looking abroad.
Think firstly about its market value. Have a look at similar properties in the area on our portal, and see what homes have sold for previously in the region. Bear in mind that Spain is full of 'micromarkets' – the 'playa' part of a village will often be pricier than the 'pueblo' part that little bit inland – so consider surrounding factors, like amenities, leisure facilities, being close to the beach, any communal facilities and so on.
Start speaking to estate agents, lawyers and currency experts now to understand the market in Spain. 

Get in touch with your Golden Three

here.
Think too about its value to you. Is it an investment that you want to see increase in price, or is it that forever home that you'd be willing to budge a little more on to make sure you get?
2. See it from the seller's perspective
Remember that you're buying a home that someone loves – so try not to be too aggressive in your approach, or you can put them off. You might start with a low offer, but try to be reasonable, and do be willing to compromise if needed.
However, knowing something about the vendor's situation can help you find room to negotiate. Has the property been on the market for a long time and is the vendor really keen on moving soon? They may well be willing to consider lower offers. If it's a holiday home that they're selling up for cash to use on something else, you may be able to get extras like white goods thrown in. It saves the vendor the hassle of disposing of them.
3. Get to the front of the queue
Coronavirus may have temporarily put a halt to the property market in much of April and May, but, with discussions underway for 'air bridges' to help international travel return, it won't be long until British (and other) buyers come back to Spain.
We anticipate there to be something of a rush. Demand didn't drop off but was just stalled by external factors. Make sure you're at the front of that queue when flights restart. Many agents, if not all, are now offering virtual viewings, so use the time now to narrow down your shortlist. The faster you get to that perfect property you want to offer on, the better, as you could find better room to negotiate before the numbers of buyers start building up.
4. Make sure you're ready to pay as soon as needed
Buying in Spain from the UK means that you need to think about getting your money over here safely to pay, including for the deposit. Remember that the price you're negotiating on will be fixed in euros, while your savings will likely be in pounds. That means that, if you don't plan ahead and just send your money on the day through your bank, a sudden drop in the exchange rate markets could mean your carefully negotiated prices actually ends up being even more expensive.
Before you go out on your viewing trip and begin to offer, we recommend you follow in the footsteps of thousands of our readers and speak to Smart Currency Exchange. They can help you send your money without that risk of suddenly needing to find thousands of pounds if the pound weakens. They can lock you in a fixed exchange rate for up to twelve months, so you're ready to go as soon as needed. Find out more about how this works in the Property Buyer's Guide to Currency.
That way, you can both demonstrate to the seller that you're serious and be sure that you won't have to delay to pay a reservation deposit, only to find someone else's offer has been taken instead.
To find out more about getting the best possible value for your money, download your free Negotiation Guide below. And, if you have any further questions, don't hesitate to call our Spain Resource Centre on +44 (0)20 7898 0549.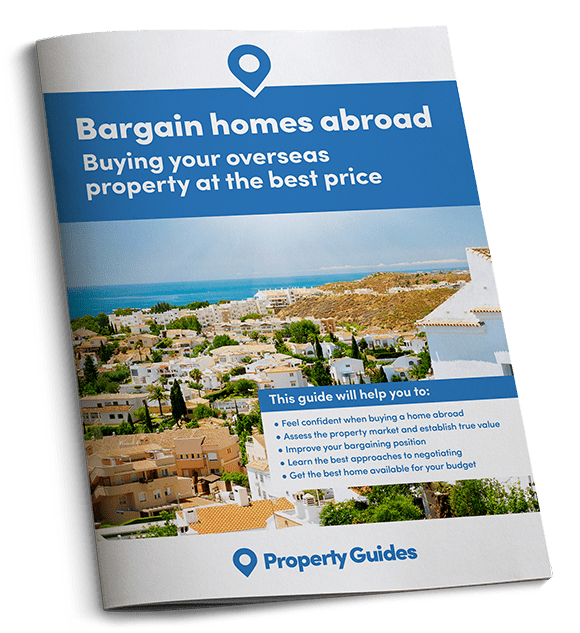 How to negotiate abroad is the guide to put you back in control:
✔

  Feel confident when buying a home abroad
✔

  Assess the local property market
✔

  Improve your bargaining position
✔

  Learn the best negotiating tactics
Download your free Negotiation Guide