Renting out a holiday home when you're not using it is a fantastic way to earn a second income stream, but it needs careful planning. Most guests are respectful, but you can occasionally run into someone who causes problems – which is why holiday home insurance in Spain is so important. But what does it cover, and how much does it cost?
Renting out your home in Spain
Lots of British people with holiday homes in Spain like to rent them out for part of the year to tourists as a way of earning some extra cash, and why not when the return can be very good indeed? The income goes a long way to paying bills in Spain and covering a mortgage.
July and August are the most popular months for letting as for some British holiday home owners, the summer months are too hot and perhaps too crowded and they prefer to visit Spain at other times of the year. For most holidaymakers though, sun and heat are what they seek and so letting your property during the peak season is a sound idea.
However, the season can be all year round in southern Spain and in mountainous regions so instead of leaving your house unlived in for most weeks of the year, it is better to rent it out which will, without doubt, please your neighbours, as empty houses make for a sad environment.
Another consideration is that with the income from renting you may well be able to buy a better property than you had originally thought as part of the mortgage will be paid for by holidaymakers.
The prospect of renting can seem daunting with Spanish rules and regulations. However, these days it is really not as difficult and time consuming as it used to be with internet platforms such as HomeAway and Airbnb to ease your path. Do remember though, in some regions. you will need to register your property for letting at the local town hall and to receive a licence number before you can publish it on the internet. Online, you must display the said licence number on your advert. Find out more in our article on rental rules.
A holiday home which is supported by tourist rentals is a viable asset. You have the freedom to decide when to let it out and when to enjoy it yourself, when to let family stay. The extra income can cover maintenance costs so that your home is always in an excellent state and can pay for a gardener perhaps. The smarter the property, the more money you ask for in rent.
Rental insurance
Good idea? Yes, but be aware that sometimes rentals don't go according to plan. The answer? Take out holiday home insurance in Spain to cover these unexpected events. One hears of horror stories, which unfortunately do happen. Take, for example, a house owner who discovered that a guest had changed all the plugs and sockets from Spanish standards to UK standards! Or, how about a guest who stole every other curtain hook in the entire property from the holiday home they were staying in? Then there was a rental where the guest turned up the heating to maximum and then opened all the windows before leaving.
There are even worse horror stories but it is important to remember that these are rare, though for peace of mind, investing in holiday home insurance in Spain is essential.
What is covered in holiday home insurance in Spain?
What is covered with holiday home insurance? These are the things you will want included in your policy:
Accidental damage within your home.

Employee liability (for cleaners, gardeners, etc)

General theft and theft by guests

Unoccupied insurance (for when the property is empty)

Swimming pool protection

Cover for long or short term lets

Public liability
The cost of insurance will vary depending on the location of the property, the square meterage, number of bedrooms, facilities, etc. but as a rough guide the cost for a 3 bed villa with a pool in the Costa Blanca with £10,000 contents and full accidental damage cover: €347.34 a year.
Contents above €35,000
Some companies will view long term lets and holiday lets differently but basically the insurance cover is the same, it is just the premium which might cost more or less. You can insure your holiday home for practically every eventuality but this will of course affect the cost of the premiums.
For homes with contents worth more than €35,000, the insurance company usually has certain requirements such as dead lever locks for all outside doors, internal catches for shutters and window locks on windows. Another requirement which holds good for most insurance is that the property is inspected internally every 3 months. You might need an agent or neighbour to do this while a property is empty.
For the comparatively small layout a year, it is really vital that your holiday home is properly insured and especially if you are renting it out to holidaymakers. In the case of any problems, it is reassuring to know that you are covered and you won't be out of pocket.
Insuring the building
Don't forget that you are required by law in Spain to insure the actual building. Holiday home content cover is seriously advisable for the periods that the property lies empty and for when it is let out to tourists. If however, you let it out on a long term rental, it is normally the tenant who will insure the contents.
There are several price comparison companies to help you choose the right insurer for you, both Spanish and British. In most cases you will need to complete a form to request a quote but it could well be worth looking at 2 or 3 different companies to get the best cover at the best price. Just make sure that the actual cover offered is the same to get a proper comparison.
There are things that may not be covered: long term lets (need a different insurance), solar panels, boats, surfboards, dinghies which are housed within the property grounds for example.
Whatever your needs, we can introduce you to a trusted partner who can help you. Get a quote today from them, so you can sit back and relax, knowing that this key part of setting up a holiday home business is taken care of.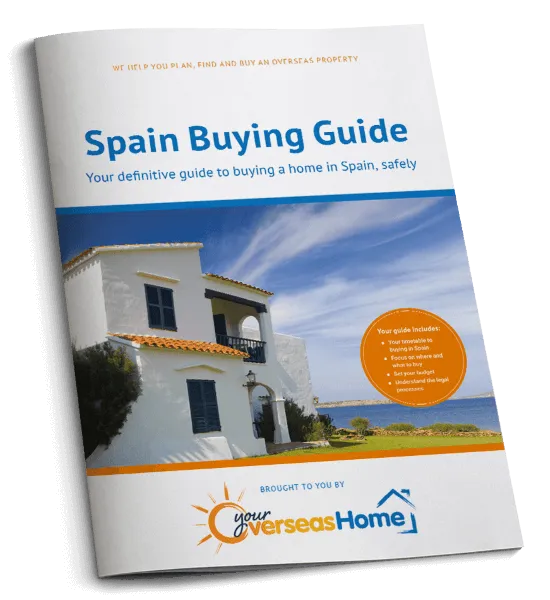 The Spain Buying Guide is a free, independent resource to help anyone who is looking to buy property in or move to Spain through each critical stage of their property buying journey.
Set up to help our readers avoid the many complexities and pitfalls of buying property in Spain, the guide takes you through each stage of the property buying process, with practical recommendations from our experts who have been through the process themselves.
✔

  Ask the right questions
✔

  Avoid the legal pitfalls
Download your free guide to buying in Spain