Looking for a corner of southern Spain that's more authentic and less developed than the main stretch of the Costa del Sol, but with equally good beaches and pretty scenery? The answer could be Axarquía.
This is an area east of Málaga city that is attracting increasing numbers of foreign house-hunters looking for a more rustic, Spanish lifestyle. Still part of the Málaga Province, inland Axarquía has great natural beauty. It combines a rugged mountain backdrop with lush foothills, dotted with pretty white villages. Other inland highlights include stunning Lake Viñuela. The Sierras de Tejeda, Almijar and Alahama Natural Park are all great places for hiking. Along its Mediterranean shore are a selection of laid-back family resorts geared as much towards Spaniards as foreigners. The lush, more tropical climate here means sugar cane and banana trees are not a rare sight. Plus, the vines that grow in the foothills produce famously sweet grapes used for a particular local wine!
Being away from the more international high-rise hot spots of the Costa del Sol is good news. Property prices in Axarquía are typically less than they are to the west of Málaga city.
If you're liking the sound of this unspoilt pocket of Spain, here's a run-down of the main coastal resorts and inland villages.
On the west coast

Rincón de la Victoria is the closest resort to Málaga. Being so close to the city – some regard it as a dormitory town – has made it a popular place for working Spaniards to live. As a result, it combines the charm of a former fishing village with a warm residential feel. Rincón's highlight is its sweeping seven-kilometre beach. The busy urban seafront is fringed by residential apartment blocks. The palm trees, fishing boats and chiringuito restaurants add to its authentic appeal.
It's viewing trip season in Spain – get yourself ready with our free guide, Your Viewing Trip.
Next along is Benajarafe, another low-key palm-fringed resort. Banana trees give the dark sandy beach an added tropical edge. Overlooked by the landmark 18th-Century Torre Moya, it has a selection of chiringuito restaurants on both sides of the coastal road.
A little further along the flat coastal plain is Almayate, fringed by sand, sea and sugar cane fields. The small resort is split into two parts. Almayate Bajo is a small village on the beach. Almayate Pueblo is the original white village half a kilometre inland.
Soon after you arrive at Torre del Mar. It's still only 30-35 minutes' drive from Málaga Airport and one of Axarquía's two main resorts. Torre (del Mar) was traditionally a working town that grew out of the local fruit industry rather than a resort purpose-built for tourists. This has enabled it to keep its authentic Spanish feel. In recent years Torre has received millions of EU funding towards infrastructure. It now has a fantastic promenade, said to be the longest in Europe. Apartments on one of the small beachfront complexes or a detached villa 15 minutes' or so walk from the seafront are popular choices with foreign buyers in Torre.
On the east coast
Just over the E-15 motorway is the Spanish market town of Velez-Malaga, often regarded as the gateway to inland Axarquia. If you prioritise authenticity over proximity to the beach, here you have a choice of affordable character homes in the pretty old town. Typical prices starting well under €100,000.
Next along is El Morche. It's a small resort with an impressive sandy beach that stretches for more than a kilometre and is 50 metres wide. There's a selection of bars and restaurants along its promenade. El Morche is within walking distance of the next resort, Torrox Costa. With a busy promenade, fine beach and choice of sea-facing apartment blocks, Torrox Costa is equally popular with Spaniards as other European homeowners. It's linked to the pretty Torrox Pueblo, the original village four kilometres inland at the foot of the Alpujarra mountains.
The last resort in Axarquía – and a key one that is still only 50 kilometres from Málaga – is Nerja. This is a former fishing village that in recent decades has transformed a charming, low-rise family resort. The town hall does not allow high rise buildings there! Popular developments include hillside complexes that overlook the town and sea. There's as much choice if you'd prefer to be nearer the seafront or town-centre. Highlights include its beautiful old town, beach, lush mountain backdrop and famous Balcón de Europa promenade.
Inland Axarquía
Locals will argue that Axarquía is home to the prettiest of Andalusia's famous 'pueblos blancos'. These are those picturesque white villages or towns that cling to hillsides, with Frigiliana, Comares and Cómpeta being particularly special. It's certainly true that if you're ready to immerse yourself in a rustic Spanish lifestyle and your heart is set on being in traditional village, you have lots of choice here. And if you're a lover of the great outdoors, hiking and being amongst stunning natural scenery, then you'll find the area hard to resist.
Other noteworthy villages to choose from include Benamocarra, Algarrobo, Iznate, Benamargosa, Corumbela, Alcaucín, Canillas de Aceituno, Sayalonga and Colmenar. Despite being perched on a hillside, surrounded by lush scenery, many of these will still be within 30 minutes' drive from the beach and often have open views of the distant sea.
Prices for character houses in these villages typically range from €50,000 to €100,000 depending on how much work they need. Somewhere in need of major renovation could be less than €50,000!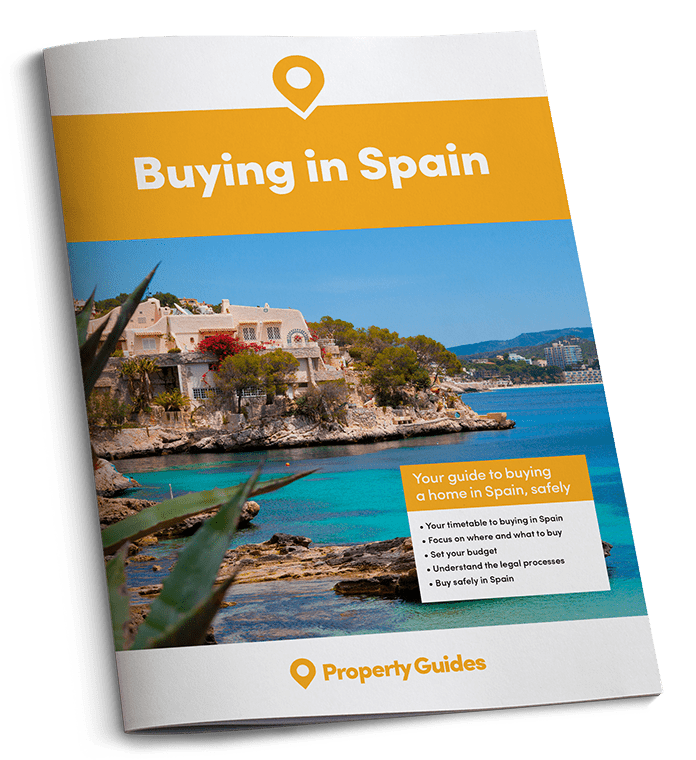 The Spain Buying Guide is a free, independent resource to help anyone who is looking to buy property in or move to Spain through each critical stage of their property buying journey.
Set up to help our readers avoid the many complexities and pitfalls of buying property in Spain, the guide takes you through each stage of the property buying process, with practical recommendations from our experts who have been through the process themselves.
✔

  Ask the right questions
✔

  Avoid the legal pitfalls
Download your free guide to buying in Spain