In 2023, the Tour de France will start in the Basque Country of northern Spain. But Spain's relationship with cycling expands beyond the Tour de France. So, what does Spain have to offer in terms of cycling?
The Tour de France 2023
Next year marks the 110th anniversary of the Tour de France, and the opening stage will take place in Bilbao on July 1st, 2023. The very first time the Tour de France visited Spain was in 1949. Back then, it finished in San Sebastián. This will be the second time the French Grand Tour has started in the Basque Country after Miguel Indurain won the prologue time trial in San Sebastián in 1992.
The route
The first stage, a loop around Bilbao, will test the cyclists with its hilly terrain. Stage two will also take place in the Basque Country, before a transition into France for the rest of the three-week race.
In total, the 110th race will cover 3,404 kilometers (2,115 miles), encompassing eight mountain stages across five mountain ranges. For sprinters, there will be eight flat stages.
The route includes four summit finishes – at Cauterets-Cambasque in the Pyrenees, the Puy de Dome in the Massif Central, the Grand Colombier in the Jura and at Saint-Gervais Mont-Blanc in the Alps.
Bilbao
Bilbao is the largest city in northern Spain. It is home to the eye-catching Guggenheim Museum, a unique chrome and metal creation. It was designed by American architect Frank Gehry. Although the museum was only built in 1997, it has been vital in transforming Bilbao. The Guggenheim Museum has attracted 25 million visitors and brought in an estimated €6.5bn to the Basque Country. The Guggenheim Museum will certainly add a fascinating visual to the Tour de France.
La Vuelta a España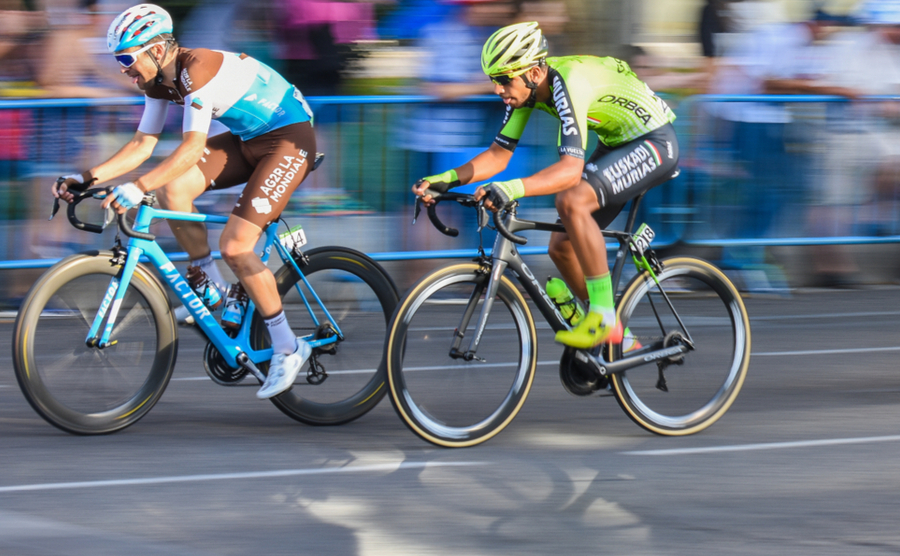 In 1935, La Vuelta was created in response to the success of Italian and French cycling races. It had trouble establishing itself during the Civil War and the Second World War, but since 1955, it has been an annual event.
In 2022, La Vuelta took place from 19th August to September 11th. Starting in Utrecht and ending in Madrid, it covered 3,280.5km.
Spain features mountainous regions, and so, La Vuelta  favours climbers over sprinter participants. Alto de el Angliru in Asturias is one of the greatest tests. The climb is 12.5 kilometres long and is near 24% at its steepest.
Is cycling in Spain for me?
Don't worry – you don't have to be a professional to enjoy cycling in Spain. From high mountains to stunning coasts, cycling in Spain is a truly pleasurable (and challenging, if you want it to be) experience.
Mallorca is ideal for those looking for variety with their cycling. It is home to the "Big Daddy", which takes in the whole of the northwest coast. But less testing cycling is also offered by S'Albufera Natura Park: a smooth cycle around a nature reserve.
Thrill-seekers might enjoy Lanzarote, with its rugged landscape and volcanic peaks.
Those looking for beauty should try cycling in Terres de l'Ebre, a very beautiful region of southern Catalonia. It includes two natural parks. And, in 2013, it was made a UNESCO Biosphere Reserve.
Public bike schemes
You may not be after a testing, scenic cycle. You may really just want to know if you can get around a city on your bike. So that you can keep fit and get where you need to go.
Spain has public bike schemes similar to the ones that we have in the UK. Seville and Valencia have the most rental points per 100,000 inhabitants, meaning that the locals make the most of their bicycles.
Barcelona
Barcelona has 6,000 mechanical and 300 bikes available to the public to use around the city. Furthermore, the pick-up and drop-off points are located near other forms of public transport, making the city accessible without the use of a car.
Madrid
The public bikes in Madrid have an electric motor – making them well-designed for going uphill! However, many cyclists have complained that cycling in Madrid is not the most pleasant or the safest experience.
Seville
Sevici, the public bike service in Seville. Due to its smooth terrain, cycling is popular in Seville, with over 180km of cycle paths and 2,600 bikes available. Sevici has both long and short stay tickets, so it is apt for holidaymakers and residents alike.
Looking for more information on how to get around in Spain? We have the perfect article!
Spain is a fantastic option for cycling enthusiasts, whether it is your favourite competitive sport, or you love to make the wheels move yourself.