With year-round flights and year-round warmth, this long stretch of coast is holiday-home heaven. But is it somewhere you'll want to live permanently? Join us on a tour of Spain's south-eastern coast.
The Costa Cálida stretches for 250 kilometres in the region of Murcia, just below the Costa Blanca on Spain's south-eastern corner. The word cálida means "warm" and it certainly is, with high temperatures, low annual rainfall and particularly warm water.
It's a coast of cliffs, bays and long, sandy beaches. It is particularly popular area with the British, but also beloved by Spanish tourists and holiday homeowners too. It's less touristy than the Costa Blanca, less blingy than the Costa Del Sol, and has a healthier climate than either of those two, according to the World Health Organisation.
You might have the beach to yourself out of season, yet with the water still warm enough to swim all year.
Águilas
Beginning at the southern end of the Costa Cálida, the small town of Águilas is a real highlight. It curves attractively around a couple of bays, like so many other lovely Spanish resorts. But it is when you get out of town and stroll along the cliffs that the real appeal becomes clear, a series of beautiful sandy bays. The town may be heaving in summer, but you might have the beach to yourself out of season, yet with the water still warm enough to swim all year, if you're just a little bit hardy.
The other reason that the town is quieter in winter is the longer distance to an airport, although at just over an hour from San Javier Airport in Murcia (108km) it is hardly that onerous, and you also have the option of Almeria Airport 119km further south.
Town-centre apartments go from €50,000, and these may appeal more than resorts if you're planning on staying all year. The resort-style property out of town probably costs around 50% more than that, but it has strong rental appeal in summer. There isn't a great deal of villa accommodation around Águilas, and being that far further south the countryside is beautiful, but quite arid. Although relatively affordable, you'll still need €300,000 for a really top class detached villa here.
Gulf of Mazarrón
Almost in the centre of the Costa Cálida is the Gulf of Mazarrón: 35 kilometres of beautiful sandy beaches and fishing villages. More than 35,000 people live in this area, with a lively expat community of whom the British are the largest group. This is far from being Little Britain, though there are several British restaurants and shops along the sea front and in the town. But it is less developed than some of the more well-known costas, and considerably quieter in winter.
The port of Mazarrón has good services and amenities. The crystal clear waters have been attracting people for millennia – we know that because marine archaeologists discovered a Phoenician boat here dating from the 7th century BC. The Romans were here too and there is a Roman villa nearby at Alamillo Bay.
The rise in property prices has only just begun to take root here, and there are plenty of apartments for sale from €50,000 and villas from as little as €75,000. Even stunning-looking modern villas with pools are available for under €150,000. Traveling here is easy, as it is just 45 minutes' drive from San Javier Airport.
Cartagena
Between Mazarrón and El Mar Menor is Cartagena. It's an attractive town – enriched 100 years ago by zinc, silver and lead mining – with many grand buildings in Spain's distinctive modernist style. Today it is known for shipbuilding and repair and exports, as well as being one of Spain's main naval bases. The Spanish authorities are also promoting the port as a major tourist attraction with bars and restaurants on the quayside.
The area is one of the least urbanised on this coast so there are natural, unspoilt beaches, seven of which have the prized Blue Flag. The Roman Theatre of Cartagena was only discovered in 1988 and is now one of the town's main attractions.
The area is one of the least urbanised on this coast so there are natural, unspoilt beaches, seven of which have the prized Blue Flag.
Another town popular with the British, Cartagena offers good restaurants and all the amenities one needs. The main street, Calle Major, is a pedestrianised haven of shops, cafés, tapas bars, restaurants and some of the town's most beautiful examples of modernist facades.
You can buy one of those modernist apartments for surprisingly low prices, given that it is still an up-and-coming Spanish city by the sea. Less than €100,000 will get you a renovated two- or three-bedroom apartment. Outside of town there are resort-style developments with communal pools for a similar price, and villas from around €125,000.
Murcia- San Javier Airport lies 31 kms from Cartagena.
La Manga and Mar Menor
If you are looking to just lie on a beach, this area might not be your first choice. Not that it isn't hot and beautiful, it's just that there is such a wealth of sporting activity on offer that you might find yourself tempted to windsurf or spend all afternoon on the golf course.
Europe's largest saltwater lagoon, El Mar Menor (the small sea), is separated from the Mediterranean by a narrow strip of land called the La Manga ("the sleeve"). This thin stretch of land, 24 kms long, is quite built up these days with apartment blocks and superb amenities including marinas, supermarkets, sailing schools, leisure centres, shops, bars and restaurants. The real highlight, however, is the lagoon, the perfect place to learn watersports such as wind surfing, sailing, diving and water skiing. If you are looking for a job in Spain, this is a possible area too, with many tourism jobs in summer and a year-round expat population.
People looking for jobs should find it quite easy here as there is a booming tourist trade all year round.
Property is expensive compared to other places on the Costa Cálida. The resort of La Manga has increased in price ahead of general Spanish prices. It is rather special though, with golf courses, superb tennis facilities and all the luxurious touches you would expect from Spain's most famous gated development. Yes, including a private beach.
Within the local area there are, however, some delightful villages which are off the tourist track and retain their own traditional lifestyle, bars and restaurants. These are becoming increasingly popular with British buyers too, looking for authenticity and affordability more than spa and beauty treatments on the doorstep as in La Manga.
Towns like Lorca, Totana, Los Alcazares, Balsicas and the village of Sucina are all worth investigating. Totana is a country town of pottery and crafts, popular with those who enjoy hiking. Homes here tend to be larger, detached villas with land, for which you'll need €200,000-plus. By contrast, Balsicas is another inland town, but this one closer to the more developed areas of the southern Costa Blanca. Here estate agents will be fighting over you if your budget is half that size, as detached villas here are available for €75,000.
If you are ready to buy a home in Spain, Property Guides will be at Your Overseas Home. It's a new style of property show, where those serious about buying can get answers to detailed questions and introductions to trusted lawyers, agents and currency providers. Click here to apply for FREE tickets to shows this autumn and throughout 2018.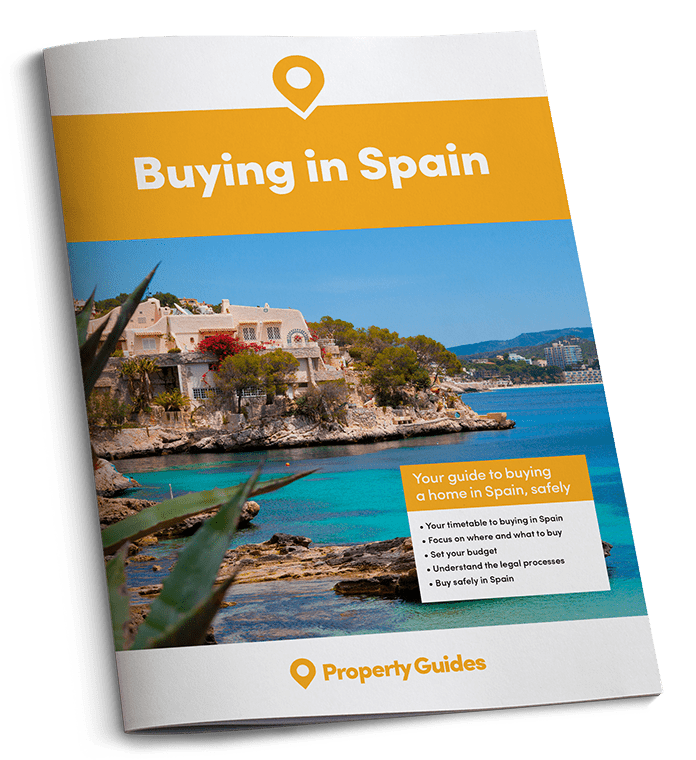 The Spain Buying Guide is a free, independent resource to help anyone who is looking to buy property in or move to Spain through each critical stage of their property buying journey.
Set up to help our readers avoid the many complexities and pitfalls of buying property in Spain, the guide takes you through each stage of the property buying process, with practical recommendations from our experts who have been through the process themselves.
✔

  Ask the right questions
✔

  Avoid the legal pitfalls
Download your free guide to buying in Spain