Once you've decided what you're looking for in your property, and you've set out your timescale, it's time to start looking at the best areas to buy in Spain. By far the most popular areas are the coasts and islands – here's where to purchase in the most popular spots, in part three of our six-part guide, Buying in Spain.
The Balearic Islands
The Balearics are among the best areas to buy in Spain. The ease of getting there and the year-round appeal of a city like Palma means there's a settled international community, especially in Mallorca. Although one of the more expensive parts of Spain to buy a home, few people ever regret buying here. Mallorca has something for every taste and budgets above around €150,000. Idyllic villages such as Valldemossa and Deia, the wealthy shops and nightlife of the capital Palma, with its medieval old town and cobbled alleyways around the cathedral, family-friendly resorts along the south-east coast, beautiful country homes inland, and then the raucous (but fun) nightlife of resorts like Magalluf.
Many people prefer Menorca, "the Jewel of the Balearics", for its quieter and more relaxed atmosphere. There are hints of Britain's colonial rule in the 1700s, in some Georgian architecture and the British have tended to feel at home here (well, where don't we?). The island's main draw is its beautiful coastline, with more beaches than Mallorca and Ibiza put together. Menorca is harder to reach in winter, but prices are lower than in Mallorca too.
Ibiza, "The White Island" may be more famous for clubbing and hedonism, but wander off from the coastal strip and you'll find it's a wooded island with lovely peaceful rural areas. It also has a spiritual undercurrent, mixed in with the hedonism. Property is pricey, as you might expect, but has enormous rental appeal in summer, so it's an excellent option for sheltering from the British winter then renting your place out all summer.
Costa Brava
Wooded cliffs lead down to pretty bays. Around each headland is another gorgeous view and a road leading down through the pines to a classy village with a sandy beach and maybe a marina. We're in the Costa Brava, where the Pyrenees meets the Mediterranean.
The Costa Brava is cool, classy and cultural. Part of Catalonia, it's a hard-working area with a strong sense of style – the land of Gaudi, Dali and Miro. The weather is perfect for summers but chillier than the more southerly costas in winter.
Alternative lifestyles are celebrated in resorts like Sitges. With just a two hour flight from Barcelona to London or Manchester and advance fares as low as £20 each way, 'euro-commuting' is a real possibility.
Get the very best price for your property with the tips and tricks in our guide, How to Negotiate Abroad. 
Costa Dorada/Daurada
The 300km of the Golden Coast include the cities of Barcelona and Taragona and resorts such as Salou and Roc de Sant Gaietà. Most people come for the beaches, the nightlife and the entertainment such as PortAventura, the huge waterpark near Tarragona with Europe's highest freefall waterslide. The hinterland is beautiful too, with vineyards in the foothills of the mountains. The River Ebro, one of Spain's mightiest, provides diverse wildlife and outdoor entertainment.
Property is cheaper than in most costas, but off-season the coast is very quiet and it's colder than the more southern stretches.
Costa del Azahar
The Orange Blossom Coast has been hiding its light behind an orange bushel for too long! Although largely ignored by British house-hunters, it is at least as beautiful as the northern Costa Blanca that borders it. It also has the city of Valencia, with its dramatic modern architecture and a rich cultural life. The food is pretty good too – Valencia is generally credited as the home of paella.
Coastal towns along its 250 kilometre length include Alcossebre, Benicassim, Peñiscola and Gandia. Houses are affordable and you avoid the British expats who tend to stop at Denia, a little further south.  Partly that's down to the lack of flights – Alicante is a couple of hours drive south and there are fewer flights into Valencia Airport.
The Costa Blanca
Whether you want an adventurous retirement of golf and sailing, a holiday home just a short hop from the airport, a permanent home with an easy commute back to the UK, the Costa Blanca is an easy and affordable option.  The sun beats down for 320 days of the year on both the residential apartments of Benidorm and Torrevieja, and the inland villages.
The Costa Blanca is an affordable choice for property, with apartments available from little over €40,000, and the savings continue into its golf courses and amenities, reasonably priced compared to Spain's more blingy costas.
Alicante airport has flights from every corner of the UK, all year. Drive north from the airport and, after skirting the tower blocks of Benidorm shimmering in the heat haze, the countryside is greener, with pine forests and palm trees. Former fishing villages and small towns like Jávea, Moraira and Dénia combine historic castles, rural beauty, pretty coves, beaches, mountains and excellent fish restaurants. They are still traditional Spanish towns that have thriving and fun expat communities too, being far enough from the airport to turn off the long-weekenders and appealing more to permanent residents and retirees.
South of Alicante the weather is warmer and the countryside is flatter. The beaches are pristine, property developments have been kept low-rise and there is highly accessible local entertainment for every age group, from golf courses to water parks. Torrevieja and Orihuela continue to attract large numbers of British property buyers.
Costa Cálida
With year-round flights and year-round warmth, this long stretch of coast is holiday-home heaven. Highlights include the small town of , curving around a couple of beautiful sandy bays. Apartments go from €50,000; resort-style property out of town around 50% more than that. Almost in the centre of the Costa Cálida is the Gulf of Mazarrón: 35 kilometres of beautiful sandy beaches and fishing villages. It has a lively expat community of whom the British are the largest group. Even stunning-looking modern villas with pools are available for under €150,000 and getting here is easy, being just 45 minutes' drive from San Javier Airport.
Further west is the region's largest city, Cartagena, with many grand buildings in Spain's distinctive modernist style (with renovated two- or three-bedroom apartments for under €100,000).  Cartagena has a thriving economy based on ship-building, but the authorities are promoting the port as a major tourist attraction with bars and restaurants on the quayside. Outside of town there are resort-style developments with communal pools for a similar price, and villas from around €125,000.
La Manga and Mar Menor are some of the best areas to buy in Spain. Europe's largest saltwater lagoon, El Mar Menor (the small sea), is the perfect place to learn watersports such as wind surfing, sailing and diving.
La Manga and Mar Menor are some of the best areas to buy in Spain. Europe's largest saltwater lagoon, El Mar Menor (the small sea), is the perfect place to learn watersports such as wind surfing, sailing and diving. The narrow strip of land called the La Manga ("the sleeve") separates it from the Mediterranean. This thin stretch of land, 24 kilometres long, is packed with apartment blocks and superb amenities including marinas, supermarkets, sailing schools, leisure centres, shops, bars and restaurants.
The resort of Mar Menor is rather special, with golf courses, superb tennis facilities and all the luxurious touches you would expect from Spain's most famous gated development. Within the local area there are, however, some delightful villages which are off the tourist track and retain their own traditional lifestyle, bars and restaurants. These are becoming increasingly popular with British buyers too, looking for authenticity and affordability more than spa and beauty treatments on the doorstep as in La Manga.
Costa Almeria
The Costa Almeria is in Andalusia, the huge region that covers the bottom third of Spain and gave us flamenco, bullfighting, Picasso and tapas. Almeria is at the far eastern part of the region, and is relatively inexpensive. You can buy a villa with a sea view for less than €150,000. Almeria includes well known resorts like Roquetas de Mar, Almerimar, Carboneras, Mojácar and Vera, all with pretty harbours or long sandy beaches.
Fans of the Costa Almería say it is more Bohemian and alternative than its neighbouring coasts. Vera is famous for naturism, Almanzora for cave homes. There are still resorts though, including the Desert Springs golf resort, where Ian Botham and Daley Thompson have been homeowners. There are lively British expat communities in Mojacar in particular.
You can get there via Almeria Airport with easyJet and Ryanair from many UK airports.
Costa del Sol
The Costa del Sol is 160km of sundrenched pleasure. The quality of the beaches goes without saying, but the seaside fun includes every family-friendly entertainment you can imagine, great shopping opportunities, Michelin-starred restaurants, championship golf courses, marinas and spas – everything for the well heeled him and her.
The hills overlooking the beaches are thronged with multi-million euro villas, but alongside the upmarket resorts such as Marbella, Puerto Banús and Estepona, there are more affordable neighbourhoods like Torremolinos, Mijas and Fuengirola too. All are easy to reach from the airport at Malaga – you'll appreciate the savings on car hire – and with so many flights that weekend trips really are doable.
Don't forget the inland appeal. There are "white villages" that retain their age-old traditions and beyond that the rolling hills of olive and almond trees, with affordable country homes in the campo. The Costa del Sol has exciting cities, most notably Malaga but with Granada, Seville and Cordoba all within reach, it has culture as the birthplace of Picasso and flamenco dancing, it has wonderful food and drink and gave the world tapas.
Costa de la Luz
The stretch of coast that leads from Gibraltar up to the Portuguese border is known for wide, empty beaches, full of windsurfers in summer but empty in winter. The huge Doñana national park is in the middle of the region – you could see the lynx, Europe's only big cat there. Property is more affordable than in the neighbouring Costa del Sol and Portuguese Algarve, despite it being unspoilt by development. This makes it one of the best areas to buy in Spain.
It includes the city of Seville, a little inland, Andalusia's largest city and one that has proven popular with long weekenders as a (whisper it), classier alternative to the likes of Marbella. Seville is famous for its Feria de Abril, sherry (drunk dry and ice cold), tapas and its Moorish feel. The art, culture, food and wine is a rich combination of North Africa and Spain, with a distinct taste of the exotic in cities like Cadiz.
The eastern Costa de la Luz is famous for windsurfing and the party lifestyle that windsurfers love so much. The beautiful seaside city of Cadiz is here too. The western side is "Spain's Algarve", with large-scale resorts such as Isla Cristina. Inland are historic towns like Jerez and Medina Sidonia. You'll find reasonably priced country properties inland too.
Four airports in the region have flights from the UK – Gibraltar, Seville, Jerez and Faro, over the border in Portugal.
The Canary Islands
The Canaries, sitting off the coast of Morocco, are warm all year but rarely either too hot or too cold. Buy here and you can get four seasons of enjoyment (or rental). They are made up of seven islands of varying size and geography: Tenerife, Lanzarote, Fuerteventura, Gran Canaria, La Palma, La Gomera and El Hierro. Each is different; some sandy, others with deep gorges, tropical forests, banana plantations a snow-capped mountain, others with vibrant nightlife and cheap holiday apartments, others more genteel and laid back.
Coming over here to look at properties? Find out what to look out for by reading our free guide, Your Viewing Trip.
Tenerife is the largest island, with 900,000 people, then Gran Canaria with just a few fewer. Lanzarote has 140,000 and then down to Fuerteventura, La Palma, La Gomera and finally El Hierro with 11,000. Discovering which island you like the most is part of the fun, and with no shortage of year-round flights and a flight time of around four hours, with no jetlag, the Canaries are a great option for winter sun.
All the islands have great opportunities for a healthy active retirement or fun for the kids. Anything water-based is well catered for, from deep-sea fishing to whale watching and windsurfing. There are some world-class golf courses too.
The architecture includes cheap and cheerful apartment blocks overlooking the towns and beaches, villas further out of town, but also some lovely South American style villages, and colonial-style houses with wooden balconies and leafy patios.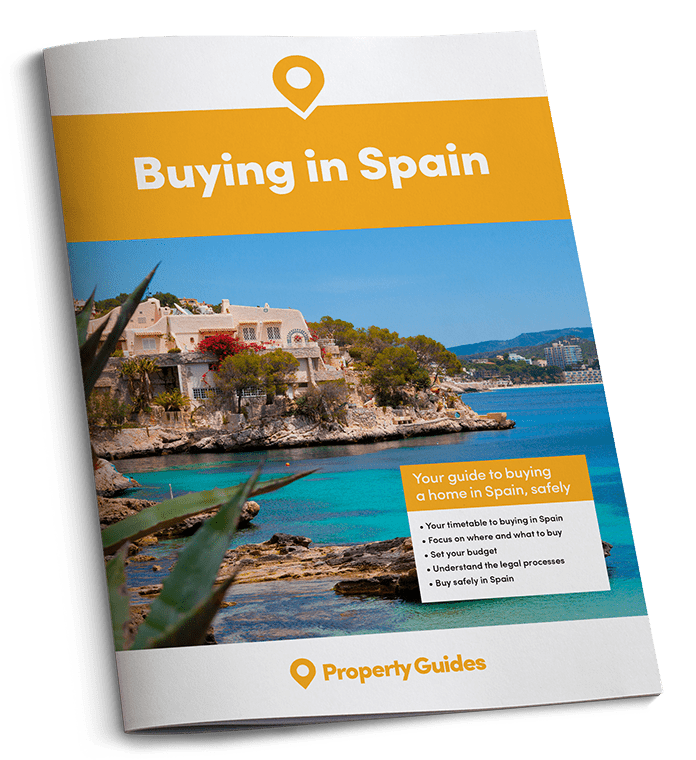 The Spain Buying Guide is a free, independent resource to help anyone who is looking to buy property in or move to Spain through each critical stage of their property buying journey. Set up to help our readers avoid the many complexities and pitfalls of buying property in Spain, the guide takes you through each stage of the property buying process, with practical recommendations from our experts who have been through the process themselves.
✔

  Ask the right questions
✔

  Avoid the legal pitfalls
Download your free guide to buying in Spain