As the lockdown in England nears its end and travel overseas can resume very soon, now's the time to start planning your move. Flights to Spain are available to book now for your viewing trip! But how can you do it safely? Here are our top tips for safer viewings.
1. Start with a virtual viewing
Many people do find they do two viewing trips because they come out when they're still trying to narrow down their list, or they discover things they'd like or wouldn't like as they go. Use the process in our buying page to define your search properly, and make the most of virtual viewings before you come out. That way, you can see potential properties by video, get a better idea of what you would be interested in or not, and build up your shortlist for when you do make the trip.
Most good estate agents offer some kind of online viewings, usually starting with a high-quality video like the one below (click on the image to start the video). If you like the look of the property, speak to the agent about talking you around the property "live" with a hand held video.
2. Stay in private rented accommodation
When you organise your viewing trip, often the best-value option would be to have your transport and accommodation organised by an agent. Some agents, especially in smaller areas, will have a dedicated apartment they use for viewing trips close to their main office. If this would normally involve staying in a hotel, however, it is perhaps safer to stay in private accommodation, minimising the number of other people around you.
3. Organise your own transport
Likewise, try and follow on in your own hire car rather than going with the agent, so that you're not spending prolonged periods together in a small space. If you're taking public transport in Spain, including a flight, government rules say you should wear a mask and some people may choose to wear disposable gloves, too.
We have thousands of homes for sale in Spain on our property listings. Click here to have a browse and start enquiring.
4. View properties on your own
While you would normally have the agent showing you around, in smaller properties where you might not be able to keep distant, it could be better to have them give you their explanation of the property and then for you to look round on your own. Likewise, for the agents' sake, try to keep the people with you on your viewing only to decision makers.
If you are going around with your agent and it is a small space, the Spanish government says that masks must be worn if 'interpersonal distance' cannot be maintained.
5. Wash your hands regularly
It almost goes without saying, but try and wash your hands as much as you can – bring hand sanitiser if it's available – as the norm would be to see up to around five to seven properties a day. Try to avoid shaking hands with others, even if you agree a deal!
How much could you afford in Spain? Find out with the options in your free Spain Finance Guide.
6. Keep in mind social distancing when you complete
Normally, you would attend the notary's office when you complete, as would the vendor. If this is the case, try and keep at a two-metre distance from others where you can. If you can't, the government recommends wearing a mask and the Notarial Commission recommends wearing gloves for signing in person.
However, you may also be able to avoid in-person completion, as the pandemic has pushed Spain's rather old-fashioned notarial system to modernise. An e-signature or firma electrónica is now largely valid in many areas, and many are pushing for them to be used more in property transactions, at least temporarily. Notaries are also, according to El Pais, more and more using video conferences to carry out group meetings, rather than have everyone attend in person.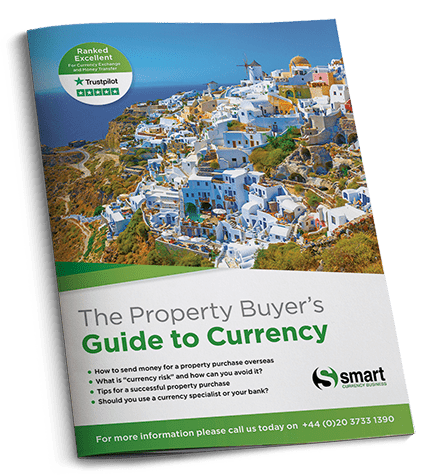 The Property Buyer's Guide to Currency will help you:
✔

  Understand the currency markets
✔

  Protect your property budget
✔

  Use a Currency Specialist
✔

  Learn from other overseas property buyers
Download the Property Buyer's Guide to Currency