Taking into account all that makes a holiday fantastic from the beach to the nearness to the airport, here are ten properties that would make the perfect Spanish holiday home. So that your most brilliant holiday isn't a once in a lifetime experience but something that you get to experience again and again and again.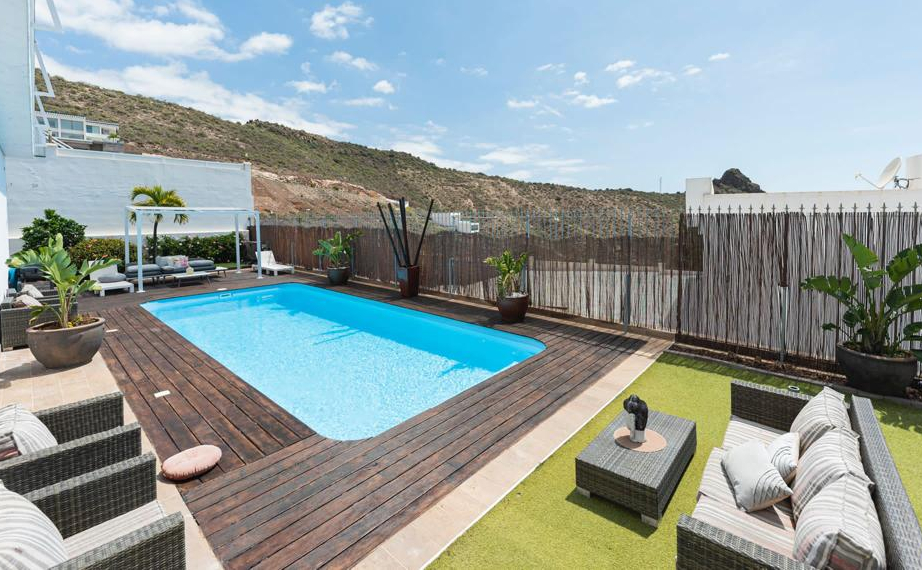 Have you ever touched down in the UK from your holiday in Spain and wished that you could have the holiday all over again? Did everything about it felt just-so? The loveliness of the nearest beach, the tapas that was a five-minute walk away, the bar that you went and listened to live music at?
With a holiday home, you can live your favourite holiday again and again and again. You can return to that lovely beach with the glittering sand and shallow waters. You can try the whole tapas menu. And you can sway and singalong until your voice is hoarse.
If you are interested in purchasing a holiday home, you will find our brand new How to Buy a Holiday Home in Spain guide extremely useful. Maybe 2023 is the year you purchase a holiday home in Spain!
But what makes a fabulous holiday home?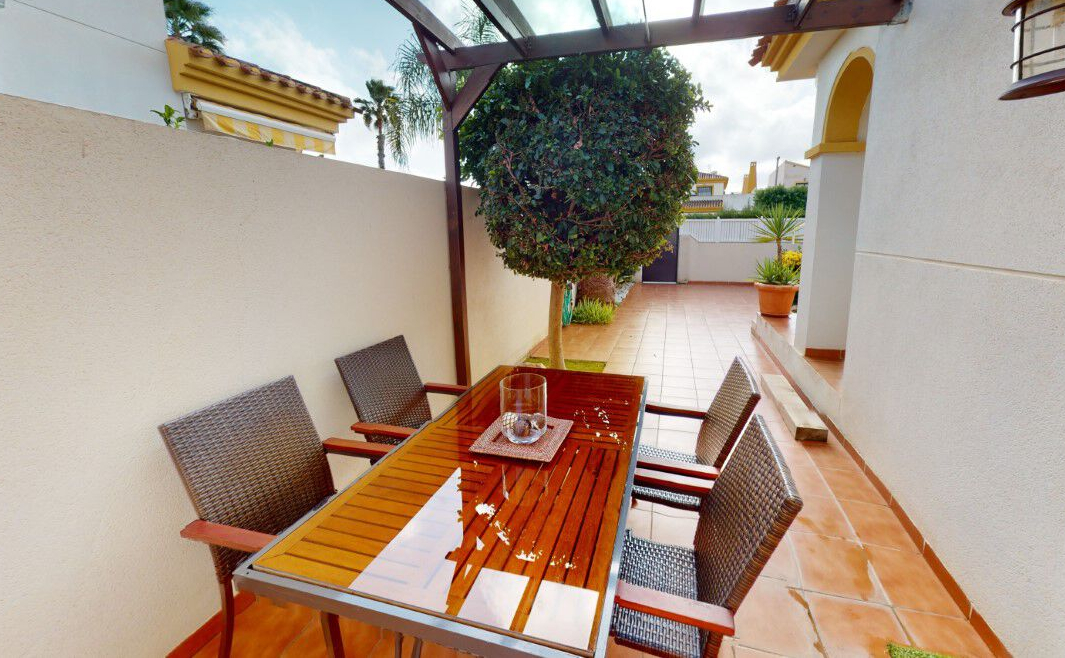 There are a few things that make purchasing a holiday home distinct from buying a property in your home country or even one abroad that you intend to live in full time. Firstly, your budget might be a bit more limited, as you won't be selling your house in the UK to fund your purchase. Not to worry, in this list of properties that would make a fantastic Spanish holiday home, five properties are under €150,000.
It is important to think about what you want from your holiday home. Somewhere to relax is probably key for many. But what relaxes you? If you live and work in the city, you might want somewhere vastly different: rural and quiet. A garden to watch the sunset from? A beach that you can get to without hassle? Most of the properties on this list benefit from scenic views and closeness to the beach.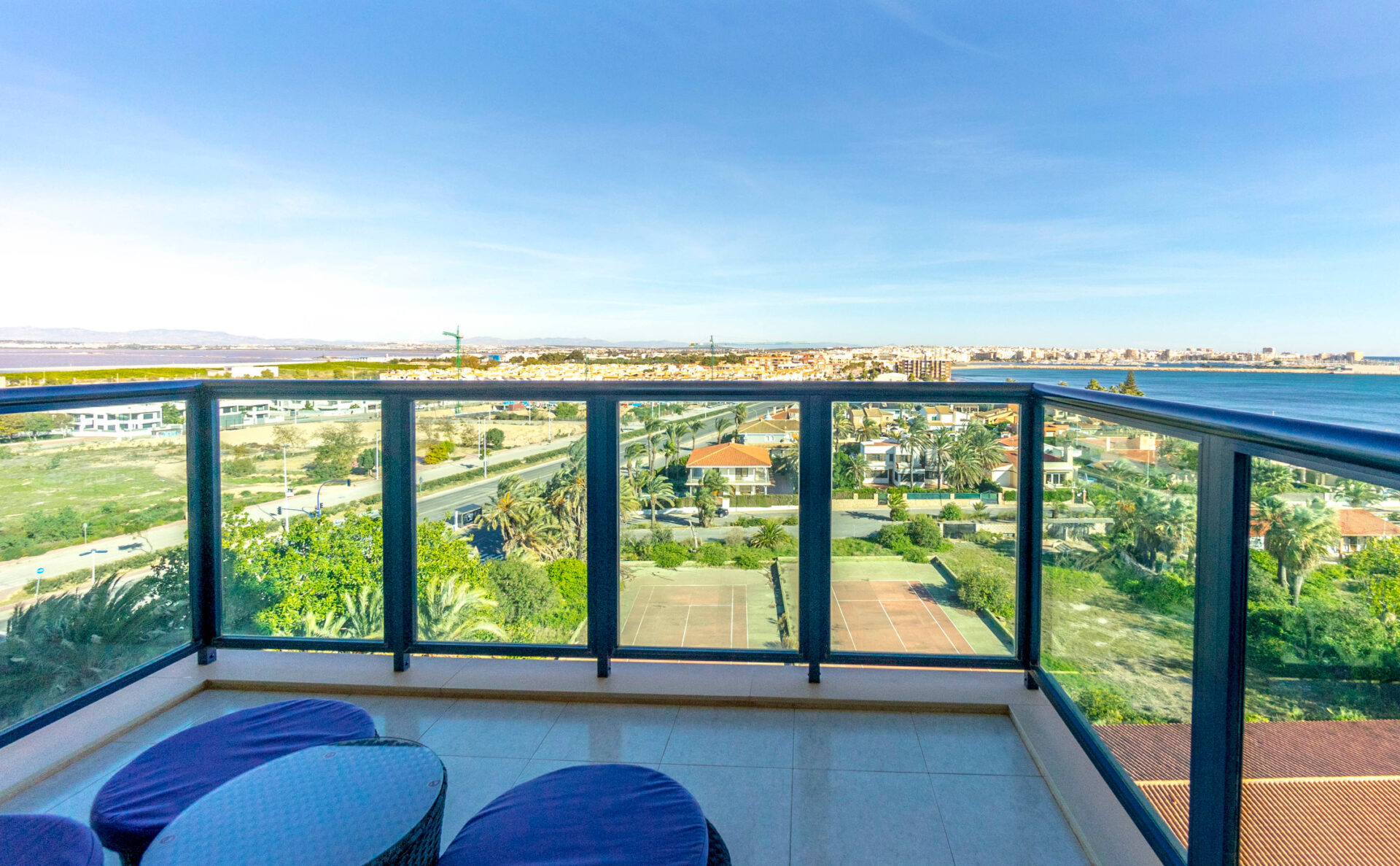 Additionally, it is crucial to work out how many people you envision will be staying in your holiday home. Is the whole family coming? Could you save some money by having your kids share a room for the holidays? If you intend to use it more for adult breaks, then perhaps a one- or two-bedroom apartment would suit you best?
Finally, with a holiday home, you may be going back and forth to this airport several times within a year, so you want it to be close. And after all, who wants to follow a plane ride with hours in the car? You will want to start your holiday as soon as you can. With that in mind, I've found the approximate distance of all of these properties from the airport, with each one coming in at under an hour. These properties are in high demand, so the links may expire; however, we still have wonderful options on our property portal.
1. Two-bedroom, Playa Flamenca, Alicante, €79,900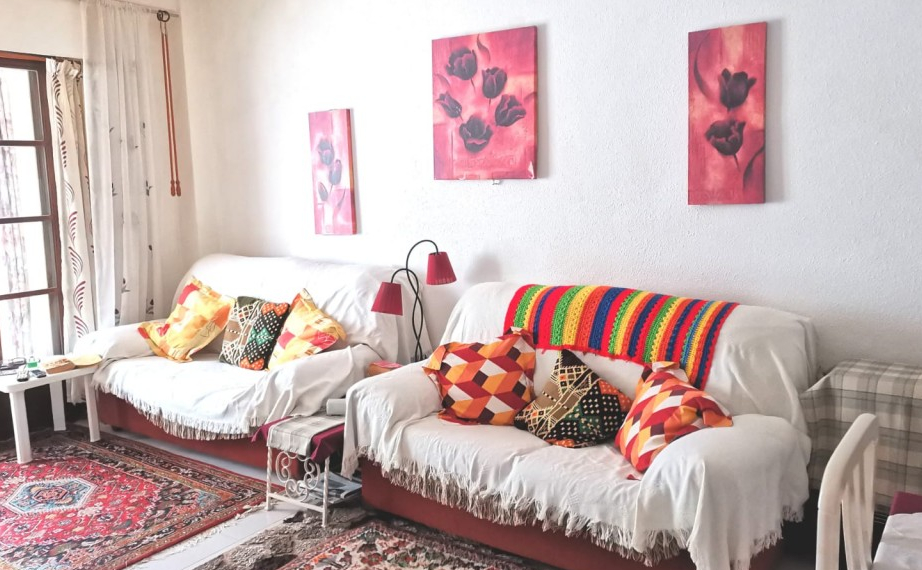 Just five minutes from the family leisure and entertainment complex, the Emerald Isle. This two-bedroom ground floor apartment is a ten-minute drive from the sandy beaches of Playa Flamenca.  It is also close to supermarkets, bars and restaurants.
Playa Flamenca is a forty-five-minute drive from Alicante airport.
To view this property, click here.
2. Two-bedroom, Torrevieja, Alicante, €225,000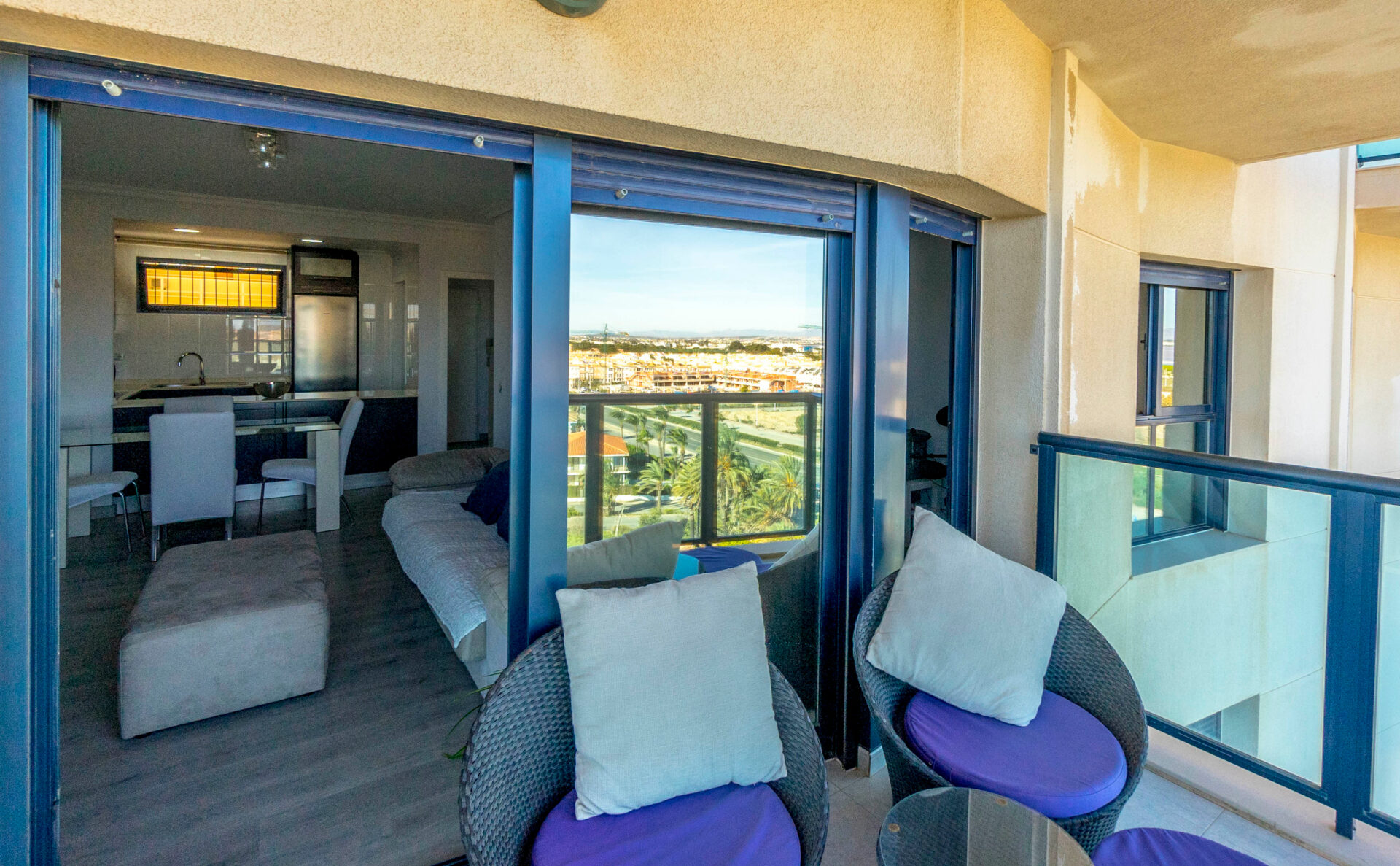 Who wouldn't want to regularly holiday in the Costa Blanca? This two-bedroom apartment would make the ideal place to getaway to again and again and again. It is in walking distance of multiple Blue Flag Beaches of the Orihuela Costa and Torrevieja. These beaches are full of entertainment, water sports, shops, and food. So, whenever your suntan starts to fade, you can hop back to your Spanish holiday home for a top-up. This apartment comes with beautiful sea views. And, you will have access to a communal pool.
Additionally, it is within reach of Zenia Boulevard, the largest shopping centre within the province of Alicante. Zenia Boulevard has all you could want and need in terms of shopping. It also has restaurants, leisure, and events.
Finally, this property is close to golf courses: Las Colinas, Campoamor, Las Ramblas and Villamartin.
Torrevieja is approximately 40 minutes from Alicante airport.
To view this property, click here.
3. Two-bedroom, Cabo Roig, Alicante, €129,000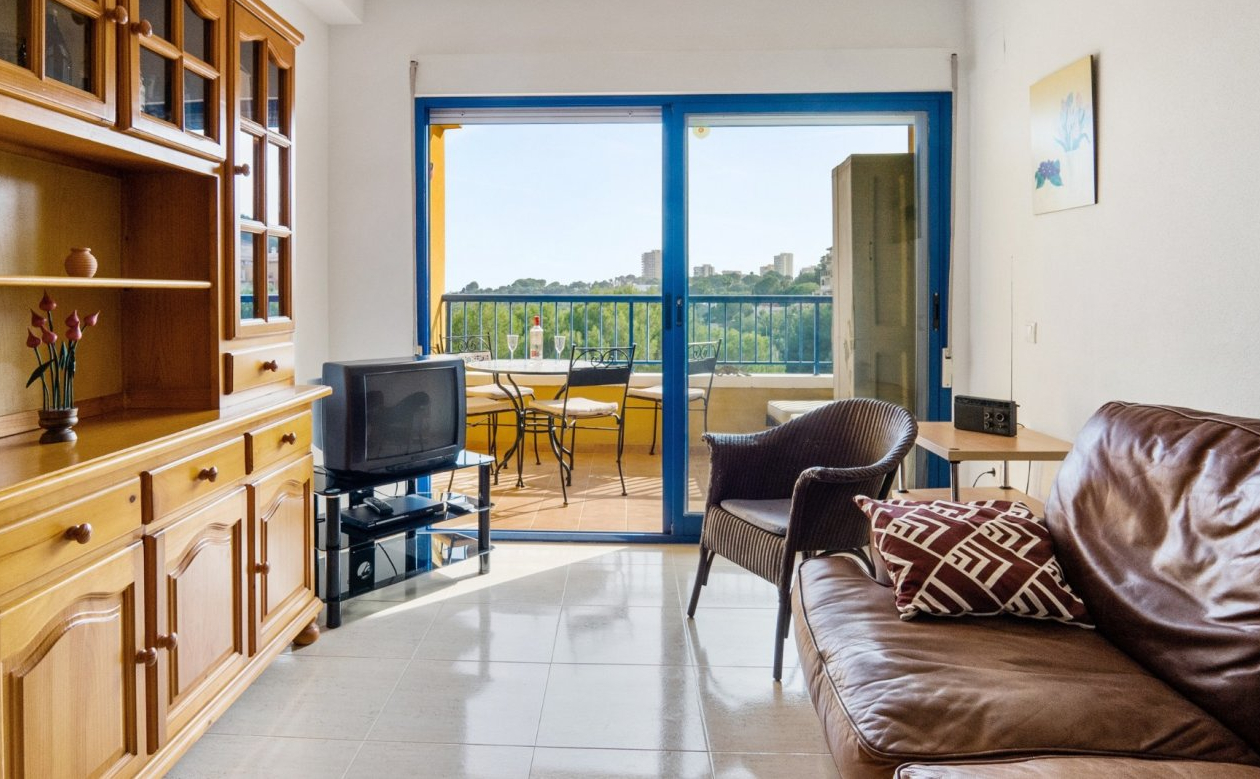 This is a super sweet and affordable two-bedroom home. It is a first-floor apartment located in a gated complex with a communal swimming, garden, and spa facilities. There is a roof terrace for you to fully relish in the panoramic views. If you do end up finding the Spanish heat a little too much, you will be relieved by the new air conditioning that has been installed in all three bedrooms.
At just ten minutes from the beach and the "Strip" of restaurants, shops, and bars, it really is a wonderful place.
Cabo Roig is approximately 50 minutes from Alicante airport.
To view this property, click here.
4. Studio, Sitio de Calahonda, Mijas, Malaga, €112,260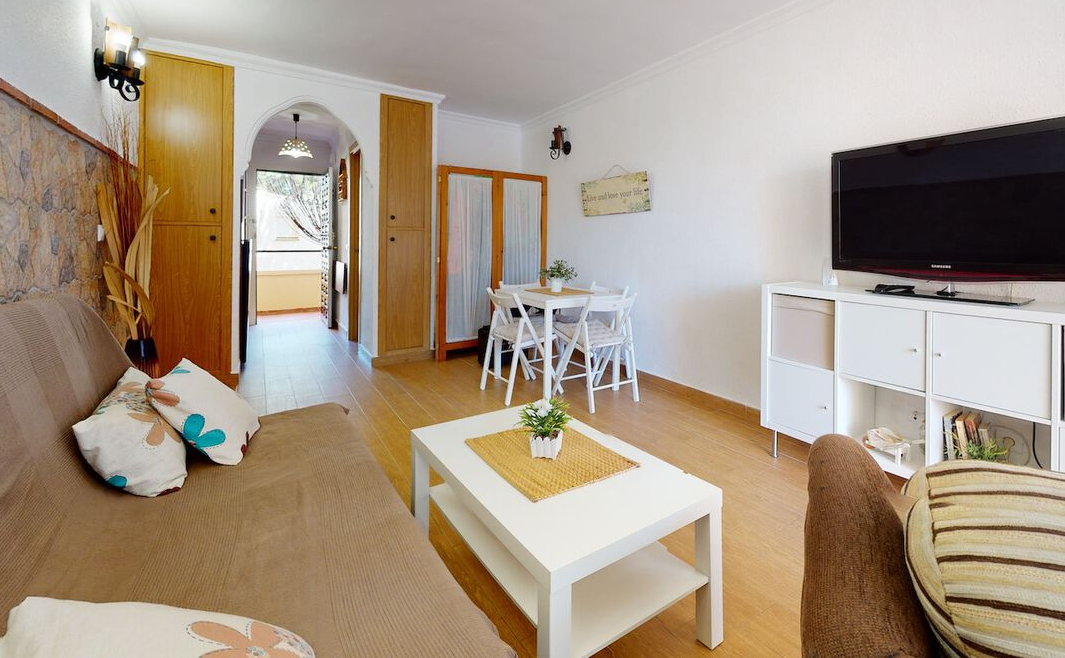 This studio benefits from fantastic views of the communal gardens and the Mediterranean Sea. To make you feel extra secure, it has a doorman, lifeguard, and security cameras.
It is closest to Malaga airport, which is only a half an hour drive away.
To view this property, click here.
5. Three-bedroom, Torrevieja, Alicante, €87,500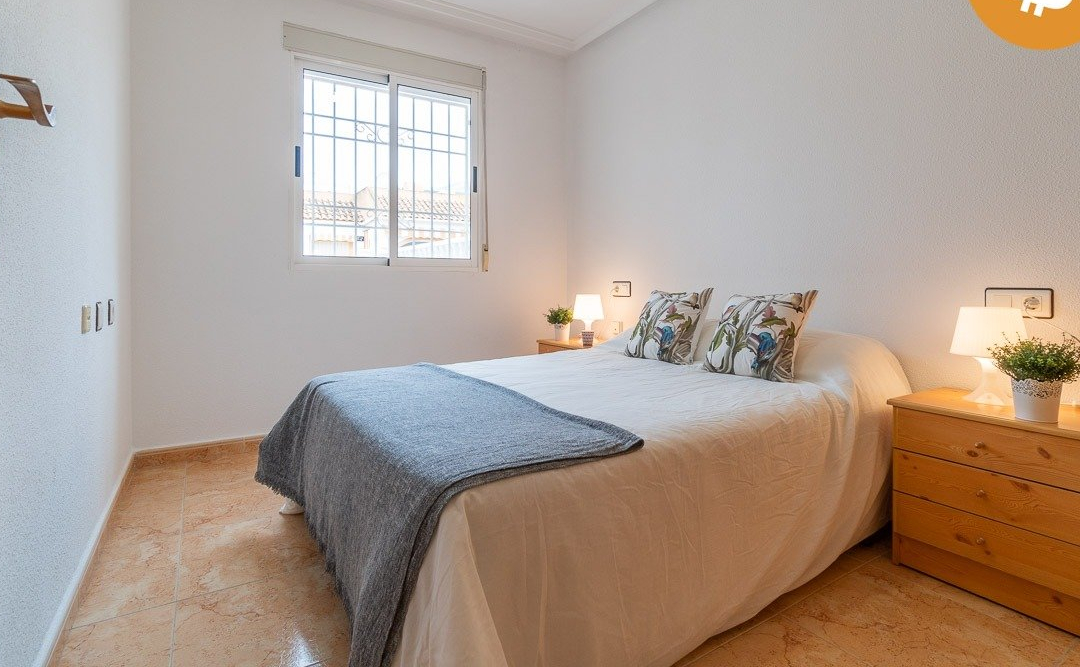 A three-bedroom ground floor apartment for under €100,000? Yes, this apartment is an absolute steal. You even get to dip into a communal pool. Not to mention that shops and restaurants are just a brief walk away.
Torrevieja is a 40-minute drive from Alicante airport.
To view this property, click here.
6. Three-bedroom, Gandia, Valencia, €349,995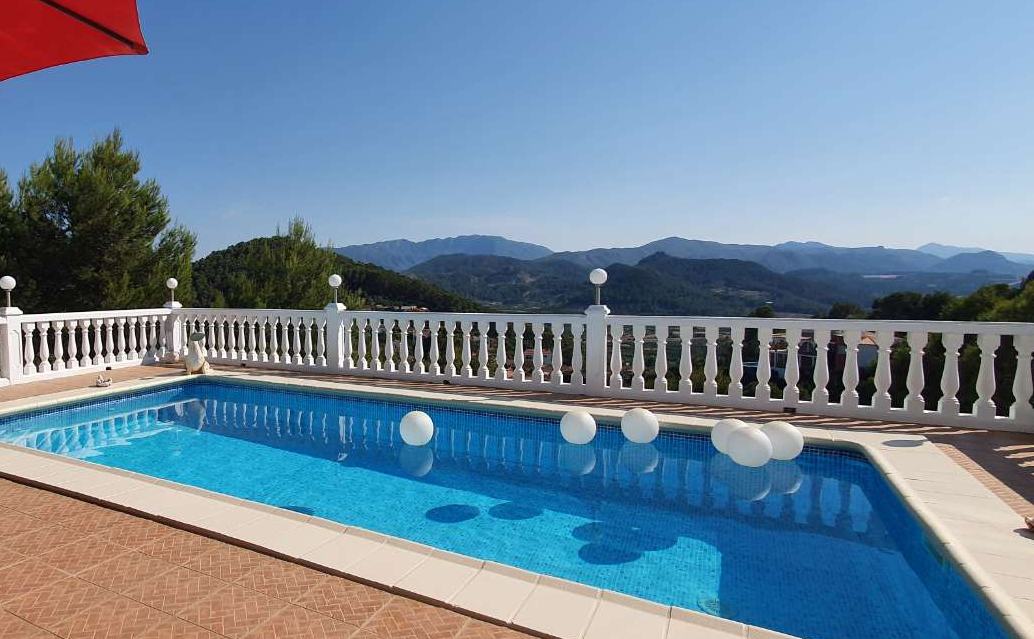 This property would make a fantastic holiday home and rental home because of the way it is divided. The villa is separated into two parts, the upper level (the main residence), and the lower level – this could be used for friends, family, or it could be rented out to holidaymakers. This gives you the best of both worlds as you can be there whilst others are staying too.
It has exceptional views of orange and avocado groves, the mountains, and the sea.
The property is near both to the historic town of Gandia and sandy beaches.
It is fifty minutes away from Valencia airport and an hour and twenty from Alicante airport.
To view this property, click here.
7. Three-bedroom, Torre de la Horadada, Alicante, €252,000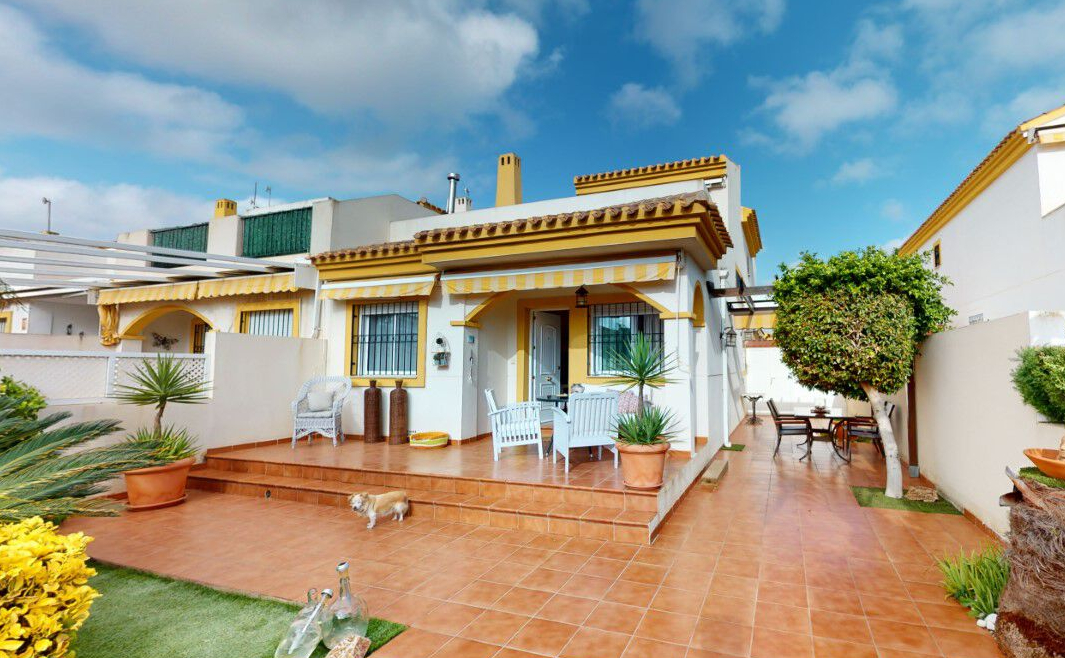 This is lovely three-bedroom property for the whole family to settle into over the holidays. It comes with a master bedroom with en suite, a fully fitted kitchen, and a family bathroom. The garden is spacious and bright, with lots of space for entertaining. Plus, it comes with a pool.
Torre de la Horadada is a fifty-minute drive from the airport.
To view this property, click here.
8. Two-bedroom, Triana, Málaga, €139,999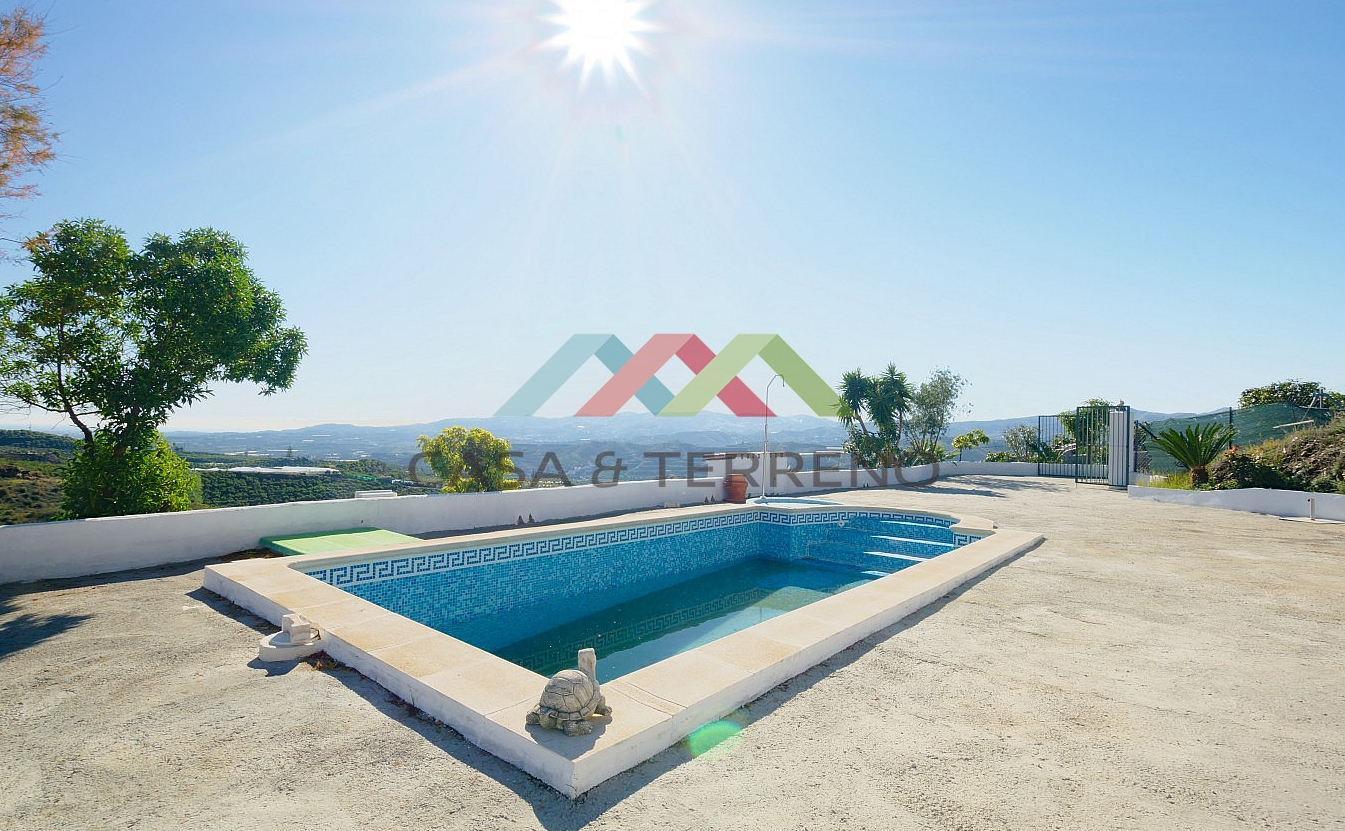 This lovely little two-bedroom dwelling would be a great choice for a couple or a small family, looking for a softer pace of life on holiday. It is a country house with an authentic Spanish feel. It comes with a garden, swimming pool, and barbecue area. The centre of Velez Malaga is only an 18-minute drive away.
Malaga Costa del Sol Airport is just over forty-five minutes away by car.
To view this property, click here.
9. Three-bedroom, Torviscas Alto, Tenerife, €925,000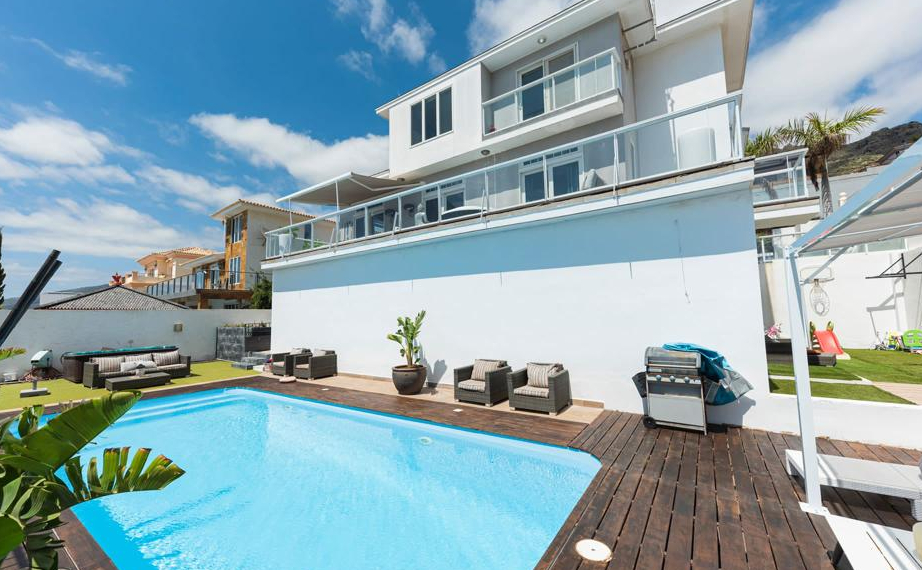 The Canary Islands benefit from warm weather all-year round. Tenerife is incredibly scenic with stunning beaches and lots of entertainment options from exploring the nature to rushing down water slides. It is the ideal destination for active families looking for fun-filled holidays. And this property would make a fabulous family holiday home. It has three-bedrooms, spectacular mountain views, and a private heated pool.
Torviscas Alto is thirty minutes away from Tenerife Airport South.
To view this property, click here.
10. Six-bedroom, Algarrobo, Málaga, €1,350,000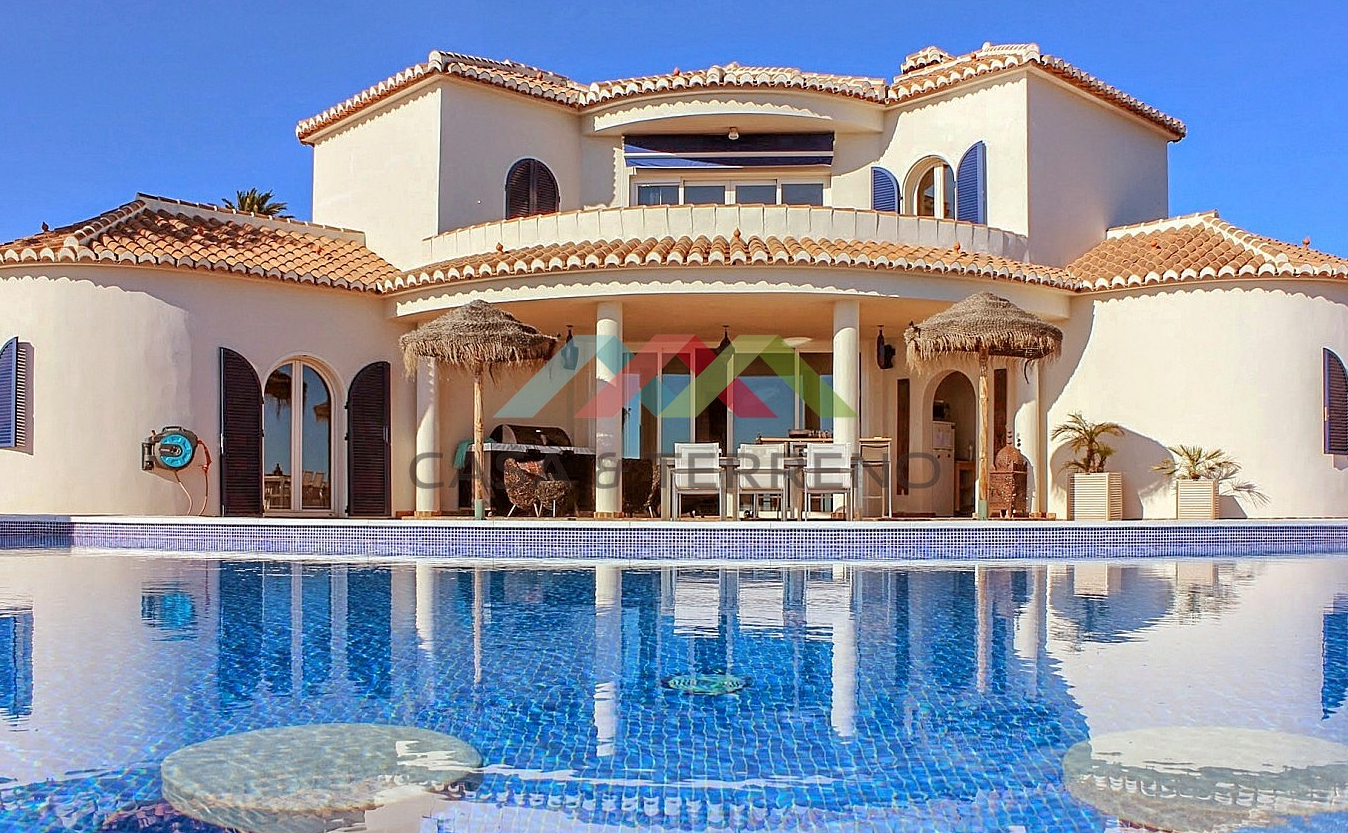 Do you struggle to coordinate time to see your friends and family? With six-bedrooms, there is more than enough room for you and your nearest and dearest to all enjoy a wonderful holiday together. Just imagine you all swimming and laughing in the infinity pool at sunset. Alternatively, you can rent out some of the spare rooms, it has previously operated as a B&B.
Algarrobo is a forty-five-minute drive from Malaga airport.
To view this property, click here.