Why and where to buy in northern Spain
The central north of Spain is a region that many of us pass through, or over, or even sail into, but few British people buy in. Could that be about to change? There are excellent reasons to buy in the regions of Navarra, La Rioja and the Basque Country. From the "best beach in Europe", to the flavours of Spain's great restaurants and wine growing regions, to the mountains of the Pyrenees and its stunning foothills, welcome to northern Spain.
They may be three of Spain's smallest regions, but La Rioja, the Basque Country and Navarra have a lot going for them, and could be increasing popular in the years ahead. Part of that is down to how easy it is to get to them by car, boat or train. For those who are concerned about the ecological impact of flying, until we know that electric planes are a goer these northern areas will certainly appeal.
But aside from that, northern Spain has other advantages too. If you prefer cooler temperatures and experiencing all four seasons, being able to speak Spanish without someone replying in English, and enjoying a more traditional Spanish lifestyle, this is the place for you.
The landscape varies from peaks reaching nearly 2,500 metres, to thick forests and sandy beaches with crashing Atlantic waves. Some of Spain's best wines are made here and the mountains offer a vast range of activities throughout the year. This is "authentic" Spain, where it will be very useful to speak Spanish – although you can soon learn once you're here. The Basques have their own language, Euskara, one of the oldest on the planet and not easy to learn – though many do.
So where will you look for a home here?
La Rioja
Most of us have heard of Rioja wine, but did you know that its name is derived from the Spanish name for river, rio, and the river that runs through the area, named the Oja. Hence, Rioja. It's the smallest of Spain's regions, with just over 300,000 people, and is landlocked between the Basque Country, Navarra, Aragon and Castile and Léon.
The two main rivers are the mighty Ebro and the River Oja. The region is also notable thanks to the several dinosaur footprints that have been found here. The climate is continental, with average temperatures ranging from 12 to 32°C, with 300 to 600 mm of rain annually. The mountains make up a large part of La Rioja with the highest peak being 2,000metres high.
Oak, beech and pine grow in the highlands whilst there is good pasture on the lower slopes for sheep and cattle. It's mainly an agricultural region, with family farms producing chorizo, the famous Spanish spicy sausage, among its tasty specialities. Plus of course, its famous wineries.
The gently rolling green hills and pace of life here will suit those who are looking for a peaceful existence in the countryside. It's also perfect for outdoor pursuits like horse riding, fishing, hiking and nature. Skiing is possible too and there is a strong drive towards eco-tourism.
La Rioja offers the best of small Spanish towns. Santo Domingo de Calzada, a walled medieval town, is still a major stop for pilgrims. Briones, a small village stands overlooking a sea of vineyards and Enisco is where dinosaurs lived 120 million years' ago. It's certainly a place to explore.
Peaceful, quiet and affordable
The region will appeal to those who are looking for peace and tranquillity. As it is the least populated of all Spain's regions, with around 65 people per kilometre. Those who seek space and calm, have an interest in wine, or are considering opening a B&B may find that this is perfect for them. In addition, to the wine industry, there are also many natural pursuits such as walking, hiking, horse riding and angling. The region has also long been on the map for travellers, as it lies along the famous pilgrim route to Santiago de Compostela.
This is not a very international area, so speaking Spanish is more or less essential. Work opportunities revolve around everything to do with wine, but there will be the usual teaching jobs, property management and rural tourism opportunities too.
Given the low cost of living, however, it should be possible to live on your UK state pension or on a little freelance work or rental income from the UK.
Getting there
The closest international airport to the La Rioja region is Madrid Airport, which is around 130 miles away. This connects the region to the UK, the rest of Spain and of course further afield. Several cities across the UK reach Spain through Ryanair, Norwegian Air Shuttle, Monarch, British Airways and many more airlines.
You can reach La Rioja by train from Barcelona, which can be connected to the UK through the Eurostar at Paris. It can take around 12 hours to travel from London St. Pancras to Barcelona.
Where to live
Logroño
The capital of La Rioja, Logroño is surrounded by nature, national parks and mountains. It's home to almost half of the population of La Rioja (although that's still not many people!) and is the shopping and commercial capital. Wine is extremely important to this town as are its tapas bars. There are 50 of them within a four-block area in the centre – which you might see as a challenge! Tapas are called pinchos in Logroño.
Some years ago, Logroño was voted the best place to live in Spain. Much of its charm is in being rather off the beaten track, and of a liveable size. Tourists do come, especially those following the pilgrim route to Santiago de Compostela, but it certainly avoids the negatives of mass tourism.
Communications could be better, although you can get there by train via Irun and Miranda de Ebro or from Madrid's Atocha station via Zaragoza. The nearest airports are Vitoria, 57km away and Pamplona at 65km. Bilbao at 106km has international flights to most of Europe.
Expect to pay €220,000 for a smart, three-bedroom apartment, and from €315,000 for a good-sized villa with pool.
Basque Country
The Basque Country was in the headlines for years for unhappy reasons during the bid for independence from Spain. Now that side of the region's history is in the past though there is still a desire amongst the population to achieve independence through peaceful means. That being said, it is a very popular region for people from all over the world with its wonderful coast, food and landscape. Just across the Pyrenees from France, it retains a very strong cultural identity. This is demonstrated by its language which has its origins in pre-Roman times and is therefore not based on Latin.
The capital city, as far as the government is concerned, is Vitoria-Gasteiz. There are three provinces, Álava, Biscay and Gipuzkoa. The coastline is rugged with high cliffs and small inlets. The mountains lie in two parallel formations, between which is a high plateau. The mountains are known as "green Spain" and have an oceanic climate with mild temperatures but plenty of rain. A continental climate dominates the central and southern areas with cold dry winters and hot dry summers and limited rainfall.
The region has the highest income in Spain with the strongest industries being aeronautics and energy. Some of Spain's largest companies are located here, including BBVA bank and Iberdrola. Unemployment is low and the people know how to enjoy their money: the restaurants are superb and gastronomic tourism is a big business.
Getting here
Communications are good with the AP-8 motorway linking Bilbao, San Sebastian and the border with France. The AP-1 links San Sebastian with Vitoria-Gasteiz and central Spain. Trains are owned and managed by the Basque government whilst Spanish RENFE own two lines linking Vitoria-Gasteiz to San Sebastian, Bilbao and central Spain. Each of the region's three capitals have airports, Bilbao, Vitoria and San Sebastian. There are regular ferries from Portsmouth to Bilbao and from Plymouth to Santander.
Where to live
San Sebastián (Donostìa)
The centre of Basque gastronomy, San Sebastián has some of the world's best restaurants, particularly in relation to fish and pinchos. The Basque Culinary Centre is here, an academic research institution focused on higher education and research in the areas of gastronomy nutrition.
Located on the Bay of Biscay, San Sebastián has a delightful cobbled old town and some fabulous beaches, in particular the famous and beautiful Playa de la Concha with safe swimming, and Playa de Ondarreta. This being the Atlantic coast, the sea can feel quite cold, even in summer but the climate is comfortable. It's rarely too cold or too hot. Known as a green and pleasant land, rainfall is higher than in other areas of Spain.
Shops vie for position with tapas bars and the city boasts some wonderful architecture as well as food markets to delight the eye. Basque cheese and cider are renowned as being of excellent quality. San Sebastián airport is less than 30 minutes' drive from the city but it just has flights to and from Barcelona and Madrid. An hour or so away is Bilbao International Airport with Biarritz on the French side of the border lying 20 minutes' nearer to the city.
The cost of living is high compared to other regions but it reflects salaries and it is considered to be a great place to live. From €300,000 will buy a three-bedroom apartment in a pleasant district and €440,000 a three-bedroom villa.
Bilbao
The Basque Country's largest city and capital in Bilbao. Surrounded by 2 small mountain ranges, it lies some 16 kms from the Bay of Biscay and is the second most industrialised part of Spain after Barcelona. It has an oceanic climate with rain throughout the year but drier in the summer and mild temperatures both in winter and in summer.
Its port is a first class commercial centre and among Spain's top five. In 1997 the Guggenheim Museum opened and it is today one of the main draws for tourists to the city with 932,000 visitors in 2018. The architecture is a mix of styles from Art Nouveau to Gothic, Art Deco to contemporary. Bilbao has 18 parks to enjoy, more than anywhere else in Spain and a cuisine mainly based on fish but one of the specialities of the city are puff pastry filled with custard or chocolate.
Bilbao is located in a wealthy region of Spain and in many ways feels more European than other cities in Spain with local people being quieter than Spaniards in other areas and perhaps a little more reserved.  Being the 4th largest city in Spain, it attracts top musicians and bands and holds a 10 day music festival during which only the hardiest party goer will easily survive! Recently, residential areas have improved to allow more leisure centres and together with its parks and surrounding forest reserves, Bilbao is a very pleasant place in which to live.
Communications within and outside the city are excellent and are considered to be the best in Spain. The metro system takes you to outlying suburbs and its airport has flights to many countries. Trains are connected to major cities and buses and trams criss cross the city. Interestingly, it has the lowest use of cars in Spain, with many people using bicycles or travelling on foot.
Three-bedroom apartments start at €175,000 and a three-bedroom semi-detached house will cost from €420,000.
Plentzia and Sopelana
These are 2 quiet towns by the sea which offer a good quality of life. Both offer beaches and plenty of water sports, especially surfing. They are connected to Bilbao by metro and are about half an hour away by car.
Durango
Inland areas are dominated by rugged mountains dotted with medieval villages and stunning landscapes. Durango is certainly situated in a beautiful place with snowy peaks and the lovely Ibaizabal River. It has a population of around 29,000 and is linked to Bilbao by bus every 30 minutes. Trains run to Bilbao and San Sebastián. There is an exciting bar scene and it boasts a fine baroque cathedral in the pretty old town. Many say it offers the best of the Basque Country with nature all around offering many routes to explore on horseback, bike or by hiking.
In early December Durango holds its annual fair, which is the most important in the Basque Country. There are activities for everyone, concerts, audiovisuals, children's area and performing arts.
Life here is comfortable and closely linked to the beauty of nature which surrounds it.
€330,000 will buy a three-bedroom apartment in Durango while €375,000 is the lowest price for a four-bedroom semi-detached house.
Getting there
The main airport of the Basque country is Bilbao International Airport. This can be reached by the UK from several airlines, including British Airways and easyJet, and also connects the area to the rest of Spain, and further afield. Seasonal flights connect the region to other areas in Spain from Vitoria Airport and San Sebastián.
The region is connected by train to the rest of Spain, as well as parts of France – and from there to the rest of the Europe and the UK.
Navarra
Originally a Basque Kingdom, Navarra was taken over by Castile in the 16th Century but part of it is French to the north of the Pyrenees. Basque is still spoken in most of the provinces as well as Castilian. It's capital, Pamplona, is best known for the annual bull run which never fails to attract thousands to watch this dangerous sport. Like the Basque Country and Rioja it forms part of the route of pilgrims on the Camino de Santiago.
It has 50 nature reserves and is divided into 3 geographical areas, the mountain range of the Pyrenees in the north, La Riviera in the south, a plain with small lagoons and the fertile valley of Ebro river. Navarra has some wonderful towns with a total population of around 640,000.
Navarran lamb is one of the gastronomic delights of this region, as are white asparagus and beef, not forgetting wines. Transport and communications are good with Pamplona airport serving flights to Madrid and Barcelona. Buses travel to most towns in the region and trains from Pamplona reach most places. Bilbao International airport is 119kms distance and Biarritz airport is 78 kms away.
Pamplona, Iruña
The cobbled streets of the old town lead you to the cathedral and other places of architectural interest, the pretty city centre and green parks. Ernest Hemingway was much taken by the city and wrote about the San Fermín Festival and the running of the bulls in "The Sun Also Rises", while he spent some time in the area during the Spanish Civil War.
Pamplona has a laid back feel and comfortably absorbs the many travellers who pass through on the Camino de Santiago. The old town is mainly pedestrianised and part of the medieval city walls still stand. Castle Square, Plaza del Castillo, is a pleasant place to sit and enjoy a beer or a glass of wine as many have done before, including Hemingway. Taconera Park is the oldest and loveliest in the city and nowadays there are many bike trails making for a more eco friendly environment.
Property prices are quite high, with a 3 bedroomed apartment with a covered terrace costing 305,000€ and a terraced 3 bedroomed house starting at 325,000€.
Olite
South of Pamplona by 42 km and east of Lograño lies Olite, one of Navarra's prettiest towns. Its Roman walls still stand and within there are some medieval delights. It has a Parador Hotel and a population of just under 4000. Here was the seat of the Royal Court in the medieval Kingdom of Navarra. Like Rioja, wine is its major commerce today and the ancient town is surrounded by vineyards It enjoys a Mediterranean climate with hot dry summers and cool or mild rainy winters.
The Wednesday market draws people from the surrounding villages and as does the Classical Theatre Festival held each summer.
Property is cheaper here than in Pamplona and a 3 bedroomed apartment will cost from 120,000€ with a 3 bedroomed terraced house from €172,000.
Tudela
With a population of 36,000 Tuleda is the second town of Navarra. It is well connected by train and motorway and the nearest international airport is Bilbao. Tuelda was inhabited by the Romans and later by the Moors, who founded the city we see today because it lies in an important location on the River Ebro. Considered one of Europe's most important cities founded by the Islamists, the coexistence between Muslims, Jews and Mozarabs lasted peacefully for 400 years. It is the capital of the Ribera wine region and is also renowned for its vegetables, artichokes, asparagus, lettuce hearts and chard. Each spring there is a vegetable festival.
Season 6 of the Game of Thrones was filmed in and near Tudela, mostly in the Bardenas Reales Natural Park with its semi desert landscape. The town is really pretty with large squares lined by bars and restaurants. Once renowned for rosé wine, most vineyards now produce reds.
Property prices are reasonable. A three-bedroomed apartment starts at €125,000 and a detached house with three bedrooms in pleasant district of Lourdes costs €262,000.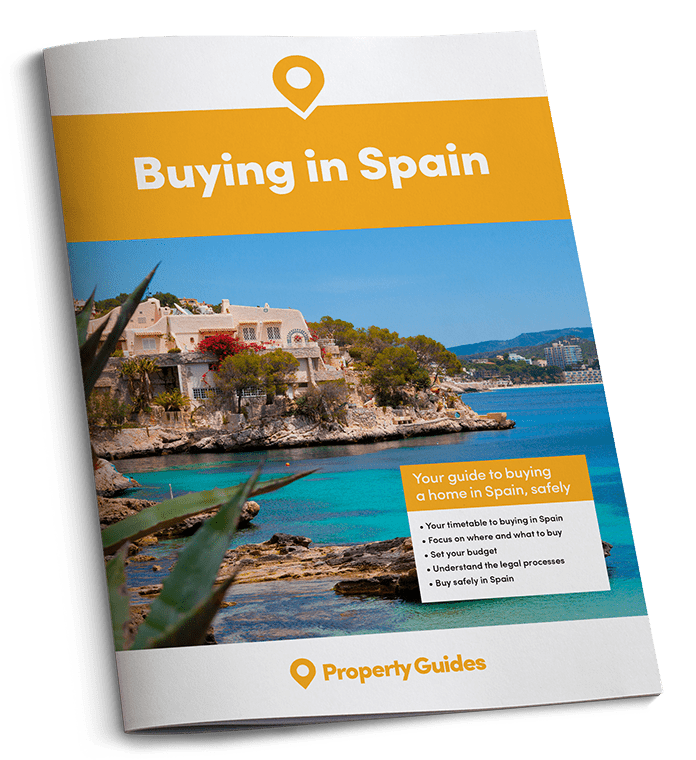 The Spain Buying Guide is a free, independent resource to help anyone who is looking to buy property in or move to Spain through each critical stage of their property buying journey.
Set up to help our readers avoid the many complexities and pitfalls of buying property in Spain, the guide takes you through each stage of the property buying process, with practical recommendations from our experts who have been through the process themselves.
✔

  Ask the right questions
✔

  Avoid the legal pitfalls
Download your free guide to buying in Spain