Southern Spain and the Costa del Sol
Andalusia has long been one of Spain's most attractive regions, thanks to the 3000 hours of sun per year, kilometre upon kilometre of golden sand beaches, beautiful natural ports, rich history and deep influences from different cultures. The region is also home to beautiful mountain ranges and the famous 'white villages', rich in artisan traditions, as well as offering a wealth of possibilities for sports – from skiing to surfing, depending on where you lay your hat. It is the home of much of Spain's folklore, such as bullfighting and Flamenco, and the myths of Don Juan and Carmen.
Costa del Sol
Málaga
One of the most well-known tourist resorts in Spain, Málaga is for many the entrance to the Costa del Sol. For a long time, tourists have flown into the area and used it as a thoroughfare to their chosen resort along the coastline. This means that Málaga itself is largely unspoilt – despite the many sandy beaches there, which rival those seen in nearby Marbella. It also means that the city is more traditionally Spanish than your average Costa del Sol resort town – more tapas and locally-caught seafood, instead of English breakfasts.
The climate here is pleasant – it is warm all year round, but doesn't experience the scorching temperatures that some of its Andalusian neighbours do. Expats will also be attracted by how easily accessible the area is from the UK and the rest of Spain, as well as the multiple ways to spend time here – such as visiting the cobbled streets of the old town, the many museums across the city, and eat traditional tapas at numerous fine locations.
There are a number of popular areas with property buyers within the province of Málaga. Some of the most well-known are featured here:
Mijas
Just a short way inland from Fuengirola lies Mijas. It enjoys a good climate all year round and offers spectacular coastal views. The area is also framed by mountains, creating a relaxing environment for locals and visitors alike. The area is geared up for expats, offering a "Foreigners Department" at the local Town Hall, English-speaking doctors and other professionals, and international schools located nearby.
Mijas Costa
Mijas Costa is home to the Spain Property Guide office, and is a bustling hub set on the coast from Marbella to Fuengirola. The area is popular with expats, yet still retains its traditionally Spanish charm, with a wide range of tapas restaurants and beautiful beaches. The area is sunny for most of the year.
Fuengirola
Particularly popular in the 1980s, this area has a more laid back feel, with the more unspoiled fishing port haven of Los Boliches providing traditional Spanish cobbled streets, properties, restaurants and bars. There is plenty to see and do, with a zoo and aqua park, and property can be more affordable than in some of the neighbouring resorts.
Estepona
Estepona grew from a traditional Spanish fishing village and is located close to Marbella. Despite its close proximity to the ever popular Marbella, Estepona is quieter in terms of tourists, with a relaxed atmosphere. Full of all the traditional charms of Spain, a highlight is the enormous weekly market, which stretches across the whole harbour. The fishing heritage provides plenty of opportunity to sample locally caught, fresh fish and shellfish.
San Pedro
San Pedro has had little development over the years and has a smaller numbers of visitors, who travel here for the quiet, traditional town and unspoiled feel. Yet the town is close enough to Marbella and other popular attractions within the Costa del Sol to appeal to those who want to explore the region.
Sotogrande
Sotogrande is a modern, grown-up, affluent area, popular with celebrities and even Spanish royalty. You will find many a stunning yacht moored at its port, and the area is popular with well-to-do sailing, tennis and golfing enthusiasts. There are designer shops and fancy restaurants galore, without feeling over the top when it comes to ritz and glitz.
Duquesa
Duquesa is also built around a marina and is an area growing in popularity with tourists and expats. Another area popular with adult holidaymakers, there is world-class golf and sailing on offer. There are some lovely bars and restaurants around the marina, which make for a rather civilised night out.
Coín
Moving to inland Málaga, Coín, a once quiet, traditionally Andalusian town, has enjoyed considerable growth in popularity in recent years, with a strong expat population and plenty to see and do. The natural surroundings are impressive – the town lies to the north of Fuengirola amongst stunning olive and citrus groves, picturesque walks and pretty streams. It's a great base from which to explore the local countryside, with a network of popular walking trails, particularly through the well-known forests, La Fuente and El Charco del Infierno.
Almería
Considering its size, Almería is popular with expats and seen by many as a charming town, thanks to its winding cobblestone streets and the lived in historic architecture. It has long been popular with tourists, which has ensured it is home to good support services for English-speakers and has a good infrastructure. Of course, this also means there is a surge in numbers of holidaymakers in the peak season, so many expats choose to live a little further inland. In these areas you will usually be able to find a good value country property that needs renovation – varying in requirements!
The history of the town, and indeed province, is self-evident, and there are many popular sights visited by tourists and locals alike – the medieval fortress Alcazaba that was begun in the 10th century, the longest air raid shelter open in Europe, and the Almería Cathedral with its fortress-like appearance that began life as a Mosque and was converted into a Christian Church before being destroyed in the 1522 earthquake and rebuilt.
The landscape and climate of Almería are also attractive to expats – there is a dry, arid landscape (used for the filming of Lawrence of Arabia, The Wind and the Lion and many spaghetti westerns among others) and the city is home to the volcanic Cabo de Gata-Nijar Natural Park, the largest and environmentally important marine-terrestrial park in the Mediterranean Sea. Almería is also the driest city in Europe, and the only region on the continent to host a hot subtropical desert climate.
Nerja
Nerja is an area growing in popularity with expats and overseas buyers, approximately 50 kilometres along the coast from Málaga. Formerly a tranquil fishing village, the population has grown considerably over the years, thanks to its length of unspoiled sandy beaches and clear sea. This also makes the region popular for water sports, with ideal conditions for scuba diving and other maritime pursuits. The old town retains all its traditional charm, with windy, cobbled streets, whitewashed buildings and the mountain range guarding the town to the east.
Provinces
Córdoba
In the 10th Century, Córdoba was thought to be the most populous city in the world and was capital of the Islamic Emirate. Today, however it is a moderately sized city and its history has ensured its place as a UNESCO World Heritage Site – the largest urban area in the world with this title. One of the most important buildings here, flocked to by visitors, is the Great Mosque of Córdoba, alongside the Roman bridge.
Its appeal to foreigners is evident, as the city has been described as having the warmest summer high temperatures in both Spain, and indeed Europe itself – average temperatures are around 37˚C in July and August.
In addition to the historical architecture, those living here can enjoy numerous garden, parks and natural environments – such as Jardines de la Victoria and Jardines de la Agricultura. Tourism is especially big in this city in May due to the climate and the three festivals that take place here – the May Crosses Festival, the Patios Festival and Córdoba's Fair.
In the 10th Century, Córdoba was thought to be the most populous city in the world and was capital of the Islamic Emirate.
Jaén
The World Capital of Olive Oil, as Jaén is known by the locals, is found deep in the hills of the Santa Catalina mountains. More olive oil (or liquid gold) is made here than anywhere else in the world. Almost every square inch of land outside the cities and parks is covered in olive groves.
Further out into the province, you will find two Renaissance cities, Úbeda and Baeza – both of which are UNESCO World Heritage Sites. The province's location, out in the mountains, makes it a very different and beautiful location. 20% of the land here is protected by a Natural Park – meaning life outdoors can be a great adventure, with hiking trails and wildlife walks all on offer.
It is a popular location with expats, mostly for the reasons highlighted above, especially those who love the rural and country areas – and as we know, rural areas are much cheaper to purchase property than the cities!
Huelva
A popular province with expats, much of the new developments in Huelva are aimed in the main at those buying second homes from overseas. Prices here are fairly low, although (as you would expect) they do get significantly higher as you move closer to the close. The town of Ayamonte here is particularly popular with retirees, thanks to its relaxed way of life.
One of the most well-known tourist resorts in Spain, Málaga is for many the entrance to the Costa del Sol.
The province is popular due to its variable landscape of mountains, forests, unspoilt countryside, and beaches with backdrops of pine and juniper woods. There is a subtropical Mediterranean climate, which of course attracts people from all over the world (especially the colder countries!), and the numerous popular fiestas that take place throughout the year are very well attended by expats and locals alike.
Huelva is also close to where Christopher Columbus began his journey to America, with many historical artefacts and reconstructions still visited by tourists and locals alike.
Seville
The province of Seville is the capital of Andalusia and is popular with expats, thanks to its traditional Spanish buildings, full to the brim with culture, history and celebrations. The town has a relatively small population, with an urban centre but rural-like outskirts – giving expats space and freedom to explore their new surroundings.
Seville is one of the more traditionally Spanish towns popular with expats, and while it has become more cosmopolitan in recent times, the locals hold on to their conventions and authentic Spanish life. Here you will find numerous historical artefacts, multiple tapas bars and plenty of flamenco shows. Other reasons for Seville's popularity with overseas buyers include the area's year round blue sky and sunshine, and the low cost of living in the area.
The province of Seville is the capital of Andalusia and is popular with expats thanks to its traditional Spanish buildings.
Landscape-wise, Seville shares the Parque Nacional de Doñana with the Huelva province, and is home to the Sierra Norte de Sevilla Natural Park – Andalusia's largest protected area.
Costa de la Luz (Cádiz)
Translated in English to the Coast of Light, Costa de la Luz is popular with expats thanks to its rich history, hidden coves along the coast, vast beaches, and sand dunes. Traditionally this was the holiday destination of the locals, but there are more foreigners here now than ever before – both visiting and living here! This has had a significant effect on those interested in developing urbanisations here, and we expect this to continue.
The nature is incredibly popular here, particularly due to the birds that migrate here from Africa, and the Doñana National Park- home to the endangered Spanish Imperial Eagle and the Iberian Lynx. The climate is mild, hitting a warm 16˚ in February – but the town of Tarifa in Cádiz has often been nominated the windiest town in Europe. Cádiz itself is one of the oldest cities in Spain, home to whitewashed houses and tropical vegetation.
The region of Andalusia is easily accessible from both the UK and the rest of Spain.
Granada
Steeped in history, Granada is popular with foreigners thanks to its rich Roman and Moorish history, splendour and the antiques that remain in excellent condition – particularly UNESCO World Heritage Site, the Alhambra Palace. The province also boasts 30kilometres of rugged coastline and small bays, as well as tropical and fruit farms. The climate here is tropical, and influenced heavily by the Sierra Nevada mountain range in the north – this is the highest point in Spain, and the second highest in Europe after the Alps, making it popular with skiers.
Work for expats here mainly consists of teaching English or working in the tourism industry. Property prices are fairly low, and many offer the same high specifications and facilities you would receive in close by Málaga – but its proximity to this popular city makes a great place to commute from.
Average property prices in Andalusia
| | | | | | | |
| --- | --- | --- | --- | --- | --- | --- |
| Province | Avg. price | 1 bed | 2 beds | 3 beds | 4 beds | 5 beds |
| Almería | € 126,000 | € 75,000 | € 95,000 | € 139,000 | € 149,950 | € 189,995 |
| Cádiz | € 230,000 | € 94,000 | € 135,000 | € 199,950 | € 450,000 | € 674,750 |
| Córdoba | € 119,000 | – | € 79,000 | € 119,000 | € 149,900 | € 122,500 |
| Granada | € 185,000 | € 104,500 | € 148,000 | € 200,000 | € 265,000 | € 367,500 |
| Huelva | € 155,000 | – | € 137,500 | – | – | – |
| Jaén | € 56,500 | – | € 39,000 | € 54,000 | € 65,000 | € 69,000 |
| Málaga | € 295,000 | € 121,500 | € 199,500 | € 295,000 | € 525,000 | € 933,500 |
| Seville | € 120,000 | – | € 87,600 | € 99,750 | – | – |
| REGIONAL | € 249,000 | € 112,100 | € 160,000 | € 249,950 | € 420,000 | € 650,000 |
Getting there
The region of Andalusia is easily accessible from both the UK and the rest of Spain. There are numerous public airports here, all of which can handle international flights. The most dominant of these is Málaga Airport, the fourth busiest in Spain, and there is a daily link from here to twenty other cities in Spain, and over 100 cities in Europe as well as North Africa, the Middle East and North America. Other airports in or within easy access of the region include Seville, Gibraltar, Jerez, Granada and Almería. From the UK you can access these through Ryanair, Monarch, British Airways, easyJet, First Choice, Air Scotland, Jet2.com and Flybe among others.
In terms of other transport links, there is a strong network of both road and rail infrastructure, connecting Andalusia to the rest of Spain – and beyond!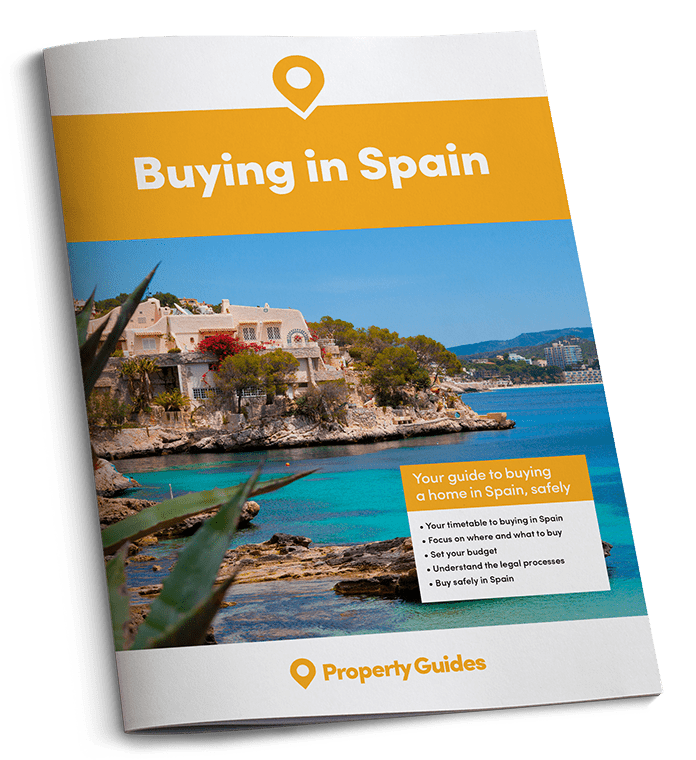 The Spain Buying Guide is a free, independent resource to help anyone who is looking to buy property in or move to Spain through each critical stage of their property buying journey. Set up to help our readers avoid the many complexities and pitfalls of buying property in Spain, the guide takes you through each stage of the property buying process, with practical recommendations from our experts who have been through the process themselves.
✔

  Ask the right questions
✔

  Avoid the legal pitfalls
Download your free guide to buying in Spain