Spain looks likely to move its time zone to align with Portugal and the UK.
There are many things you have to get used to when moving to another country. One of the biggest difficulties for British people moving to Spain is adjusting to the Spanish daily timetable, with practically everything happening later than in the UK.
Recently, the Spanish government proposed that Spain's clocks go back one hour, to the same time as Britain and Portugal, instead of remaining one hour ahead as in France, Switzerland, Germany and most of central and southern Europe.
The Spanish government has proposed that Spain's clocks go back one hour, to the same time as Britain
The government believes that the "extra hour" will improve Spain's productivity and the work/life balance for most citizens. Last week, however, a group of eminent Spanish scientists claimed this move would be bad news and that Spain is currently on the correct time for its geographical position.
Happier expats?
For British people living in Spain, the idea that the Spanish Day would become similar to that in the UK would be welcomed. Or would it? Just because the time is put back an hour, doesn't mean that the working day will actually be any shorter or that parents would have more time to spend with their children. Night will fall one hour earlier throughout the year, but the temperature would remain the same at 10.00 pm or 11.00 pm, whatever the time would say on the clock.
The school day in Spain starts at 8.30 or 9am, just as it does in Britain. There are different times for school to end in the various regions, but most let pupils head home at 5pm. If the time is pushed forward an hour, parents will be delivering their children at the same time as now, as it is unlikely that school will actually start earlier, but will have to collect them at 4pm. Meaning that the working dad or mum will still need to call on family and friends to look after their children as usual until they get home.
What about meal times?
This is the thing British people moving to Spain find the most difficult to get used to. The Spanish have breakfast, lunch and dinner much later than those living in Britain. They usually grab a coffee and a snack before rushing to work or taking the kids to school, then they have their second breakfast in a canteen or café somewhere between 10.30 and 11.30am. This pushes lunch back to somewhere between 2 and 4pm, and then there is a merienda or snack around 6-7pm. Finally, sometime between 9 and 11pm, Spaniards will have a light dinner.
If you go out to a Spanish restaurant in non-tourist areas, expect to be eating alone if you arrive before 2pm for lunch, or before 9.30-10pm for dinner.
Will all this change if the clocks are put back an hour? I think not. One of the reasons the Spanish day is structured this way is because of the warm climate. Particularly in the south, where it can be too hot to go out before 9 or 10pm. Even at 8pm it will probably still be too hot to go out and have dinner on a terrace or patio.
Concerts, festivals and cultural events tend to start late in Spain, often at 11pm in the summer months
Entertainment
Concerts, festivals and cultural events tend to start late in Spain, often at 11pm in the summer months. Again, this is partly due to the temperatures but also because the Spanish work late and need time to go home and refresh themselves, have a snack or go to a tapas bar before heading to the show. How would this change if Spain loses an hour? They would still start late, maybe at 10pm instead of 11pm but that could only work if the working day ended an hour earlier and shops closed at 8 or 9pm instead of 9 or 10pm. If there are more people on the streets at this time, shopkeepers would want to catch that extra trade so many would opt to stay open during the current hours. In fact, a shop assistant's day might actually become longer not shorter, starting at 9am (not 10am) and still working at 10pm. The long lunch break could be cut by one hour (another government proposal) giving the poor worker less time before returning for a long afternoon and evening.
Sunshine or moonshine?
One of the main reasons British people and others from northern Europe head to Spain is for the long hours of daylight and sunshine, which though not absolutely guaranteed, makes the country one of the most popular places for a second home.
If the clocks go back, so will daylight. In winter, it will get dark earlier as it will in summer. The joy of lounging outside late in warm sunshine will be curtailed and it will be still be extremely hot as the moon appears.
You'll be able to view the best properties at the best prices by accessing our Spanish Property Portal.
I have spent time in Portugal and I have to say I find the winters there very depressing as the days are so short. The summer isn't so bad of course, but when I drive back across the border to Spain, what joy to find that I still have time to shower, enjoy a glass or two of wine before dinner, then amble to a restaurant and to still be in daylight. The lights will be on in Portugal and it is still oh so hot over there.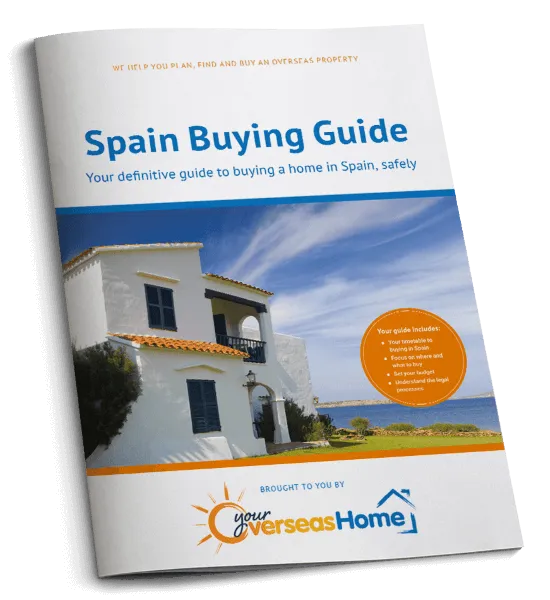 The Spain Buying Guide is a free, independent resource to help anyone who is looking to buy property in or move to Spain through each critical stage of their property buying journey.
Set up to help our readers avoid the many complexities and pitfalls of buying property in Spain, the guide takes you through each stage of the property buying process, with practical recommendations from our experts who have been through the process themselves.
✔

  Ask the right questions
✔

  Avoid the legal pitfalls
Download your free guide to buying in Spain