The French cinema industry is much admired but so is Spain's and there are some really excellent films made by Spanish directors and actors. We suggest some of the best.
When I first moved to Spain 10 years' ago practically all foreign films and TV programmes were dubbed into Spanish. I love going to the cinema but I must admit I hate dubbed films, so the only way I could enjoy a movie was to go to the local cinema and see a Spanish film in the vernacular. This was also a good way to improve my language skills.
As time passed, some friends and I were able to persuade a family-owned cinema group to show a British or American film a month in the original version with Spanish subtitles (VOSE – Versión Original subtitulada en Español). Now my local cinema club in the town where I live regularly shows films from around the world in their original language with Spanish subtitles. How times have changed: no more long trips to Barcelona to catch the latest film in English or French, German or any other language. I can just walk into the town centre and see all the latest releases in my own language.
Spanish films
Since it is only recently that Spain has embraced original versions and dubbing is no longer de rigueur, I have been lucky enough to see some very good Spanish films over the years, most of which will have been shown in arty cinemas in the UK, but rarely on general release there. Many will be available through internet companies such as Netflix or Amazon and you can watch them with English subtitles. Here a few of my favourites:
1. El Espíritu de la Colmena: (The Spirit of the Beehive) 1973
I saw this film in a smelly local cinema and it was totally captivating. It was made in 1973, during General Franco's dictatorship, when the State regularly censored films. This one seems to have slipped through. The film opens with the scene of a plain in Castile during the 1940s just after the end of Spain's civil war. The main protagonist is a seven-year-old girl called Ana who sees the film Frankenstein when a travelling showman brings it to the local town. Ana begins to believe that Frankenstein is not dead. She meets a military deserter who she is convinced is the monster, and takes care of him. It was directed by Victor Erice and is not a fast-moving or action-packed movie, but a slow yet beautifully crafted tale which lays bare the misery of the aftermath of the Spanish civil war.
2. Tesis (Thesis) 1996
A great thriller directed by Alejandro Almenábar about a student who is researching her thesis about audiovisual violence and gets involved in a murderous movie group. It's harrowing but intelligent and keeps you involved all the way through.
3. Ocho Apellidos Vascos (Spanish Affair) 2014
A very funny romantic comedy about Rafael, a young man from Seville who has never been out of Andalusia and who decides to follow a girl called Amaia to her home in the Basque Country. It is apparently the biggest Spanish box office success ever, but much as I enjoyed it I don't think it is the best Spanish film ever made.
4. El Laberinto del Fauno (Pan's Labyrinth) 2006
Another film set in post-civil war Spain and winner of three Oscars, it tells the story of a young girl whose life with her sadistic step father becomes unbearable. She escapes by drawing upon fairy stories to create her own imaginary world. Directed by Guillermo del Toro, it has been hailed as the greatest fantasy film of all time.
5. Cerca de tu Casa (At Your Doorstep) 2016
This film is of particular interest to me as it takes place in Barcelona and is a musical about the tragedy and fortitude of Spanish people whose homes have been repossessed by banks, leaving them without a roof and still owing the debt, bankers with a conscience and policemen who have to do their duty no matter what.
Silvia Perez Cruz, a well known and respected singer and musician, who comes from the town I live in, made her film debut in this movie and wrote all the songs. It's a highly unusual take on the problem of living in our times and is well worth seeing.
If you don't have time to pop over to Spain but want to buy a Spanish home in the near future, Property Guides will be at Your Overseas Home, a new style property show. The first Your Overseas Home is in Central London on Friday 31st March. Click here for more information.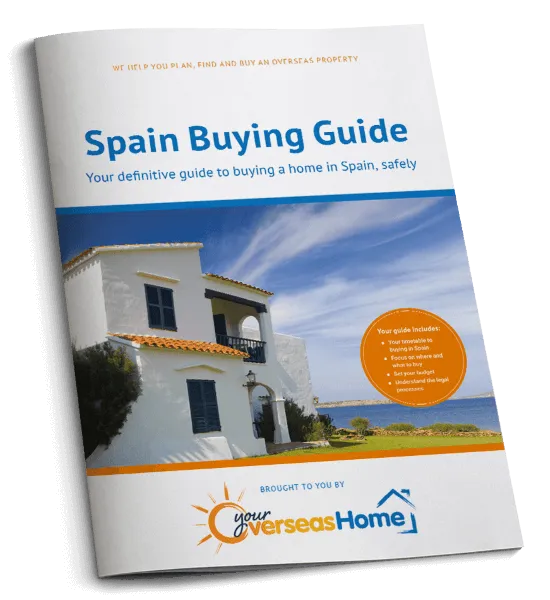 The Spain Buying Guide is a free, independent resource to help anyone who is looking to buy property in or move to Spain through each critical stage of their property buying journey.
Set up to help our readers avoid the many complexities and pitfalls of buying property in Spain, the guide takes you through each stage of the property buying process, with practical recommendations from our experts who have been through the process themselves.
✔

  Ask the right questions
✔

  Avoid the legal pitfalls
Download your free guide to buying in Spain