As 2016 draws to a close we take a look at the reviving property market in Spain's most popular regions from the Costa Brava all the way down to the Canary Islands
As 2016 draws to a close the good news for property buyers is that Spain's property market, which was in the doldrums for such a long time after the economic crisis, is showing consistently strong growth in all the usual places where we like to buy. If the time to buy property is soon after the boom starts, this really is the time.
The worry over Brexit still exists but is diminishing as we all begin to realise that a wide range of options are opening up to let us maintain our EU rights or find ways around healthcare, the falling pound, etc. All the same, it did have an impact earlier in the year and may be responsible for a fall in growth figures in October (which is the last month for available statistics).
December is a busy month as people have the time off to look for property and even come out to Spain
There is also a discrepancy between sales in the cities and coastal towns and those in rural districts, which have been struggling. You might not think of December as particularly important for property transactions, but for some of Spain's regions it's a busy month as people have the time off to look for property and even come out to Spain.
The big cities
Madrid, Barcelona, Valencia and Málaga have all seen prices rise this year both in sales and rentals. Owing to a shortage of really good properties, prices are likely to continue to rise. Enquiries continue to come in right up to mid-December, after which many people are on holiday until The Three Kings Day on 6th January. It is expected that potential buyers will be back in force once children have gone back to school and the normal routine resumes.
Andalusia and the Costa Del Sol
Marbella in particular enjoys a 12 month season which allows for property deals to go through all year. As with the rest of Spain, the Costa del Sol has seen an increase in tourist numbers this year (68 million visited Spain this summer) and with the tourists come enquiries about properties for sale and to rent. This is true all along the coast.
The mountains of the Sierra Nevada are in full swing now with the excellent skiing available. At this time of year there is a surge of interest in buying mountain homes, though most people wait until later in the coming year to tie up any purchases. Mountain chalets can fetch high prices and are a good investment for renting out.
Catalonia
The property market in Catalonia picks up in the spring, though there are tourists spending time there all of the year. The Costa Brava has cooler winters, though generally short lived, so people seeking wall-to-wall sunshine will buy further south. Others enjoy the seasons and don't mind a few cold days a year which are more than compensated by the beauty of this region, its mountains and hidden coves, pretty stone villages and waterfalls. Well located property near the coast will always be very rentable during the season from May to October. The Pyrenees offer wonderful skiing and Catalans are leading the market in mountain properties, which they let out in summer months to tourists.
The Canary Islands
In winter temperatures can reach into the mid 20ºs, making these islands very sought after by people living in colder climes. The Canaries are very popular with retired people looking for a second home where the weather is more or less guaranteed. 2016 has been a particularly good year for sales and there is no reason to imagine that things will change.
Majorca has experienced a boom year both in terms of tourism and property purchases
The Balearics
Majorca has experienced a boom year both in terms of tourism and property purchases, which are up by about 26 percent on 2016. The island's authorities have been making it more difficult to rent out private property but that doesn't seem to have put off buyers. Property in or near Palma is most popular, followed by other towns by the coast.
Two sides of the coin
Throughout 2016 it has become clear that the big cities and seaside towns are forging ahead in the property market but rural areas are proving less popular and prices are in some cases falling. If you like the countryside and can live without a sea view; there are some very good bargains to be had inland all over Spain.
Spain still offers very good value for money for most types of property even when the exchange rate between sterling and the euros is taken into account. Start looking early next year before the market really picks up and you could have a home in the sun sooner rather than later.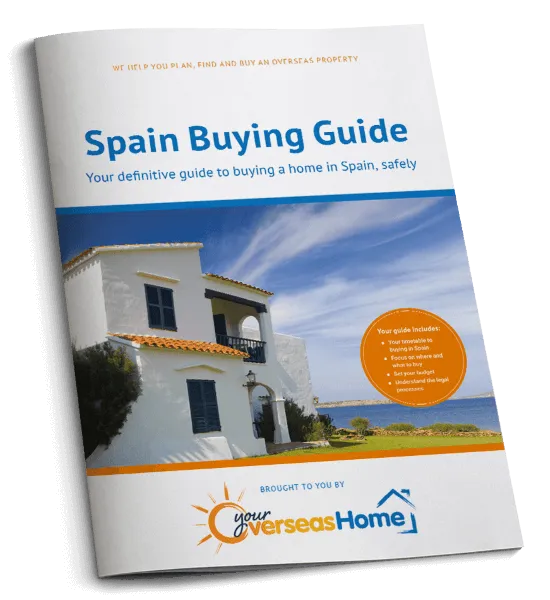 The Spain Buying Guide is a free, independent resource to help anyone who is looking to buy property in or move to Spain through each critical stage of their property buying journey.
Set up to help our readers avoid the many complexities and pitfalls of buying property in Spain, the guide takes you through each stage of the property buying process, with practical recommendations from our experts who have been through the process themselves.
✔

  Ask the right questions
✔

  Avoid the legal pitfalls
Download your free guide to buying in Spain