With the country's economy continuing to improve, Spanish property prices have continued to rise, but steadily. They have not yet reached the pre-crisis level of 2007. Figures for the 2nd quarter of 2018 are very encouraging and it seems the British have not been put off by Brexit. In fact, they are still buying more property in Spain than other nationality.
Spanish property prices in 2018
Prices of non-new-build houses rose 3% during the three months from March to May, according to the latest published statistics. Year-on-year, prices increased by 6.6%. In fact, property prices have now been going up for 21 consecutive months. Cantabria, Madrid, Catalonia, Valencian Community and the Canaries have seen the largest increases. They have yet, however, to reach the heady heights of the year before the financial crisis in 2008.
Foreign demand is still driving growth, with British buyers continuing to make up the largest portion of the overseas market.
The trend towards moderately rising property prices looks set to continue, provided there are no shocks in the market. Particularly in prime areas like the Costa del Sol, where supply often doesn't match demand.
According to Instituto Nacional de Estadistica (Spanish Statistical Office), the average mortgage value rose this April by 9.1% year-on-year to €123,256, while the amount of capital loaned increased by 46.5% to €3.54 billion. Of the Spanish regions Madrid (6,018) experienced the highest amount of mortgage approvals, followed by Andalusia (5,154).
Valencian Community
Among property in Spain, houses on the Costa Blanca are very much sought after by foreigners. 26% of all property sold went to foreigners, but they are ignoring the cheaper Costa Alhazar, north of Valencia. This is an overlooked chance as there are some excellent properties and beaches to be found there. With regular Ryanair flights to Castellón, this is an area to be discovered. Read our guide to buying a home in Valencia.
Catalonia
Barcelona continues to see an increase in prices and is considered to be one of the best places to invest in property in Spain. Despite efforts by the Mayor and councillors to curb holiday rentals, people are still buying property with a view to letting it on a long term basis. Rents are increasing, so the return on investment is maintaining an excellent level.
Property on the Costa Brava is selling well too. However, prices are still below those of 2007. You can purchase a three-bedroom apartment with pool and garage as well as a sea view in upmarket Calella de Palafrugell for €360,000. Apartments like this are ideal to rent to holidaymakers, but you will have to obtain a licence from the local Town Hall to do so.
If you're thinking of moving with relatives in tow, read our guide, Buying Abroad with Family, to make the most of the move.
Madrid
The Spanish capital is enjoying a thriving property market and is becoming a major player in the international investment market. It is also a pleasant city in which to live and apartments in popular residential areas are being snapped up quickly.
Andalusia
Ever popular for retirement and second homes, the Costa del Sol continues to see a healthy property market with the province of Málaga leading the way. The British are still the largest group of buyers but people from Scandinavia and The Netherlands are catching them up. Andalusia currently has the largest number of new property in Spain and there are some excellent quality developments.
There is a huge difference between the highest and lowest valuation per square metre on the Costa del Sol: at the top end is Marbella where a town house was valued at €4,499 psm; at the other end of the scale is a €675 psm country villa in Axarquía.
It is an area where holiday rentals offer an excellent return on investment and there are still plenty of apartments and houses for sale at reasonable prices. For those who want wall-to-wall sunshine and beaches, the Costa del Sol is the most popular coast in Spain.
The Canary Islands
Like Andalusia, the Canaries attract property buyers from all over the world. No wonder that the property market here is buoyant. The virtual all-year-round sunshine and warm climate make them the perfect place for a holiday or retirement home. Prices are up around 4.8% and the local estate agents are predicting an excellent year for house purchases. Prices are affordable in most areas and the cost of living is comparatively low, making it an good place to buy now.
The buoyant market for property in Spain is great news for buyers. You can still purchase at affordable prices, with plenty of opportunities for a return on your investment.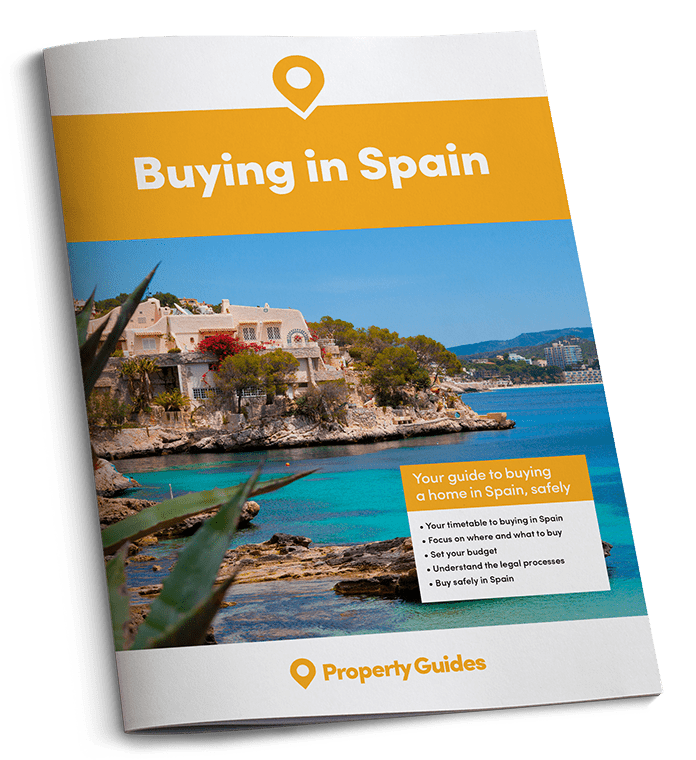 The Spain Buying Guide is a free, independent resource to help anyone who is looking to buy property in or move to Spain through each critical stage of their property buying journey.
Set up to help our readers avoid the many complexities and pitfalls of buying property in Spain, the guide takes you through each stage of the property buying process, with practical recommendations from our experts who have been through the process themselves.
✔

  Ask the right questions
✔

  Avoid the legal pitfalls
Download your free guide to buying in Spain