The rate of increase in Spanish property values outstripped the UK in the first quarter of 2017. So is it time to abandon that British buy-to-let and invest in the Spanish sun?
With the rises in stamp duty and higher taxes on profits for UK buy-to-let properties deterring investors in British homes, investments overseas are looking considerably more appealing this year. Now, new data from the European Union shows that prices in Spain are rising at almost twice the rate as in the UK.
Average property prices in Spain rose by 2.3% in the first quarter of 2017.
The latest residential property data issued by Eurostat the European Union's statistic office, shows that average property prices in Spain rose by 2.3% in the first quarter of 2017, January, February and March. This was four times more than the EU average of 0.7% and nearly double the 1.3% increase in the United Kingdom. Spain's property market is now in fourth place for price rises behind the Czech Republic (2.9%), Latvia (2.8%) and Sweden (2.5%).
Over the past year, Spanish prices are up 5.3% against an EU average of 4.5% and British rise of 5.6%, but the evidence is that the Spanish property market is accelerating while British is slowing.
Year-on-year price rises have now been recorded in each of the last 10 months.
Many buyers will still be wary of investing in Spain. Property prices plummeted in the wake of the 2008 global financial crisis and the ensuing property and construction crash by as much as 40%. They bottomed out in 2014 and in many parts of the country – especially in the more tourist- and foreign-buyer areas have been rising by up to 10% per year. The good news is that since the tide has turned the rises appear to be sustaining themselves, with year-on-year price rises now recorded in each of the last 10 months.
Although they may be slowly catching up, prices overall in Spain are still much lower than the UK. According to Numbeo.com, you pay around €1,550 per square metre outside of Spanish cities, but €3,500 in the UK outside of cities.
To be put in touch with a trusted Spanish estate agent and/or lawyer, call the Spain property Guides resource team on 020 7898 0549. It's a free service with no obligation, just lots of help and advice.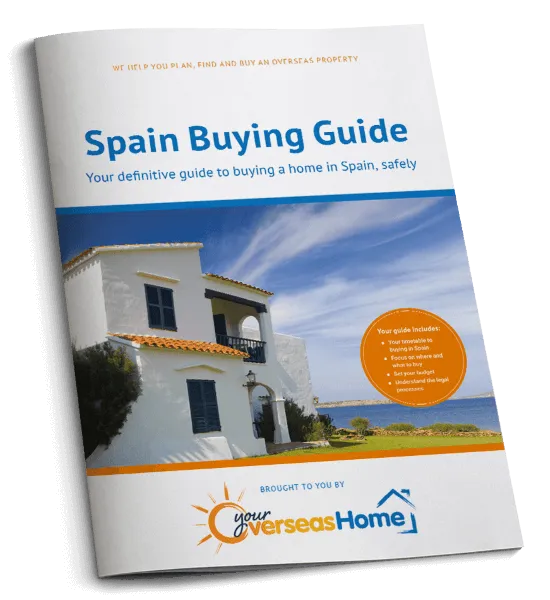 The Spain Buying Guide is a free, independent resource to help anyone who is looking to buy property in or move to Spain through each critical stage of their property buying journey.
Set up to help our readers avoid the many complexities and pitfalls of buying property in Spain, the guide takes you through each stage of the property buying process, with practical recommendations from our experts who have been through the process themselves.
✔

  Ask the right questions
✔

  Avoid the legal pitfalls
Download your free guide to buying in Spain