When buying an overseas property, many of us, if we care to admit it, would prefer to have a few fellow countrymen in the neighbourhood for support and to compare notes with. Here are five wonderful Spanish communities where you will always find another expat to welcome you in.
Spain remains the number one destination for British people moving abroad. With prices still affordable but rising sustainably, there is a good financial return to go with the sunshine, beaches, relaxed lifestyle and comparatively low cost of living.
When it comes to changing pounds to euro for something as expensive as a property, you need a specialist. We recommend Smart Currency Exchange. They have offices in Spain too, in the Costa Blanca and Costa del Sol. Read Smart's Property Buyer's Guide to Currency here.
The coasts of Spain are a magnet for British and other north European, American, Australian and other international buyers, but they are varied and each offers something different. Here are five expat hotspots to consider.
Benalmádena, Costa Del Sol
The seaside town of Benalmádena has the largest marina in southern Spain, with over 1,000 moorings. The buildings that straddle it are constructed with a Moorish influence and it is a very pleasant place to wander on a warm evening.
It enjoys over 3,000 hours of sunshine each year (double the average in the UK) which makes the town a perfect place for year round living. Many British people have moved here to enjoy all that southern Spain has to offer.
Despite the tourist appeal, there is a wild side too, including whales in the sea and plenty of birdlife above the town on the craggy rocks.
One of the reasons why so many British people live here is that Málaga airport is 15 minutes' away and the city of Málaga offers wonderful shopping, restaurants, nightlife and culture. Above Benalmádena is the delightful village of Arroyo de Miel where you can enjoy a Spanish way of life, while on the coast below there is everything you would expect available for an expat community.
Roquetas De Mar, Almeria
Just 30 minutes' from Almeria Airport you come to Roquetas de Mar with its miles of sandy beaches and long promenade. There are three golf courses nearby and the town has many international restaurants and good tapas bars. If you like water sports, there are plenty on offer here. The area also has some wonderful natural parks and salt flats where you can watch flamingos come and go.
If you're just shopping for a holiday home for now, read your free guide, How to Buy a Holiday Home in Spain.
One of the wealthier towns in this part of Spain, it has a thriving tourist industry and also a large British community. The town though has many Spanish tourists and residents, so there is a mixture of nationalities, mainly families as the area is a perfect place to bring up children. There are several British and Irish bars and restaurants and prices are reasonable.
The British who live in Roquetas are well served with their own Primark store, Lily's Bar which has the best fish and chips in town, a pub serving beef and Yorkshire pud and its own flea market.
Pollensa, Mallorca
According to recent statistics there are over 16,000 British people living on the island of Mallorca. "And the rest", you might think, after being here for a while!
In the north-east of the country, Pollensa and Puerto de Pollensa have attracted an international community. Many British people choose to live here full time or to buy their second home there. The town of Pollensa is a typically Mediterranean, with narrow streets winding upwards to a small and pretty centre. There is usually something going on, even in winter, and of course there is the beautiful surrounding countryside to enjoy in every season of the year.
Puerto de Pollensa has lovely sandy beaches and golf courses inland. It attracts many tourists in summer, mostly Spanish, but also British and other Europeans. It has always attracted the discreetly wealthy and offers some of the most beautiful villas in the Mediterranean, with prices to match.
Being a relatively small island, the elegant city of Palma, Mallorca's capital and home to its airport, is easy to reach in an hour or so.
Orihuela Costa, Alicante
Here you will find the largest British community in Spain. People who live in Orihuela Costa have access to everything British – newspapers, bars, restaurants and compatriots. Over the past 30 years, the town has expanded dramatically with numerous resorts and urbanisations springing up and British people of all ages moving in.
For younger expats, there has traditionally been plenty of work within the expat community, which is handy for those who only speak English. Children go to Spanish schools and so the very young generation tend to be bilingual.
For the older generation, retiring, there is a healthy social life on the doorstep. There are plenty of clubs and associations, including the Royal British Legion, Rendezvous Girls Social Club, English folk music club and Neighbourhood Watch.
Don't get confused about the location. The town of Orihuela is actually 20 kilometres from the coast, and is also a popular location for expats, but Orihuela Costa is on the beach, with excellent golf courses and a bowls club around it.
Barcelona, Catalonia
The British are one of the largest groups of non-Spanish/Catalan residents in the capital of Catalonia. Most are here to work and to enjoy the wonderful work/life balance the city has to offer. It's a popular base for "digital nomads", who need only a laptop and an internet connection to work anywhere in the world.
Located between the Mediterranean sea and the Pyrenees, Barcelona is a short trip away from both and some wonderful countryside as well. Communications are excellent both nationally and internationally which means that a two-hour flight will get you back to the UK easily. Living in Barcelona but commuting back to London to work a couple of days a week is perfectly feasible.
Living in Barcelona but commuting back to London to work a couple of days a week is perfectly feasible.
For many British, the fact that Barcelona has all four seasons is a bonus. It's cool (but rarely really cold) in winter, pleasant in spring and autumn and hot in the summer. Restaurants and bars of every description line the streets – there's even a British privately-owned artisanal beer company – and the city's universities ensure a large youthful population.
There are plenty of English-speaking clubs and associations in Barcelona to keep you interested and also international organisations where you can meet people from other countries. There are two languages spoken, Castilian and Catalan – you might have to learn a few words in both to get along with the locals and enough to understand a local menu which is bound to be written in Catalan only. Public transport is efficient and reasonable, however the cost of rentals is very high, so many British people choose to live in the suburbs or just outside in areas like Sant Cugat del Valles.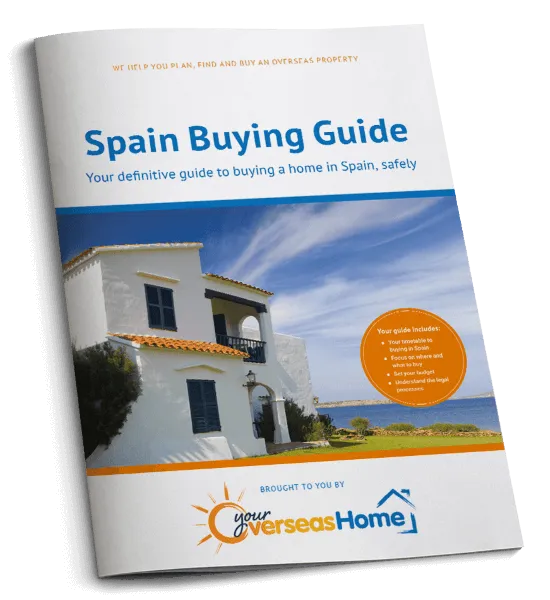 The Spain Buying Guide is a free, independent resource to help anyone who is looking to buy property in or move to Spain through each critical stage of their property buying journey.
Set up to help our readers avoid the many complexities and pitfalls of buying property in Spain, the guide takes you through each stage of the property buying process, with practical recommendations from our experts who have been through the process themselves.
✔

  Ask the right questions
✔

  Avoid the legal pitfalls
Download your free guide to buying in Spain