It's a difficult time in Spain at the moment, but there may be light at the end of the tunnel, as the government announces that lockdown may be phased out from 26th April. Until then, there's plenty to be hopeful about and the Spanish are pulling together to make normal life continue as much as possible.
How is Spain adapting to life under lockdown?
Government considers phasing out lockdown from 26th April
The Spanish government's spokeswoman, María Jesús Montero, told the press yesterday that, while lockdown will be extended until 26th April, there is a possibility of it being phased out thereafter, according to El Pais. She said that there would be progressive measures whereby citizens could regain their normal life. 'We cannot give anything as certain for the moment', she told reporters. 'After [the 26th April], the desescalation will be rolled out, through which citizens will be able to regain their life in an orderly way in the streets and the squares.' She highlighted that it will ultimately be up to the experts to decide and that the strategy will always be to avoid further peaks or infections.
So, while we can't say anything for certain, now is certainly a good time to start preparing for when normality does return.
Start planning your move now – find out how to finance a house purchase in your free Spain 'How to Pay for It' Guide
Supermarkets are fully stocked
This is now our 4th week of lockdown. At the moment, we are allowed out to buy food, medicine, petrol and for taking the dog for short walks. Interestingly, the tobacconists are open. I suspect the government felt it would be impossible to maintain a lockdown if the Spanish were denied their cigarillos!
The daily food markets are also open as fresh produce is considered important for the health of the nation.
We have no limit on purchases at supermarkets as the shelves are always fully stocked and queues don't tend to be all that long. Sanitiser and gloves are provided in most and people are generally behaving extremely responsibly. The daily food markets are also open as fresh produce is considered important for the health of the nation.
Notaries remain (virtually) open
Like in many countries around Europe, the Spanish are keen to keep as much of the economy working as possible – even if it means working from home. Documents can still be submitted as usual, but electronic submission is strongly recommended. In 'urgent' cases, it is possible to make a physical appointment to see a notary. This, according to the Notarial College of Madrid, would include anything to do with banking matters, or cases with a deadline such as where a down payment on a property is going to expire. If you think that your situation is urgent, you can contact your notary by telephone or through Notariado.org, or your lawyer can do it for you if there is a language barrier.
Locals and overseas volunteers pull together for Spain
A group of 50 women who are outworkers for shoes manufacturers in Andalusia have turned to making masks for local hospitals as well as continuing to make shoes. This initiative was posted on social media and now others around the country are doing the same. The shortage of protective equipment for hospital and care home staff is a problem and so any help is greatly received.
Last week a number of medical staff from Cuba arrived in Spain to help. It is perhaps not well known that Cuba has a history of sending medically trained people to other countries when there is an emergency.
Make sure you understand how to access healthcare in Spain with our guide, Healthcare Abroad.
The Chinese community in Spain has been praised for helping to provide masks and other badly needed items. Spain has thousands of small "Chinese shops" which sell practically everything from a toothbrush to step ladders. These are closed because of the lockdown and so the staff have been putting their time to good use to assist in the crisis.
Police have come in for some criticism for using excessive force when tackling people flouting the stay-at-home rules. However, they have also been trying to bring some cheer to their communities. In Mallorca last week 5 police officers decided to entertain the children who have been stuck at home. The group's singer is a member of a band called Ses Bubotes and he and his colleagues travelled every street in their municipality, singing children's songs and dancing for three hours.
Looking to the future
Looking to the near future, it is expected that the release from home confinement will be introduced gradually with permission to go out for walks being one of the first measures. Bars and restaurants will reopen with reduced capacity to keep people at a sensible distance. It is unlikely that social gatherings such as concerts and sports events will be allowed before June at the earliest.
Lockdown has currently been extended until 25th April, and we may see further full or 'half' measures after that. Nonetheless, there is much to be positive about, and we are sure that soon we will be back out on the beaches or enjoying a paseo in our towns and villages, and we will certainly see many who have had to postpone their plans coming out here to join us and enjoy the best of the Spanish lifestyle.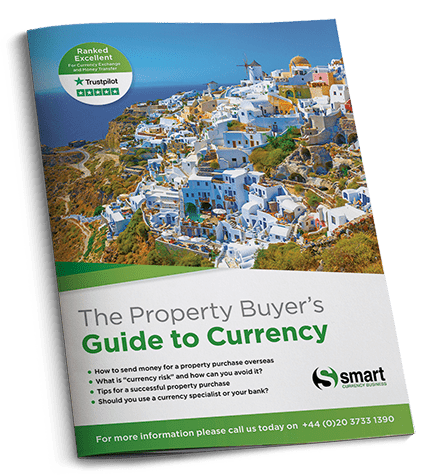 The Property Buyer's Guide to Currency will help you:
✔

  Understand the currency markets
✔

  Protect your property budget
✔

  Use a Currency Specialist
✔

  Learn from other overseas property buyers
Download the Property Buyer's Guide to Currency