"Thanks to the good practice by Spain's citizens, 52% of the country will move to Phase 3 of lockdown on the 8th of June," said the Spanish Minister for Health. Phase 3 is the final phase of releasing the Spanish people from one of the strictest confinements in Europe.
Spain's Prime Minister, Pedro Sanchéz, has obtained a further two weeks for "The State of Alarm", which should end finally on 22 June. As of 7 June, all powers, except for movement within Spain, have been returned to the 17 autonomous communities. This should release much tension which has built up over recent weeks between the government in Madrid and the local governments.
The Costa del Sol and Costa Blanca will be in Phase 3. The Valencian Community and Catalonia will have a further week in Phase 2, as will Madrid and Barcelona. The relaxing of rules also means that the international borders with Spain will open on 1 July. This will allow EU visitors to enter the country without the need to isolate themselves for two weeks.
Tourism will return to Spain but with safety always in mind. Some beaches will have maximum occupancy monitored. Bars and restaurants, as well as hotels, must follow safe practice while welcoming customers.
With the recent opening of estate agencies, we take a look at the future of the property market and the opportunities it presents to the potential buyer.
The property market this spring
Fundamentally, the property market has been on hold since 14 March. Some sales went ahead using online tools such as Zoom and Skype, but not many. The number of sales registered by Spain's Land Registry was down by nearly 40% in April. These are only sales with their deeds registered. It will be in the next couple of months that we can see the actual number of sales as defined by the notaries.
The government recognises the need to stimulate the economy and this includes the property market. There is talk of the tax authority, Hacienda, reducing tax on second home purchases as a bid to help the flagging property market. Should this be the case, it will be very helpful to British people wanting to buy in Spain. They are many Brits who still want to buy, with property portals in the UK reporting a huge interest in Spanish property.
They are many Brits who still want to buy, with property portals in the UK reporting a huge interest in Spanish property.
Will Spanish estate agencies survive the lockdown?
There is no doubt that the two months of lockdown in Spain has seriously affected the housing market and estate agencies. Some experts foresee 25% of agencies disappearing altogether, with the loss of up to 35,000 jobs. Even before lockdown there wasn't enough demand for all 55,000 estate agents in Spain. However, those that do survive will be in a better position to see to the needs of buyers.
Looking to the future
I have spoken to several local estate agents in my area of Catalonia and it seems that demand is there. It's coming from Scandinavia, Germany, France, The Netherlands and Britain.
Requirements are more specific than before the Covid-19 crisis. Apartments with good outside space are top of the list, as well as houses with gardens. No doubt, this is due to fears that the virus may strike again, meaning another round of confinement. Outside space is, therefore, considered vital for future home buyers.
Apartments with good outside space are top of the list, as well as houses with gardens.
Throughout Spain, asking prices have fallen on an average of 1.3% for "resale" (second-hand) properties. However, prices in both Spain's capital cities of Madrid and Barcelona have increased slightly.
It is expected that by the end of the year prices could have fallen by 10% and year-on-year sales by 30%. This remains to be seen, but there is no doubt that there will be some excellent opportunities for the savvy purchaser in 2020.
Prices are just half the story. To accurately budget for your move abroad, read

The Currency Guide to Emigration,

 free to download.
Is it 'goodbye' to small properties?
A review of Spanish real estate concluded that "housing needs have changed". For example, they say, small homes are less appealing now. We used to say that you could live in a tiny house in Spain as you spent all your time outside! But as more people work from home, they want properties with more space, for example an extra bedroom for a home office. The review said,  "Thanks to the foreseeable increase in the implementation of remote work during the return to the 'new normal', this type of property will take on greater importance."
People want different things, said the review: "More importance is placed on the need for space, rooms to work, ample light and extras."
It added, "After weeks of confinement, future buyers value having open-air rooms as well as balconies, terraces, patios and small gardens. Having these extras means enjoying multiple advantages. These include the possibility of working from home, exercising outdoors, planting a small garden and organising family gatherings."
We won't say 'goodbye' to small properties entirely. Retired people who don't need to work from home will still be looking for affordable properties as second homes, close to the beach and amenities. However, if the review is correct, these properties will see cheaper prices than before. This can only be good for the purchaser.
Rental market
People are looking to rent houses in municipalities outside Spain's major cities and also a little inland from the coast. Houses with larger grounds are becoming increasingly popular, plus those with communal areas. Madrid and Barcelona have seen a vast increase in the interest in this type of property. The same applies too in the Valencian Community and the province of Málaga, both popular with British people. Most enquiries have been for properties at less than €1,000 a month.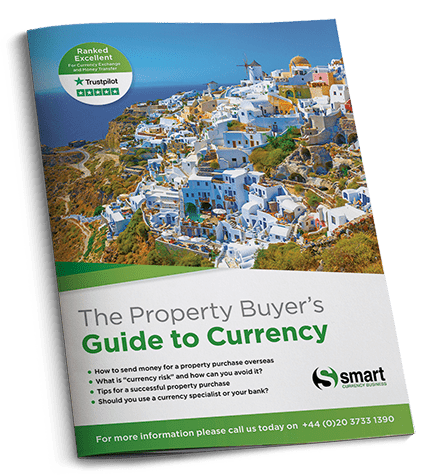 The Property Buyer's Guide to Currency will help you:
✔

  Understand the currency markets
✔

  Protect your property budget
✔

  Use a Currency Specialist
✔

  Learn from other overseas property buyers
Download the Property Buyer's Guide to Currency